Best Campervan Sites in France
Seeing sites while on vacation from a campervan is a unique experience to look forward to while in France. Whether it is your campervan or a rental, it is always interesting to hit the road. Campervans come in different types and facilities for users' pleasure. And depending on the model you choose, you can enjoy the added comfort of an electric hook-up to other different rental packages. 
Rentals can come in handy where you are not sure of which campervan to go for. Some even offer deals like access to a river or lake with an excellent view. You can employ the camping services of Flowercamping when you are ready. With over 130 campsites offering campervans across the country, you will definitely find plenty to select from.
Below are The Best Campervan Sites to Visit in France:
Le Clos du Lac, Provence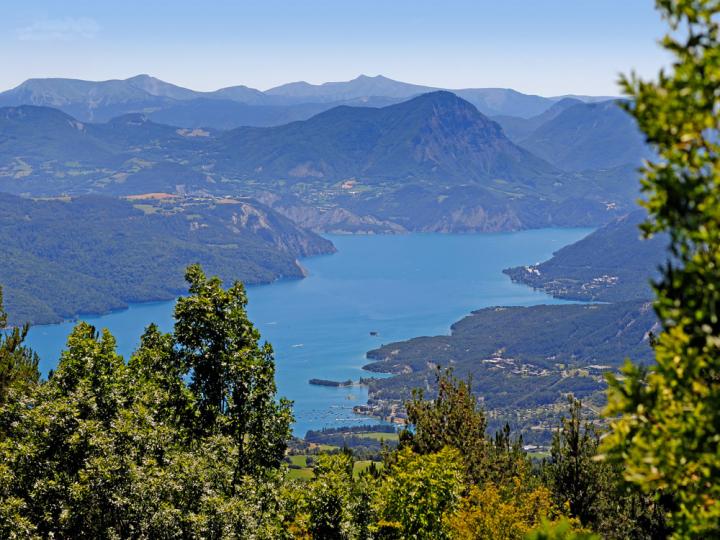 A little Southwestern France fun doesn't hurt anybody right? Le Clos du Lac is a perfect site for an ideal campervan experience. Placed at 1,485 meters on the edge of Écrins national park, this mountainous site offers views that are great for photo ops from the campervan door and a range of Instagram-friendly outdoor shots. Serre-Ponçon lake is just a short walk away, for swimming or fishing, and close by Boscodon forest has a lot of hiking trails. A family campsite is not far from there too. It has a volleyball court, a garden, and a kid's play area. At night, the scene is magnificent from your campervan as you can stargaze as long as you want.
Le Chant-hibou, Auvergne 
This is an ideal setting for a campervan. Le Chant-hibou is a small but spacious site on a modest farm not only has a petting zoo, where kids can play with animals- in summer there are daily activities such as collecting eggs, making cookies, face painting, driving tractors, and storytelling around a campfire. Though it is a flat site, it can accommodate a campervan. It also has a pool in the middle for kids while parents watch them.
Camping La Pointe, Brittany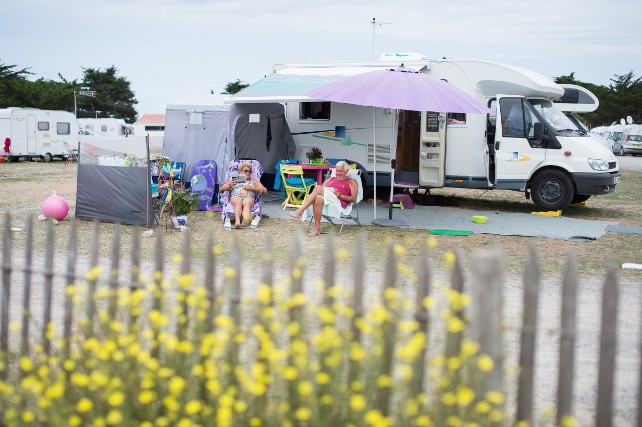 A campervan with the chance to fishing just nearby is impeccably satisfying. Park at one of the spacious spots on the banks of Aulne- there is also salmon for which you can fish with a permit. 
The owners bring pastries to your camper in the morning and encourage you to sit with a glass of wine and watch the wildlife (owls, squirrels, red deer, woodpeckers, etc.). You also have the chance to visit the rest of the Crozon peninsula. 
Historic Chateau, Normandy 
Chateau de Monfreville has about 25 campers pitches, with enough room for little ones to roam and Bert the donkey to graze. And there are definitely spaces for adventurers with their campervans. There is a natural swimming pond, a shop (stocked with organic veggies from the garden). And fresh pastries delivered every morning. It is a 30-minute drive to the medieval town of Bayeux, home of the world's most loved tapestry. 
Camping Le Mondou 
Camping Le Mondou is roughly divided into two areas in a figure of eight. At the top of the loop is a swimming pool, playground, and restaurant; the lower area has the quietest pitches, parched by trees and shrubs. Even though the modern touches (the wash-block is new, and Wi-Fi is available), old-fashioned tent camping rules, with French atmosphere coming to head-on Tuesday evenings when campers can compete in a related boules tournament to won a bottle of wine. Camping le Mondou is a five-minute walk to the river Dore, where the campsite organizes canoe trips. You can take time out to leave your campervan and join them.
La Jaurie, Limousin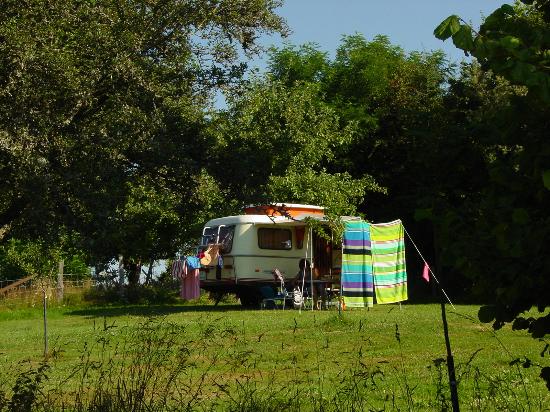 La Jaurie is a cool campervan site that has everything you might be looking for. It is an eco-friendly spot with naturally filtering, salt-water swimming pool, and rainwater harvesting among the farm's green profile. You can pack close the old railway line, into the Périgord Limousin natural park, stopping at the activity center in Bussière-Galant for ziplining and treetop games. In spare times, you can borrow sieves from the campsite and try panning for gold in the river.
Huttopia La Plage Blanche
Ideal for water-loving campervan residents, the riverside Huttopia La Plage Blanche campsite at the foot of the Jura mountains has outdoor and indoor swimming pools and a covered hot tub for those who are exhausted from paddling the Loue river. Kayaks and canoes are available to hire, and an activity center next door can finish off anyone who is not tired already.
You can also hire bikes from the central wooden lodge to cycle the riverside path to Dole, 20km away, where there is a strip of great restaurants and a world-class history museum in the Louis Pasteur's old house.
Camping Lestaubière 
This is a jewel of the Dordogne camping terrain. Arriving with your campervan, you will see tent makers relaxing in their pitches scattered around its greenish fields. The most exciting part of this campsite is in the freshwater lake that you can go swimming. It also has a floating platform that you can dive from, a short swim from the stretch of the sandy beach. 
For a relaxed time, you can also use the swimming pool close by. A beach volleyball court, five-a-side football field, and summertime animations are prominent features of Camping Lestaubière campervan site. And for some mugging tennis action when you are bored, there are the village courts within walking distance. 
La Parenthèse Les Ormes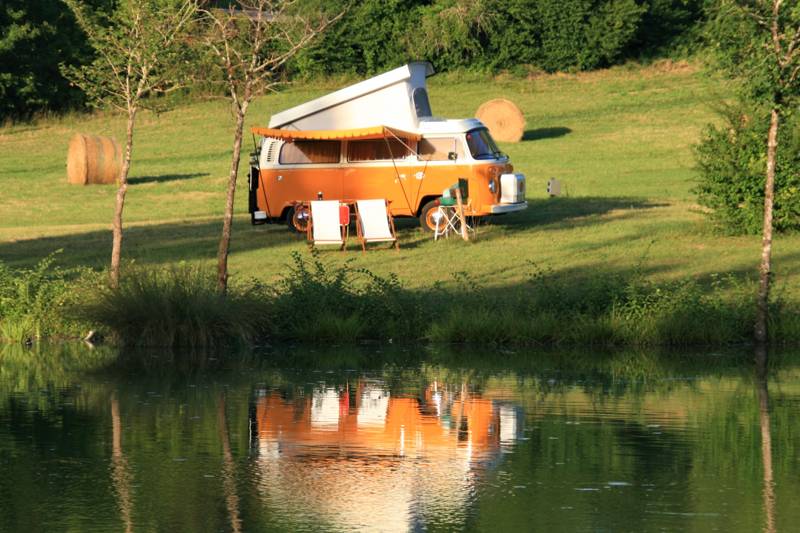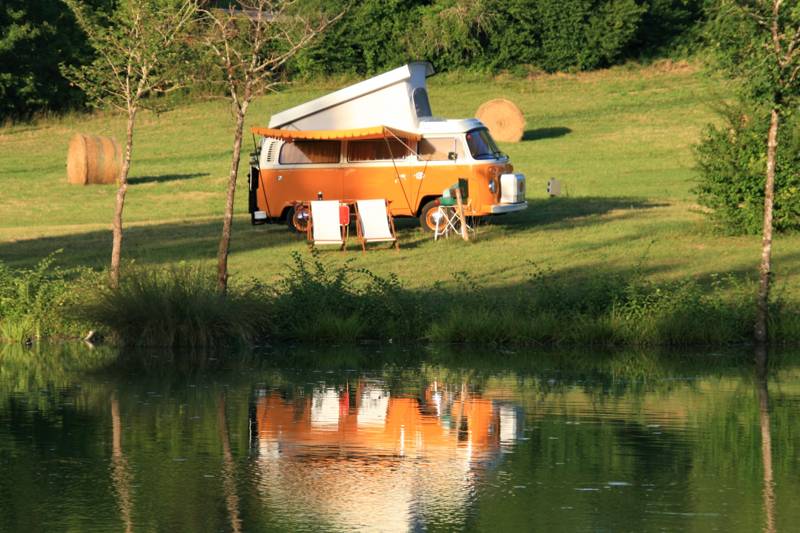 Looking for the countryside and stylish campervan? This is just the one for you. Its atmosphere is friendly and inviting as it hosts up to 100 camping families and numerous campervans in peak season. The mostly flat tents are spread around a small valley, some of which are among trees. The facilities are great and presented with a distinct style, including a stylish pool with cool sun loungers, and an atmospheric designer restaurant with separate, supervised kids' corner.
Camping Merry-Sur-Yonne 
Merry indeed by nature, the pastoral site is as serene as the river on whose banks it sits. It is mainly campervans, tents, and caravans, with a couple of recently added modern glamping pods. Also, there is a gîte if you like something slightly lush. Having modern attractions, the site has a café-bar-restaurant, tennis courts, games room and play zone with big outdoor chess. Not far from the site is the 50-meter high Rochers du Saussois limestone cliffs offer an excellent setting for beautiful photo shots. 
Camping La Chatonnière
The serene riverside is the central point and sets the tone at Camping La Chatonnière, with idle days of paddling, boating, and river swimming. That is not to mean there are no other distractions, too (badminton, boules, bikes, etc.) but classic always wins, especially in the hot summer Dordogne sun. Most tents are carefree, which adds to the simple, natural feel of the site. The surroundings are gorgeous and new for this to be a designated nature reserve- the Perigold-Limousin natural park. 
Camping L'Arlesinenne, Arles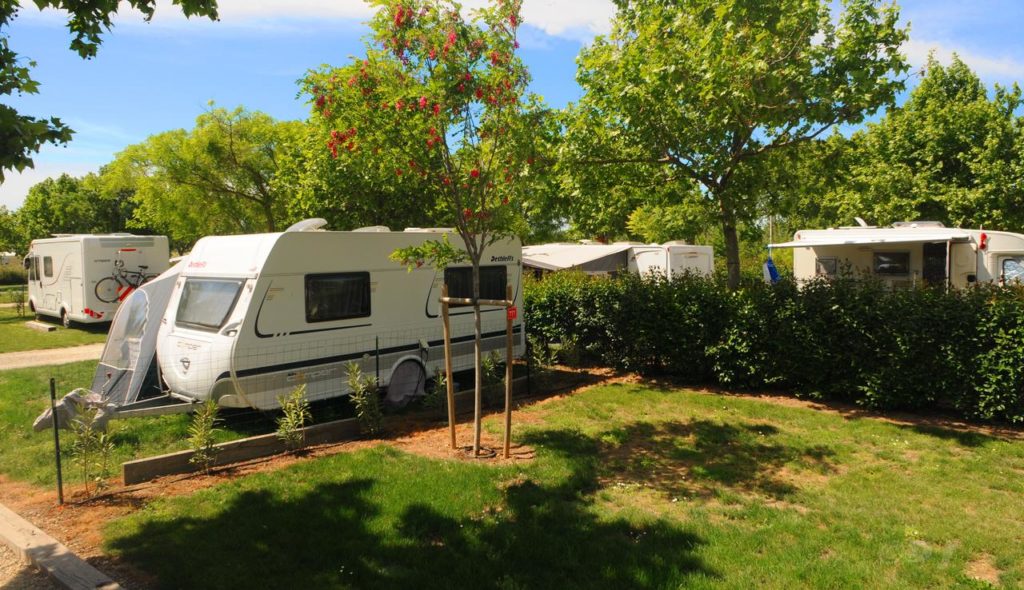 Expedition involving a campervan with the beautiful view of River Rhone is in a tranquil environment that sounds like Camping L'Arlesinenne. Just two kilometers from Arles, this family-friendly site is well-positioned to accommodate many people, whether pitching tents or grooving in their campervans. 
Choosing this camp, you will have access to the beach, heated pool, paddling pool, and the three-lane waterside on-site for some real relaxation. Visitors do not only get to escape the bustles of city life only when they come here as they have a chance to socialize as well. There is a shaded play area, bar, and restaurant just to provide options. Exploring the area on a rental bike can be fun too, as visitors adore the fascinating landscape. 
Camping Les Cerisiers, Céret 
Springtime vacation in France just got better with this exciting campervan site. It is close to the Spanish border and about 5 minutes' drive from Céret. Marvel at the works of nature from your campervan at night as the scenes light up like no other place. The site is also half an hour's drive from the Mediterranean coast if you want to explore further. You will find hiking paths, spa, and playground for adults and children.
If you are the bookish type, it will be hard to resist the temptation of visiting the library at the site. There is also a shop in the case that you fancy getting souvenirs. And when you are low on food supplies in your campervan, the bakery at the site can always come to the rescue. 
La Ferme des Aulnes, Somme
Among the things to do in Northern France while on vacation is a road tour in a campervan. La Ferme des Aulnes is on a peaceful Picardy farm 20 minutes' drive from the beach if you have had enough. It has a modern spa, sauna, heated pool, piano bar, and a library without having to take your trailer off road.
Fitness aficionados can also get busy as there is a gym they can use. No drab moments all day- in the evenings there are dance sessions to different kinds of music, and at night the casino games take preeminence. The dinners are often themed around here, and a kids' club completes its reputation as a chic campsite. 
Guillerin Caravan and Glamping, Correze 
This is a great camping site for visitors and locals alike. As a scenic site in the Millevaches National Park, it generously offers a bliss of nature. Just a 3o0 minutes' drive to Aubusson and Meymac, it is not far off from civilization. And only 10 minutes to the nearest supermarket, food would not be a problem if you decide to cook.
This site has a swimming pool for adults and children for a refreshing bath. For the adventurers, hiking through the forest close by will thrill them. 
Camping Paris Est, Paris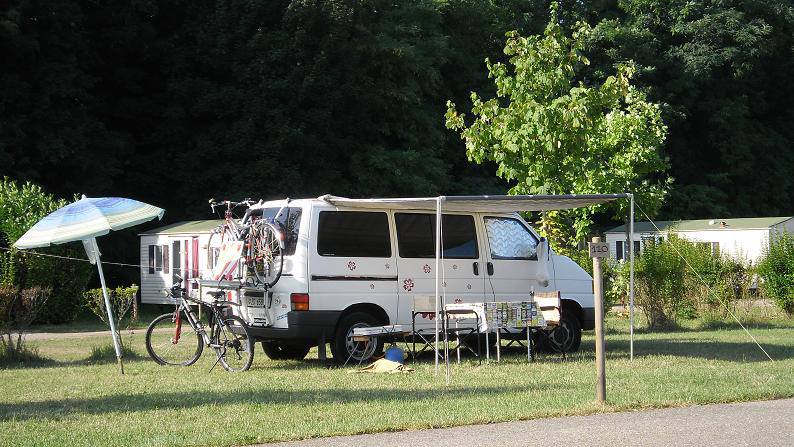 Situated in an interesting riverside between and Disneyland, Camping Paris Est. is a perfect campervan site right in the city center. It is a 20-minutes bus ride from the Paris city center, and you can observe the bustling and rush of city life while you enjoy the natural scenic close by. 
If you do not speak enough French to get by, the staff at the site are multilingual so you should be just fine. A lively bar, bistro, spacious terrace, interesting playground, and decent gym aptly makes it very Parisian and sophisticated for a camping site in the city center.
Camping de la Foret, Seine-Maritime
Situated in the Jumièges forest, Camping de la Foret is a cool woodland. Within walking distance of Jumièges and its famous abbey, the campervan site is for everyone. It also has a heated pool, snack bar, playground for everyone, and a highly facilitated free campervan service area.
This is no ordinary campervan site as it comes with a fully-serviced grass pitch to the comfort of visitors. Regardless of how long you intend to stay at Camping de la Foret, your safety is guaranteed. 
Camping L'Ile des Trois, Eure
A serene 10-hectare site on the banks of the Seine River in Les Andelys is the attractive L'Ile des Trois. It is a 25-minute drive from Moet's garden at Giverny and 50 from Rouen. With a nice pool and a primed playground, everyone would love to relax here. It also has a bike hire for those seeking to explore the environs for some surprises and a bar-restaurant where you can have a taste of the area's wine specialties. Camping L'Ile des Trois has a 6-amp electric grass pitch and a fully-serviced grass pitch (super) for visitors.