Weekend Trip To Bastia, Corsica: A Magical Slice of the Mediterranean
A trip to the magical Mediterranean island of Corsica definitely deserves more than a long weekend, but for those of you living in Paris or nearby, it is certainly doable! I myself recently had the chance to spend several days in this gorgeous paradise with a great group of friends. Even a week would not have been enough to explore it.
For those of you unfamiliar with this island, let me just say one thing: Corsica is e-n-o-r-m-o-u-s. It is located west of Italy and southeast of the French mainland. Corsica is 183km long at its longest and 83km at its widest. It has a thousand kilometers of coastline, boasts more than 200 beaches; and (having formed through volcanic explosions) is the most mountainous island in the Mediterranean Sea. To put it in terms of time; it takes 3 hours alone to take a train ride from the northern-most main town (Bastia) to the southern-most main town (Ajaccio). That amount of time would easily get you from Paris to Provence. 
Given the length and width (and height!) of Corsica, I am dedicating this weekender to Bastia, the lesser lauded city on the island. Much larger Ajaccio may have Napoleon's cradle, but Bastia, as Corsica's principal commercial town, boasts a beautiful port, is well-known for its wines, and has a unique character and charm that come from its diverse immigrant population (10% of Bastians are non-French). Aside from the spell of the city itself, it is also just a car, bus, or train ride to other parts of Corsica, both near and far – making it an ideal island destination for a weekender!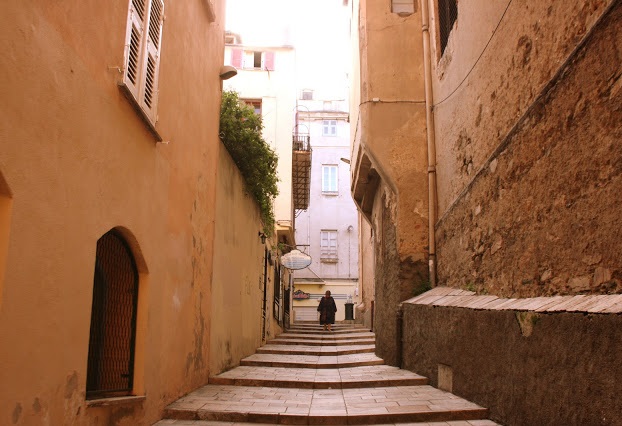 Here Is A Guide To A Weekend in Bastia
Where To Stay In Bastia
One of the best things about Bastia, unlike Ajaccio, is its genuine lack of tourists. It truly retains its local, untouched feel, despite being the principal port of Corsica. The flip side of that, however, is that the hotel industry is far from fully developed. That said, the type of people who come to Bastia are easy-going, adventurous, and drawn by what's outside in the streets rather than what's inside the buildings. My main recommendation is that you stay close to the center, for which there are numerous 3-star accommodations. A good basic choice is Hôtel des Voyageurs, located on one of the main streets and close to the main plazas, the port, the tourist office, the tram station – not to mention the restaurants and cafés! Its rooms can be a little cliché, but the service staff is lovely, the lounge is spacious and comfortable, and there's wifi!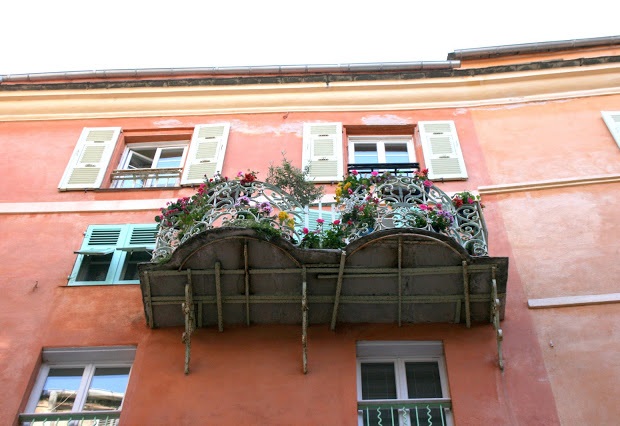 Where To Eat In Bastia
As with hotels, you have to dig a bit deeper to find good restaurants in Bastia. That said, the good restaurants are genuinely very good. They would hold their own not only on this island but in the more cosmopolitan cities of the country as well. I myself fell in love with my top 3 picks. I would just as easily choose to go to one of them as I would to some of my favorite places in Paris. 
Chez Vincent: 12 Rue St Michel, Bastia: +33 (0)4 95 31 62 50. Without a doubt, my favorite restaurant from the entire trip in Corsica! Not only does it serve incredibly delicious fresh Mediterranean dishes, but it also offers the best view of the entire city from atop the hill. Try their scrumptiously steamed fish of the day or their creative take on veal with chestnuts. Whatever you do, you cannot miss out on their tiramisu – easily the best tiramisu I've had in years!
Grazie Mille: Place du Marché, Bastia: +33 (0)4 95 32 38 22. For fantastic gourmet Italian cuisine, go to Grazie Mille, located in my favorite square in the city. The specialty here is the Umbrian cheese for the entrée, of which there are 3 types (you should definitely order the one with truffles!). For the plats, the filets de loup are superb (also especially the one served with truffles), and so are the gambas. However, I'd advise you to skip out on dessert; it, unfortunately, doesn't live up to the delicious dishes that come before it!
La Petite Marie: 2 Rue des Zephyrs, Bastia: +33 (0)4 95 32 47 83. For the best langoustines in town (and possibly on the island!), go to this very low-key tavern tucked away on a side street off Place du Marché. People come here for one thing, and one thing only: the enormous plate of grilled langoustines – and all for €22! 
What to See & Do In Bastia (My Top 5 Picks For A Weekend)
Wander in and around the tiny cobblestone passageways and charming little plazas, of which my favorite is Place du Marché
Walk around the lovely Vieux Port and along the pathways to the little lighthouses
Climb up rue du Colle and head to rue Saint-Michel at the top of the hill to take an early evening drink behind the Musée de Bastia, along with the best views of the city
Try out the town's famous apéritif, the delicious port-like Cap Corse!
Spend the day at the lovely sandy beach of La Marana. Located just 10 minutes by car or taxi south of the center. For a closer, cozier pebble beach, go to Miomi in the north. (Of which we have taken a gorgeous photo to share with you)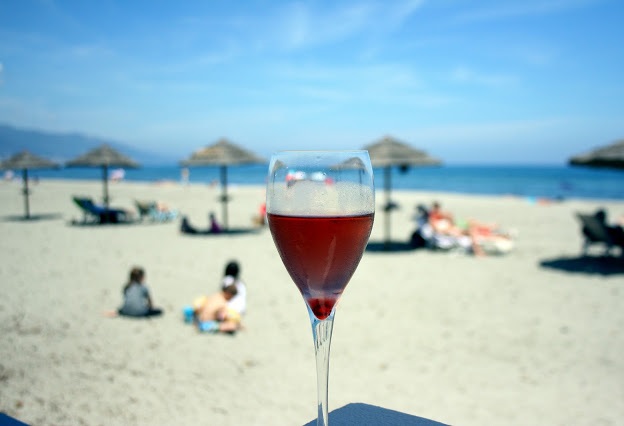 Also Read: Things To Do In Corsica
Weekend Trip To Bastia, Corsica – Summary
That's all for my weekend in Bastia! I hope that this post will inspire some of you to make your way out to this Mediterranean town and island sometime soon. With summer around the corner, there is no better time to visit! Stay tuned for more posts on Corsica in the coming days!