Considered to many as a worthy rival to Paris, Lyon is as breathtaking to tourists as it is to locals. It is among the few cities in Europe that blends the galleries and the museums of a cultural hub with the vigor of a former industrial capital. When you touch down in Lyon, be certain that there will be a lot to see and do. And everything is in this Lyon Travel Guide.
From kisses to revolutions, the French are famous for quite a number of things. However, their cities and towns are world-beaters in self-acclaimed titles. Hence, it is not far-fetched when you hear a French city being, for example, a particular food capital, or love capital of the world.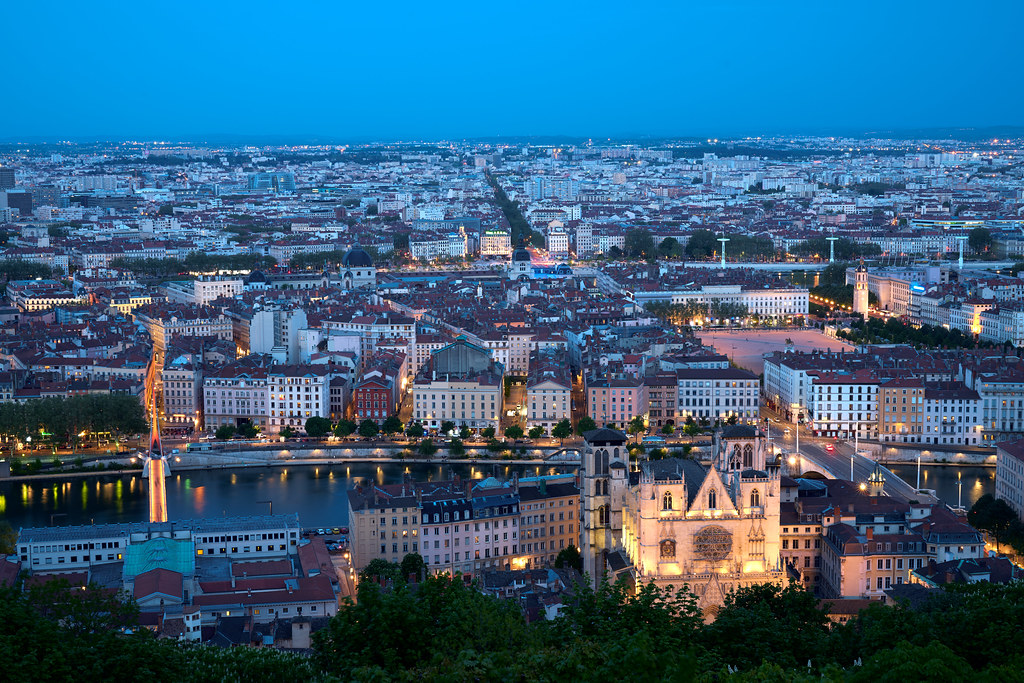 For Lyon, it prides itself on being the ancient capital of the Gauls and the gastronomy, silk, and capitals of the world. The United Nations Educational Scientific and Cultural Organization (UNESCO) acknowledges the historic sites of the city as it designates it as a UNESCO World Heritage Site. Areas like the Roman district and Fourvière, the Renaissance district (Vieux Lyon), the silk district (slopes of Croix-Rousse), and the Presqu'île, which bear 12th century to contemporary epochs characteristics, have all been earmarked for their architecture and significance.
Here Is The Ultimate Guide to the Lovely City of Lyon. 
Witness Vieux Lyon's Magnificence (Lyon's Old Town)
Find time to see this tourist attraction. The Vieux Lyon is one of Europe's largest renaissance old quarters. From the 15th to the 17th century, wealthy merchant families from France, Flanders, Italy, and Germany settled in the city. Lyon's silk industry at the time boomed. They built wealthy homes in the gothic, Italian renaissance, and the French renaissance styles, as you will see some of the remaining structures. Some of them still stand in areas like Saint-Jean, Saint-Georges, and Saint-Paules.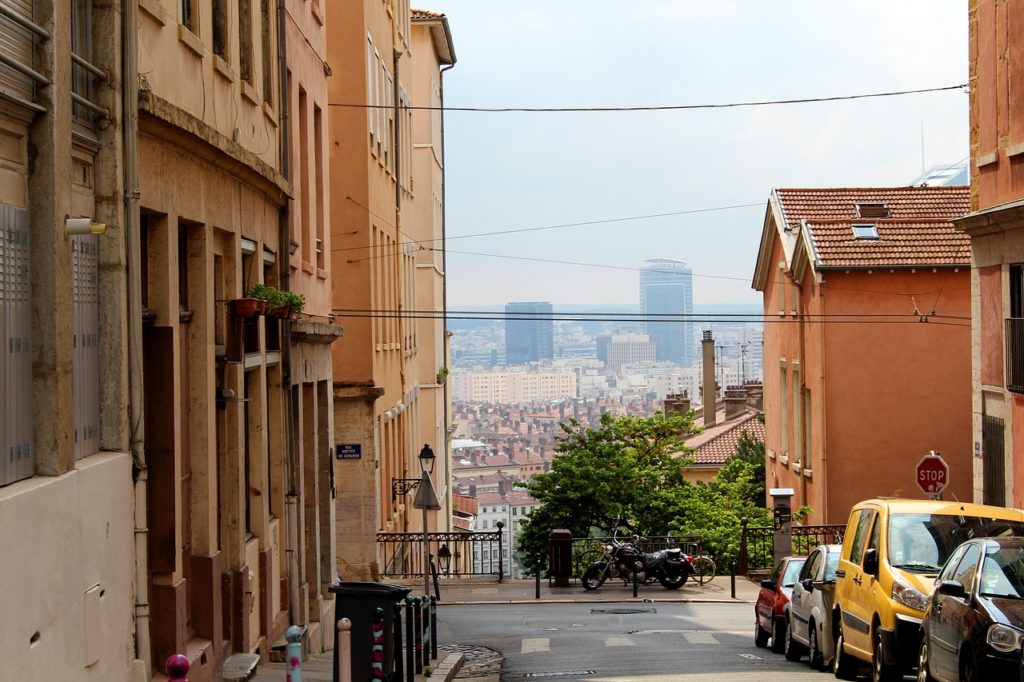 Check Out Lyons Murals
You will probably not see the artiest murals elsewhere in France than in Lyon. In the city, there are over a hundred large paintings on walls, and you will find them in working-class areas and on social housing. In États-Unis, especially, there is an outdoor museum with twenty-five murals painted in the 1980s detailing the career of architect Tony Garnier. He planned the district in the 1920s.
To get more intimate with Lyon's major figures, there is Fresque des Lyonnais. It consists of 24 historical personalities and six modern ones that the city reveres. Lyon's original fresco worths a mention too in this category. The painting, which is updated every ten years, is called the Canuts Mural. And it chronicles the story of the Croix-Rousse area. 
See the Musée des Beaux-Arts de Lyon
It is France's largest fine art museum after the world-famous Louvre in Paris. In the Musée des Beaux-Arts de Lyon, there are about 70 rooms, with paintings from the 1300s to the 1900s. Also, if you are an art buff, you would find Oriental and Egyptian cultural displays. In fact, there is more for you with a vast collection of Degas, van Gogh, Renoir, Cézanne, El Greco, Canaletto, Picasso, Max Ernst, and Francis Bacon, all on display. The Antiquities section too is incredible as it boasts of about 600 Ancient Egyptian artifacts with reliefs, statuettes, busts, sarcophagi, and Medamud temple's gates.
Have a Feel of the Romans at the Theatre of Fourviére
Established by Augustus in15BC; the Roman theatre Fourviére is the oldest theatre in France. And even though it has deep characteristics of antiquity, the theater is in fantastic shape. It also offers the impeccable sight to connect to the ancient Roman world of entertainment. Thanks to its recent renovation, the Fourviére can now hold productions. And if you are around in the summer, it holds entertaining festival nights.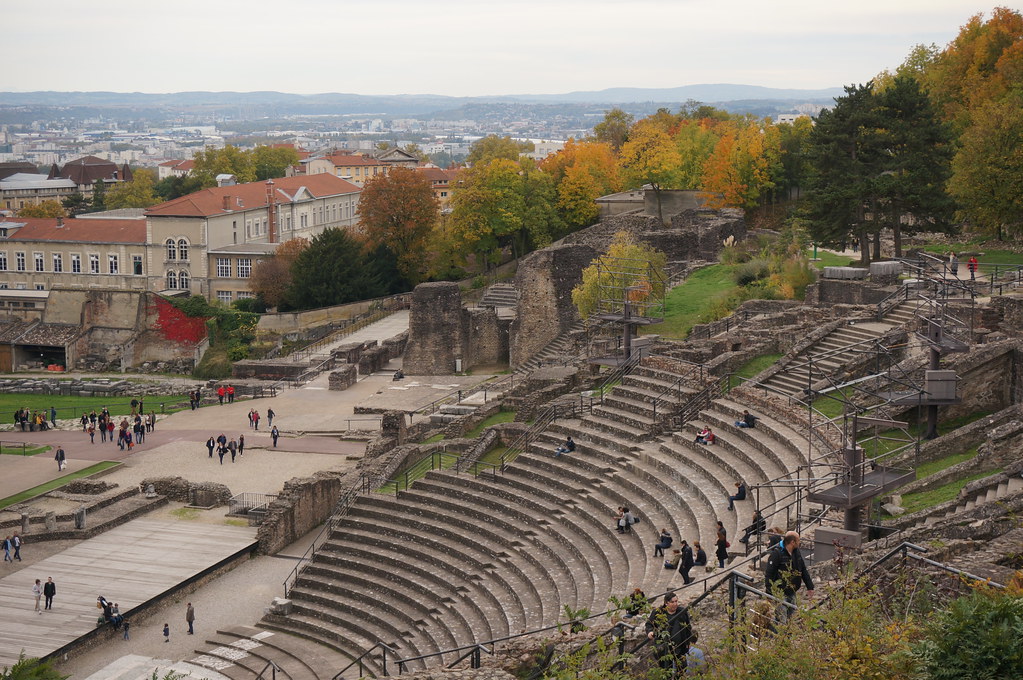 Step In The Fabulous Lyon Cathedral
Lyon's magnificent cathedral is a gothic construction erected between the 12th and 15th centuries. You will see many of the original stained-glass windows that date back to the 1300s. During the Second World War, they were destroyed and packed away to preserve them bomb explosions. 
>>Most Beautiful Cathedrals In France
Grab a bite at Les Halles de Lyon Paul Bocuse
You should indulge in a tasty treat here. The Les Halles de Lyon Paul Bocuse is an indoor food market, and it is a perfect place to try the culinary excellence of the city. Close to 60 stalls exquisitely display everything French food you can think of. As you will discover, the items are not the only beautiful thing about the Les Halles de Lyon Paul Bocuse; the architecture is simply amazing too. 
It is a great place to do all your food shopping if you intend to have the taste of your own cooked Lyonnaise meal. The best time to visit Les Halles is in the morning before most stalls close for lunch. 
Indulge the Musée Miniature et Cinéma
The brilliant Musée Miniature et Cinéma is situated in Vieux-Lyon and is a 17th century World Heritage structure five stories in height and with a loggia. It is divided into two, but the primary attraction is some 100 "hyper-realistic" miniature scenes. Some of the world's best miniaturists, including the museum curator, Dam Ohlmann, scrupulously made them. 
They reanimate well-known locations that might take you a short while to notice what is happening in them. Places like the Maxim's Restaurant in Paris or everyday French scenes are featured works. Also, there is a cinema exhibition with over 300 unique props, artifacts, and models relating to popular movies from the last 50 years. 
Transportation in Lyon
Going around Lyon in cabs can be very expensive. You should consider cutting transport costs by taking public transport because they are cheaper alternatives to move around. The city's bus network is made up of the Lyon trolleybus system, motorbuses, and coaches for areas that are outside the center. In addition, there are two funicular lines from Vieux Lyon to Saint-Just and Fourvière. The ticketing system here is relatively simple because Lyon has a single public transport operator, the SYTRAL. 
If you love cycling, experiencing Lyon just got better. There is a bicycle network that provides cheap service where bicycles can be hired and returned at any of 340 stations in the city. It is free if you borrow a bicycle for less than thirty minutes and the offer can even be extended for another half-an-hour at any station. Lyon is the first to introduce this bicycling renting system in the country. 
Gastronomy 
As earlier said, Lyon has a strong and long culinary arts tradition. It has rightly earned the title, the gastronomical capital of the world by renowned gastronomists. Have a bite at the Bouchon, a traditional Lyonnais restaurant which has some of tastiest local fare like sausages, roast pork, with local wines. 
Try also the mâchons, a local brunch made from charcuterie, and it is often eaten with Beaujolais red wine. French tacos, Coq au vin, quenelle, salade lyonnaise, and gras double are a must-taste for an unmatchable culinary experience.
Restaurants
Lyon has many culinary experts from different parts of the world. And this is obvious in the top-quality restaurants you will find all over the city.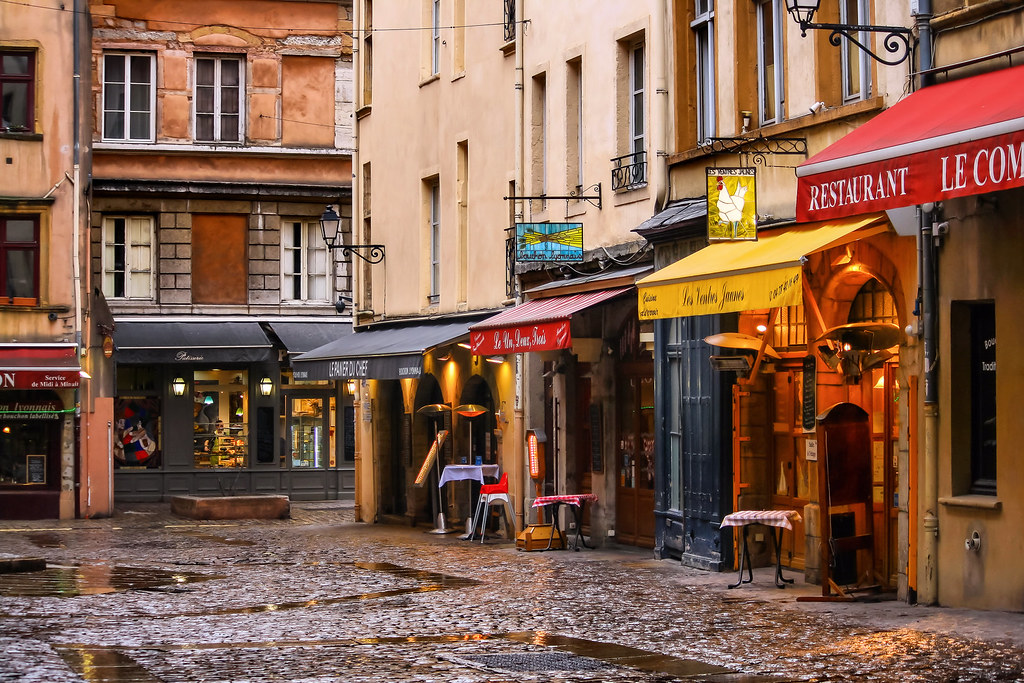 Here Are Some Of Lyon's Best Places To Eat
Café Sillon
The owners of this restaurant are young and dynamic Lyonnais natives. At Café Sillon, the menu changes every two weeks but retains a decent variety of options such as rare caviar lemons and Buddha's hands (citron fruits), seaweed, and tiny citrus fruits are all arranged with different types of lettuces. So, there is always the impression that you are tasting delicately prepared combinations.
The three-course meal and dinner are affordable, and there is a dual option for each course; frilled squid, kombu seaweed, root vegetables, mustard and hazelnut versus sweetbreads in tempura, cress juice with eel, apple and green radish for starters. This is followed by lamb (barbecued) with black olives, peppers, cardoon, and juniper. 
Tip: Chinato, the Italian red dessert wine, appears to go with everything toothsome that is made out of the restaurant.
Burgundy Lounge
What can be better than dining on an evening overlooking the Saône river? The Burgundy Lounge offers you what most restaurants do not. It has a giant steel bar and tasting lounge downstairs and solid stone walls with a comfortable seating area. Lunch for three courses is not pricey on Mondays to Fridays, and you will have hundreds of wine bottles to choose from.
Le Café du Peintre
The best quenelle de Brochet (a golden, potato-shaped pike soufflé) is served at le café du Peintre. It is one of the famous traditional recipes typical of Lyon. The café also serves Machon (pork products doused with a Beaujolais) usually in the morning. At lunchtime, le Café du Peintre hosts people from all occupations, including tourists who come to have a nice time and immerse themselves in some of Lyon's culinary glory. It is a great place to socialize. 
Le Potager des Halles
Not far from L'Ébauche, le Potager des Halles is a vibrant restaurant with everything chic about a modern French restaurant. It even has a saloon-bar vibe with an overhanging gallery and blond-wood bar that often bubbles with locals. Its large tables, screen, school chairs, and many chalkboards actively demonstrate its sport bar-ish credentials. At le Potager des Halles, you will have organic fruit and vegetables, fine groceries, chocolates, and a tapas bar.
Where to See Art and Design in Lyon
Being at the pantheon of arts and culture, there is a whole lot to experience in Lyon, especially if you are an art aficionado. Every year, the city hosts millions of art and design lovers around the world to mark festivals and other related events. You will discover lots of talented artists from around the globe who are expressive with their arts as they tell stories you will find gripping. 
You will love the exhibitions by design personalities like Galerie Mathieu where some poignant minimalist pieces are on display. Visit the Croix Rousse too where you will find L'Oeil de Boeuf, an art studio that is full of life. The studio, which opens for just six months of the year has some irresistible designs for your gazing. Datta bookshop is known for its magazines and periodicals. It also has a space for displaying great pieces of illustration and graphic arts works.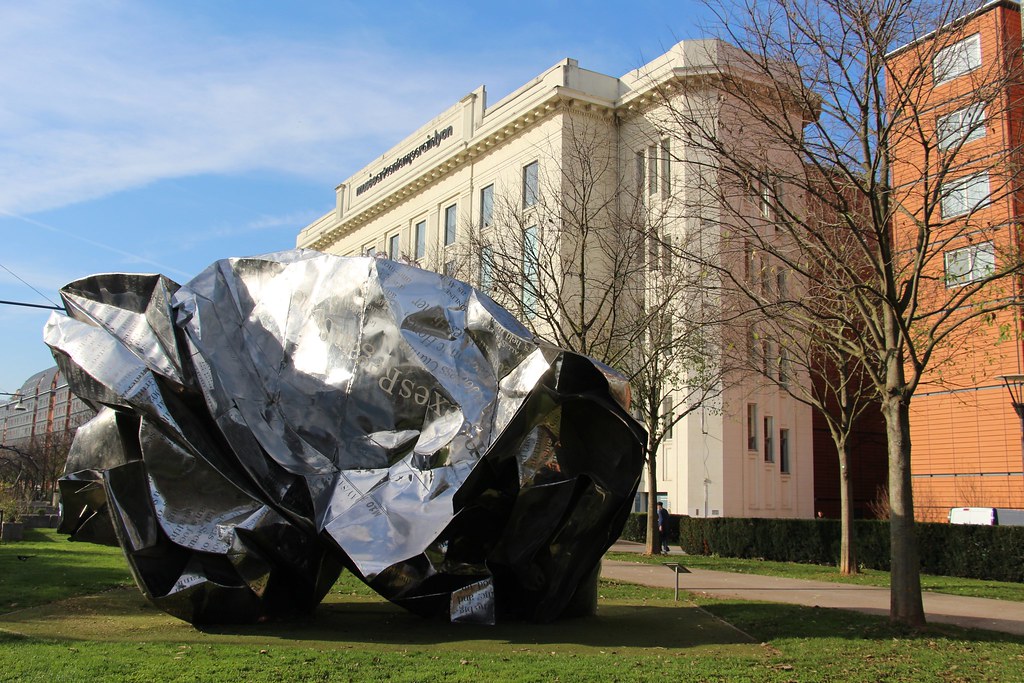 Le Bleu du Ciel is another perfect art place for tourists, especially lovers of photography. The designs, which are done with flair, are mostly sociologically themed. And if you want to see Lyon's expanse of scenery, the studio will offer you that unique angle. In the 7th arrondissement, three places will grab your attention. 
The first is a small shop called Bikini, on rue de la Thibaudière, which is only accessible on opening nights. 
On that street, there is also a gallery called Snap; an art setup that looks very much Parisian in character and design. And while you are still in the area, spare some time to visit Ilot d'Amaranthes garden at the junction of Rue d'Anvers and Rue de la Thibaudière. Situated between two structures, it used to be empty, but it has grown to become a special space for people, with lovely roses. 
The Ultimate Lyon Travel Guide – Blog Summary
Lyon is a vibrant city economically, culturally, and industrially. It has an enduring heritage that allures millions of people from different countries in the world. And no doubt that this historic city will, for many years, continue to offer tourists the scintillating experience they crave at all levels.
Read: Things To Do In Lyon