What is Nice, France Known For?
Since the 19th-century, the city of Nice has been attracting English aristocrats and Impressionist painters. With its terrific seaside scenery and sunny weather, this picturesque destination appears to thrill its visitors. Encircled by the gentle blue waters of the Baie des Anges and covered by the Maritime Alps' foothills, Nice has a moderate climate throughout the year. 
Nice was first discovered by the British as a winter resort in the 1820s. Now, it remains a popular vacation destination and one of the best French cities. If you are looking to explore the amazing French Riviera coastline, Nice is a great starting point. The southern city is quite popular among French nationals and visitors for various reasons.
Vieille Ville (Old Town) 
Nice's Old Town is a labyrinth of cobblestone streets and narrow alleyways. Fondly called 'Babazouk', the Vieille Ville starts at the western end of the Colline du Château (Castle Hill) and is surrounded by large boulevards, like the Jardin Albert I, Promenade du Paillon, and Place Masséna. Bordering the Ponchettes market shops at the Cours Saleya is the southern end of Vieille Ville. There, grocers and fishmongers sell fresh products. The popular Marché aux Fleurs (Flower Market) is a local Provencal event that adorns the street every morning (except Mondays) with flashy blossoms. 
In addition, the area around the market has several cultural attractions. Galerie des Ponchettes is on the Quai des Etats-Unis. It is a museum devoted to the works by Raoul Dufy. This art repository showcases a fantastic collection of Dufy's enchanting, solid paintings.
Just less than a five-minute walk away on the Quai des Etat-Unis is the Musee Alexis et Gustav-Adolf Mossa. The 1800s artist, Alexis Mossa was popular for his landscape watercolor paintings that feature scenes of Nice, the Provencal countryside, and the French Riviera. Gustav-Adolf Mossa, his son, also developed his own distinct surrealistic style in his landscape paintings. 
Exploring Vieille Ville the more, north of the Cours Saleya, visitors will see the Palais de la Préfecture, the city cathedral, and another significant 1600s Baroque church. The Palais de la Préfecture on Rue Alexandre Maris is a magnificent Neoclassical structure, also referred to as Le Palais des Rois Sardes because it used to be the palace of the Kings of Sardinia. 
>>Also Read: Nice Travel Guide
Promenade des Anglais 
Promenade des Anglais is Nice's most symbolic street. It has a stunning pedestrian area that trails the curve of the Baie des Anges beaches. This iconic seaside road is bordered by palm trees and filled with beautiful lush gardens. It used to be a small footpath before it was developed by Reverend Lewis, an Englishman in 1820. Then, it was called Chemin des Anglais. In 1931, the road was enhanced more when it had two different roadways.
When you visit today, you will see that the road traffic has been diverted with underground tunnels, making it unsuitable for people to tread. Skaters and cyclists are known to frequent the Promenade des Anglais. Since the golden age, it has been marked by rich buildings like the Palais de la Méditerranée theater and the classy Villa Masséna palace that used to be the abode of a Princess.
Today, it is a historic landmark accessible to tourists while it houses a museum of history and art and is encircled by a beautiful park with formal French gardens. Another iconic building on the promenade is the Le Negresco, which is on the National Historical Monument list. Le Negresco is a luxurious five-star hotel with an excellent art collection.
>>Also Read: Best Hotels Near Promenade des Anglais in Nice
Parc de la Colline du Château 
Also referred to as Castle Hill Park, Parc de la Colline du Chateau looks over Nice's coastline. It is the first part of the city to be inhabited by the Greeks two thousand years ago. Once regarded as incredibly fortified, soldiers of the French King Louis XIV destroyed the citadel in 1706.
This pleasant spot is an idyllic oasis of shady trees, greenery, and waterfalls. The park leads visitors on to have a delightful stroll and take in the superb views. From here, the view includes the Vieille Ville, Baie des Anges, and the city harbor. In the park, restaurants and boutiques and the ruins of two old churches should be seen. In the late hours, Colline du Chateau is lit with special lighting effects.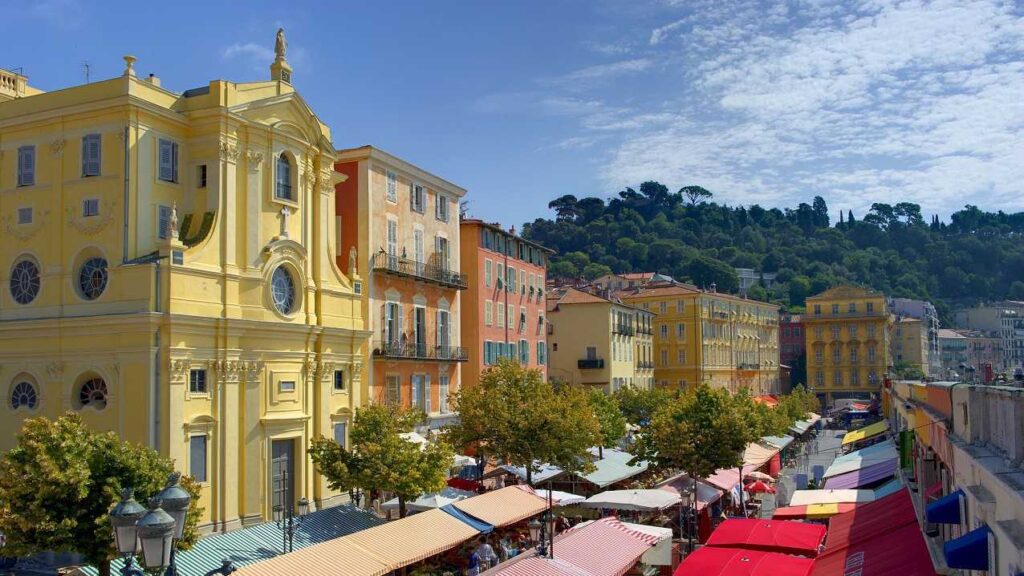 Musée Marc Chagall 
The legendary artists were so given to this particular museum's design that he decided where each of his pieces would be put. He designed the concert hall's stained-glass windows and configured the layout of the gardens. Therefore, the museum is a vibrant work of art by the artists himself.
However, the reason it was made was to accommodate Chagall's collection of 17 paintings with biblical themes. Among these is the popular Resurrection, Liberation triptych, Resistance, painted before, during, and after WW2.
Nice Cathedral
Situated in the Old Town, this landmark's exterior is so unassuming that even a casual tourist in front of it might not know it is the city's cathedral. Stepping inside, it's a different world. The building assumes different dimensions once you go in. The Nice Cathedral was built in the 1600s with an extravagant baroque design, made up of ten highly ornate chapels with gliding, paintings, sculptures. 
Musée Masséna
This museum is an 1800 villa on the Promenade des Anglais that was donated by the Duke of Rivoli to Nice in 1919 on the condition that it would be accessible to the public as a museum of local history. It is a Belle Époque mansion, and you should step inside to see how magnificent it is. It has gardens that Edouard Andre designed (he designed a couple of gardens in the Monte Carlo Casino). There is so much intriguing stuff when you step in, like Napoleon's death mask and a tiara that belongs to Empress Josephine- his wife, as well as a group of 1800s French art on the second floor.
>>Also Read: Is Nice, France Worth Visiting?
Dining
Nice is one of the foodie's paradise in France, and it has contributed to several national cuisines. When you visit, you will find a handful of irresistible treats. Salade Niçoise is one of such and a good one to start with. It is made up of green beans, hard-boiled eggs, tomatoes, anchovies, and calletier olives. It goes quite well with white wine from Bellet or Bandol's rosé. 
Socca is a more casual street-food. It is a type of cross between pancake and flatbread, prepared with chickpea flour. You can get it from vendors in the old quarter. Ratatouille is also so popular that it has a Pixar-produced animation with the same name. Ratatouille, native to Nice, is a vegetable stew prepared with aubergine, tomato, courgettes, and peppers. You should also try out Fougasse bread, Daube Niçoise, and onion tart, a braised beef stew, with tomatoes, bacon, and red wine. 
Beaches
The city's beaches are pebbly, and while they are gorgeous to stroll past, they might not suit everyone for sunbathing. Private beaches are offering the comfort of sun loungers and sometimes even laying sand. Visitors can still pass a soothing afternoon in the sun everywhere else, but the currents might be a little strong for children. Meanwhile, Mont Boron is one kid-friendly beach. It is located at Villefranche-sur-Mer, where the waters are screened by the headlands from the open sea at Cap-Ferrat and Cap de Nice. The waters are also shallower. 
>>Also Read: Best Beaches in France
OGC Nice
OGC Nice is the city's main football outfit in the French top-flight Ligue 1. From August to May, you can take a break from seeing the Cote d'Azur and treat yourself to some live action at the football club's home ground, Allianz Riviera stadium, just west of Nice. The stadium has a seating capacity of 35,000. 
Cap-Ferrat
Cap-Ferrat is less than 30 minutes east of Nice on the spectacular Boulevard Napoleon III. Visit this place to be impressed by the incredible turn-of-the-century buildings. Villa Ephrussi de Rothschild is one of such and is open to visitors and stacked with sculptures, valuable paintings, and sculptures. Similar to the popular path at Cap d'Antibes, Cap-Ferrat is bordered by a coastal path, too, with wonderful Instagram-worthy settings of the Cote d'Azur's coastline and the Massif de l'Esterel.
>>Also Read: Is Nice, France Expensive?
What is Nice, France Famous For? – Summary
Perhaps, artists are attracted to Nice because of its artsy character. Therefore, it does not come as a surprise that the city is regarded as one of the best European destinations for art galleries. The artistic proclivity is not the only thing that Nice is known for. Its beaches, world-famous cuisines, a mild climate, and the invigorating Rivierian glam all combine to make it a special city.