Best Hotels Near Promenade des Anglais in Nice
With lots of French Riviera sunshine and azure Mediterranean waters, Nice has long been a favorite place to retreat from the cold weather and grey days so prevalent in Paris and in the UK. In fact, starting in the late 18th century, the English came in droves to this French Mediterranean city. During a particularly harsh winter north in 1822, some of the rich Englishmen who had escaped the cold, dreary weather in London built a promenade along the pebbly Nice beach.
The wide, palm-lined Promenade quickly became popular among locals. Today, it remains a great place not only to soak up some of that Mediterranean sunshine and enjoy a beautiful beachside stroll (the rocky beach itself is rough on the feet) but also to stay; the other side of the road behind the Promenade has beautiful hotels with spectacular views.
The best part about staying near the Promenade Anglais is that you also just step away from Vieux Nice, where you can walk the oldest streets in the city, shop at the daily market and boutiques, and eat and drink to your heart's content in the cute sidewalk cafes.
And lastly, the Promenade des Anglais is prime real estate if you are planning on spending Carnaval in Nice, as the festivities take place on this beautiful beach walkway and in Vieux Nice.
>>If you are going to Nice and your budget doesn't allow you to stay in one of these hotels near the Promenade des Anglais, check out the Best Hostels in Nice and find an accommodation that won't break the bank. And read information about cheap flights to Nice, too!
There are many hotels along the Promenade des Anglais in a variety of price ranges.
High-End Hotels Near Promenade des Anglais
Hotel Beau Rivage
The hotel has its very own private stretch of beach. Also, it is located just two blocks from Massena Square, the Opera house, and the famous Nice flower market. In addition to a private beach and prime location, Hotel Beau Rivage is also located in a beautifully renovated 19th-century townhouse; it was redesigned in 2004 by famous French architect Jean-Michel Wilmotte.
Guests can enjoy a complimentary breakfast and newspapers in several languages (including the English language International Herald Tribune), or sip on cocktails at Le Bar with stunning beach views. Many locals say it's the best beach bar in town; once you settle into their comfy sofas and have your drink brought to you, you'll agree.
The hotel's private pebble beach is open from April to October and offers umbrellas, sunbeds, and towels.
Amenities in rooms include minibars, remote lighting/drapery controls private. Beds have linen sheets and white hypoallergenic duvets. High-speed Internet access is available for a fee.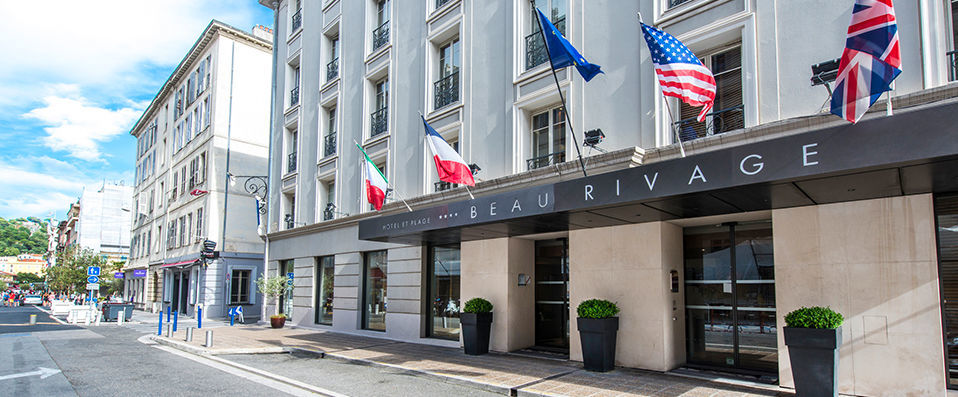 Le Méridien Nice
If you are looking to be pampered during your vacation in Nice, look no further. This luxurious hotel is located in a prime beachfront location at number 1 Promenade des Anglais; the most prestigious address in town. You're literally right in the thick of things; the Promenade to the right; Vieux Nice to the left, and the azure waters of the Med right out the front door.
Le Méridien offers an outdoor heated swimming pool overlooking the Baie des Anges. Also, it has a health center complete with a gym, sauna, solarium, and beauty treatment center.
The 184 newly renovated guestrooms are decorated in neutral tones enlivened by touches of red, light purple, and blue to absorb the intensity of the light. The 132 Classic rooms provide upscale comfort in a Mediterranean style.
Le Méridien is adjacent to the Casino Ruhl and just 2 blocks from Vieux Nice.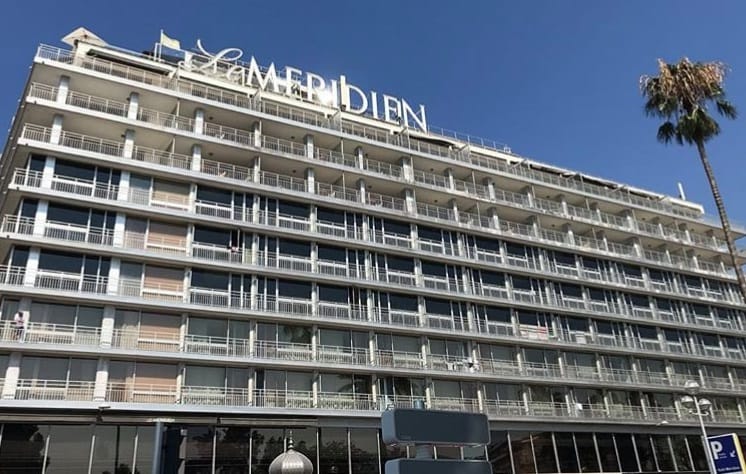 Palais de la Méditerranée – Hyatt Regency Nice
Those looking for a high-end hotel during their stay in Nice will not be disappointed with the Palais de la Méditerranée, which has long been a famous landmark in Nice. The grand white Art Deco façade created in the 1930s is still fully intact and has been restored to its original splendor, beckoning guests inside to savor the many fascinating delights that this legendary luxury hotel has to offer.

Mid-Range Hotels Near Promenade des Anglais
Boscolo Park Hotel
If you are looking for something slightly higher-end than the Hotel Paradis, you are sure not to be disappointed with the 4-star Boscolo Hotel. It is located right on the Promenade des Anglais. Just a short distance from Vieux Nice, you will be able to take in all the best sites and sounds from Nice; all while enjoying comfort and luxury.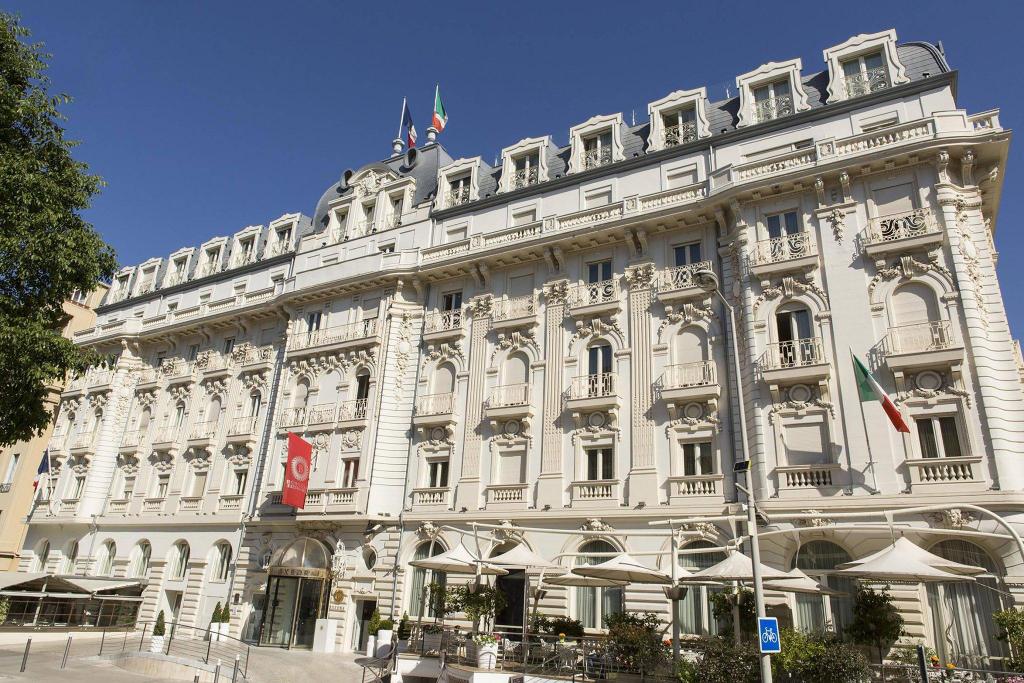 The Deck Hotel / Hotel de Flore by Happyculture
The Provençal style bedrooms, with warm tones and bright colors, will perfectly match the atmosphere you find in Nice. The Deck Hotel by Happyculture also has free wifi as well as a complimentary buffet breakfast served daily in a bright dining room, which features a terrace with sea views. Because somehow, your coffee just tastes better when you're sipping it while gazing at the Mediterranean.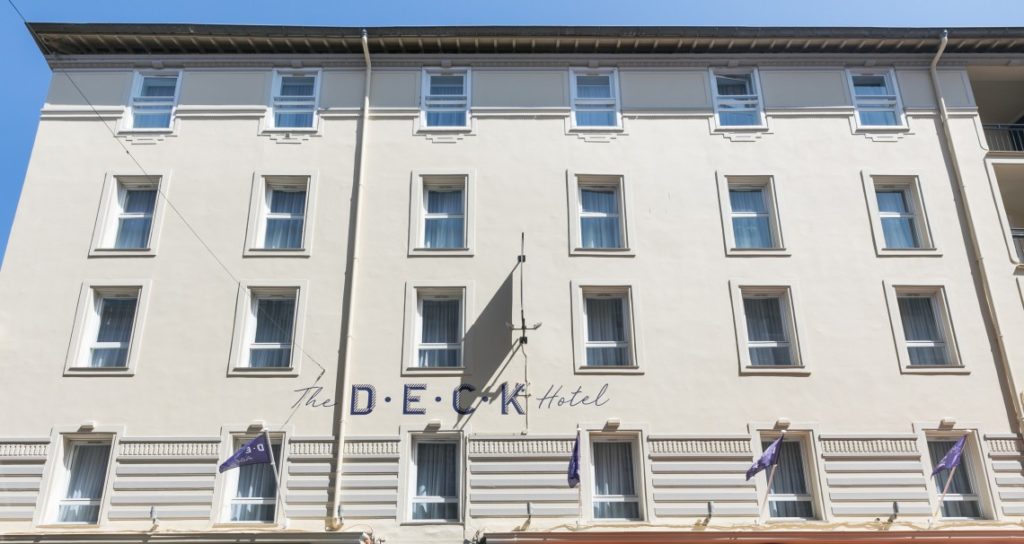 Budget Hotels Near Promenade des Anglais
Premiere Classe Nice — Promenade des Anglais
Those wanting to stay in a clean, comfortable room close to Vieux Nice and the Promenade des Anglais without breaking the bank will be happy to find the Premiere Classe hotel located near the seafront in Nice. While you certainly won't be able to enjoy the luxuriousness of hotels like the Palais de la Méditerranée at this hotel, you will find a high level of comfort at an affordable rate. All rooms come with en-suite shower, satellite TV and Canal+ and free wifi internet access. Bunk beds are available in some rooms for a third guest at no extra charge.
This hotel also offers a complimentary breakfast, public parking, and a great location. Although not located near many of the other hotels on this list, this hotel also has rooms starting at much lower rates; allowing you to enjoy a seafront location at a lower price.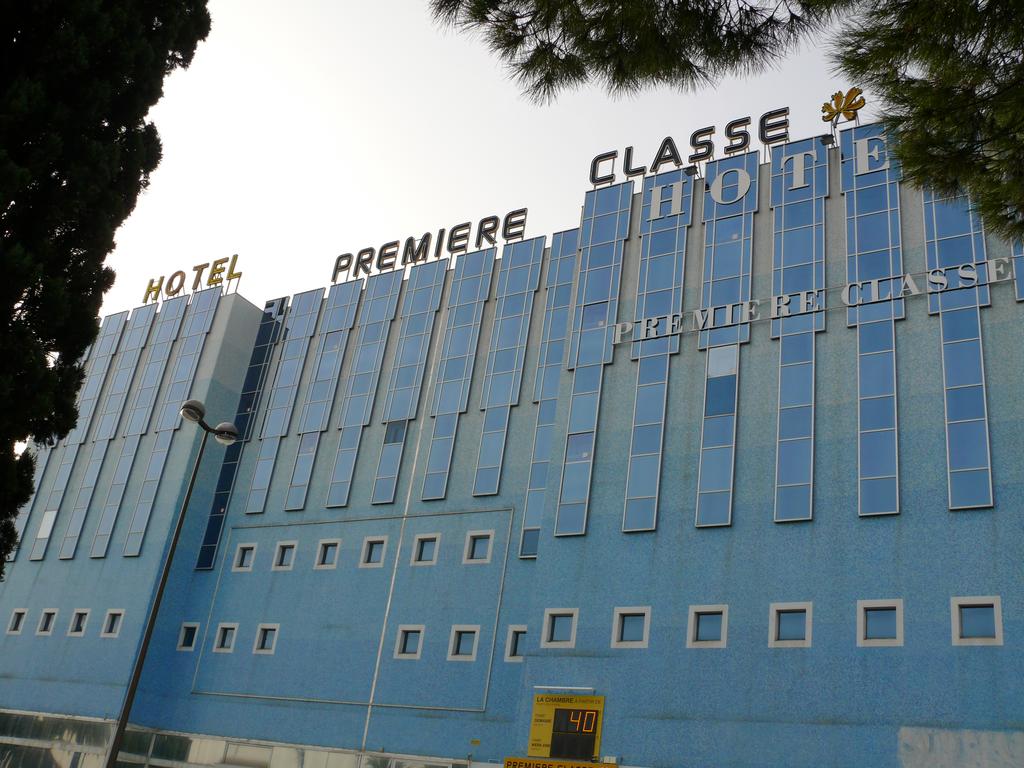 Hotel Paradis
This two-star hotel is not right on the Promenade; however, it is just steps away and is both comfortable and affordable. They have free beach towels and wifi as well as free tea, coffee, and other breakfast items. Sunny rooms come with AC, which is a huge perk in the hot summer months in Nice; the Mediterranean sun can be brutal. The hotel is within stumbling distance of Vieux Nice, located super close to the Cours Saleya Market and is a solid hotel choice for any budget traveler in this French Riviera city. It's super close to the Mediterranean, and the beaches of the Promenades des Anglais, the pedestrian area (Rue de France & Rue Massena) and Avenue Jean Médecin, with its big stores and shopping center, Nice Etoile.