Best Party Hostels in Paris
You're planning a trip to Paris; everyone talks to you all about the museums, the cafes, and the historical monuments. You're soaking it all in because you want to be polite, and you really do want to check out all the history and art and such. However, the truth is that one of the reasons you're excited about going to Paris is because you'll have a chance to meet so many other travelers there. That's why, when you're looking at the many Paris hostels you could stay in, you'll want to check this list of the best party hostels in Paris.
By booking a room in one of the hostels on this list, you'll stand a much better chance of meeting and hanging out with other social travelers like yourself. Whether you make friends for life or just enjoy a few shared memories in the City of Light, the atmosphere at these party hostels is sure to make your time in Paris memorable. That is if you can remember what you did by the next morning…
Here Is A List Of The Best Party Hostels in Paris
Peace and Love Hostel
In Peace and Love Hostel's own description of itself are the words "do not come here if you are a sleeper!" in giant all-caps letters, so the hostel's reason of existence should be pretty clear. Yes, there are here, and you can probably find time to catch a few winks here and there. However, this is definitely not the hostel to choose if you're looking for a quiet corner in which to contemplate Parisian philosophy.
People choose Peace and Love because they want to party; or at least because they don't want to get glared at by other hostel guests if they do party well into the night. The hostel says it's for people between the ages of 18-35. Although that doesn't mean that older guests aren't welcome; it just means that if you're choosing to stay at this notoriously party-hearty hostel, you'd better not be complaining about the noise!
There's no curfew at Peace and Love, so you can come and go as you please both day and night. The hostel has its own bar, which stays open until 2am and has lots of great cheap beer on offer (especially during Happy Hour). Also, its location near the Gare du Nord makes it a great launch-pad for any day-trips outside Paris you might want to take. It's also across the street from a Metro station, which is handy. However, on its own, it's not very close to any of the tourist sights in Paris. As long as you're comfortable with the Paris Metro, though, you should have no trouble seeing whatever you want to see.
Prices for the cheapest beds range from just over $30 in the low season to more than $45 in the high season. Other things to note; bed linens and towels are included in the price of the bed, but breakfast and internet access will cost you a bit extra.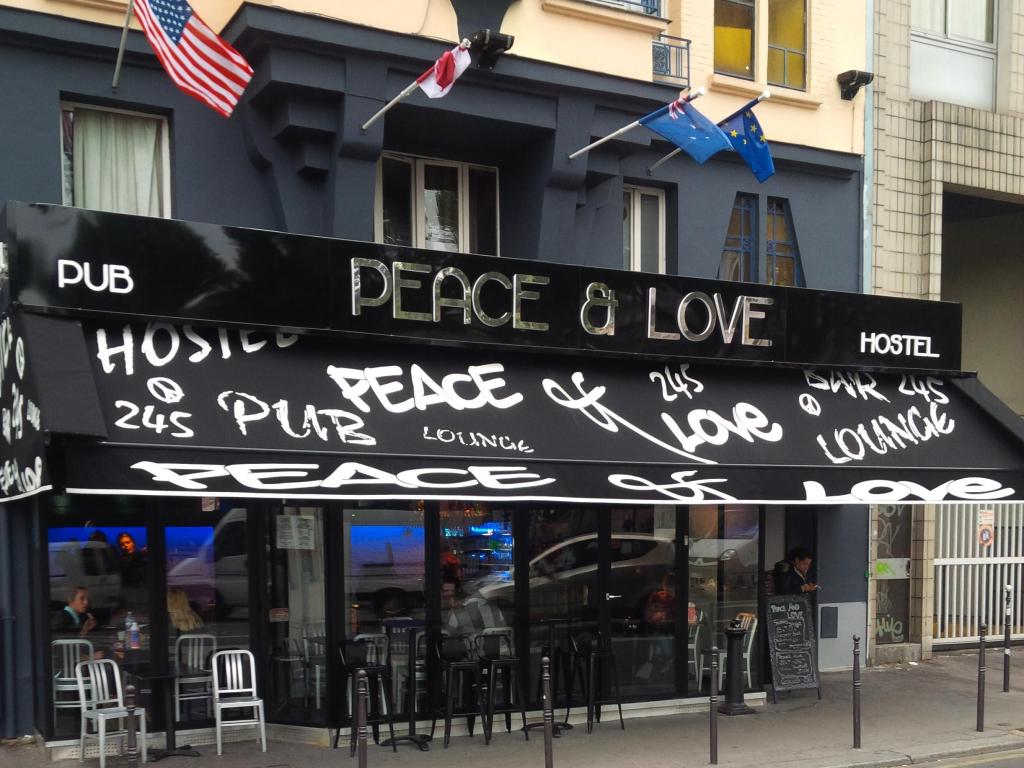 245 Rue La Fayette – 75010 Paris
3 Ducks Hostel
One of the things that routinely gets mentioned in reviews of the 3 Ducks Hostel in Paris is the bar. Not the beds, not the location – the bar. If that doesn't tell you something about the party atmosphere at this place, nothing will. In addition to being a great hang-out spot, the hostel bar also boasts a good selection of beers.
Like any good social destination, there's no curfew at 3 Ducks. This means you can not only come and go well into the wee hours if you like, but you can also sleep off the night before without worrying about getting kicked out during mid-day cleaning, or grabbing a much-needed disco nap in the afternoon.
Keep in mind that because of the party focus, 3 Ducks leaves something to be desired in other departments. Specifically, the hostel isn't known for its overall cleanliness or comfort. Some people feel that the dorms are overcrowded, too noisy, and a bit rundown. But anyone who came to 3 Ducks looking for a good place to meet people and hang out got exactly what they were looking for. Ironically, the hostel itself is in what is otherwise considered something of a quiet residential neighborhood; rather than a party district. It also happens to be not far from the Eiffel Tower; making it easy to squeeze in a monument or two in between your social obligations.
The cheapest bed will cost you between about $25 in the low season to about $35 in the high season. Other things to note – sheets and towels are not included in the price of the bed (although a simple breakfast is), and you'll pay for using WiFi as well.
6, place Etienne Pernet – 75015 Paris
St. Christopher's Hostel
If you're a traveler who usually stays in hostels, then the St. Christopher's name may already be familiar with you. This hostel chain has locations in many of the biggest tourist destinations in Europe; and, as of January 2008, that list of cities also includes Paris.
The St. Christopher's Paris location is two Metro stops from both Montmarte and the Gare du Nord, so it's easy to get anywhere you want to go in the city as well as the region. There's a Belushi's bar at the hostel (which hosts great Happy Hours), the occasional live music act, and lots of city tours you can sign up for that are organized right from the St. Christopher's Hostel. And, just in case you're a woman traveling alone, and you want to make sure you're safe as well as social, there's a female-only floor.
Being a relatively new hostel, the facilities are top-notch and offer some of the latest perks (including electrical outlets and privacy curtains for every single bed). St. Christopher's is open 24 hours a day, so there's no pesky curfew or lockout period to worry about, and with a total of 300 beds in the purpose-built hostel, you'll have no trouble meeting other sociable travelers – especially in the busy season.
The cheapest beds at St. Christopher's range in price from roughly $35 in the low season to almost $50 in the high season. Other things to note – sheets, WiFi, and breakfast are included in the price of the bed, but towels are not.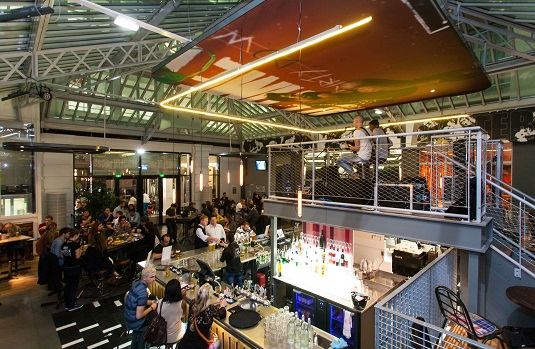 159, rue de Crimee – 75019 Paris
Woodstock Hostel
As far as party hostels in Paris go, Woodstock Hostel is probably on the more laid-back end of the scale. Yes, it's very social; and yes, you'll undoubtedly meet other people who are looking for company on their nightly tours to the city's bars and discos. But unlike some of the other places on this list, Woodstock isn't all about the party. Still, the hostel bar is open until 2am, and they're located in the Montmarte area (great for budget travelers). Therefore social butterflies who might actually want to get the occasional good night's sleep are welcome.
Woodstock hostel does have both a curfew and a lockout period, so you'll need to be back at the hostel by 2am (or plan to stay out until it re-opens), and you'll need to make yourself scarce from 11am-3pm while the place gets cleaned. These rules aren't ideal for anyone whose sole purpose in Paris is to party, so keep that in mind. The word is that these beds are inexpensive enough that they get snapped up pretty quickly during the high season; so be sure to book yours as soon as you know this is where you want to stay.
Prices on the cheapest beds at Woodstock will run from about $25 in the low season to about $30 in the high season. Other things to note; bed linens and towels aren't included in the price of the bed; however, breakfast and WiFi are both available for free.
48 rue Rodier – 75009 Paris
Latin Quarter Hostels
If you either can't get a bed in one of the party-centric Paris hostels listed above; or you're looking to meet more people who are staying in different places; your best bet is to stay in a hostel in or near the student-heavy Latin Quarter. Many of the hostels in that area don't even have their own bars because with so many local bars and night clubs around the neighborhood; it just wouldn't make sense. Staying in a hostel in the Latin Quarter gives you a chance to meet the people in your dorm room; as well as find new faces as you check out a different bar every night.