What is Disneyland Paris Famous For
Paris is inviting for many reasons. Disneyland Paris significantly makes the list of thrilling places to visit in the French capital. In fact, when it comes to amusement parks on the continent, no center matches Disneyland Paris- Europe's only Disneyland. 
The exciting park used to be called EuroDisney, but Europeans were said to dislike the name hence the change. In the past decade, the place has undergone many changes to meet the tastes of its bourgeoning visitors. And while it bears similarities with both Disney World and Disneyland California, there are certain Disneyland Paris attractions and rides that make it exceptional. 
I hope you plan a trip to the amusement park soon but book your tickets in advance. This way, you won't spend too much time in the queue. Time wasting that is avoidable can be frustrating.
>>Also Read: Is Disneyland Paris Worth It?
Here Are Some Features, Attractions, and Rides that Disneyland Paris is Famous For:
The Voyage of Pinocchio
Disneyland Paris's Voyage of Pinocchio is popular because it takes riders through the familiar story of Pinocchio. Here, you will see how he was created, his stint in Stromboli's Marionette show, and the exact time that Pinocchio morphs into a real boy. You will get along with it even though the ride is in French. 
Pirate Galleon
Here is the chance to venture through dark caverns to Skull Rock. Here, you will see two pirate playgrounds crammed with rope ladders, slides, and a plank. This amusement park will make visitors feel like they took a journey through the story of Captain Hook and Peter Pan. Children will love the chance to explore and expend some energy.
Big Thunder Mountain
The Big Thunder Mountain is similar to the ride at Walt Disney World but better. Ascend onto the mine cart, and you will proceed on a roller coaster ride through the mines. Easily, this is one of the best rides in the entire amusement pack. The Big Thunder Mountain is special because when visitors think they have seen everything, it just keeps going.
Alice's Curious Labyrinth
Lovers of Alice in Wonderland will cherish this take of the Queen of Hearts labyrinth. As visitors walk through the maze, they could see anything along the way. When they reach the end, they can climb a small castle for splendid views of the Disneyland Paris park.
Little Circus Train
Have a go at the Little Circus Train from Dumbo to get close to the Beauty and the Beast's Beat Castle. This ride is the one way visitors can view the castle's small-scale model.
Disneyland Paris Parade
This afternoon parade is one of the most exciting attractions in Disneyland Paris. The parade floats are unique and entangle the character with the story exceptionally. 
Pirates of the Caribbean
Remember the Captain Jack Sparrow classic? The Pirates of the Caribbean ride here is in French. It has many of the fantastic scenes, as visitors will see in Disneyland. The ride is longer than that of Walt Disney World type. 
It's a Small World
Regardless of which Disney park you visit, It's a Small World is a must-see. Unlike some Disneyland parks, Paris' features well-known Disney characters combined with other puppets. Visitors will find the Little Mermaid, Aladdin, and more. 
Disney's Storybook Land
Voyage on a small boat where visitors will see villages and homes from classic Disney movies in a small form. Visitors will see:
Mine and house that belongs to the Dwarfs from Snow White and the Seven Dwarfs
Babes in the Woods' gingerbread house
Rapunzel's high tower with a braid protruding from the window from Tangled
Seaside castle in The Little Mermaid
Mount Olympus and the Greek temple from Fantasia
The Cave of Wonders in Aladdin
A scene in The Sword in the Stone 
Belle's village and the Beast's castle in the Beauty and the Beast
The Emerald City and the Witch's Castle in The Wizard of Oz and Return to Oz.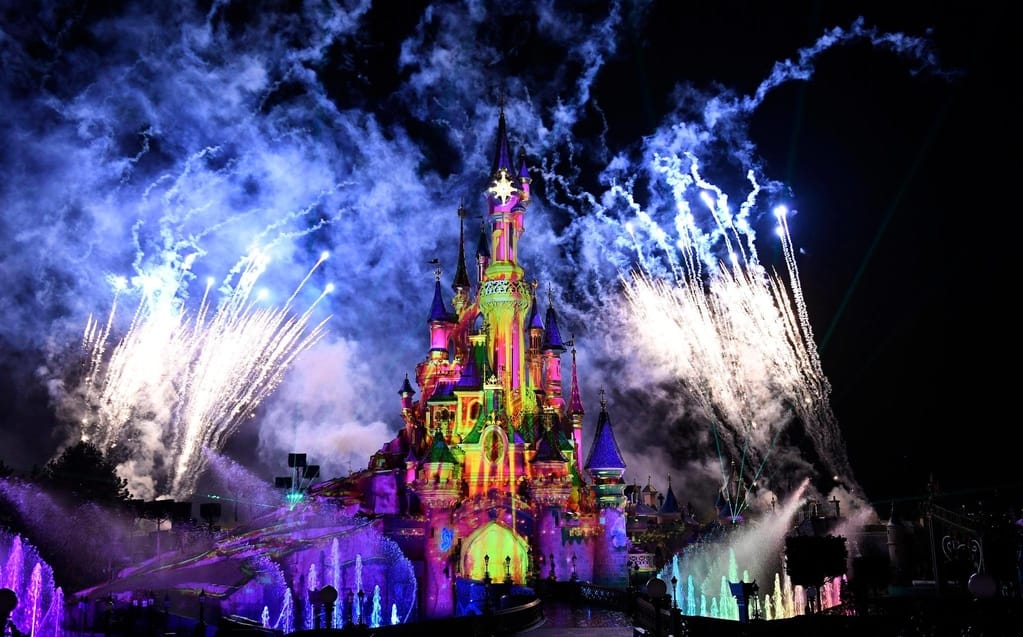 >>Also Read: Most Popular Tourist Attractions in France
Reasons to Visit Disneyland Paris
It Will Excite the Children
Kids will love a captivating setting like Disneyland Paris. It will be a day of having junk food, watching food, seeing cartoon characters come alive, riding exhilarating rides, and watching nice shows. It is brilliant.
The Rides
For those who love rides and parks, Disneyland Paris has several of them. From the most frightening of roller coasters to age-appropriate rides for small toddlers- visitors will be spoilt for choice here.
Skip the Line: the FastPass
If part of the reasons you do not want to visit Disneyland Paris is because of the long queues, there is a fix for that. Visitors can always use the Free FastPass system. It is an expedited pass that allows visitors to skip the long queues. What visitors need to do is get the FastPass distribution spot close to the entrance of the ride they want to get on.
Swipe your admission ticket (park) at any of the machines and get a free FastPass ticket with a specific time. You will bypass the long line when you return to the stated time. This is particularly great for certain well-known rides. 
French Exposure
In the case that your children are worried about going to a foreign country or complaining about the trip, then taking them to Disneyland is a smart way to get them excited about a trip that they might otherwise not be enthusiastic about taking.
Communication is Possible
You don't speak French? No worries. You will be able to communicate quite easily in the park. There are maps, menus, and even signs written in French and English. Several of the park cast members are also proficient in English as they are recruited from different parts of the continent and the world.
It's Small and Doable in Less than 24 hours
Unlike the Disneylands in the US, Disneyland Paris is smaller and more doable in less than a day with good planning. It is not an overwhelming vast park where children can easily get lost with no or less supervision from guardians.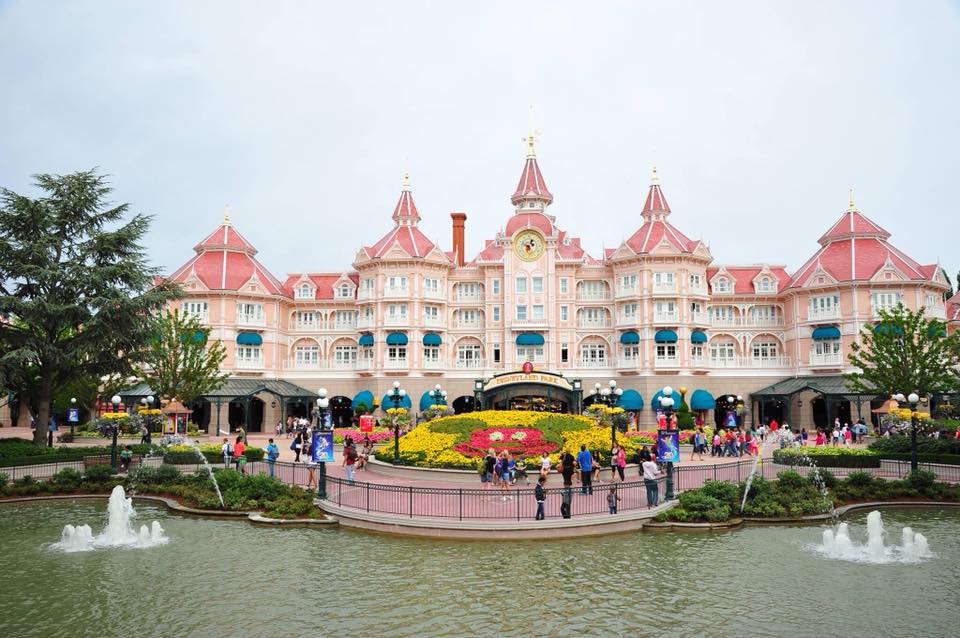 How to Get to Disneyland Paris
By Train
The popular amusement park can be easily reached by trains since it is situated just two minutes away from the Chessy train station/Marne-la-Vallee on foot. Regardless of what you choose- low-cost train or a high-speed train coming from Paris, they all make a stop at the train station.
Besides, there is a 'Disney Express' luggage service at the train station. This should come in handy for visitors who are going to Disneyland Paris for an extended period and are staying at a hotel. With this service, you should skip checking in at your hotel to place your luggage there. Disney Express will attend to everything.
This service will save your time immensely, and help you go inside the parks (Disneyland) when you arrive. Please note that the Disney Express is exclusively for people staying at the Disney hotels and their partner hotels.  
By Car
You can take a car to Disneyland Paris from anywhere in the country. If you are taking a car from the capital, you might need to take the A4 Autoroute to Metz/Nancy. Then take the 14th motorway exit tagged 'Parcs Disneyland'. It is located about 25 miles away from the French capital and is just a 40-minute ride from there if the traffic is not too blocked. Visitors who are lodging at a Disney hotel or another partner hotel can park in the hotel's parking area. You can also take a free shuttle to reach Disneyland Paris.
By Plane
Flying in from Paris-Charles de Gaulle or Paris-Orly airport? There are the Magical Shuttles available to visitors outside those two airports. You are expected to be taken straight to Disneyland or your hotel.
Paris-Orly- For those who want to go to the amusement park from Paris-Orly airport, the trip will take about an hour. And there are two stops from where to take the shuttle- Paris-Orly Sud: Train station, Platform 5, Gate C. From 9:00 am to 7:50 pm a shuttle leaves every hour. Terminal Ouest: Floor 0, Platform 4, Gate I. A shuttle leaves every hour from 9:10 am to 8:00 pm. To go back to the airport from Disneyland Paris is not difficult either. A shuttle leaves every hour from 6:20 a, to 6:15 pm.
Paris-Charles de Gaulle- From this airport, there are two stops from where to take the shuttle to the amusement park. It is expected to take close to an hour too: Terminal 2E-2F: arrivals floor (located in the middle of the gallery connecting the 2E and 2F terminals). A shuttle leaves every 15 minutes from around 9:00 am to 12:25 pm. To go back to the airport from the amusement park, a shuttle leaves there every 6:35 am to 7:20 pm. 
What is Disneyland Paris Famous For – Summary
The fantastic Disneyland Paris brilliantly blends the warm familiarity of Disney parks around the globe with an eye-catchy Parisian charm. Families with younger children will appreciate the park's small size and superb rides. From only-in-France experiences to Disney fan favorites, the park is popular for quite a lot of things.
>>Also Read: Best Things To Do In Paris