What To Do On a Romantic Weekend in Paris
Paris epitomizes romance and is associated with romantic gestures like no other city in the world. Touted as one of the most beautiful cities you could hope to visit, Paris has become the natural destination of choice for those looking for a weekend of romance, love, and culture. Planning such a weekend in advance will help you save time and get the most out of this beautiful City of Lights in the short yet ample time you have there.
>>Also Read: Paris Travel Guide
Sightseeing on a Romantic Weekend in Paris
For a stay reminiscent of French royalty of the past, book a French Château. A place like the Château d'Esclimont is perfect to soak in the beauty of Paris like Kings and Queens. Or you can also book your stay at the George V which is extremely luxurious.
Paris is famous for its monuments, and most have a romantic touch associated with them. The most notable among them is the Eiffel Tower, which has been the setting for numerous romantic flicks. The place has a charm unlike any other, and many a celebrity have gotten married amid much fanfare on or around this tower.
Another spot is the Louvre, which houses the eternal Mona Lisa in all its glory and has to be witnessed once. For couples seeking adventure, a Da Vinci Code type of trail is in place throughout the city and ends at the Louvre.
The sidewalk café terraces offer opportunities for simply roaming around the city with your loved ones. Place De La Contrescarpe is one of the most picturesque of all the sidewalks in Paris.
The Arc De Triumphe, along with the Notre Dame, gives stunning overlooks of the city apart from the Eiffel Tower. The Gothic gargoyles add a Gallic charm to the Notre Dame, and you can just sit back and watch the city from these vantage points.
The Luxembourg Gardens are ideal spots for couples. Overlooking the Luxembourg Castle, this garden is beautifully maintained and is breath-taking to look at.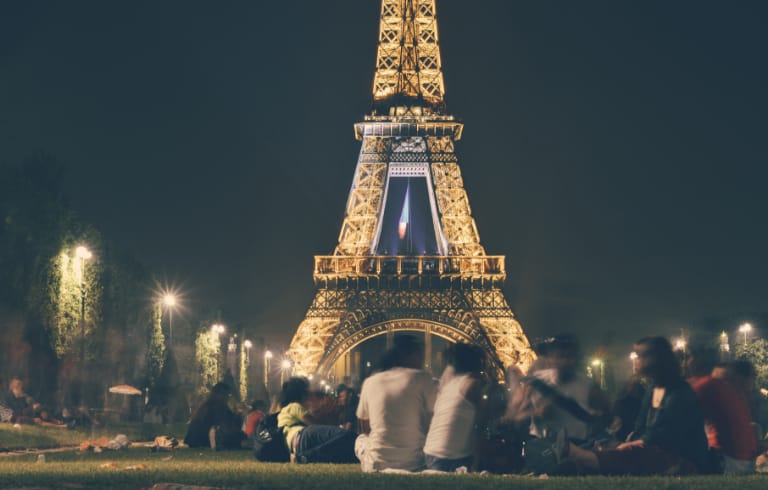 >>Also Read: Top 10 Ideas For Valentine's Day In Paris
What Else to Do on Your Romantic Trip in Paris
If you are in Paris, you have to be at the Ritz once. This hotel is a classical symbol of France, and there's nothing better than to celebrate the romanticism of Paris than with a high tea here. Surrounded by priceless silverware and luxurious interiors, this place packs a lot of punch for couples looking to experience a classy Paris.
If chocolate is your partner's thing, then go for a Chocolate Massage at the Four Seasons. This entails almost 3 hours of being soaked in rich chocolate; a chocolate-mint body massage, cocoa oil, all find a place in this short itinerary.
Don't forget to nibble on cheese and take a bottle of French red wine with you while going to sit around almost anywhere. Paris is also famous for its jazz culture, so be sure to snick a jazz bar when in Paris. This can prove to be very romantic and enjoyable.
All in all, Paris is and has been the choice destination for couples and its time you start packing your bags and go explore this paradise.
Do you have any other ideas on What To Do On a Romantic Weekend in Paris? Leave your comments down below.
>>Also Read:
The Most Romantic Hotels in Paris
Why is Paris Called the City of Love?