Since the beginning of time, Paris is famous for being the world's capital of romance. Not just because the epithet has a nice ring to it when describing the city. Instead, Paris boasts of massive romantic credentials that attract lovers from around the world. From monuments, bridges, to festivals, romance is deeply ingrained in the French capital's soul for all the right reasons. Paris didn't earn the nickname 'City of Love' by accident.
Whether you are alone or not, nothing stops you from going for a cruise on the Seine, attending a show at the Moulin Rouge, seeing the Eiffel Tower, dining at the Tour d'Argent, etc. The city is primed to offer a memorable Rendez-Vous that fits any couple's idea of romance.
>>Also Read: What To Do On a Romantic Weekend in Paris
Here Are Some Romantic Things About Paris:
Treat Yourself Like Royalty 
Only a few things are more romantic than being treated like royalty in a foreign city. Fine linens, marble baths, crystal chandeliers, antique furnishings, champagne, beds befitting a king, and so on; the city's historic palace hotels indeed know how to treat visitors.
If you are among the people that think that marriage proposals on the often crowded Eiffel Tower are out of fashion, then pop the question to your significant other at the rooftop of the Shangri-La Hotel. This place is a luxurious rooftop bar with a terrace that looks over the major monuments in Paris, including the Eiffel Tower.
Self-indulge and enjoy the moment on an afternoon tea with a piano serenading the air at the Four Seasons George V. You can take a revitalizing massage for two at Hotel Meurice's Spa Valmont, a fine brunch at the Hotel Lancaster or cocktails at the chic Plaza Athénée bar at night.
To fully enjoy France's royal culture, hire a driver for a memorable evening trip to the countryside. Chateau Vaux-le-Vicomte provides impressive candlelight evenings, while magical Fountains Night Shows take place in the Chateau de Versailles with a dramatic fireworks display and Baroque music marking the events.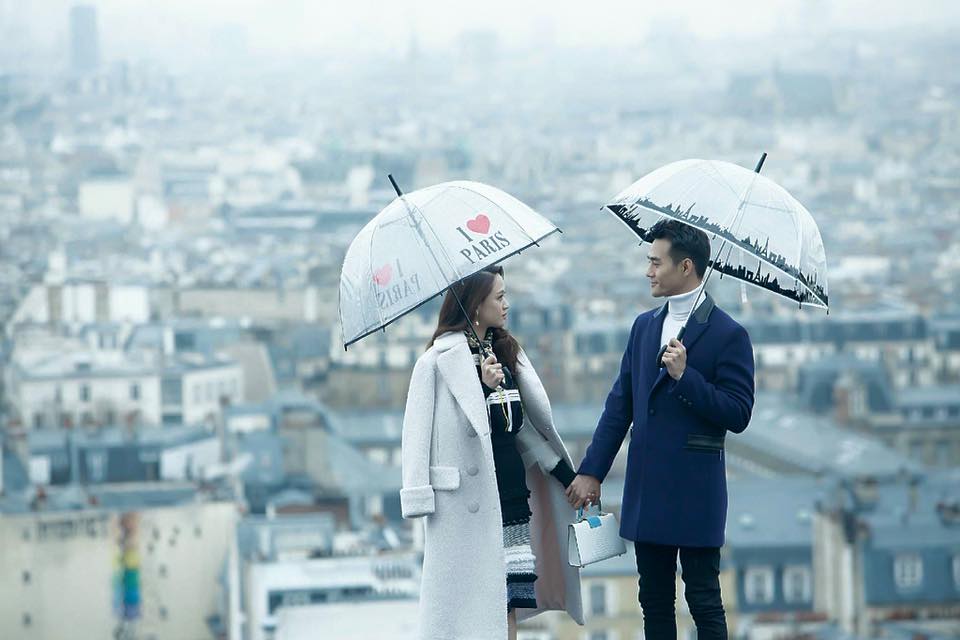 >>Also Read: The Most Romantic Hotels in Paris
Late Night Art Appreciation
The thought of museums might be with long queues and a line of endless art pieces that one feels guilty not understanding enough. If done the right way, the city's museums are underrated places for lovers to share intimate moments in a stunning environment. Seeing that groups often visit in the early hours of opening, children tire out quite early, and almost every other person goes for dinner. You both can avoid the ticket queues and crowds when you visit late.
The Orsay's neo-Impressionist gallery is impressively dark. Also, the theatrical lighting of the Quai Branly Museum puts a bit of drama to any visit at night. And you could even surprise your lover with the Eiffel Tower's whole front view from Cité de l'Architecture window on the Place du Trocadero. There is also a big garden in the Rodin Museum that is full of spots to talk about arts.
Parisians Are Not Shy Hitting on You
With the French, it is said, seduction is not just for the bedroom. Parisians consider the ability to seduce as an important skill in getting by in the day. The power is useful, from getting one's way in an argument to persuading clients in business deals. When locals adorn their boutique windows, they are not just trying to get the attention of people. The goal is to seduce.
The secret is in the subtle art of presentation- an essential module in French design schools- deployed to tease, lure, and entice customers. Candies, clothing, artworks, and toys with a host of boutique windows are simply designed to impress. That is why they call window-shopping faire du Leche-vitrines (go window shopping).
Savor the immense pleasures of walking past Paris' oldest boutique windows in Les Passages Couverts, the iconic 1800s shopping pathways that precede contemporary department shopping malls and stores. The Galerie Vivienne and the Passage Jouffroy (located on 10 Boulevard Montmartre, 9th Arrondissement) house chic boutiques, art galleries, tearooms, local designers, and antique bookshops, while the stalls beneath the romantic Palais Royal Gardens' arcades are popular for their perfume shops and vintage clothing.
>>Also Read: Why is Paris the City of Love?
Exploring à Deux
One of the things to love about Paris is the grandiosity of its monuments. It is walkable on foot, so you might want to discard the maps and itineraries. The real Parisian walking experience is finding the hidden gems in the streets, following any attractive pedestrian passage or cobblestone street that will impress you.
The smell of freshly baked bread will guide to the bubbling open-air market and boutique window courses to an antique stall. You can your partner can play a game. Take turns or flip a coin in deciding which way to go. If you still want to leave everything to luck, begin at the Maria area (popular for is many obscure gardens); the Latin Quarter (where you will see the popular stairs from 'Midnight in Paris'); the Butte aux Cailles (usually compared with Montmartre); or Nouvelle Athènes (where a fortuitous turn down a garden trail will lead you to Musee de la Vie Romantique's cottage housing).
Fine Dining
Romance is quite related to eating that Paris could beat many world cities to the first position. While the food is amazing, it is beyond that. The very moment of savoring a gourmet meal in a good company is everything. Both the company and the meal are elevated with each shared bite of a new meal and with every sip of wine.
In Paris, be rest assured that the waiters know well enough to leave couples to themselves unless the cue for their attention. You can stay at a table as long as you like because you will be hardly be rushed out to make space for other diners. In addition, do not underrate the little pleasures like tasty pastries eaten on a bench at a park, shared cone from a street vendor in the winter selling roasted chestnuts, oysters consumed informally from an open-air food market stall, or the local Parisian picnic of cheese, as well as wine and bread along the Seine River.
Monumental Setting
Do not underrate the power of a romantic backdrop. Truthfully, you will need to put in efforts to find a view of the city that does not offer an impressive monument, a twisting medieval street, a ravishing Gothic cathedral, a stunning wrought-iron balcony, or elegant architecture.
However, do not let the settings distract you from your partner standing close to you. Some of the most phenomenal views are not just from the Eiffel Tower. Check out the Notre Dame and the Ile St Louis from the Institut du Monde Arabe's rooftops. From the 56th floor of the Champagne Bar, the Tour Montparnasse's view is magnificent. Alternatively, you can try the terrace at Parc de Belleville's top, where you get to see some iconic structures from the angle.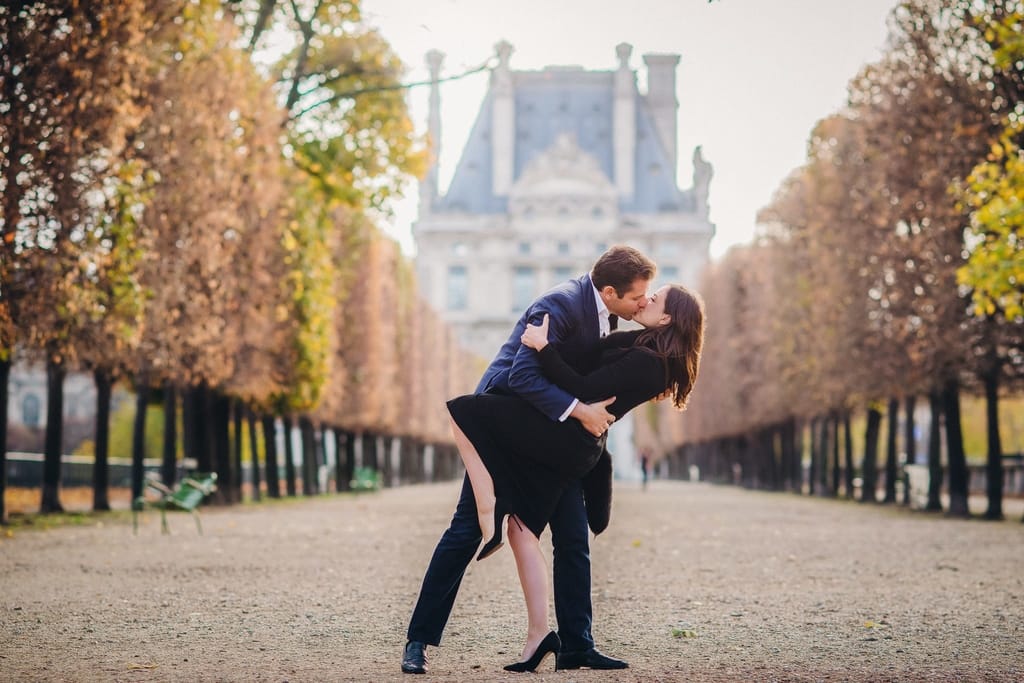 >>Also Read: Most Beautiful Cathedrals in Paris and France
Public Display of Affection (PDA)
If you have not observed so far, Parisians allow almost anything in the name of romance. While they can be discreet about lots of things, it is a struggle for them to conceal their passionate side. Unlike some major cities in the world, locals do not have a problem with couples cuddling on park benches or unblushingly locking lips in public spaces. These displays of affection are not only allowed, but they are also admired as well. The Pont des Arts, among many other places, are perfect spots for kissing.
>>Also Read: Most Beautiful Bridges in Paris
Go For Your Own Adventure
Romance is all about preference. And the most adorable thing to do about traveling to Paris with your significant other is that you both are not limited to the exact romantic experience as others. Paris indeed has a range of brilliant art galleries, theatre, opera, antique markets, dance halls, cooking, and wine tasting classes, among others. But things can get pretty specific, say, attending a pirate-themed costume party organized in medieval cellars.
You can even visit racehorse training fields in the forest just half-an-hour from the center of Paris. There is the chance to also see the performance of the newest up-and-coming burlesque performers in a nightclub in East Paris. Do something else different, like on a sunrise tour of the city with your own guide.
>>Also Read: Top 10 Ideas For Valentine's Day In Paris
Is Paris Romantic? – Summary
The Pont des Arts, 'Wall of Love', and the 1100s Gothic tomb of French lovers Héloïse to Abélard, in the Père Lachaise Cemetery, is not the only romantic places to visit in Paris. One thing is certain. The city will satisfy any romantic desire that visitors have. And that remains the biggest reason why Paris is not just romantic but the most romantic city in the world.
>>Also Read: Paris Travel Guide