Best Beaches Around Cannes
Of all the port and resort cities on the French Riviera, Cannes stands out as no other place comes close in respect of what it offers. The beaches in the city are part of why this is so, and they are divided into public and private. Charming in their own ways, the beaches have several amenities such as sun loungers, lockers, waiter service, etc.
While they are magnificent, they come at a cost. The public beaches are more minimalist and natural, while the private ones are classy and rife with lures. Some of the beaches are situated along the city center. In July and August, they all come alive as they provide gentle slopes that are perfect for swimming and wading. Proximity to the city center means that several nearby shops and restaurants are part of the beach's lustrous settings.
Here Are Some Of The Best and Most Beautiful Beaches In and Around Cannes:
Carlton Beach
Carlton beach is a private beach owned by Hotel Carlton, just like the main hotels along La Croisette have their own private beaches (such as the Marriott or the Martinez). It offers waiter service, loungers, and lockers to keep precious items- this beach is a brilliant option and is located in a nice environment.
Carlton beach is built with tables, floats, and chairs; therefore it might not look appealing initially, but the water is great, and the surrounding is super clean. If you are not a hotel guest and want to use the beach, you will have to pay. But for several people, the cachet and convenience are worth it.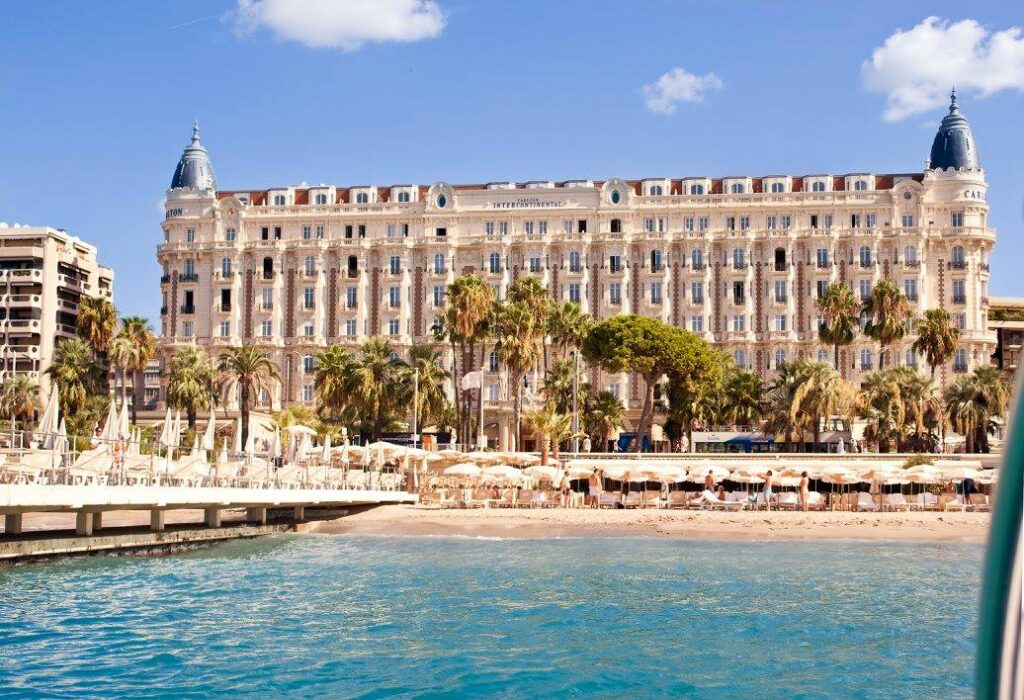 >>Also Read: Best Beaches in the French Riviera
Long Beach
Managed by the Marriott Hotel, Long Beach is another nice spot. Similar to Carlton beach, Long beach is decently built-up, but it is a great place to people watch. Here, many things are happening, and it is quite attractive.
Additionally, it is situated right in the town's center. You will also find an indoor beachside restaurant too and waiter service to the loungers for meals and drinks. For the past three years, it has been a great spot from which to enjoy Cannes' main events, whether it is a fast dip in the waters during the world-famous Cannes Film Festival or to watch the pyrotechnics on Bastille Day.
Plage de la Bocca 
Plage de la Bocca is a public beach and one of the widest known public beaches in the city. Similar to the surrounding area, there is a more mellowed side of Cannes on show here. From La Croisette, the beach is westward around the bay, near the airport. This is part of its appeal, and it can be more tiresome in the peak periods. Plage de la Bocca is a nice sandy beach and is popular among families.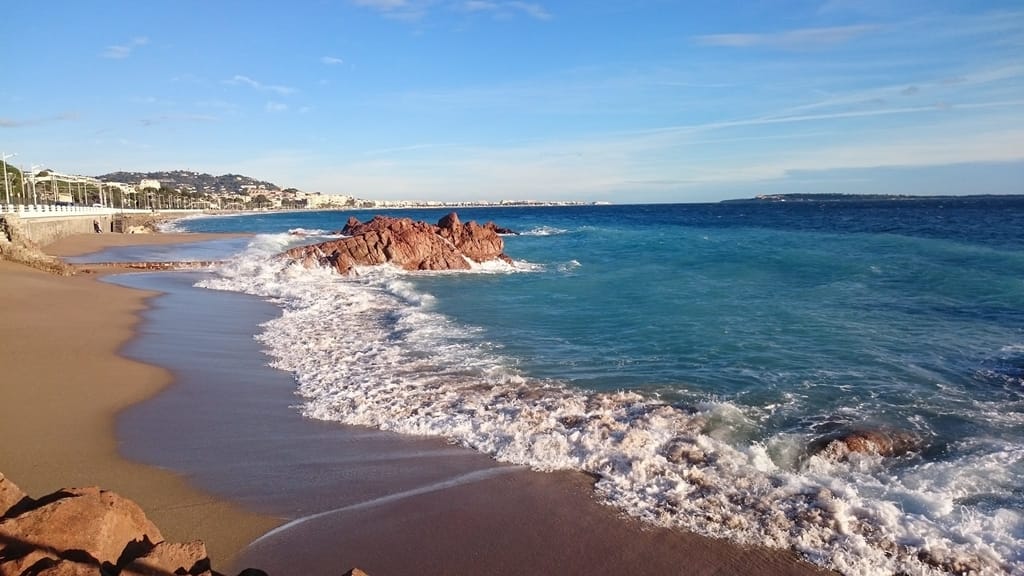 >>Also Read: Best Beaches in Monaco (Public and Private)
Plage du Midi
On Cannes' western side is Plage du Midi that is located near La Croix-des-Gardes, a public park, and Le Suquet, the city's old quarter. Before now, the park was the ground of one of the area's villas. You should climb to the summit for a picnic before going to Plage du Midi and relaxing when you visit. The beach has a collection of gelaterias and restaurants, and a lot of people enjoy the genial ambiance.
Palm Beach
This beach is at the tip of the foreland in the city (the Pointe Croisette). It is a laidback beach and children-friendly as families can watch the kite surfers strut their stuff and see the boats approaching from the harbor. Palm beach overlooks the Island of Sainte Marguerite and is an astonishing place to set up for the day with a little get-together.
Plage Zamenhof Beach
Plage Zamenhof is located on the east side of the long cove that is sheltered from the wind; the water here is shallow, making it a great spot for swimming. Parking can be frustrating here; however, at the Parc Croisette's underground parking is a paid parking option.
The strip of sandy beach is managed by the city, meaning that there are specific services offered, including toilets, lockers, showers, and changing rooms. Additionally, the umbrellas and chairs are available at a low cost, and you will find lifeguards on duty. But there are no food, snacks, or alcoholic beverages allowed in the Plage Zamenhof beach area, except for the ones you can get from close by snack stand that sells sandwiches and soft drinks.
Holding close to 200 beach chairs, this stretch of the beach does not require an advance reservation to access it. It is open from 8:30 am to 6:30 pm every day from June to September, and there are two sessions for those who are looking to hire an umbrella or chair- morning from 8:30 am to 1:30 pm and afternoon from 1:30 pm to 6:30 pm; therefore you might want to bear this in mind when drafting your schedule for the day.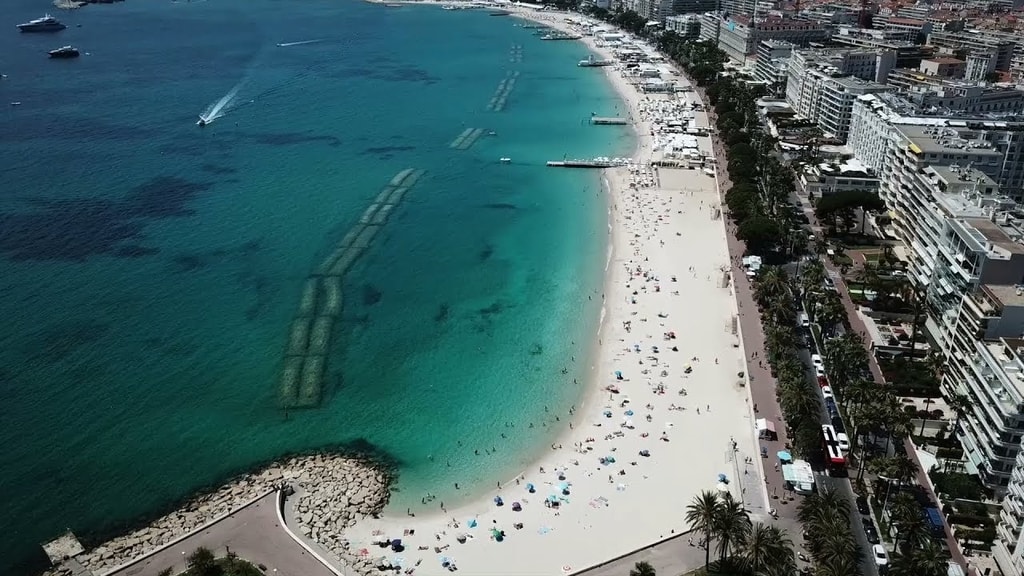 >>Also Read: Best Beaches in Nice
Plage des Rochers Beach
The blend of turquoise blue Mediterranean and deep red rock make Plage des Rochers a treat to the eyes, and it is often less crowded. Along the shoreline, there are freshwater showers; however, there are no toilets. You will find a free car park about 200 m from Plage des Rochers beach and parking along the major road of Boulevard du Mid that courses along the beach's back. In some parts of the beach, there are volleyball courts set up for beach volleyball, which is a popular sport in the area. It is absolutely fun to watch. The area is also another spot very popular with cyclists and joggers.
The beach is located near the train station and road at Cannes la Bocca, making it very easy for public transport access. Plage Les Rochers extends out in every direction, marked by craggy outcrops. A wall shelters the beach's back and can only be accessed by stairs; however, due to the closeness to the road, traffic noise can be disturbing. Bear in mind that the beach area has a non-smoking principle, and there is a fine for renegades. I also suggest that you bring along an umbrella for shade.
Corniche Esterel Beach
The coast expanse between Cannes and St Raphael is regarded as the Corniche Esterel. For an unmatched outdoor experience, explore this part of the coast on a boat trip that leads you out of Cannes. You can hire a boat for the day or charter a yacht if you can afford it. This is to moor up in one of the calm coves and observe a few days of savoring this immense scenery.
This area is so striking owing to the backdrop of the Massif Esterel and its hillsides. For the curious ones, the Massif Esterel was made by volcanic activity, and the result is a bulging red rock mountain that rises to the sky.
The area is made up of large rounded pebbles at the waterfront and sand at the back. There are water sports and picnic area and free parking. From Drumont around the corner is Agay, a small resort town. It has lots of sandy beaches and clear waters. At the bay's other side, there is a fine small beach- the Plage Baumette- with its glistening blue-green sea and vegetation. Away from Agay is where the red rocks of the Massif Esterel. There is the Plage des Anglais that has a small beach and pier where one can sit and savor the blue-green sea and the calm ambiance.
Bijou Plage 
Located before Palm beach and beyond Port Canto is Bijou Plage beach. It is one of the few places in the Cannes area that is completely non-smoking. Curving along two sandy coves, the beach has shallow waters, and it has a nautical center where visitors can rent small sailing boats and paddleboats.
Pleasant enough, Bijou Plage is a handiplage beach, i.e., there is assistance and ramp access available for users of a wheelchair. You will also see disabled toilets. Between mid-April and 30th September, dogs are not allowed on Cannes beaches. But on windy or cloudy days, you can find locals walking their dogs out on the beach. Bijou Plage is a fascinating little place. It has an astonishing view, soft sand, shallow waters, and lots of good facilities.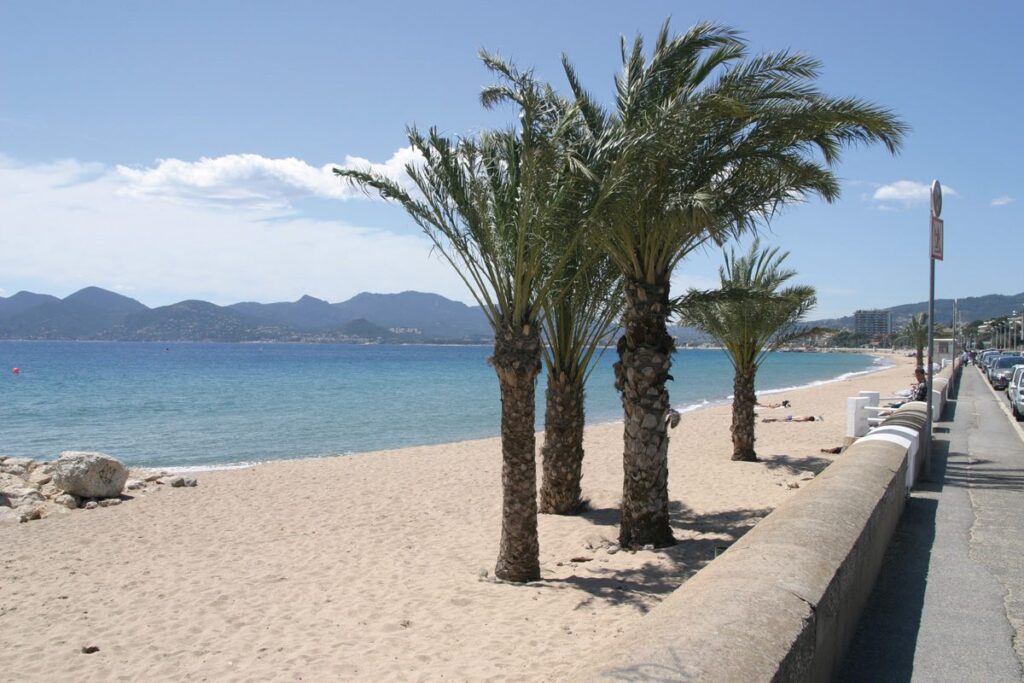 >>Also Read: Best Beaches in Menton
Final Thoughts
Cannes remains a little seaside city of immense charm, brilliant coastal buildings, and terrific sandy beaches- both paid and free. The most convenient free and best beaches in Cannes are the ones around La Croisette, stretching from Palais des Festivals and the beach as eastward as Plage Zamenhof. Among the best beaches in Cote d'Azur, these ones are among the best.