Most Famous Cities in Europe to Enjoy Christmas Markets
There is nothing like experiencing a Yuletide festive season in one of Europe's favorite cities as snowflakes fall all around you. Most European cities are decorated with Christmas trees festooned with baubles and sparkling lights illuminating the romantic Christmas markets. During a Christmas vacation in Europe, you'll discover some of the best Christmas markets where you can buy traditional Christmas presents. With Christmas only a couple of months away, we have highlighted our 10 favorite places in Europe to get into the festive spirit, with a glass of mulled wine and company, of course.
Strasbourg, France
The oldest Christmas market in Europe, the Christkindelsmärik, first took place in 1570 in Strasbourg. With its 300 stands spread out over 12 locations in the city center, the authenticity, friendliness, and hospitality of Strasbourg Capital of Christmas form an Alsatian culture, which has been fortunately maintained ever since. The religious atmosphere and traditions of Advent are well-founded in Strasbourg.
You will find four excellent Advent concerts, a Living Nativity, and a broad range of authentic live music and cultural affairs. It's the best chance to go on a cultural trip through time! The city's great Christmas tree towers 30 meters above the city center. Grown in the Bois-de-Champ in the Vosges Mountains, it is a major and instantly recognizable symbol of Strasbourg. The market runs from 25th November to 31st December.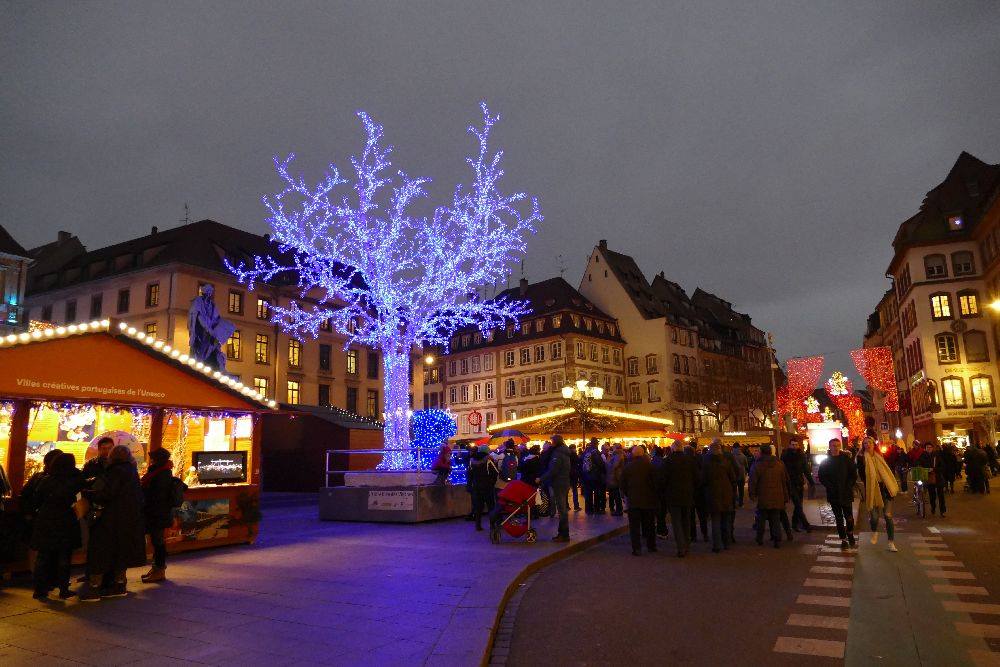 >>Also Read: 10 Of The Best Christmas Markets in France
Budapest, Hungary
From 24th November through 1st January, discover this enchanted city-center Christmas celebration rich with central European holiday traditions, which also features modern elements such as flash mobs, a wide range of the best Hungarian contemporary hand-craft products, and the monumental light show that with 3-D glasses will give a new dimension to the façade of St. Stephen's Basilica, which will serve as the screen several times every evening.
Christmas spirit shines in front of Budapest's most impressive cathedral during the annual Advent Feast at the Basilica, an open-air festive season market welcoming everyone with delightful gift items, delicious Hungarian food such as the all-time favorite 'flódni', the Hungarian chimney cake, mouth-watering burgers and a range of fish dishes.
Free attractions include ice-skating for children (offering skate rental and weekend skating lessons for children under 14) in a central rink that surrounds a towering Christmas tree. Advent Feast at the Basilica takes place with a community spirit in mind: guests can experience charity-boosting concerts, and to protect the environment, food vendors will use eco-friendly cups, dishes, and cutlery, while waste will be recycled.
Graz, Austria
Conveniently located within walking distance is the Christmas market in front of the City Hall. Its enormous Christmas tree and the old fashioned merry-go-round for kids. Watch out for the huge advent calendar on the façade of the City Hall. The oldest Christmas market is held around the Franciscan church. Austrian arts and crafts, regional farm products, hot punch, and mulled wine are offered. You won't want to miss the monumental ice sculpture in the Landhaushof depicting the nativity scene. This magical Christmas manger, made with about 45 tons of crystal-clear ice, is sure to be an astonishing – if temporary – work of art. From 17th November to 24th December.
Quite unique: The Office for Christmas Carols is the place to go for all questions and issues regarding both Alpine and international carols, songs, tales, and poems of the Christmas season. Besides an expansive music library, the knowledgeable and helpful staff also offers a Christmas carol search service.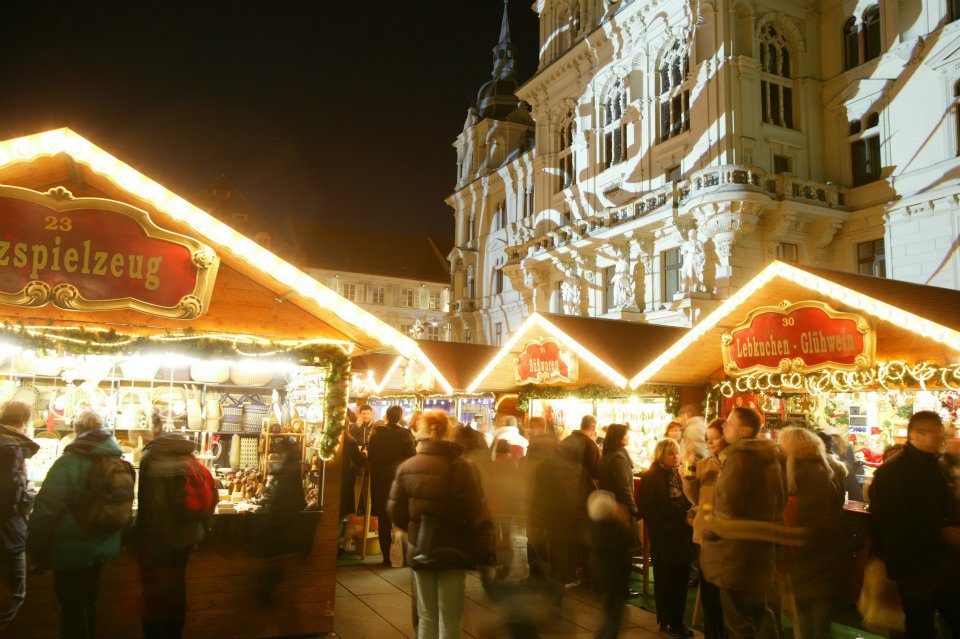 Hague, Netherlands
Bright, flashing lights, and well-known Christmas carols at the romantic Lange Voorhout are bound to get you in the ultimate Christmas mood when visiting the Royal Christmas Fair in The Hague, one of the biggest Christmas markets in Holland.
Royal Christmas Fair The Hague is a unique Christmas market where you can do extensive Christmas shopping in an atmosphere of good cheer. Among this year's 100 stalls, you'll be able to find some unique original gift ideas from woodcarvings and candles to wintery fashion and design decorations. This is the place to enjoy fairy-tale decorations accompanied by a mug of hot chocolate or Glühwein.
On the first weekend of The Royal Christmas Fair, there will be a Royal Kids Market. Near' Museum Escher in her Paleis' rises a winter wonderland with activities such as children's choirs, theatre groups, storytellers, and Christmas products for kids. The event kicks off on 15th December and goes to 24th December.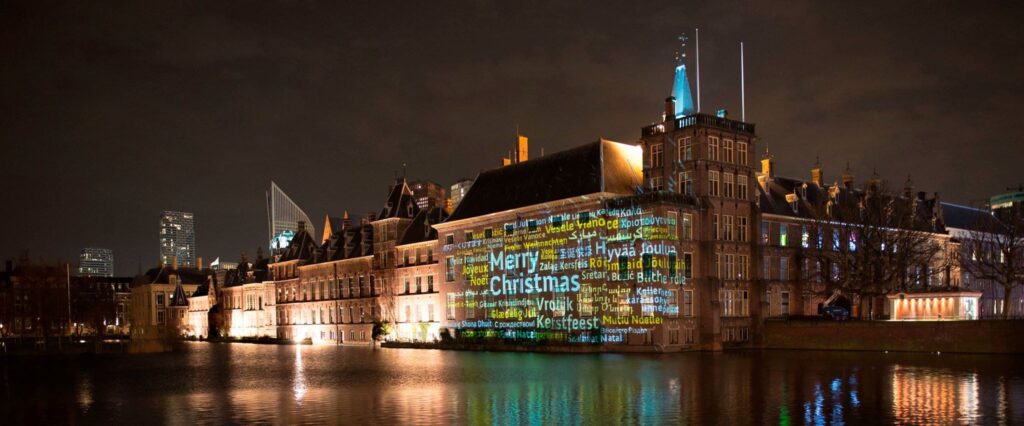 Helsinki, Finland
The Christmas Market is in the heart of the Christmas experience in Helsinki. It's all about relaxing, enjoying good food and drinks, spending time with family and friends, and getting in the holiday mood.
The market has around 140 vendors in cute little huts offering gifts for all tastes, including handicrafts and specially designed items. The stalls also provide traditional ingredients for your Christmas table. The restaurants in the food court offer great food, mulled wine, and other hot beverages. To top all that, the beautiful old carousel will be set up again in the center of the market area.
The market is organized at the Senate Square between 2nd December and 22nd December. It is open on weekdays from 11 am to 8 pm and on weekends from 10 am to 7 pm.
Lucerne, Switzerland
During Advent, Franziskanerplatz is transformed into a miniature town, crammed with gaily-decorated stalls resembling little timber houses amongst its historic alleys' charm. Located in Lucerne's Old Town's heart, the Christmas Market creates a highly evocative seasonal atmosphere. While the adults savor a wealth of food and drink offerings, kids make a beeline for the Christmas carousel to the appropriately seasonal music of brass bands and choirs.
Drawing visitors from all over the world, the 70 or so festively colored stalls offer a host of seasonal goods and specialty gift items. The festive ambiance invites visitors to stroll, browse, and linger with the spicy fragrance of punch and mulled wine floating on air. This year, the Christmas markets will feature the annual Lucerne festival of lights on 23rd November through different activities to 31st December, ending with a big New Year's Eve celebration.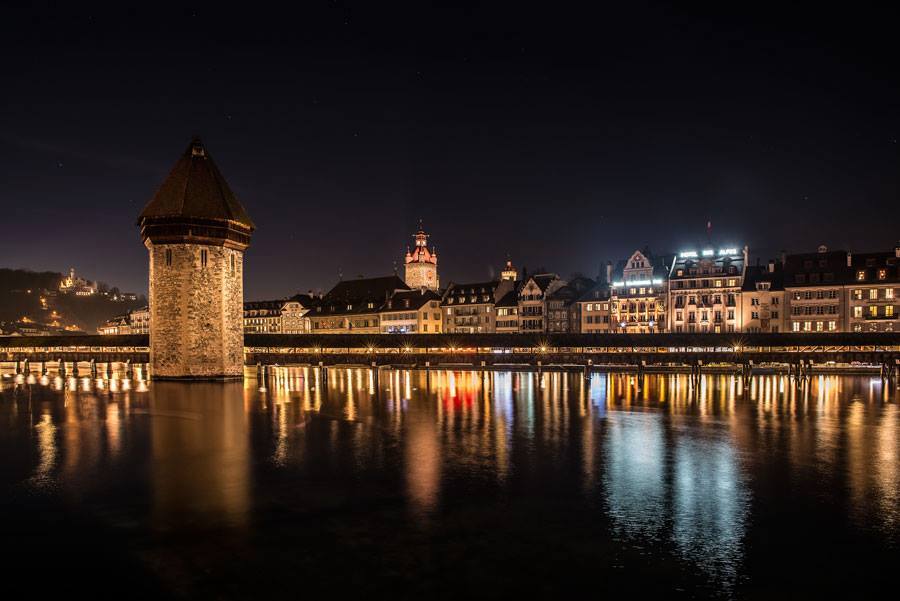 >>Also Read: Where to Spend Christmas and New Year's Eve in Europe
Manchester, England
Forget obtaining tickets to watch Man City or Man United; just visit the city's National Football Museum instead, or just enjoy the original, biggest, and arguably the best Christmas market in the UK since 1999.
The country's first Christmas market has grown every year since and now attracts more than nine million visitors each festive season. Around 300 elegantly crafted stalls offer mouth-watering international cuisine, beverages, and finely crafted Yuletide gifts in the center of the buzzing city center. Spread across 10 different places – each with its own unique character – Manchester Christmas Markets have something to offer every visitor. Begins on 10th November to 21st December.
Nuremberg, Germany
From 1st December to 24th December, the enticing smell of gingerbread, mulled wine, and grilled sausage hover in the air at the Nuremberg Christkindlesmarkt. First introduced in 1628, its roots probably go back to Luther's time when the tradition of giving children presents at Christmas evolved. Ever since then, traditional wares such as culinary treats and handmade Christmas decorations are sold from 180 wooden stalls.
The "Christkind" with blonde wavy hair bearing a golden crown and golden white gown traditionally opens "its" market on the Friday before the first Advent. At the Nuremberg Market Square. Visitors enjoy walking through the romantically lit market full of decorations, tinsel angels, wooden nutcrackers, cribs, and colored stars. Don't skip the culinary treats the city of Nuremberg stands for. Whereas gingerbread has its peak season during the festive period, the finger-sized grilled sausages are eaten all year long. Equally worth tasting is a crackling pork shoulder with a dumpling. A glass of Franconian wine or a cold beer can be drunk with the regional specialties.
Prague, Czech Republic
The medieval central Prague's unique character makes the Christmas Markets at the Old Town Square world famous. In contrast to some more prominent Christmas markets in Europe, the Prague Christmas Market is sort of familiar, which makes the whole event more intense. The Christmas mood begins with Advent when the city is festively decorated. In many places, especially at historical squares where Christmas markets are held, it delivers an unbelievable atmosphere.
The variety of food and drinks sold at the market is very large. Visitors may look forward to traditional Czech food such as barbecued pork, blood sausages, Czech muffins, mulled wine, mead, beer, and other typical specialties from Old Czech cuisine. It's mostly the wood-carved toys, glasswork, blacksmith's ware, or confectionery that is sold at the market. You can also obtain a variety of Christmas decorations. The Christmas Market has its own continuous program composed in the Christmas style. The main purpose is to make people feel that Christmas is coming. Various performers sing Christmas carols every day from 2nd December until 6th January.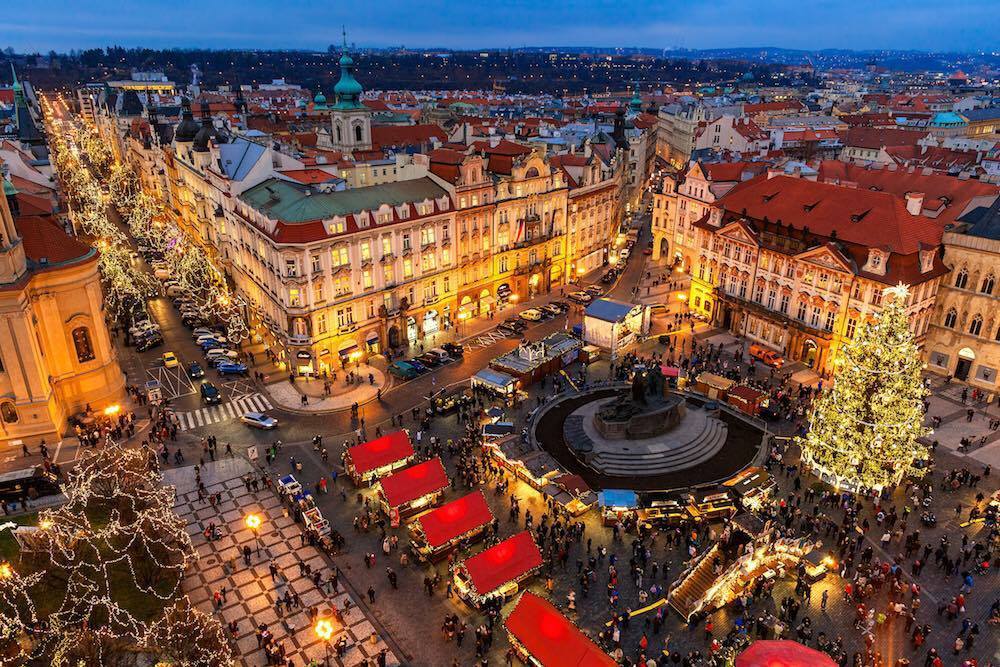 Zagreb, Croatia
Once upon a time, one of Croatia's best-kept secrets was that Zagreb's capital city had the best Advent scenes in Europe. Now, aside from its go-to holiday accommodation, this Croatian secret is well and truly known for its superb festive events.
As so many European capitals are often overcrowded and overpriced in the run-up to Christmas, Advent in Zagreb offers room to wander and good value for money. Croatia's capital sparkles at Advent time when thousands of visitors experience the historic capital, Zagreb, with a packed program – think twinkling candlelight, colorful displays, festive food and drink, concerts, and of course choirs.
Ban Josip Jelačić Square – the enormous main square shines brightly with music and shows on an open-air stage, food stalls, and a children's show. There's an enormous Christmas tree. The fountain is transformed into a light show. There is a comfortable, heated, covered conservatory serving food and beverages. Every day of the week, there is live music.
Zrinjevac Park – one of Zagreb's loveliest spots. Lanterns light up the trees' avenues, and the old music building looks like a little glittering mansion. Artists' stalls and a great variety of traditional Christmas presents, food and drink specialties are sold from decorated tiny wooden cabins. This is the place to experience Zagreb's winter specialties, including baked štrukle, a warm baked pastry dish with soft cheese. European Square – a pedestrian zone in the city's center, offers a lively Advent event: souvenir and Christmas decorations market, a selection of nourishing food, hot beverages, and music events in the evening.
Christmas would be unthinkable without an ice-skating rink. Ice Park, on King Tomislav Square, twinkles under fairy lights in one of Zagreb's most beautiful parks – a place to enjoy seasonal food and beverages, as well as music events. From 2nd December to 7th January.