Where to Spend Christmas and New Year's Eve in Europe
While the end of the year holidays usually brings up thoughts of home and hearth, more people are heading overseas to celebrate Christmas, New Year's Eve, or both! If you're thinking of taking your holiday show on the road this year, here are some great choices for spending Christmas and New Year's Eve in Europe. In this article, I tried to make sure that it will not be France-centric so I tried to be as impartial as possible.
>>Also Read: Best Christmas Markets in France
Where to Spend Christmas in Europe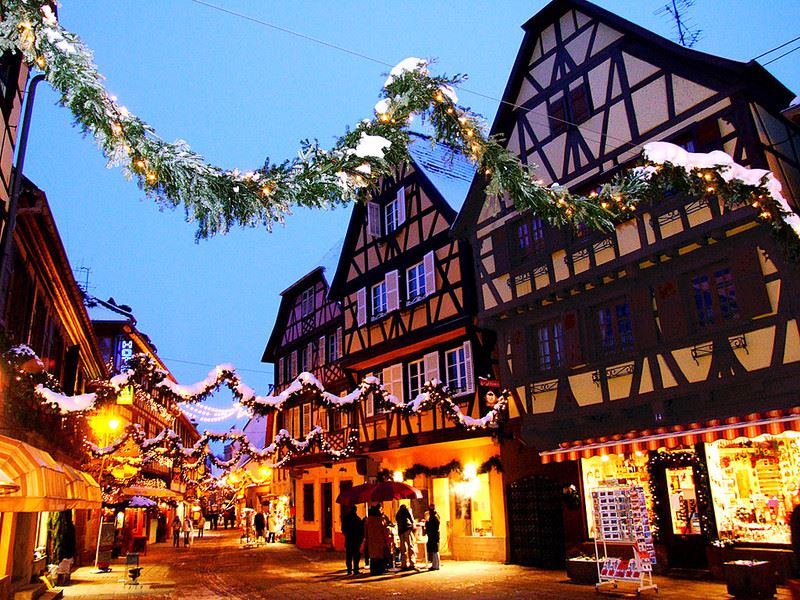 Strasbourg, France
Strasbourg is a beautiful city to visit at any time of year, but the city is the de facto capital of Christmas in Europe. It looks like the Christmas village on your grandmother's mantlepiece has sprung to life. Forget the house lights tour back home – this beautiful, charming town is decked out in its finest for all to see.
Strasbourg is home to what is arguably the world's best Christmas market. It's the oldest in France, founded in 1570, and its 100-foot decorated tree towers over hundreds of vendors' stalls spreading over 11 separate markets. The vendors specialize in local, artisan gifts and crafts, and the food and drink options celebrate Alsatian cuisine.
You could easily spend your whole holiday in Strasbourg, but at just over two hours by TGV train from Paris, it can also be a great day trip or weekend excursion. The market is for the whole month of December, so there's plenty of time!
Also Read:
>>Strasbourg Travel Guide
>>Is Strasbourg Worth Visiting?
>>What is Strasbourg Famous For
>>Is Strasbourg Safe?
>>Food Lover's Guide to Strasbourg
>>Is Strasbourg Expensive?
London, UK
The city that gave us 'Love, Actually' and 'A Christmas Carol' does it right for Christmas, providing the perfect blend of homey traditions and whirlwind experiences. And it's similar enough to an American Christmas vibe that the whole family can get into the mood, with ice skating, Santa meet-and-greets, Christmas shows, and markets in pretty much every major neighborhood.
Christmas Day is a quiet affair, with the big event being the Queen's Christmas Broadcast to the Commonwealth when everyone gathers around the telly to watch Queen deliver her yearly message. And of course, everyone looks forward to the long-awaited Christmas lunch, which rivals Thanksgiving for both its culinary tradition and its unbridled gluttony!
>>Also Read: London Vs Paris: Why Paris is Better
Rome, Italy
You can believe that the seat of Roman Catholicism is big on Christmas. In fact, it's said that Christmas was first celebrated here – in the 14th century! From the Pope's address in St. Peter's Square to Nativity scenes in every church in the city, it's heaven for those who love getting into the true spirit of Christmas.
On Christmas Day, the wide boulevard leading away from the Colosseum is closed to traffic, creating a promenade for families and friends to take a passeggiata (stroll) after a long lunch. And speaking of lunch, although the city closes on December 25-26, restaurants do serve elaborate Christmas meals – but make sure to reserve in advance!
>>Also Read: Rome Vs Paris: Why Paris is Better
Copenhagen, Denmark
The word you'll hear a lot during Christmas in Copenhagen is hygge ("hue-gah"), which means finding joy in making everyday things extraordinary. It perfectly sums up the mood in the city, which takes pride in offering so many beautiful experiences throughout the Christmas season.
Hygge is evident in the usual Christmas markets, including the ice rinks and light shows, as well as more unique events like the Solstice Party in Copenhagen Harbor, Viking celebrations at Islands Brygge, international exhibitions and foods in the Nørrebro neighborhood, and a special Hans Christian Andersen-themed market at Kultorvet Square. Don't miss the Christmas market at Tivoli Gardens, where the grounds are transformed into a winter wonderland throughout the month of December.
Rovaniemi, Finland
Many think that Santa is from the North Pole, but he will tell you himself that his official hometown is Rovaniemi, the capital of Lapland, Finland. So December is a particularly festive time when Santa's Village comes alive with concerts, events, and markets for all. Don't miss seeing Santa off for his worldwide gift ride on December 23! If you have a child who's on the verge of no longer believing, Rovaniemi will make them a believer for life. And you may just start believing, too.
But there is plenty of non-Santa related fun for the whole family as well. With its location on the Arctic Circle, Rovaniemi is a fantastic place from which to gaze to the heavens and be dazzled by the Northern Lights. There's also husky sleigh rides, ice chutes, snowmobiles, and hot chocolate pretty much on demand.
Where to Spend New Year's Eve in Europe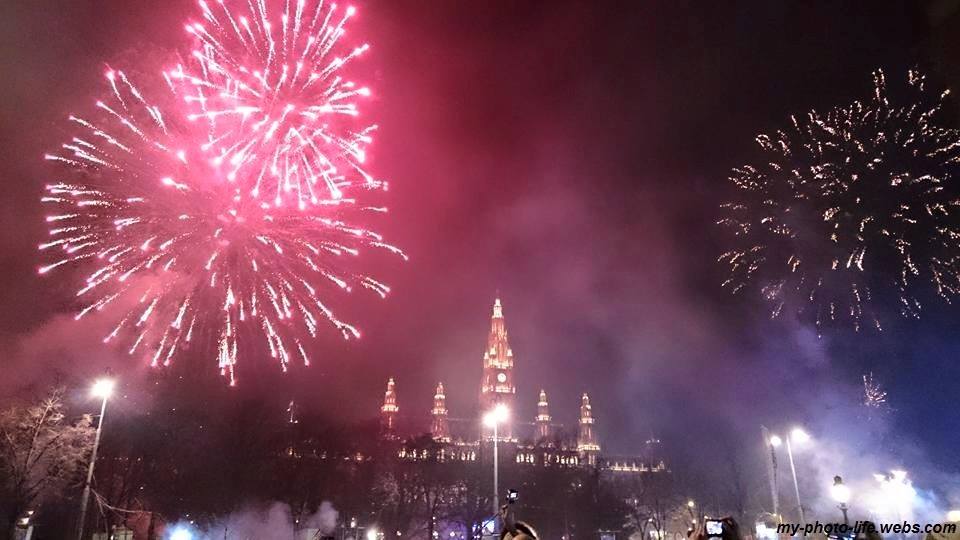 Vienna, Austria
Vienna offers plenty of options for New Year's Eve. There are even two large fireworks displays, located at Heldenplatz near the Imperial Palace and the Vienna Prater. A unique event is the Silvesterpfad (New Year's Eve Trail), a 12-hour party starting at 2pm that includes concerts, DJs, food and drink, and all manner of entertainment. There are also Danube river cruise dinners, several elegant black-tie galas, and classical concerts and opera productions. Then the next day, join locals outside City Hall for a huge hangover brunch with classical music.
Reykjavik, Iceland
New Year's Eve in Reykjavik is like nowhere else. In fact, it's so unique, it borders on the weird. First, it's important to know that there are no official fireworks – but not to worry, because literally, every person in the city comes out of their homes at 11:35pm to light off personal fireworks!
Why 11:35pm, you ask? Well, after dinner at home with friends and family, there is champagne around bonfires, and then… everyone heads back home to watch a TV show that recounts the year's events in parody. It's so popular that if you leave your hotel between 10:30 and 11:30, you'd think you were mistaken about the date because it's so quiet on the streets. But after the show's over, the party begins – and it's fantastic.
Prague, Czech Republic
Boy oh boy, does Prague know how to party. From club hotspots to pub crawls, New Year's Eve is a fun time that's NOT for the whole family! The top hotels in town also have fabulous blowout dinners and parties (reservation only, no crashing!), and even the Opera, which has a New Year's Eve show, hosts a party right on stage.
But at 11:59pm, everyone heads outside to watch fireworks in several parts of the city, from the river to Wenceslas Square. The subway is free from midnight to 1am, but after that, you'll need to depend on a pre-booked taxi or the night transport service – so head back into the club and party all night long.
Florence, Italy
If you're looking to celebrate New Year's Eve in a more intimate style, then Florence is a great choice. It's quiet, romantic, and while there are parties and plenty of people on the streets at midnight, as with all of Italy, it's more about ringing in the new year with those you love the most.
Tuck into a delicious meal at a restaurant or a dinner party; afterwards, head to the Arno River with the locals to watch the fireworks at midnight. Then you can head to a nightclub, or simply walk the streets at night. Don't forget to eat lentils and wear red underwear – two Italian traditions that hold to this day!