If you fancy long pebble beaches, radiant blue waters, and an extremely generous supply of cocktails, then no place gets nicer than the Best Beaches in Nice. In the world today, there are not many great destinations where you can meander the streets, promenades, and parks with the sea's salty tang always visible. This makes the city of Nice ravishing in its coastal setting along a four-mile straddle of the Cote d'Azur.
That pebble-covered demi-lune of beach adjoins Baie des Anges of the Mediterranean, and one of the great city walks in the world along the Promenade des Anglais that is marked with sophisticated hotels, excellent restaurants, and several shops that track its whole length. You might think it is a super long beach, but it is not that simple considering the fact that this is the South of France. Actually, this range is made up of over 30 different beaches, 15 of which are private, 20 public, and all with something unique.
Open mostly between April and October and often seasonal; it is smart to know the type of beach desired before visiting- whether you want loungers and cocktails, family-friendly shores with shallow waters, or gourmet food with price tags. 
If you have a hard time deciding, here are my picks for the best beaches in Nice: 
Promenade des Anglais Beach
This is definitely the most famous beach in Nice. Stretching for around 7 km, this long pebble beach is a combination of private and public sections. Promenade des Anglais Beach private sections are leased to beach restaurants and clubs where visitors can rent parasols for some sunbathing. Close to half of the beach is public and therefore free as you discover that several sections have showers and toilets. In addition, there are some underground storage rooms, where visitors can hire a secure locker to keep their valuables.
Plage Carras at the promenade's edge is close to Nice French Riviera airport. It is well-equipped for differently-abled swimmers, and there is even a special area where lifeguards will assist people in and out of the water using sophisticated tools. The beach's western edge is quieter and more known among locals and children. The closer you get to the town center, however, the brisker and touristy it gets.
You should try different watersports like parasailing and jet skiing at Promenade des Anglais. Several of the private beaches have paddleboards and canoes to rent, but Glisse Evasion in between Plage Neptune and Blue Beach is the happening place. Also, try out inflatable boat rides and wake-boarding here.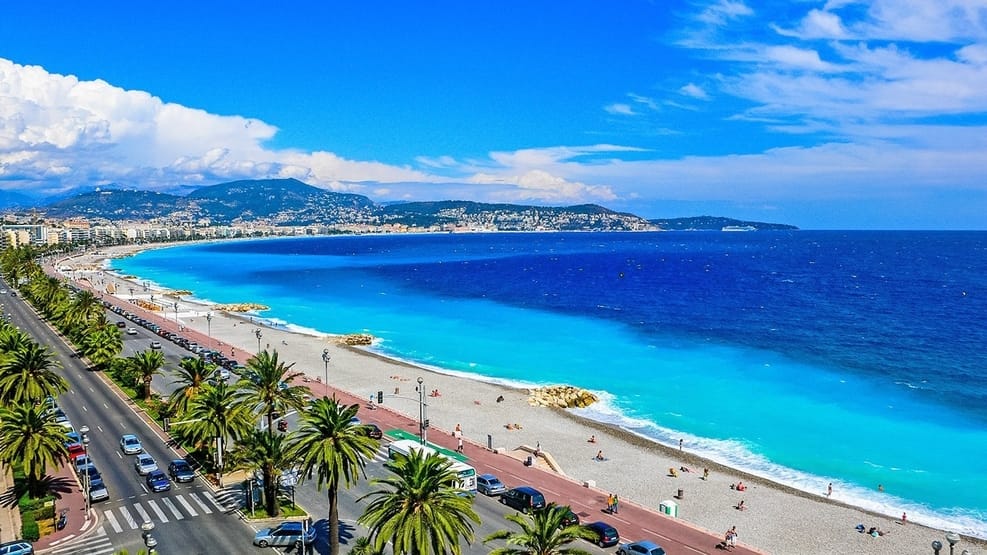 >>Also Read: Best Hotels Near Promenade des Anglais in Nice
La Reserve
La Reserve is a little public beach near the city center. It is always brimming with comfort-loving Niçoises and undaunted teenagers who somersault into the water with old diving boards. Tucked away to the east of the city in the port area, this beach is not popular with tourists. You might not find real eating options, so don't forget to take along a picnic from the local markets. Then eat while you watch the teenagers do their thing on the water. La Reserve isn't big, and that is why it can get crowded. However, it is a genuine local gem.
Coco Beach
This is another public beach in Nice, like La Reserve. Both beaches are also small and more popular with locals. Coco Beach is slightly further along from La Reserve, but it has showers and a restaurant even though visitors might choose to take a picnic. And like several of the beaches along this side of the coast, it is usually better to spread a towel on a big rock (if you got a free one) to get away from the crowd. In the peak periods, there is a lifeguard but ensure that you are careful, as the currents can be unbearable and the water very deep. You can be fortunate and have the place to yourself as you hear the current and look at the clear waters.
Villefranche-Sur-Mer
Villefranche-Sur-Mer is the next town to the city of Nice but is a quarter of an hour bus ride along the coast. The beach has small but fine pebbles and is perhaps the most known public beach in the area. It boasts of a cracking choice in gelaterias and restaurants just on the other end of the road. The beach is a gem in the beachy context with several spaces to spread out, many oiled up sun-worshippers, and bright warm waters, all making up an astonishing scenery.
Also Read: What is Nice Known For?
Castel Plage 
This is regarded by many as the best private beach in the city. Castel is at the end of everything else, enclosed under the foreland and aloof from the city's noise. The food is excellent, the loungers are comfortable, and the service is awesome, like in many other Niçoise beach restaurants. Castel Plage is the most eastern beach along the Baie des Anges. You will find it at 8 Quai ds Etats-Unis, Nice.
Ruhl Plage
This beach is surely the choicest for families for its swimming pool beside the sea and the added advantage of its own lifeguard. Established in the 1920s, Ruhl Plage is among the oldest beaches and is directly in front of Le Meridien Hotel and the Ruhl Casino. Like the other private beaches, Ruhl Plage has waiter service, lockers, showers, and a beachfront restaurant. It is especially classic in theme as it gives visitors a golden age Cote d'Azur vibe when they visit. The beach also has a wooden pedestal with steps that leads into the sea. It boasts of a whopping 80 private cabins with hot showers, while Le Coin offers fresh local treats and a range of sparkling Niçois wine.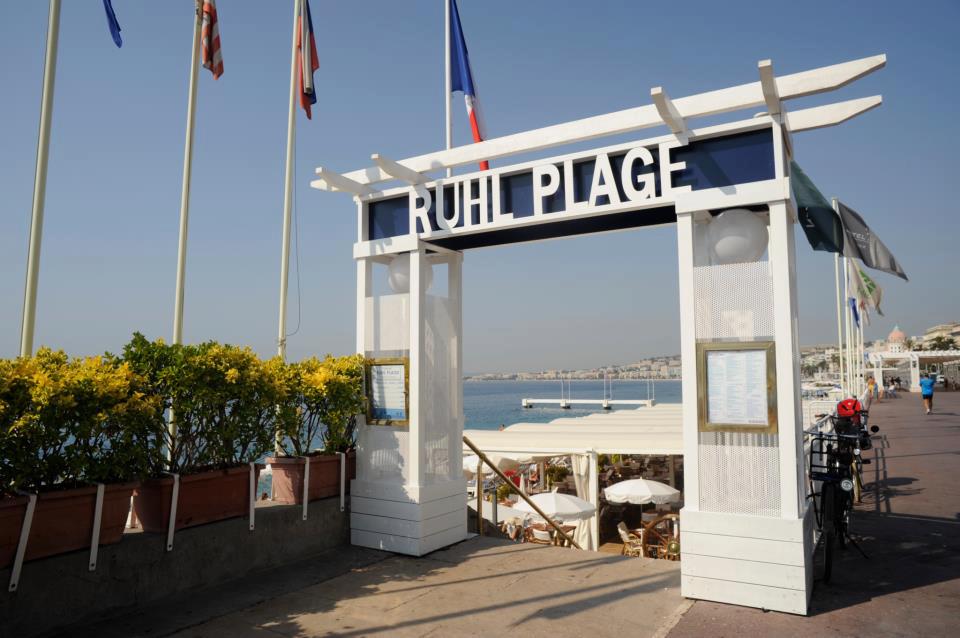 Plage Beau Rivage
Plage Beau Rivage is another private beach afoot the Old Town and is Cote d'Azur's largest. It has 5-star amenities for the comfort of visitors. Every visitor should be here at least once when they come to the region. When you are there, reserve a table at the gourmet restaurant 30 ft. from the shore and treat yourself to a cabana. Alternatively, you can stretch out on a patterned lounger for a deserved sleep.
>>Also Read: Best Beaches in the French Riviera
Blue Beach
Blue Beach is a private one that is open throughout the year and is just steps from the city's most luxurious hotels like the Palais de la Méditeérranée on the Promenade des Anglais and Negresco. You should also visit there for its breathtaking restaurant. That is why it is called gastro plage. Holidaying with children is even more fun at Blue Beach. They'll love the swimming pool, well-curated watersports routine, trampoline, and so on. Adults would love it here as well.
Opéra Plage
This is the city's oldest private beach, and from its name, you can probably tell that Opéra Plage used to be an opera house. It has been catering to the needs of visitors and locals since 1889 under the management of the Maiffret family. The long years of dedicated services have allowed the principal of the beach to hone their expertise for the beach to sit amidst the best in Nice. A new swimming costume from their collection or a massage in the sun lounger- regardless of what you want, the beach's management will see to it. Their restaurant is a classic one with more than 30 added new recipes every month.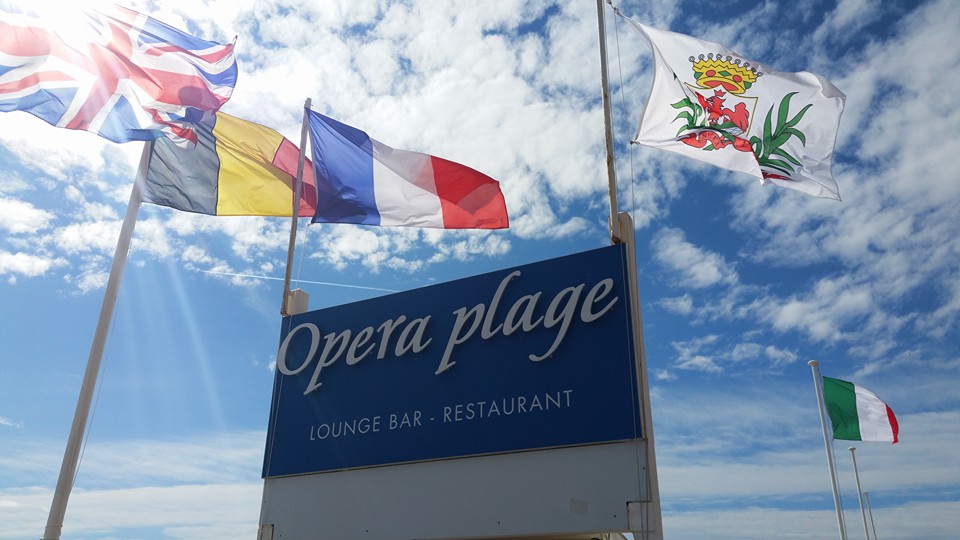 Le Galet
Le Galet is named after the pebbles that make up the city's beaches. It is a high-end new offering close to Albert-1er Gardens with as many dining options as its beachy setting. The design at Galet is essentially Italian, while the setting hosts major social events for a decent part of the year. Quite in style with the city's in-crowd character, Le Galet is as well one of the best destinations to see the February carnival march past.
Final Thoughts
Beaches in Nice span like a jewel along the Bay of Angels (Baie des Anges) from the airport on the western end to Mont Boron's foot in the east; a 10 km distance. The bay's easy curve excites with a view as far as the Esterel mountains in the west and the Villefranche-sur-Mer in the east. Beaches in Nice are made up of galets (pebbles) and are a spectacular wonder to behold. From dining, luxury to relaxation, beaches in Nice offer a tantalizing array that no vacationer should be missing.