Best Beaches Near Marseille
France will always be world-famous for having great beaches. Whether it is swimming, surfing, sunbathing or sailing there are some very beautiful beaches near Marseille. Some of these beaches near Marseille mark the French Mediterranean coast in Toulon and proceed along the Cote d'Azur.
Maintaining a great balance between the wonderful characteristics and natural wonder along with state-of-the-art facilities, prepare to enjoy a day-out at some of the best beaches close to Marseille on your next vacation to southern France.
Bonneveine Beach
Situated in the center of Escal Borley with several beaches, tourist attractions, and restaurants, Bonneveine beach is a paradise for a decent summertime life with its massive lovely terraces and popular Ferris wheel. In the day, there are different conditions for smooth swimming and relaxation with kids as well as impressive gastronomic and shopping tours. And to wrap up an eventful day, Bonneveine offers a rich routine of evening fete.
Secured by two dams, this imposing sand and gravel bay is especially well known among families and children. This is a little chamber segment that expands over a 500 m length. Sand occupies most of its mass, but the major scythe in the sea is a rampart of stones. You can find the stones underwater in the same area. As advised, bathing with kids is not comfortable here, so stopping in the sandy areas will be what to do. If you still want to stay in a craggy setting, ensure that you wear a comfortable rubber shoe for safety reasons. And as touching the weather, the beach is entirely windless most of the time. This surely affects waves. Children have no playgrounds here, but they can be preoccupied as they build sandcastles.
The best time to visit Bonneveine beach can be anytime, just like in the other parts of France. It depends on your preference, though. Summer is an excellent time to take on the sea, and owing to the Mediterranean climate; it does not get unbearably hot in Cote d'Azur. Do not forget that both summer and winter are high seasons as prices increase. To enjoy your educational trips like excursions, you might want to visit between February and April or from September to November. Generally, visiting the French Riviera in September is profitable in terms of comfort and thrill.
Around Bonneveine beach, you will find various cafes and restaurants that offer local treats and American and Italian cuisine. You will also find a lifeguard, especially during peak season. There is a skate park on the left and Escale Borely on the right where you will find many restaurants. If you are into beach sports, you can get busy at the volleyball courts along the beach line.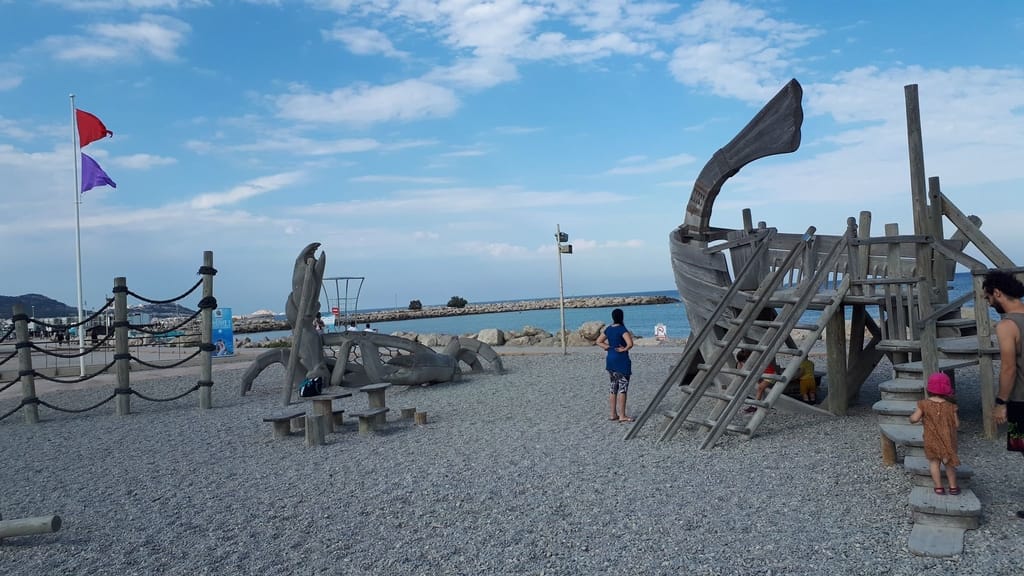 >>Also Read: Best Beaches in the French Riviera
Escale Borely Beach
This beach is the rendezvous for the rich and famous. There are lots of gems off Marseille's coast, which are spread out in luxury resorts and white yachts. However, Escale Borely is special in its own way. It is different from its rather loud neighbors as it is situated in an open area. Escale Borely boasts of a rich choice of beach activities and water. Close is Borelli Park, which forges a perfect scenery and pleasant-smelling air in the area.
What sets Escale Borely apart from the rest of the beaches near Marseille is the unmatched beauty of the southern Marseille coast, the mild Mediterranean sun, state-of-the-art infrastructure on the coast, and a warm, friendly environment. Hence, it is a regular fixture for family and friends.
It is very spacious, so you will not have to worry about the beach getting too crowded for your liking. Families with kids, sunbathers, and athletes all have their own spaces and do not come in each other's way. The beach is divided into two sections- stone and sand. Off the coast, it is safe and shallow. The bottom is soft and flat, and there are waves, but you should be mindful of them.
From the city center, Escale Borely beach can be easily reached. But please note that during the peak season, accessing the beach with a car might not be a good idea as parking spaces would not be available. If you do not mind parking on the neighboring residential streets, you can bring along your car.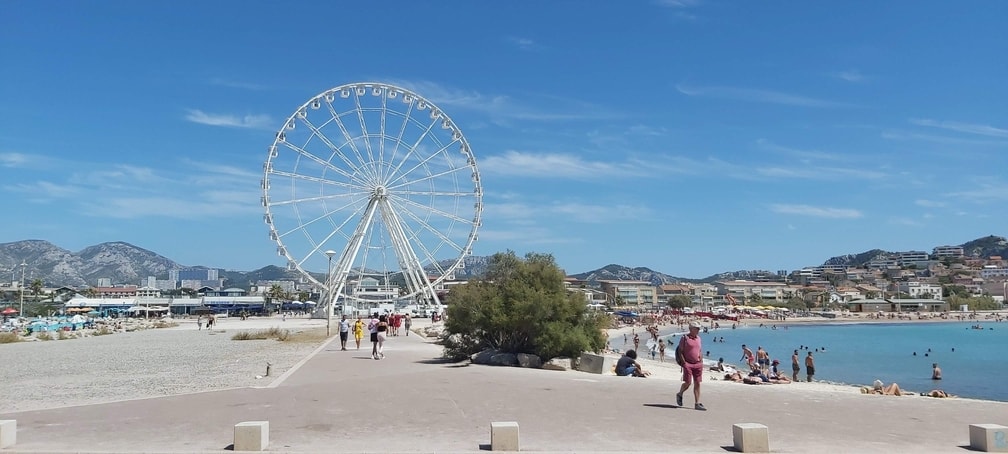 Plage de la Grande Mer
In Cassis, the major beach is Plage de la Grande Mer. Cassis is a small town close to Marseille. Plage de la Grande Mer is within walking distance of the town center too. The beach is one of the resplendent sandy beaches close to Marseille that is great for families and those looking to chill under the Mediterranean sun. Visitors can swim, sunbathe, and savor several exciting activities on this well-known beach in Cassis.
Calanque d'En Vau
This is another Cassis beach and one of the breathtaking ones near Marseille. Checking out what if offers, it is not a surprise that Calanque d'En Vau is none of the most popular Calanque beaches. Vacationers can climb jagged cliffs, the steep, and hike to the beach from the town of Cassis. It is a two-hour lively walk from the town center, and at the end of the track, you can reward yourself with a dip in its astonishing turquoise waters.
Plage des Catalans 
Marked with upbeat and affordable bars on the shores, this beach is one of the best to relish boating and sailing activities. Cruise through boulders and hills that beautify Plage des Catalans. It can be accessed from the city center in just 25 minutes by trekking. Observe a quiet evening, meander along the coastline, sunbathe on a bright sunny day, and do much more on this beach that happens to be one of the best ones near Marseille.
>>Also Read: Best Beaches Near Perpignan
Calanque Port Pin
This is another beach in Cassis and, without a doubt, one of the best around Marseille. Clean and incredibly enchanting, Port Pin is one destination you should visit during your time in or around Marseille. It is situated about a 60-minutes' walk away from the town's center. Of the three Calanques (sheltered inlets), it is the smallest. Like Port Pin, the beaches around this area are hard to reach. However, it is worth the visit as you will enjoy a day on a mostly pristine beach without getting bothered by big crowds.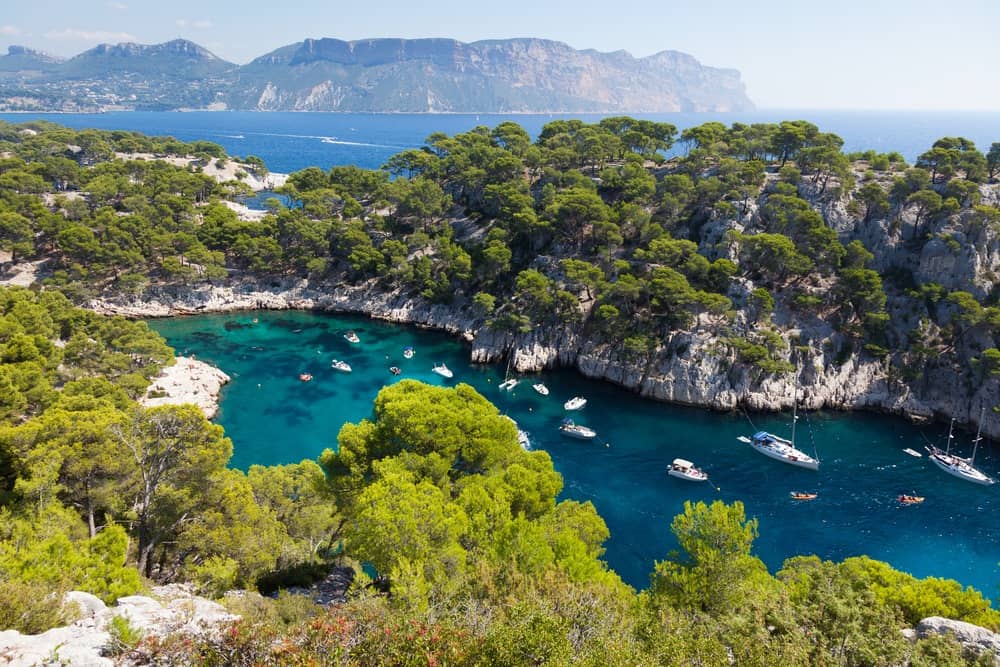 >>Also Read: Best Beaches in France
Pointe Rouge Beach
In eastern Marseille, Pointe Rouge is the largest beach. You would not find a palm tree, so you can hide in the shade. However, there is a sweeping range of bars where one can savor a mojito while immersing their feet in the sea. The local flavor is accompanied by old fishing huts, which private owners now manage but continue to make a strikingly expressive background for photos.
Pointe Rouge is a wide and spacious beach, but due to its popularity in the peak season, it is nearly always crowded, despite its size. Regardless of how many holidaymakers arrive, it appears that this beach will contain everyone. Pointe Rouge is children friendly with its sandy formation, and its bottom is flat and smooth but not deep.
Pointe Rouge is among the sandiest in the area, with attractive views of the Friul Archipelago and the harbor. This beach doesn't experience windy conditions too often, but if it winds, they blow for a few days. During the windy period, waves follow too. Hence, it is popular among surfers.
On the coast of Pointe Rouge, several clubs offer their services for coaching, training, and equipment rental. To ride on the waves, everyone waits for the wind called 'Mistral'. Not many surfers are near Marseille or in it, but surfers eagerly wait for the Mistral. Some amenities you will find in Pointe Rouge are toilets, changing rooms, shower, and first aid station, and inflatable mattress rental, café-bars with food and drinks, and water bikes for rent.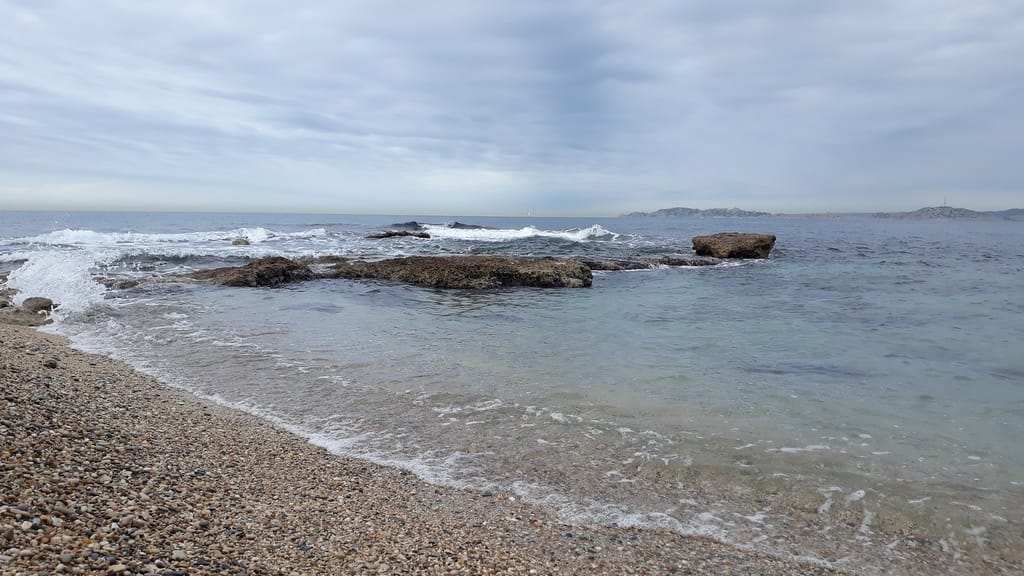 >>Also Read: Best Beaches in Nice
Final Thoughts
Situated on the southern coast of France, sunny Marseille and its environs are ready to offer visitors not only velvet wines and historical attractions but some of the best beaches also. From this post, select the most suitable place for you to have a go at for your summer vacation in southern France.