Best Beaches near Hossegor
In Nouvelle-Aquitaine in southwestern France, the stunning Hossegor has a reputation for being a delightful escape for both tourists and locals. It is situated 20 km north of Biarritz, and the area has resplendent waves that catch the attention. You can walk along the coastal path in the area close to Hossegor to enjoy this scenery.
And when you visit, you can decide to surf incredibly gorgeous places. Hossegor and its environs have a surplus of beaches to offer strolling, paddleboard, swimming, surfing, and other activities. So here are some of the best beaches near Hossegor.
Main Beach
Named the Main beach in Vieux-Boucau-Les-Bains, it is the major ocean beach in this seaside area, downtown, close to the marine lace Port l'Albert. The left section is broader and is suitable for people with limited mobility. Beach volleyball courts are installed in the peak periods, often in the summer. And the right zone, which can be reached from Avenue de la Plage, is narrower and fringed by a massive dune.
Marine Lake Beach
Situated in Vieux Boucau, a few kilometers from Hossegor, this beach stretches close downtown across from the small Ile de Port d'Albert and Soustons' dunes. The setting here is fantastic, and activities like swimming are safe. Because of a dam, the lake's water level is regular at low tide. Marine Lake beach is frequented by families with children. You should also note that the water's temperature is often 3-4 degrees Celsius more than the ocean's. You can find a small parking space close to Avenue des Pecheurs too and few spots close to the Allee des Lamaneurs.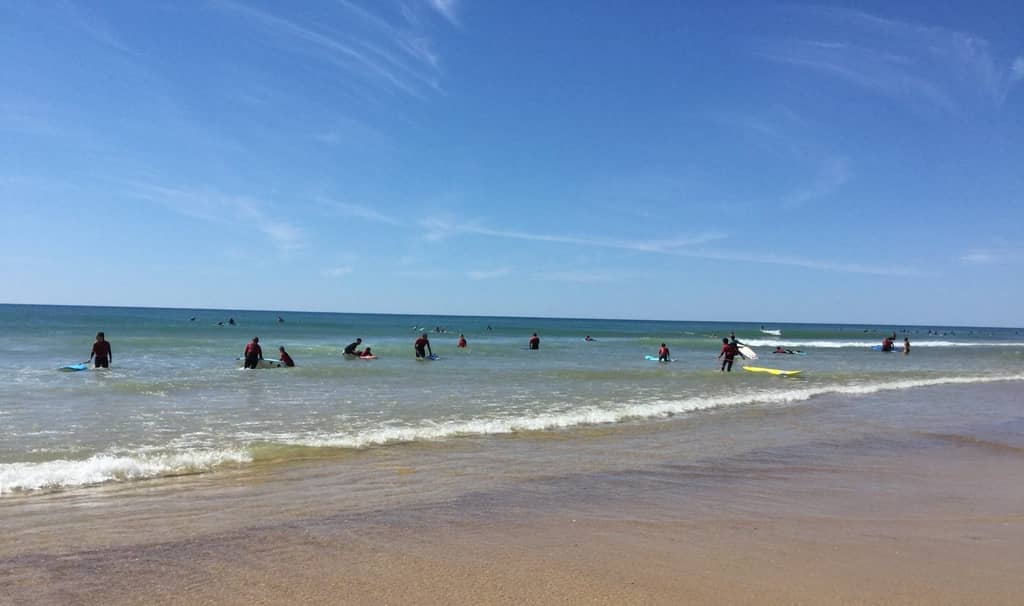 >>Also Read: Best Nudist Beaches in France
Sableres Beach
This beach is similar to Nord Beach in Vieux Boucau. The setting is made of high dunes and many campgrounds just a little beyond the downtown. Sableres beach is a wild beach and is about 500 m downtown. Close to the entryway (Avenue des Dunes), there is a lifeguard station that is open from June's end to August's end. Bear in mind that nudists are allowed here on the north section of Sableres Beach. It is accessible from Avenue des Dunes, where there is a free parking space close to a steep track.
La Barre
Known as one of the most tranquil beaches along the coast, locals and tourists come here to relax and adore the environment. Behind the beach is a broad promenade where you can walk along and absorb the amazing views. Located next to Adour River's mouth, ships can be seen coming into the port. Some of the highlights here include an ice-rink, a big skate-park, the Izadia ecological park, and several restaurants. 
Chambre D'Amour
Chambre d'Amour's name means Bedroom of Love and is in memory of a tragic love story. A cave used to be the tryst of a young couple on the cliffs along the beach. But one day, the ocean got irregularly stronger, and a wave took the couple away, never to be seen again. Today, the beach gives off a feeling of liberation, partly because of its wild, well-preserved environment and partly because it has become a popular spot for nudists.
Even with the nudist activities, it is alright. It is a massive beach, and the major stretch is swimsuit covered. You will also find debris from WW2 on Chambre d'Amour and enthralling views you can take in from the bridge. Activities include golf, surfing, and tasting local seafood at the coastal cafes.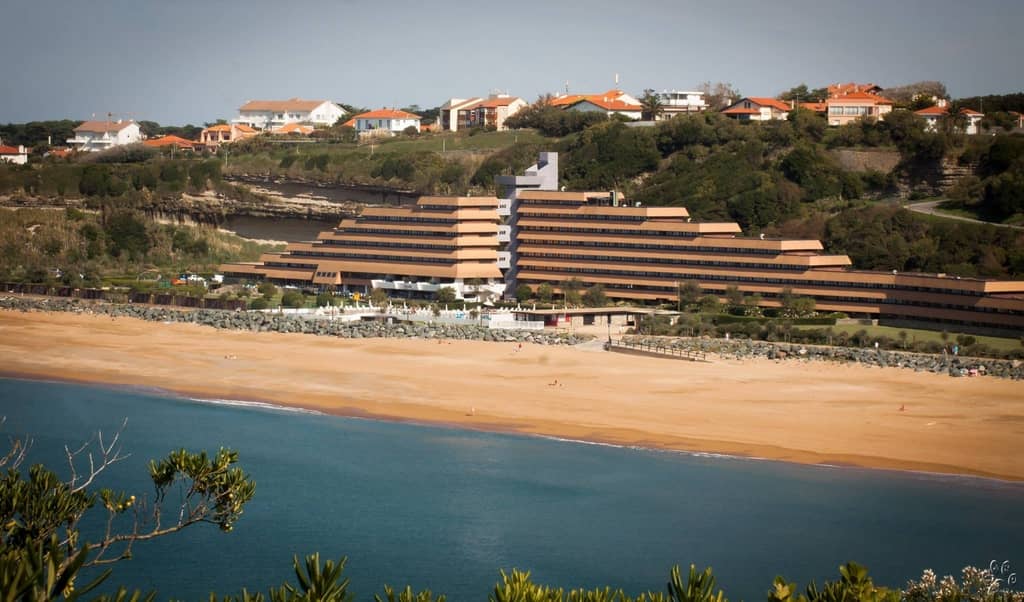 >>Also Read: Is Biarritz Expensive?
Le VVF Beach
In Anglet, the southernmost sandy beach is the VVF beach, and it is located close to the cliff of Biarritz and Cap Saint Martin. A lighthouse atop a clifftop jutting into the ocean where you can adore spectacular sunsets and sunrises. Bodyboarders, surfers, and sun loungers too visit here in droves to enjoy the huge span of sand and the waves. Enjoy a moment of snacking beside the beach, stroll along the promenade, and absorb the beautiful scenery.
La Grande Plage
La Grande Plage is another wonderful beach close to Hossegor. It is one of the busiest and largest beaches in Biarritz. Here, you will find golden sands back into a lively promenade lined with entertainment and hotels. And there are cafes to sit and watch the world unfurl near you. Surfers from different parts of the world love La Grande Plage for what it offers.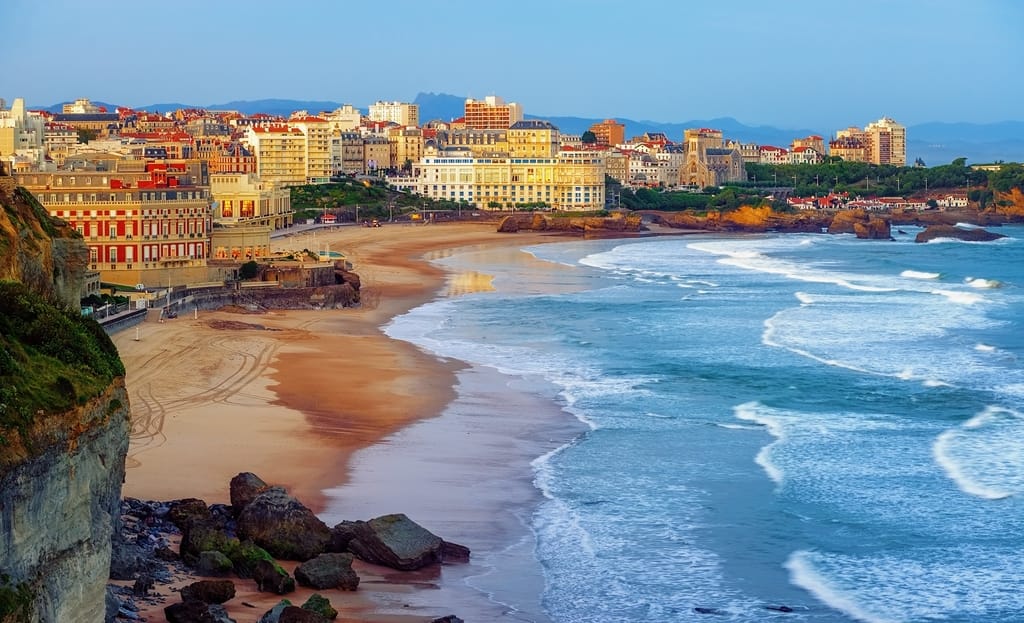 >>Also Read: Best Beaches in Biarritz
Le Port Vieux
If surfing is not really your thing, go to Le Port Vieux beach, which is nestled into a little cove. This beach has gentle waves and a less-crowded area. Craggy outcrops protrude into the water, and small cafes and restaurants can be seen near the old port. There are diving clubs in the area for those who want some watersport activities.
La Cote Des Basques
This has a broad open beach spanning as far as the horizon. Wild cliffs give it a rough charm, making it an excellent place to take a rest from regular life. Bodyboarding and surfing here, but dipping into the water becomes tricky at high tide as the water hits the rocks. At Le Surfing, socialize with cool surfers for 'grills and beer'. 
For something more recent, go nearby to Cote 57 for cocktails. Visiting the beach in July could mean witnessing the Biarritz Annual Surf Festival. Surfers flock here in their droves to participate in the week-long party and watch the longboarding. 
Ilbaritz
Situated in Bidart, just south of Biarritz, this beach gives a nice 300 m swath of sand backing onto lush vegetation and rough cliffs. Restaurants are scattered here, and there is a popular golf course. You will also see a watersports center and a surf school located close by to amp-up your skills. Lovers of nature should pitch their tent in the amazing grounds of Ilbarritz Camping Village. 
Erretegia
Erretegia offers a nice getaway from the crowded areas of the Basque Coast. The swath of beaches and neighboring cliffs do not almost have any buildings aline the top. The waters are often calm and perfect for surf school students, but they should be careful because there are rocks there. A 25 km track can be trailed along the coast to Hendaye for visitors who want to stretch their legs a little.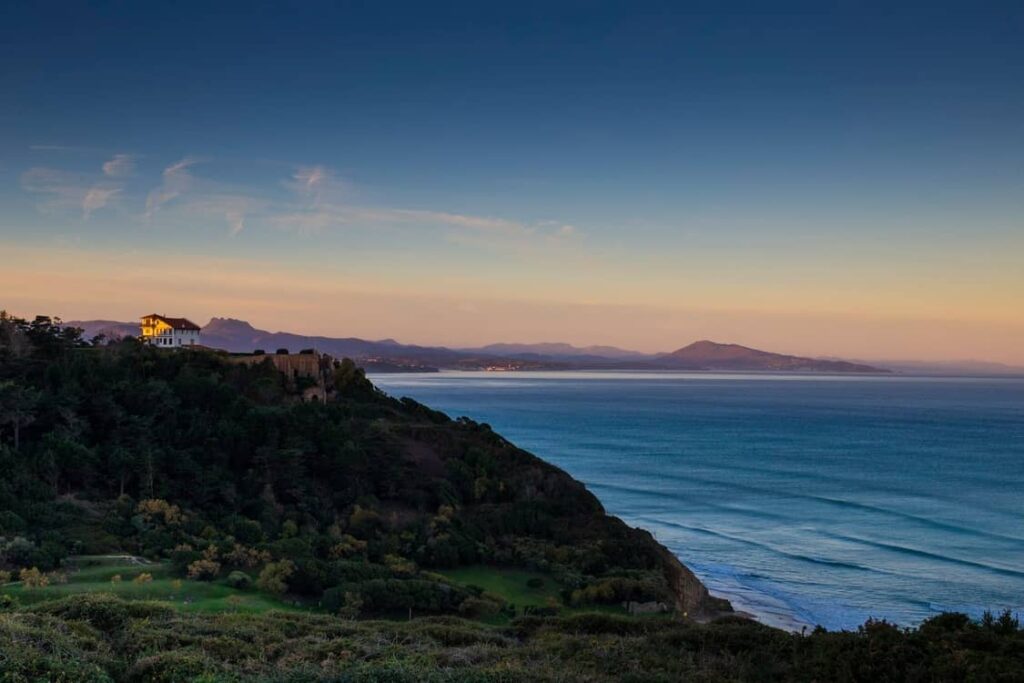 >>Also Read: Is Biarritz Expensive?
Le Centre
In Bidart, the Central beach can get crowded with surf club members on some days, but it has calm surf for every level. Along the cliff, hike and proceed to le Centre beach for splendid views across the beach. Thereafter, wind down at La Tantina de la Playa, which offers a brilliant menu. With adorable views over the beach, visitors can enjoy the sun setting and watch surfers ride the waves. 
Parlementia
This beach has everything, from legendary cliffs, to impressive waves and a low-profile village atmosphere. Parlenentia is also a well-known surfing destination for thrill-seekers to ride waves as high as 5-6 m. It is marked with rocks and a decent esplanade that courses to the grassy cliffs. Have fun at the beachfront, where you can have a decent meal at Guethappy, which is well located to take in views of the fine coastline. 
Harotzen Costa
Harotzen Costa is made up of pebbles, sand, and rocks. Only the brave swim here because the swell gets fierce sometimes. Surfing is popular here, and watching the professionals ride the waves can be thrilling. Go to Le Bar Basque for a nice menu of Tapas and fresh seafood in a genial atmosphere. 
Best Beaches near Hossegor – Final Thoughts
If you prefer your surf to be excellent, endless beaches, mountains rolling and wild, and local villages alluring, then look no further than the area near Hossegor. The beaches are fantastic and a must for tourists who would be staying there for a while. The landscape in Hossegor's area is varied and wild. But be warned that you will be absolutely charmed by its seaside spots that offer a large range of activities and many stores for quick shopping. Essentially, Hossegor's environs are one of the most significant destinations in the Landes region.