Brittany in northwestern France is an environmentally varied region that attracts both locals and tourists worldwide. Brest is a port city in the region, and close to it are amazing beaches that reflect the character and beauty of Brittany to the delight of vacationers. In addition, the port city is popular for its naval base and affluent maritime history. 
In this post, I will be taking you through a fascinating journey to the buzzing region of Brittany, especially around the city of Brest, where summers literally meet relaxation. So, here are some of the best beaches near Brest in France.
Plage du Ris
Douarnenez is near Brest and Plage du Ris is the biggest beach it has. When the tide is out, a massive swath of sand is uncovered. The beach is situated north of the town, but the encircling environments give off a rural vibe that you would like.
At the back of Plage du Ris is huge greenery with picnic tables. You will also find lots of local beach huts reminiscent of the seaside resorts' golden age. These bestow a small character to the beach, which retains much of its charm despite its development over time.
There is a lot to explore here at low tide, including some caves, rock pools, and an old stairway that is carved into the cliffs. Plage du Ris has a seasonal lifeguard, but swimming is sometimes prohibited even when the water is calm. In addition, there have been concerns that toxic algae are a threat to safety in recent times.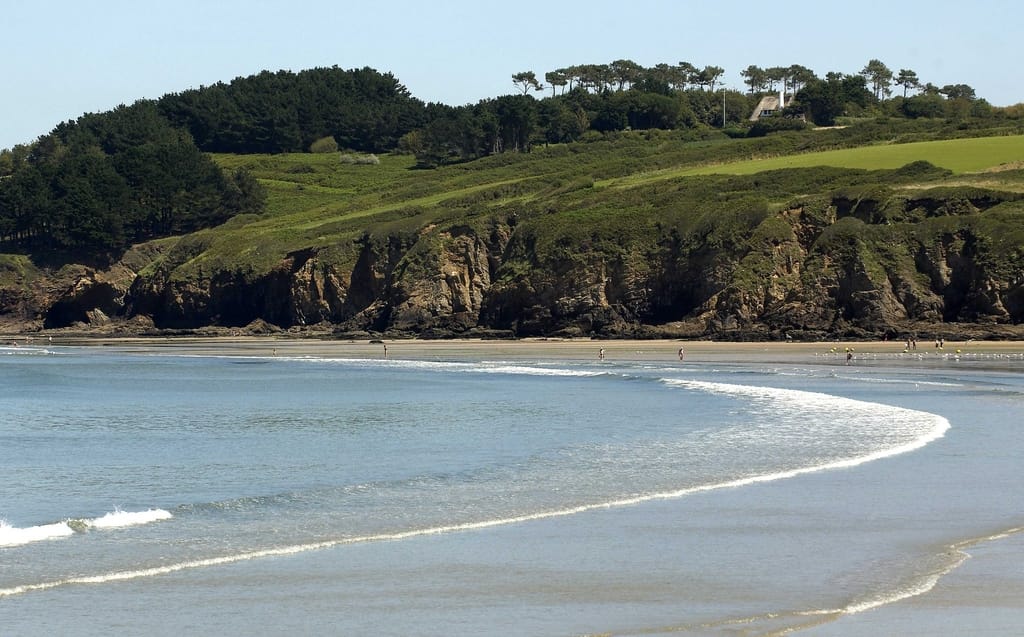 >>Also Read: Brittany Travel Guide
Plage de Pors Peron
Nearly concealed beneath rugged cliffs sheltered in lush greenery and wildflowers, the flashy-colored sands of this beach are located on a petit inlet in the cliffs around Cap Sizun, which is the westernmost point of mainland France.
Opposite north onto the Baie de Douarnenez, Plage de Pors Peron enjoys some protection from the rage of the Atlantic Ocean, which generally leads to flat conditions for swimming and paddling in the warm summer months. The beach also receives shelter from the winds of the region's east because of its cliffy setting. 
Plage de Gwendrez 
Plage de Gwendrez is one of the larger beaches on this stretch of Brittany's coastline. It is made up of a strip of fine sand coming down lightly into shallows that look like lagoons. This beach is encircled by a pure landscape of gently rolling fields, and you can reach there through the beautiful town of Plouhinec. Demarcated into a larger southern part and a smaller northern part by a low outthrust of rocks that are incredible for kids to climb over, this family-friendly beach probably not surprisingly gets its name from 'White Sands' in Breton French.
Plage de Gwendrez is also well known among aspiring wave riders because of the presence of a surf school. Meanwhile, Atlantic breakers that can reach up to 2 m are perfect for surfing. The beach boast of a Blu Flad certification for its tidiness since 2013, and its west-bound direction means the sunsets there are usually magnificent.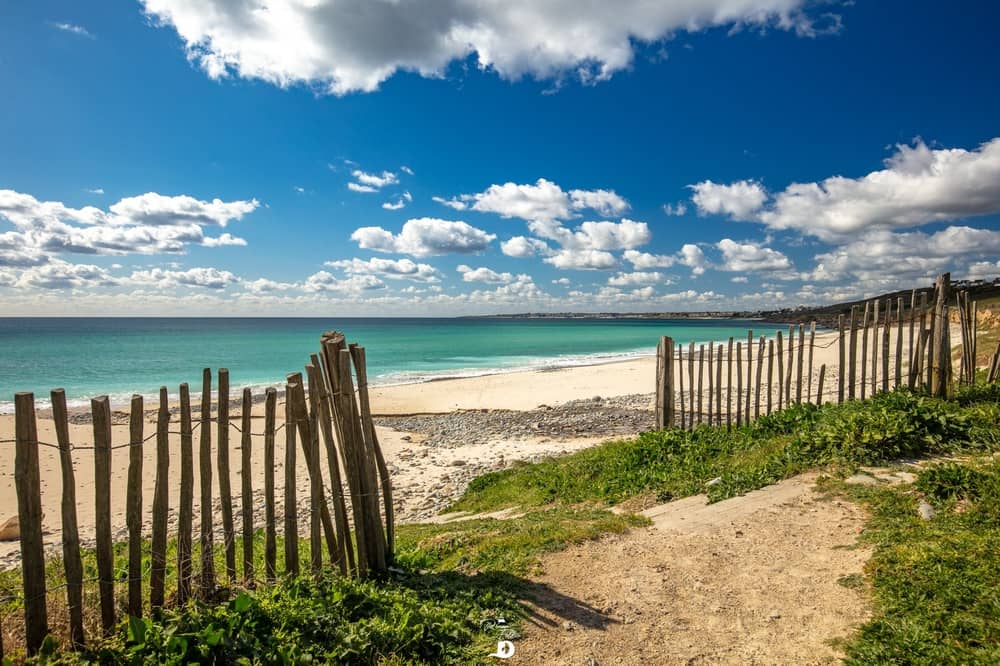 >>Also Read: Is Brittany Worth Visiting?
Plage de L'ile Vierge (Virgin Island's Beach)
This might be the most beautiful beach in the whole of Brittany. Plage de L'ile Vierge is situated in a sheltered eastern end of Brittany's Crozon Peninsula. It is mostly pebbles supported by tall white cliffs to which pine trees hang on to. Here, the water is clear turquoise, but it can be very cold.
The beach is secluded, and it reminds of a spot where you would think is on the Mediterranean coast instead of a rocky spit of land in northwestern France. Even though it is beautiful, Plage de L'ile Vierge does not record too many visitors. You can access the beach by boat and on foot (20-minute hike). This place is worth the trip but just ensure that you study the tide times because the beach almost vanishes at high tide.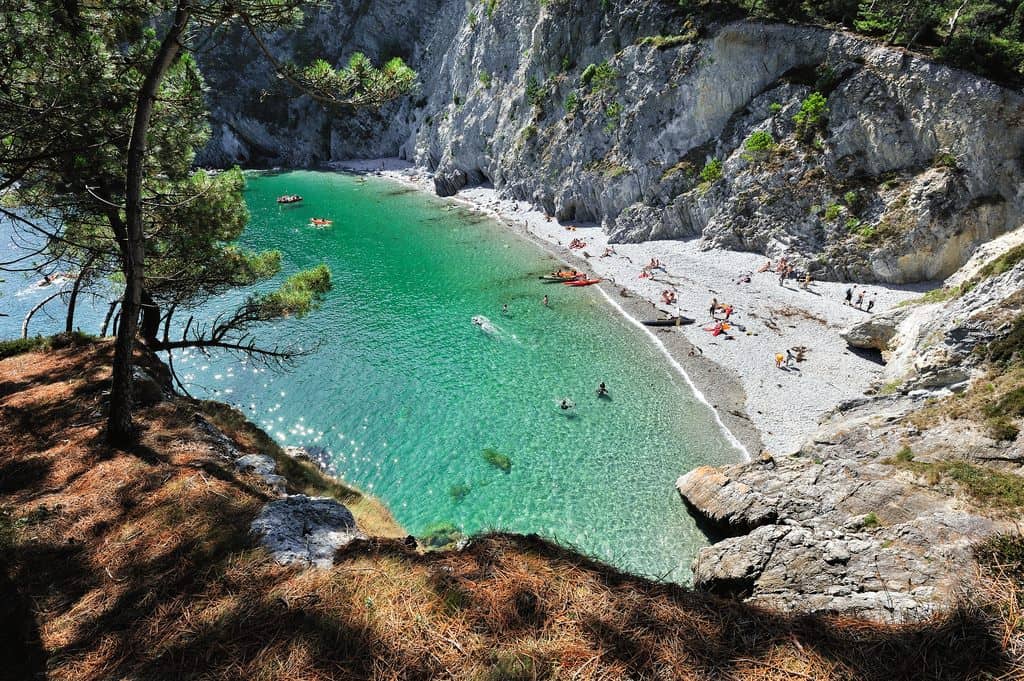 >>Also Read: Is Brittany Safe?
Lostmarc'h Beach
Lostmarc'h beach is a sandy Atlantic facing beach that perches on the Crozon Peninsula almost 1 km away from the Plage de L'ile Vierge on the other side's coast. Here, you will not see any shelter from the ocean swells, and there are no trees at the beach's back. What is here is just heather strewn cliffs and windswept dunes.
This beach is popular as a surf spot because it takes up any Atlantic swell that is going. But with no lifeguards and sometimes powerful currents, people are not encouraged to swim. This place is also an ancient place, and the cliffs look over the beach's northern end, which is home to a menhir and an Iron Age cliff fort. Looking closer, you will discover the remains of a 1600s customs lookout here.
La Palue Beach
Cherished by those who want the wilder reaches of the country's Atlantic coast, this beach is situated on the western end of the region's Crozon Peninsula near Cape de la Chevre (its southernmost tip). Its vast expanse of yellow sand offers a striking contrast to the tender blues of the Atlantic. It faces the Atlantic, and you can see the craggy Ile Gueneron. Unfortunately, La Palue beach's shallow draft means a large part of its sands is lost temporarily in the highest tides. And while swimming is not allowed because of the wave's strength, the beach is still popular with surfers in the high season for its charm. At low tide, the beach is connected by a short sand bar with the neighboring Plage Losstmarc'h beach up north.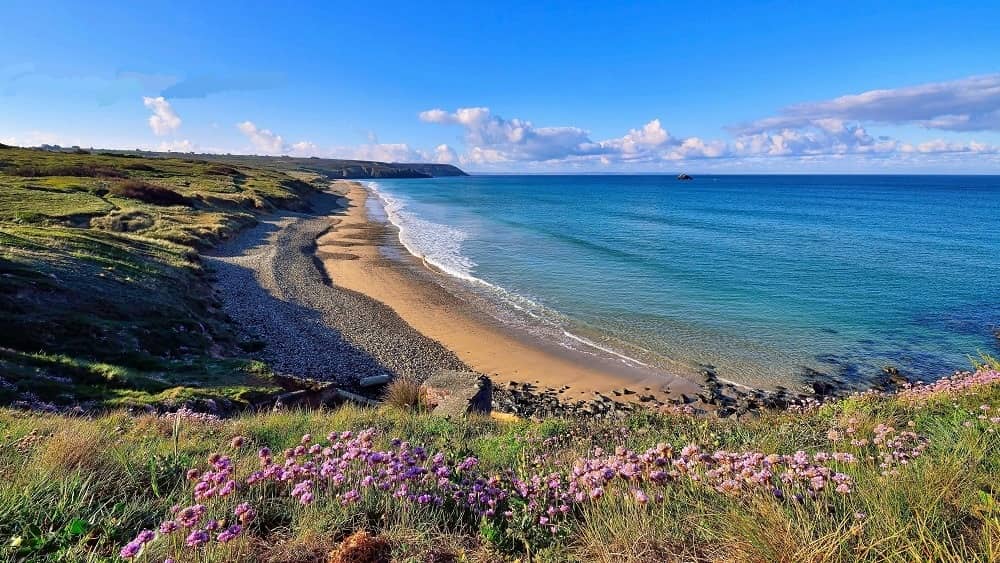 >>Also Read: What is Brittany Famous For?
Plage de Morgat
Located on a covered part of the gorgeous Crozon peninsula, Plage de Morgat has wide golden sand and one of the most beautiful in the department of Finistere. This beach has a popular small holiday town of the same name at its back. It used to be a sardine port, but the village of Morgat expanded into an alluring seaside resort over the 1800s, and several fine beachfront buildings from this era can still be found.
Plage de Morgat itself is more than 1 km in length and has a diverse nature as it turns sharply around the coast of the Iroise Natural Marine Park. It is not surprising that the area in front of the town is the widest known and it might be the best. The sand here is the widest and softest, and there are all the facilities, shops, and cafes close by.
This place is a popular spot and can be crowded in the summertime as visitors come to Crozon in their droves. But you can still find a gentle spot up the beach, and while the backdrop is more enchanting, the beach definitely becomes a small pebbly at this side.
Seeing as Morgat beach is sheltered, it is generally safe for watersports and swimming, although it is worth noting that there is no lifeguard. At the southern edge of the beach is the huge Blue Flag award-winning marina.
Baie de Trepasses Beach
This resplendent clean beach is set at the rugged Point du Raz, the country's westernmost point. These scraggy 70 m cliffs not only offer a fine backdrop but it shelters the beach from the south-westerly winds. Nevertheless, it is an exposed beach that usually face the Atlantic's full range. The broad beach is winged by high cliffs, with the also high Pointe du Van located to the north. 
'Bay of the Departed (dead)' is the translation of Baie de Trepasses, which may be misconstrued for an earlier Breton name, even though there is a legend that the deceased druids were transported by a ferry to the island of Seine for burial from here. Regardless of the origins, this is a dramatic setting, especially when the sea is rough. Surfers love the beach as it is perfect for all levels of ability.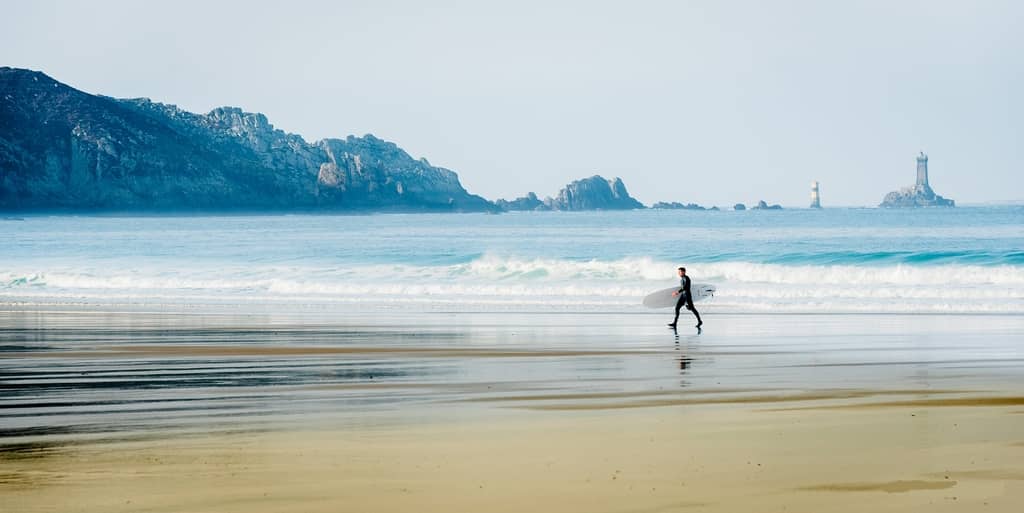 >>Also Read: Visiting Belle-île: Brittany's Largest Island Guide
Best Beaches near Brest – Summary
The beaches near Brest all have comfortable beach spots for your relaxation. However, if you want to enjoy the quiet, there are specific spots to visit, and they are perfect with big views and fine sand. And whether it rains or shines, the beaches near Brest can be the most idyllic places to visit in Brittany.