Burgundy is in east-central France, positioned southeast of Paris. It is recognized for its rich history, delicious red wines, prestigious gastronomy, and Châteaus (Castles). Distinguished by gentle rolling hillsides blanketed with vines. As one of France's most reputable wine-producing regions, Burgundy is frequently thought to be at the core of French cuisine. Many traditional French foods such as coq au vin, beef bourguignon, and escargot all originate from Burgundy.
Here Are Some Basic Travel Information For Your Trip To Burgundy
Burgundy Wine
Most known for its wines, the Burgundy region of France produces some of the country's best and most prestigious wines. Red wines made from pinot noir grapes and whites made from chardonnay grapes are the specialties of the region; though Chablis and Beaujolais are also well-known wines coming from this region.
Burgundy has the highest number of Appellation d 'origine contrôlées (AOCs) compared to other French regions. Also, it is often seen as the most terroir conscious of the French wine regions. The practice of delineating vineyards by their terroir in Burgundy dates back to Medieval times. Back then, many monasteries played a key role in developing the Burgundy wine industry.
Burgundy has a long history of being one of the most respected wine growing regions in France. In fact, there is archeological evidence of vine-growing in Burgundy dating back to the 2nd century AD. Wine in France was first produced by monks and monasteries, and the Benedictines became the first group to develop a large vineyard in the Burgundy region.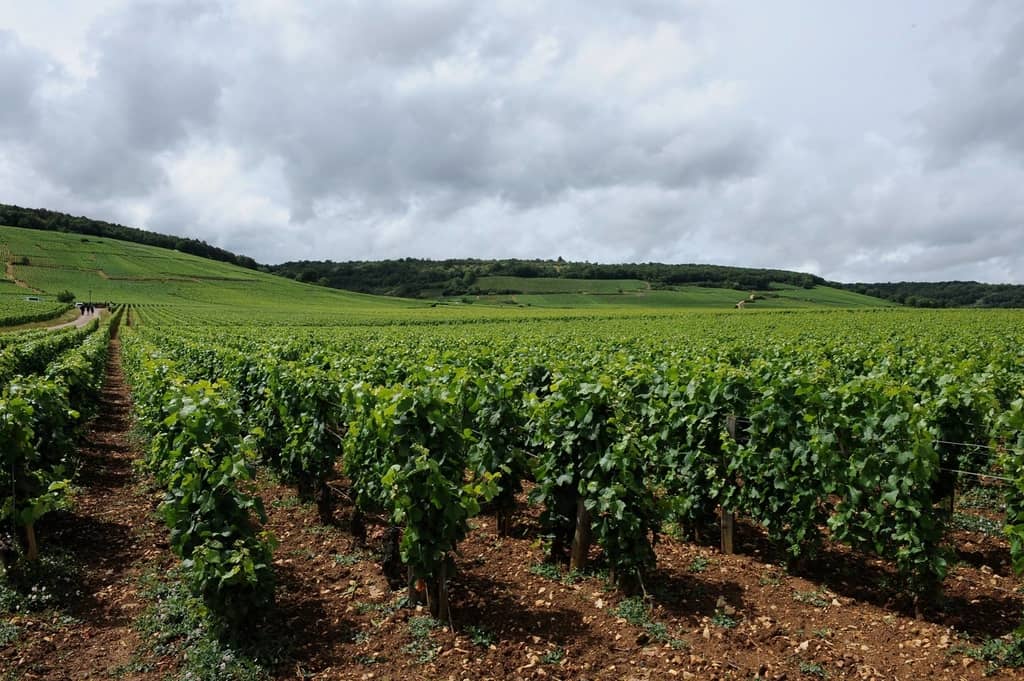 What to do in Burgundy
Go Wine Tasting
Since this is THE wine-producing region in France, Burgundy is a great place to explore vineyards and go wine tasting. With many famous vineyards big and small dot the landscape of this area, it is easy to explore the many vineyards and taste the wines from this region.
Go to the Dijon International Gastronomy Fair
Since Burgundy is also home to many of France's most celebrated dishes and is known as a region with especially delicious cuisine, heading to the Dijon Gastronomic fair in the fall is a great way to sample some delicious food.
Go to a harvesting festival
September in France marks the beginning of the grape harvest season in France, which is specially celebrated in Burgundy. In September, you could easily bounce around the many wine-related festivals in France—there's the Heralding of the Harvest in Saint Emillion and the Jazz and Wine Festival of Burgundy in Beaune. In November, you can also celebrate the release of the Beaujolais Nouveau around France.
St. Etienne is actually home to the French bicycle industry (many famous bike manufacturers are based here), and the city often hosts a stage of the Tour de France. Although I don't recommend biking and drinking, this is the perfect place to combine cycling and wine tasting into one vacation.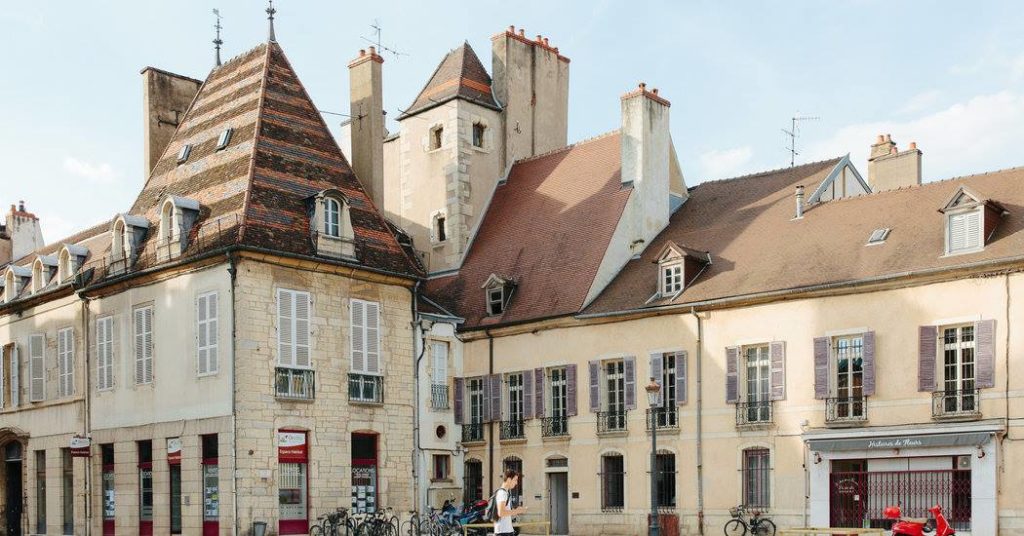 Visit the Vézelay Abbey
A Benedictine monastery located in the Yonne region of France, this monastery perched on top of a hill overlooks the fields of vineyards below, and the basilica here is a masterpiece of Romanesque art and architecture. Supposedly, the bones of Mary Magdalene are also located here, and there are many pilgrims who come to this church for that very reason today.
Regional Cuisine of Burgundy
The cuisine of Burgundy is known for its richness, due in large part to two factors. The region's heavy red wines and its possession of one of the world's finest breeds of beef cattle, the Charollais. The wines are used in the making of the sauces, which earn a dish the designation of à la bourguignonne. Basically, this means prepared in a red wine gravy to which baby onions, mushrooms and lardons (pieces of bacon) are added.
Coq au Vin
Although modern versions of this dish often use just regular old chicken, this dish is traditionally made with a rooster (as I discovered when I came home to my great aunts house one day to find a sully feathered rooster sitting on her counter), red wine, mushrooms, garlic and lardons (bacon-like pork).
Escargot
This is a dish of snails cooked in a garlic, parsley butter sauce, which is served as an appetizer.
Boeuf Bourguignon (aka Beef Burgundy)
Perhaps one of the most famous dishes from this area, beef burgundy is essentially a stew prepared with beef braised in red wine (preferably with a red, Burgundy wine) and is flavored with pearl onions, garlic, carrots, lardons, and mushrooms.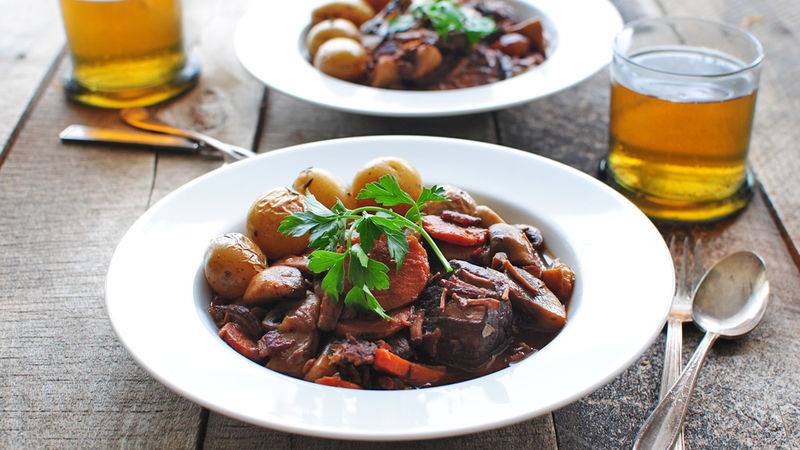 Main Towns and Attractions in Burgundy
Dijon
With a famous mustard named after this city, it is no wonder that Dijon remains one of France's gastronomic capitals today. It is also the capital of the region with majestic buildings dating back to the glorious days of the Dukes of Burgundy. Lively University town.
Autun
The Roman heart of Burgundy. A city rich in history and architecture, circled by stunning countryside.
Auxerre
Located on the River Yonne, explore the old part of town with its timber-framed houses.
Beaune
The center of the wine region, steeped in wine culture, with famous vineyards surrounding it at all points of the compass.
Chablis
Home to the famous white wine that comes from this area with the same name, this town is known as the 'Golden Gate' of Burgundy for the great wine it produces.
Cluny
Once the largest abbey in Christendom, this town is an important location in Burgundy's past.
Macon
Famous for its wines and landscapes, Mâcon on the River Saône is the gateway to the south, Lyon, and the Mediterranean.
Vezelay
This UNESCO World Heritage Site has been a center of pilgrimage for centuries. The basilica is the nucleus of this charming medieval town, which rates as one of Burgundy's, and France's best.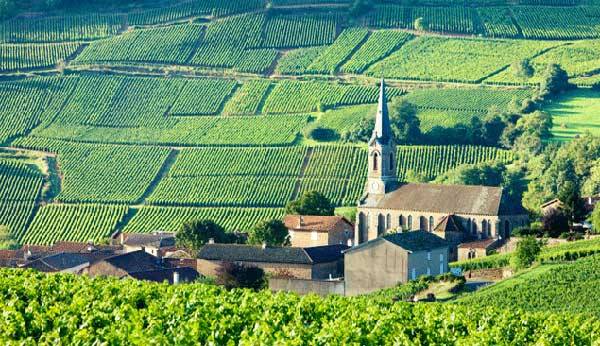 Weather in Burgundy
Burgundy is a landlocked region situated in the heart of France; it usually has warm or hot summers with that continental feel to them. Generally, the summer months are hot and dry, with rainfall averaging 6 cm per month during July and August.
The climate in the Spring and Autumn brings a mixture of sun and scattered showers with temperatures in the mid-60s.
Wear layers of clothes so that you are ready for colder mornings and warmer afternoons. Waterproof outer layers are wise on longer day trips if the weather forecast is uncertain.
Getting to Burgundy
By Train
Located just a short train ride from Paris, the TGV (France's high-speed train) comes through Montbard to Dijon and on to Beaune and Chalon-sur-Saône, and via Sens to Le Creusot, Mâcon and on to Avignon and Marseille. The regional services run at a more leisurely pace but connects the smaller towns of the region.
Looking for more information about planning a trip to Burgundy? Start with these handy links: