Is Brittany Worth Visiting?
A region of legends, myths, and enamoring history, Brittany is the place to be for maximum thrill and sheer traditional feel. It has a Celtic charm with a dialect with a Gaelic influence, and the local cuisine is delectable. Brittany is in the northwestern part of France. The area is situated on a peninsula between the Bay of Biscay and the English Channel.
You are bound to enjoy the picturesque coastline, lush exotic gardens, the sand beaches, and the fantastic town life on offer when you visit. The region is a brilliant place to retire and relax with a serene environment and mild climate. Brittany is worth visiting more than once, and I have come up with some of the most interesting things to do and see.
>>Also Read: Brittany Travel Guide
Here Are A Few Things To Do That Make Brittany Worth Visiting
Go on a Romantic Walk at Sentier des Douaniers 
One of the most beautiful walking trails in France is the GR34 that spans almost 1800 km along the region's coastline. This route begins at Mont-Saint-Michel in Normandy and proceeds to Brittany's bow till it touches Arzal, Morbihan. Beaches and dunes, rocky forelands, forts, and lighthouses- there is nothing this resplendent trail does not have. It is challenging to pick major attractions from the Sentier des Douaniers. Some of the most romantic and enchanting stretches feature the view from the Crozon Peninsula and the Monts d'Arrée.
Capture the Highlights at Abbaye de Beauport 
Occupying the beautiful coastal stretch between Breton towns of Saint-Brieuc and Lannion, Beauport Abby is a must-visit. Since 1862, it has been a French historical monument and a well-preserved site with fine remains of a refectory, stone archways, a cellar, and more still, proudly sitting and overlooking the coast. It is a fantastic spot to visit and to accompany it with a stroll along the coastal path nearby. Abbaye de Beauport is located at Place de Kérity, Paimpol, France.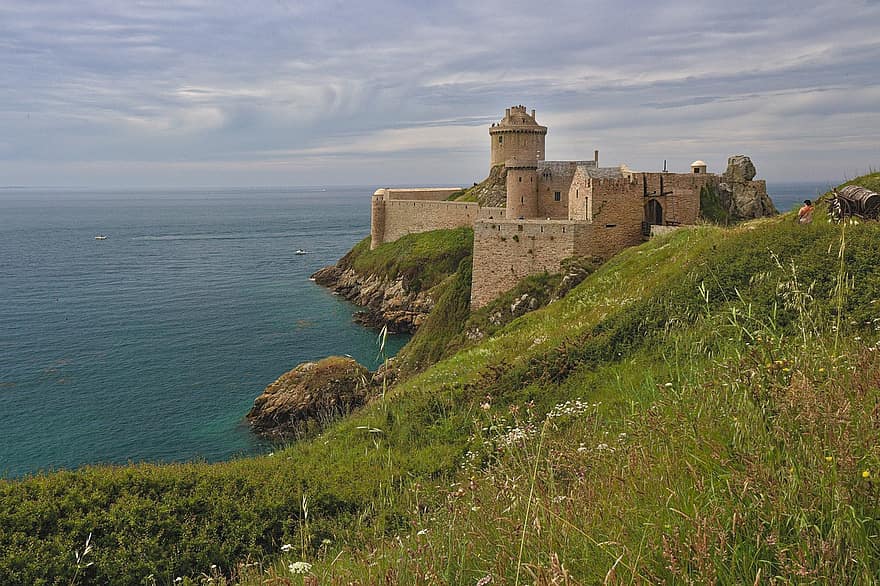 Marvel at the Natural Wonders of Île de Batz
The region has several islands off its coast, but Île de Batz off the coast from Roscoff is exceptionally breathtaking. Many ferries are linking this lovely isle with the mainland throughout the year (but more often in peak season). It is the ideal destination for a holiday getaway trip, for an even slacken the pace and phenomenal surroundings.
Le Jardin Georges Delaselle is one of the major attractions on the island. This small oasis of exotic plants feels excitingly out of place in the North of France- particularly if you are coming in the warmer months, it feels like it could be the Coted d'Azur. For those who want to stay awhile further, Les herbes Folles is a pleasant hotel and restaurant, perfectly located where the boats dock.
See the World Unfurl at Centre Historique, Dinan
Dinan is one of Brittany's major attractions and has one of the most delightfully well-kept old towns you will discover. Timbered houses, cobbled streets, and crêperies on almost every turn make this the ideal holiday place for a few days. Even though it is small, there is a bustle (especially in the warmer periods) to its ambiance that will absolutely please visitors.
Indeed, Brittany knows how to present port towns. Dinan's quay, marked with small stalls and restaurants, is as enchanting as its historic quarter. Lodge in the center, in one of its several bijou hotels and enjoy walking the old streets and discovering gems on foot.
Visit the Resort at Côte Sauvage de Quiberon
Many roads in the region are good, but this is unique. The Quiberon Peninsula projecting out into the sea for 14.5 km is home to Côte Sauvage. For around 8 miles, a small road adjoins this spectacular coastline, close to the water for visitors to approach and touch. You can be stationed at the beautiful seaside resort of Quiberon. Still, get in your car and explore the peninsula. Proceed to Le Vivier restaurant to wrap up the day with a table for two, with the tastiest seafood and the sunset's view that will be difficult to beat.
Château de Fougères
A massive castle (considered Europe's largest) is naturally protected by its raised position and features views over the region's countryside. Château de Fougères is an artificial yet original, romantic day out close to the Normandy border. The tour of the place is affordable. Given that almost the entire castle is open-air, visiting on a sunny day and wrapping it up with a traditional meal in Fougères old town will perhaps be the best thing to do on the day. The castle is located at Places Pierre Symon, Fougères, France.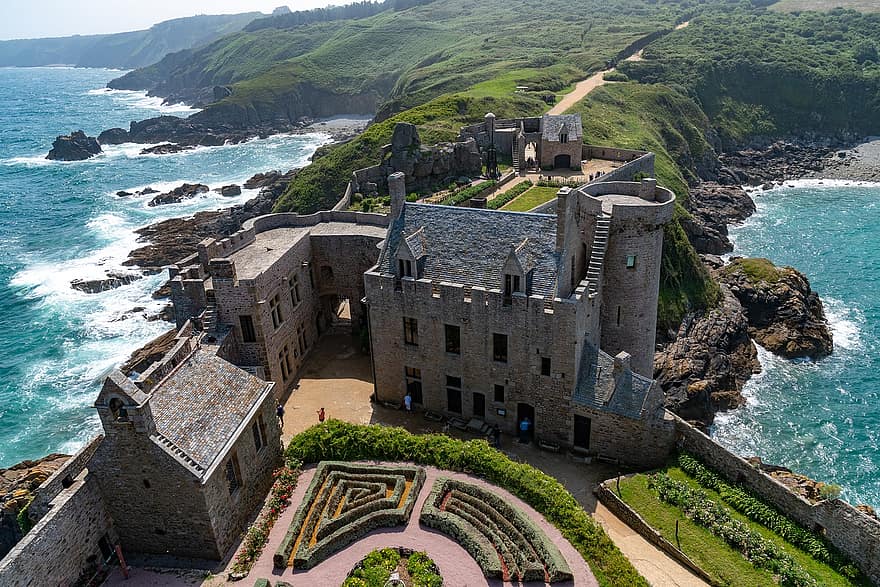 Île Vierge
If you were told that Île Vierge is in mainland France and not in the Caribbean, you might not believe it. It is Ion Brittany's west coast in the gorgeous Armorique Regional Park. This is the ideal beach spot in the region to enjoy quality time with friends and family. Getting down slightly feels like being in the popular movie The Beach. It permits just glimpses of this wonderful cove until one reaches the beach beneath it.
Do Watersports at Saint-Malo
Usually, port cities do not have good reputations, but Saint-Malo is different. This old town is encircled by towering granite walls, and its beach is still inviting and unspoiled. Apart from exploring the old town's twisting streets, ensure that you visit Le Grand Bé, a small craggy island with a fort that is accessible at low tide.
Relax at Sauzon, Belle-Île
Not many villages are quainter than this port village on the terrific island of Belle-Île. The island is situated off the coast of Quiberon and should be in your itinerary when you have the time. As your base, do not forget to select Sauzon at the northern tip. The pastel-fronted village is crammed with petit cafes and stalls, and there is a vast expanse of trails to explore, both further into the island and round the harbor.
Also Read: Visiting Belle-île: Brittany's Largest Island Guide
See the Magical Views at Josselin
There is the château de Josselin that lies on the river's right with the town not far behind. Josselin is as scenic as you would want it to be. The prettiest square for a walk there is the Place Notre Dame. But the major attractions are the castle's position on the river and its views. A stroll along the Ru du Canal is pleasant enough, whether in the day or night.
Go For a Holiday Within a Holiday in Île de Bréhat
Bréhat island is situated off Brittany's northern coast and is a beautiful getaway for the family. Regular boat links up here from Arcouest on the mainland. The crossing is within minutes, quick enough for even the hastiest tourists. When on the island, there are several sandy coves and hiking trails to discover. Le moulin à marée du Birlot (the tide mill) is in a perfect spot.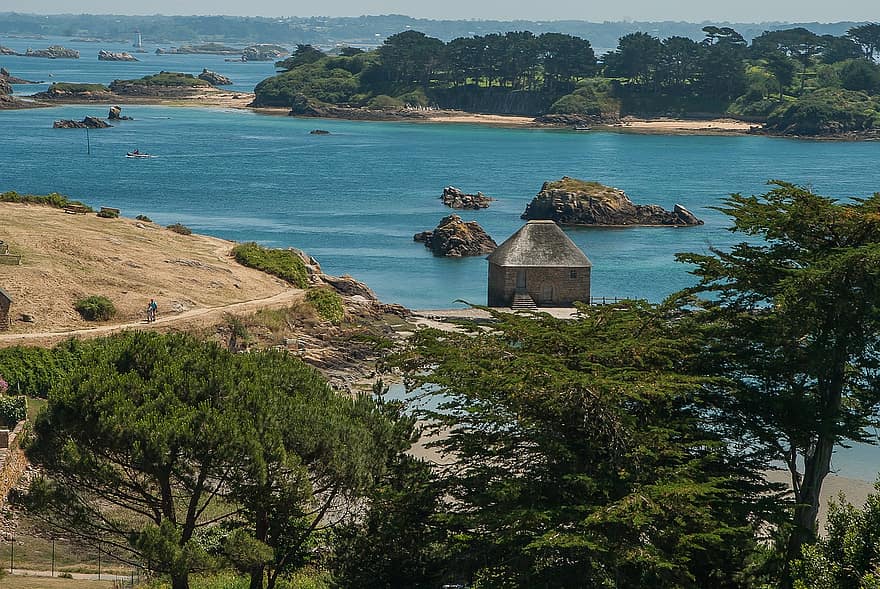 Step Back in Time at Village de Poul-Fetan
Take a time trip to the 1800s in the time of the traditional Bretons at this well-built village. There are several workshops set up by bakers, craftsmen, and more throughout the week. There is bread-making, storytelling, remakings from the Gallic period, which is a proper treat for visitors. You can also eat at the café (or take a picnic) and enjoy an interesting day out. Poul Fetan is located at Quistinic, France.
Take the Kids to Fort-la-Latte
This 1300s castle is a paradise for children. It used to be a royal residential castle, a military fortress, and a political base in the War of the Breton Succession starting in the 1340s. To go there it is an absolute delight with strategically positioned on the Brittany cliffs, ramparts, and gorgeous gardens. And yes, being in Brittany, you can also see it from the sea if you want to hire a kayak from the beach nearby. Admission is free for children under 4. Fort-la-Latte is located at Plévenon, France.
Create New Memories at Alignments de Carnac
Existing since the Neolithic period, the Carnac stones are quite magical. They have been listed as a historic monument since the 1800s and cover a vast expanse that is grouped in different patterns. They are great morning/afternoon out to make with one's loved ones who can freely check out the fields of stones. Admission is free for visitors under 18, making it a budget-friendly place for adults. Alignments de Carnac is located at Lleu-dit-le Menec, Carnac, France.
>>Also Read: What is Brittany Famous For?
Is Brittany France Worth Visiting? – Summary
Brittany is a natural playground for celebrities, tourists, and even children. It has about a third of the French coastline as you won't be short of the sea, sand, and many others. From kayaking to surfing, to walk and chateau tours, there is endless fun for all visitors. And with its beautifully varied landscape, you won't be spoilt for choice of dramatic views.