What is Carcassonne Famous For?
 Slightly secluded, Carcassonne easily captures visitors' hearts with its unique Mediterranean allure. Mild, sunny weather and fabulous seaside scenery alongside a rich culture and ancient Roman ruins make for a scintillating holiday experience. The city is closer to the sea and is mostly famous for being a Roman-fortified place.
The great walls of its citadel protected it for hundreds of years. They were deserted to be destroyed before a complete restoration took place. These are architectural masterpieces and will attract visitors to the city from near and far.
>>Also Read: Is Carcassonne Worth Visiting?
Here Are Some of The Things Carcassonne is Famous For:
Cité Médiévale
Constructed on a steep headland of rock, the city's rampart-circled fortress dates back over two millennia. The protected town is ringed by two groups of ramparts and 52 stone towers, capped by unique "witch's hat" roofs (as added by architect Viollet-le-Duc in the 1800s restorations). Bear in mind that to walk on the battlements, visitors will have to pay to gain access to the Chateau et Remparts.
The hill where Cité Médiévale perches have been fortified several times over the centuries- by Romans, Gauls, Moors, Visigoths, Cathars, Franks, etc. After France annexed Roussillon in 1659, the castle was less used as a frontier fortress. It gradually fell into partial oblivion. But thanks to the architect Viollet-le-Duc, it was saved from destruction.
The chateau sprawls in a concentric arrangement, with the dual-wall and protective towers made to resist onslaughts from siege engines. At the main gate of Porte Narbonnaise, visitors will see a drawbridge that courses to the citadel's interior, a connection of courtyards and cobbled lanes, now mostly lined by restaurants and stalls. Port d'Aude, the chateau's second gate, was slightly destroyed in 1816, and it does not have its drawbridge again.
In the walls' middle is Les Lices, an interior space that spans for more than 1 km around the chateau. Even though it was made as a defensive space to resist potential attackers, in the medieval period, Carcassonne's poorest residents would have constructed a shack town of workshops and houses here that were cleared out in the course of Viollet-le-Duc's restorations. It has since become the best place to get away from the crowds and thoroughly appreciate the chateau's war-like architecture.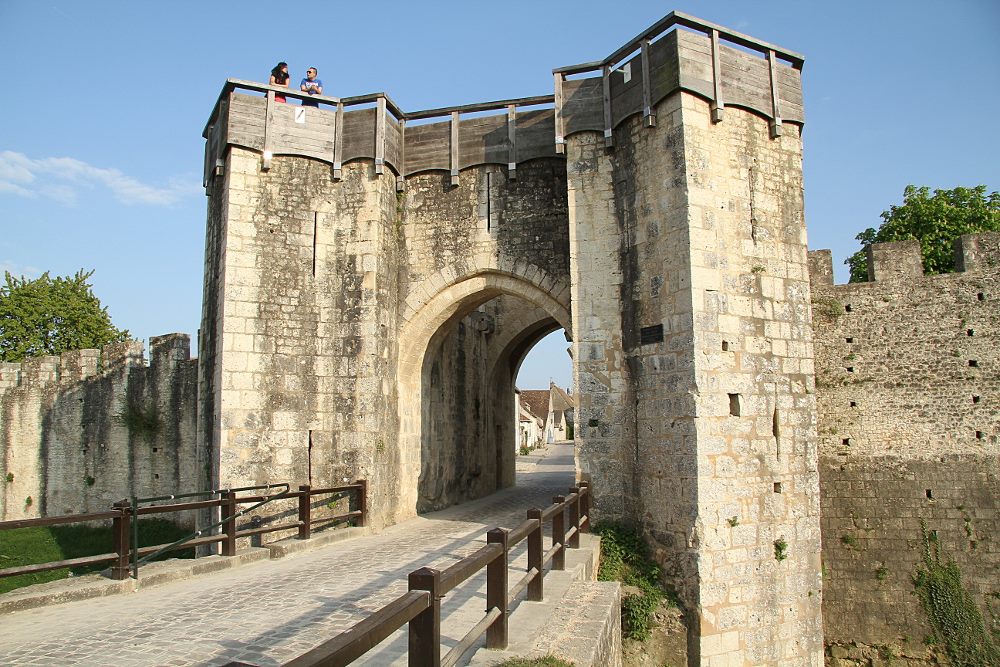 Pont-Vieux
Despite being one of many bridges coursing the Aude River, the Pont-Vieux is by margins, the prettiest and oldest. It was made in the 1300s to offer a fast link between the Carcassonne's upper and lower towns and was rebuilt in the 1800s. Pont-Vieux is one of the few remaining bridges in the country, recognized for its stately arches and packed dimensions, and is only accessible by pedestrians (according to authorities). The bridge is 300 m west of Cité Médiévale.
Château et Remparts
To tread on the battlements of Cité Médiévale, there is the need to pay to gain access into Château et Remparts, which was built for the viscounts of the city in the 1100s. When you enter, you can access a section of the fortifications, with incredible views over the encircling countryside and the Pyrenees afar. In the summer, tours in many languages are offered, and you should check with the Carcassonne tourist office for schedules.
Au Comte Roger
The citadel's location increases the travel budget, but this is one of the good setups for local cassoulet (pork, riche bean, and duck stew), beef fillet, and fish dishes. This restaurant's smart dining room has cream-colored tables and chairs and embellished wooden floors. However, the best easts are right in the vine-covered courtyard close to an old well. Au Comte Roger is located at 14 rue St-Louis.
Grand Théâtre
Opera, concerts, and events all through the year, during the Festival de Carcassonne, are hosted in this humongous 5000-capacity amphitheater with a fitting backdrop comprising of ramparts. If you want to be thrilled by some of France's brightest and upcoming theatre stars, a visit to Grand Théâtre will entertain you. You can see upcoming events at the Tourist Office.
L'Artichaut
This is one of the best bistros in town. It is a brisk local hang-out that is usually full of workers at lunchtime. L'Artichaut is particularly good for no-fuss bistro standards like roast Camembert, tapas platters, traditional steak-frites (chips and steak) with a few vegetarian items. It is located at 14 Place Carnot, Carcassone.
Carcassonne Lower City
Referred to as the Bastide de Saint-Louis, this area of the city was constructed outside the walls in the 1200s at the behest of Louis IX (Saint Louis). There is an unmissable distinct ambiance to Carcassonne. This is highlighted in the plain grid street-plan, the regular French amenities, high street shops, and the scanty presence of tourists. You can begin a tour of this section in Place Carnot. There, you will find restaurant tables extending to the square, and the Fountain of Neptune in the center that dates back to 1770.
>>Also Read: Best Luxury Resorts in France
Lac de la Cavayère
Twenty minutes by bus or car from Carcassonne is a lake made by a dam that dates back to 1988. There are 40 hectares of pine woodland and water, a grass-full area, three small beaches, and different programs lined up for children in the summertime. Bear in mind that motorized crafts are not allowed on the waters. Consequently, things are calm, and visitors can take gentle strolls in the hills and even have picnics with loved ones on the benches under the pines.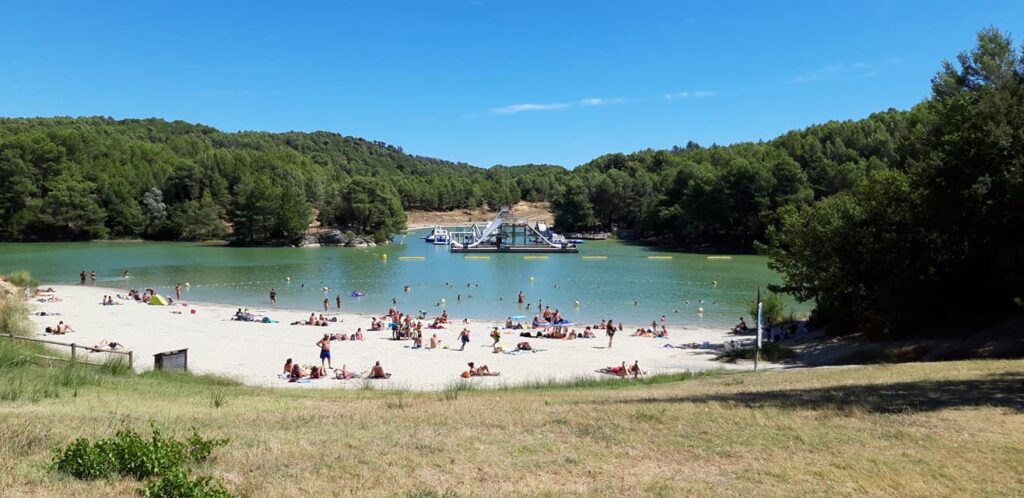 Musée des Beaux-Arts
The city's fine art museum was built in 1836 and close to 200 years. Several donations later, it offers visitors with an educative trip through French art from the 17th-century to the 20th-century. There is one of Musée des Beaux-Arts' eight galleries that is devoted to Dutch and Flemish art from the 17th-century. Among the names you should look forward to seeing is Mattia Preti, Gustave Courbet, Jan van Goyen, and Brueghel, the Elder. A visit to this museum will also enlighten you on the veritable art credentials of Carcassonne.
Châteaux de Lastours
The Aude department hills are full of eerie ruins of medieval chateaus that used to be owned by noblemen that swore allegiance to the Cathar sect. In the Albigensian Crusade, the sect was brought under control by the French Catholics. Several of these sanctuaries are now rubble. Cabaret, Quertinheux, Tour Regine, and Surdespine are the four castles in Lastours that were devastated in the crusade. They were later converted to fortresses.
They also make up the same complex, but all have separate structures with arcades, courtyards, towers with loopholes, spiral cases, and murder holes, as well as the church's ruins. The location is perfect, sitting in the Black Mountains on a craggy spur.
Canal du Midi – Barge Trip 
Pierre-Paul Riquet's brilliant piece, the Canal du Midi, was dug in the 1600s. This work helps link the Mediterranean and Atlantic coasts. It transverses the city north of the Lower Town. The leg between Carcassonne and the town of Sète is regarded as the most beautiful. While it is not necessary to go that far, just outside of Carcassonne, visitors leisurely walk east along the trail for a few miles.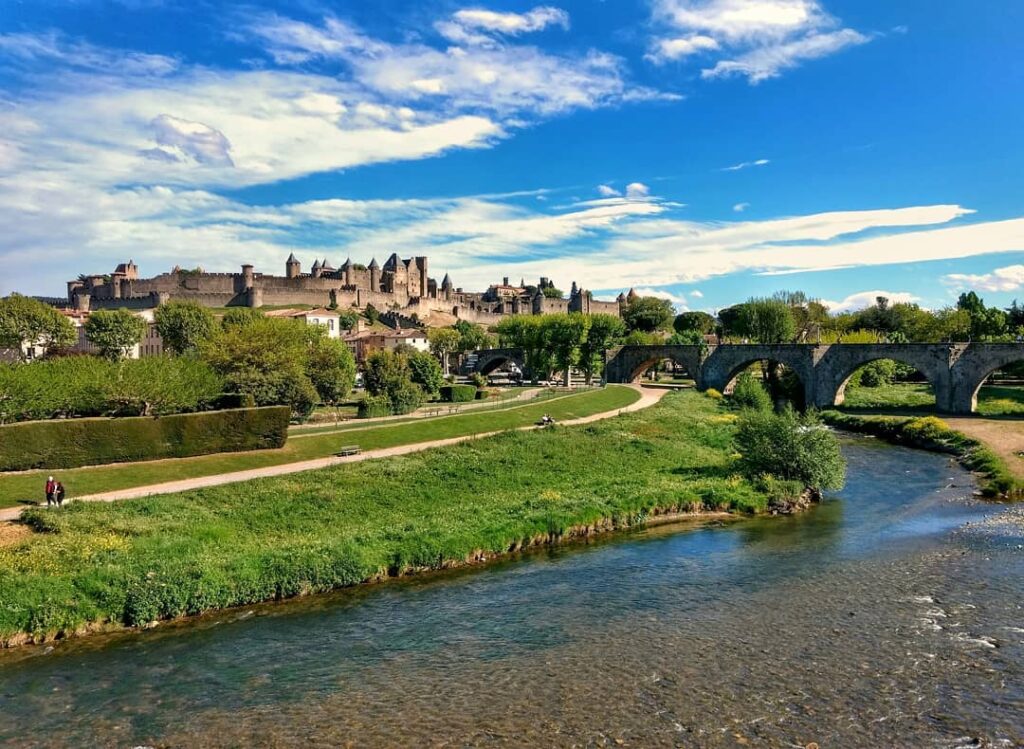 >>Also Read: Barge Cruises in France: Why You Should Take One
School Museum
In the old city in a former school is the modest School Museum that perfectly highlights school life in France between the late 19th-century and late 20th-century. Visitors will have about 5 rooms to explore, each with teaching paraphernalia, like slates, desks, lecterns, and blackboards, as well as furniture.
The array of old projectors may trigger memories, as will the schoolyard and playground games painted on the ground. This place also has vintage dip pens that kids can check out to see how easy and effective it has now become.
Cuisine
If you are not a vegetarian, and especially fond of dairy and game, the Carcassonne cuisine is well primed for you. Goose and duck confit and Spanish-style cured ham are popular specialties. However, Cassoulet is southwestern France's most cherished dish, sausage, a casserole with white haricot beans, and goose or a duck confit. Also, Carcassonne boast of its own cassoulet variant, putting partridge meat to the stew. Food buffs can also try the regional-style snails. They are cooked with onions, tomato, ham, and parsley in their shells.
What is Carcassonne Famous For? – Summary
After unraveling every great thing about Carcassonne's monuments, you can go shopping and get some of the very best and most popular items in the Languedoc-Roussillon. And if you desire more of Carcassonne- as much as you can get- step outside the city (few minutes) to explore wine caves, vineyards, ruined castles, and the smooth green banks you will encounter. Kids and adults will find the city spectacular.
>>Also Read: Places You Need To Visit in France