Best Beaches near Carcassonne
The hilltop town of Carcassonne in southern France in the Languedoc region is famous for having a lasting natural charm on visitors. In the town are attractions like several double-walled fortifications and watchtowers and near it are even more astonishing highlights that will blow your mind like a typical southern French location.
The beaches near Carcassonne are one of those. Some are private, others are public, and they are well suited for every kind of beachgoer. You are sure to find many seaside resorts with lots of tourist facilities and holiday homes that no vacationer should miss.
Here Are Some of the Best Beaches Near Carcassonne
Leucate Plage
Afoot Mount Canigou, close to the Corbieres and Cathar castles, is the resort of Leucate that has several beautiful beaches along the Mediterranean Sea or on the banks of Leucate for those who want safe swimming.
This resort is demarcated into 4 sections: the village of Leucate with its flashy houses, Leucate Plage, which a cliff backs that protects it from winds, Port-Leucate, which is one of the continent's biggest marinas, and stretches to Port Barcares and stops at La Franqui.
This place is one of the most significant destinations for kitesurfing and windsurfing in Europe. Events are regularly held here every year, like the "Mondial du Vent" that is organized in April. This and many other activities are held north of the resort in the area of La Franqui, where there is a gorgeous beach that stretches to the beaches of Port la Nouvelle. The lake is suitable for beginners, and they can learn water sports safely there. You might find the nudist area in Leucate and reserved beaches.
Gruissan-Plage
Located in between the lakes of Grazel, Gruissan, and the Mediterranean, the seaside resort of Gruissan is the Aude department's most authentic resort. Its castle, petit fishermen houses, and the Barberhousse tower all overwhelm the old town. There is the coastal area of Gruissan just south of the village with the left bank Mateille and the right bank of the port. Guissan-Plage is further south with its popular cabins on stilts.
As regards Gruissan beaches, the choice is incredible. In the middle of the resort is a manmade beach Grazel opposite the Ile aux Oiseaux. Towards the east, in the direction of Narbonne, where are the wild Ayguades and Mateille beach. There are several leisure facilities, and approaching Port-la-Nouvelle is Vieille Nouvelle beach.
Guissan is popular among locals for its wind. Many sites are there for practicing windsurfing or kitesurfing. Approaching the west is the salt marshes of St. Martin Island, where a guided tour of an hour plus is often available.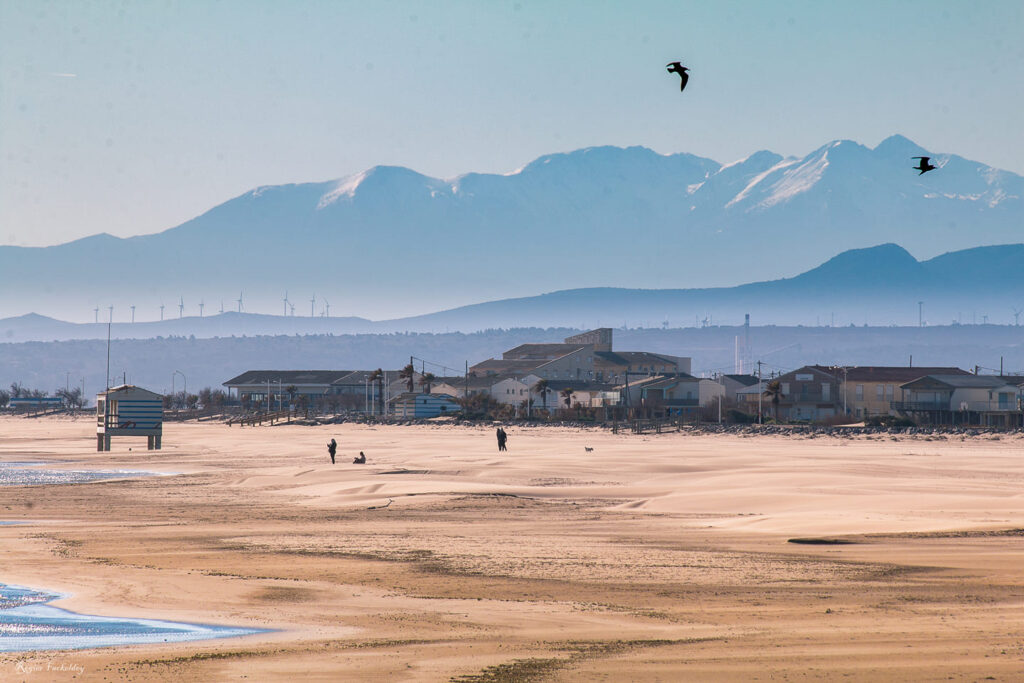 >>Also Read: Is Carcassonne Worth Visiting?
Narbonne Plage
Situated 16 km from the historic city in Narbonne's seafront is the popular Narbonne-Plage. There is a big sandy beach that extends more than 4 km from Gruissan-Plage to St-Pierre-sur-Mer.
Narbonne beaches are demarcated into 4 parts even though the beach is uninterrupted from east to west. The beach's southernmost part is wild, and you can even practice the sport of sand yachting that is quite unusual in southern France. The other three Narbonne beaches extend along the city center, right to the marina.
The different Narbonne beaches are supervised by 4 lifeguards posts. Also, there are several water activities up for grabs, as well as a water park. In the middle of the resort, you will find various shops and restaurants.
For those who want to spend their vacations in Narbonne, there are lots of sites to explore. La Calpe mountain has a ravishing view over the lakes around Gruissan, the Mediterranean, and the Aude valley of vineyards. If anything, you should visit Gruissan for its popular beach with its chalets on stilts. Meanwhile, St Pierre sur Mer, to the east, is a little family resort.
Fleury d'Aude
Situated in the department of the same name is the village of Fleury d'Aude, which is characteristic of a Languedoc village. It is situated between Beziers and Narbonne in the Regional Natural Park of Narbonne. For a long time, this place was a medieval city, and today the remains of turret or pieces of walls heavily suggest this.
Tourists come in their droves for its amazing scenery every year. The highlight is L'oeil Doux- a gulf that gives visitors a stunning sight. Surrounded by greenery and made up of high cliffs of limestone, it looks over a vast green expanse of emerald water. Swimming is not allowed, but it is a delightful place for those who love taking leisure walks.
Deep in the Gulf du Lion on the Amethyst coast, the sea impresses. From Saint-Pierre beach to Cabanes de Fleury is the 8 km stretch of sand that is to be enjoyed. In the summertime, mackerel fishing is the commonest activity done here. The Narbonne beaches are 4 km to the south, where one can test out their sailing skills. The neighboring department of Herault is just 17 km away, and you can visit the Valras beaches that offer scenic stretches of sand.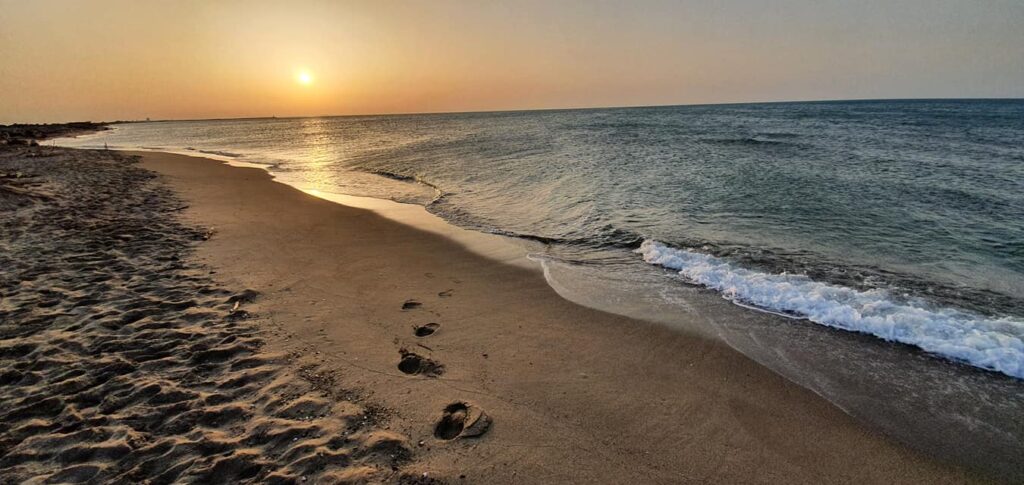 >>Also Read: What is Carcassonne Famous For?
Espiguette
This beach is an absolute delight and has all the stuff you expect on a beach. Espiguette is long and wild with lagoons and flamingos to its back and the crystal clear Mediterranean water opposite it. There are not too many activities at the beach, but it compensates with much fun.
Vias
The Vias beach is recommended for those who are in the Beziers area and want a beach that is close to the town center. This beach is typical of a Languedoc beach with sands that stretch uninterrupted for miles. In the summertime, when there are crowds, you won't need to worry about space.
Portiragnes
Close to Beziers, Portiragnes beach is world-famous. Like several beaches in the area, its size makes it spacious even in peak periods. One of the highlights of Portiragnes is adjacent parking that reaches the beach by smooth sandy tracks through the coastal vegetation. This beach is home to many large campsites; therefore, the village itself is well-furnished with facilities.
Collioure
Collioure's beaches surely have the vibe of Provence than Languedoc owing to being more cove-like and compact. Collioure boasts of 3 beaches. While they are more inviting than others featured in this list, their views of the Pyrenees and closeness to Catalan coastal town puts them on the list of the region's best spots.
Argeles-sur-Mer
Argeles-sur-Mer is a blue flag awardee, a recognition for its clean beach. This beach is one of the best in the region and one of the most popular beach resorts on the coastline; therefore, it has brilliant facilities and eateries.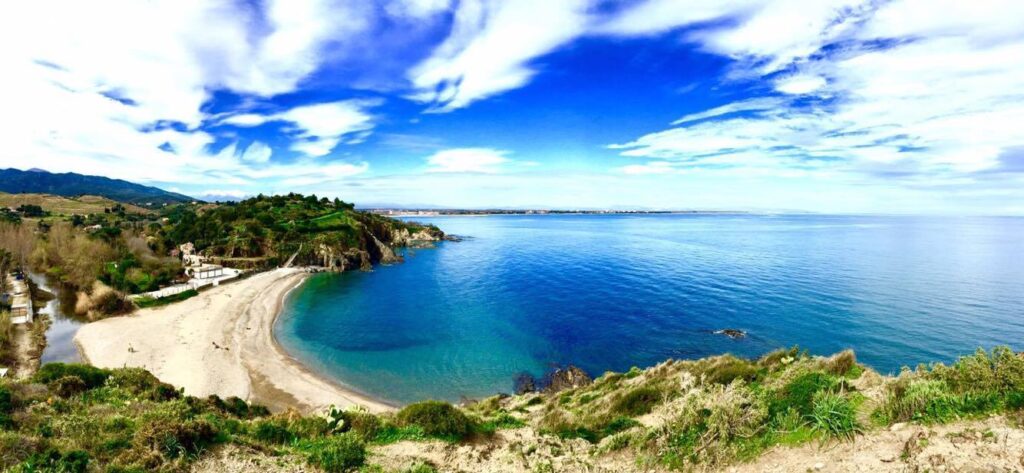 >>Also Read: Beautiful Beaches Near Perpignan
Saint-Cyprien
 If you are visiting Perpignan near Carcassonne, Saint-Cyprien is the perfect pocket of coastline. This beach is a sandy stretch of beach that is famous among tourists and locals alike owing to its facilities and closeness to the city. Yet again, the Pyrenees make for an enthralling backdrop.
Plage de da Franqui
In the Narbonnaise en Mediterranee Natural Regional Park, there are a handful of stunning beaches, and one of my favorites is at La Franqui. When you visit, you will get to enjoy both worlds here, with the much-loved wilderness vibe but with facilities on hand.
Final Thoughts
The beaches near Carcassonne are large and striking, with uninterrupted stretches of sand and spectacular backdrops of wild grasses. If you are visiting this ravishing area of France, then ensure you spend sun-filled afternoons at one or more of my picks among the best beaches.