From hidden gems and shallow turquoise waters to delicious seafood, the Corsican coastline in southern France is lush in beautiful sandy beaches for everyone to explore. Corsica enjoys the epithet "Island of Beauty" for brilliant reasons. It is an island with abundant forests, mountains, rivers, including beaches.
Therefore, whether you are looking for a small wild cove or a large beach with turquoise water, Corsica is the perfect destination for those who want an amazing beach experience without going too far.
Here Are Some Of The Best Beaches in Corsica
Plage de Saint François, Ajaccio
This is Ajaccio's fabulous, urban beach situated in the city center, extending between the 1400s citadel and the bastions. A swath of sand shelves delicately into the sea, inviting swimmers of all levels.
Lined with restaurants and cafes, an esplanade course the length of St. Francois. This place is often busy with visitors and locals who are out for a walk. The highlight in St. Francois is its easy access to Ajaccio, making it the ideal location to take a cooling break after a busy day of beach activities.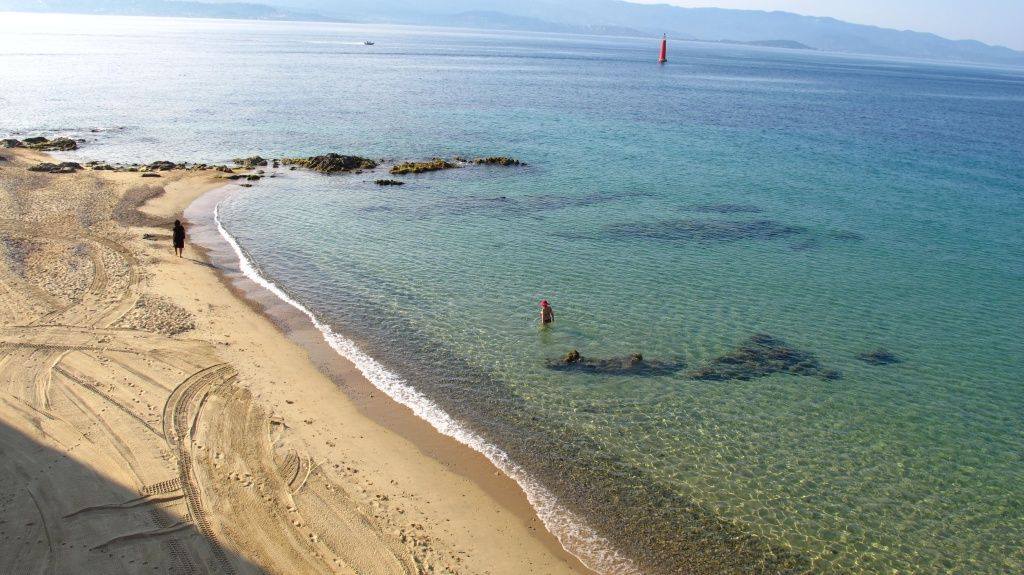 >>Also Read: Is Corsica Worth Visiting?
Plage de Saleccia (North Corsica)
This beach on Corsica's northern coast is among the most neglected swath of white sand on the island. Its charm is in the wild coastline- the Mediterranean shrub maquis– is the only thing you will see along its half-mile-long expanse of sand.
For most of the year, the only sounds here come from the resident cicadas jutting in the vegetation or the cows that occasionally visit. In August, when Plage de Saleccia gets busier, you can visit by traveling by boat as many locals would.
Stagnone Beach, Calcatoggio 
With a taxi or by car, Stagnone beach is a nice drive north from Ajaccio across the coastal mountains, through quaint villages and winding roads. This is one of the finest beaches in Corsica and is a long arc of powdery white sand with several facilities, including parasailing and jetskiing. Stop at Le Malibu to grab a bite. The restaurant is on the beach for another casual outdoor dining. You should try out their amazing Pizzas and Limoncello.
Liamone Beach
Beautiful and undeveloped, this beach is a massive swath of coarse sand that steeply slopes into an indigo sea. The currents and surf can be strong on Liamone beach; however, the mouth of Liamone River, barricaded from the sea by a sandbar, is shallow and calm. Along its banks are reed beds making it perfect for stand-up paddleboarding and kayaking.
Beyond Stagnone further north, Liamone has fewer facilities than the closest beach, even though you will see some restaurants like Le Liamone beach where you can indulge in some local treats.
Calanques de Piana, Piana
Calanques de Piana isn't really a beach, but some of the most spectacular coastal scenery you will see in the Mediterranean is here, like the Calanques de Piana, a UNESCO World Heritage Site just north of Ajaccio. Checking out this place requires an entire day's trip from Ajaccio, but it is definitely worth it. The road here is narrow and wiggly, and the views are charming.
Continue driving until you reach the legendary Chalet des Roches Bleues located high in a ravine. You should stop for a drink on the terrace and revere the striking views down over the coastline.
You can even enjoy the rocks, which have names like L'Aigle (the eagle) and La Tortue (the turtle). Proceed to the pebbly Ficajola Beach for swimming which is encircled by shining aquamarine waters and pink cliffs.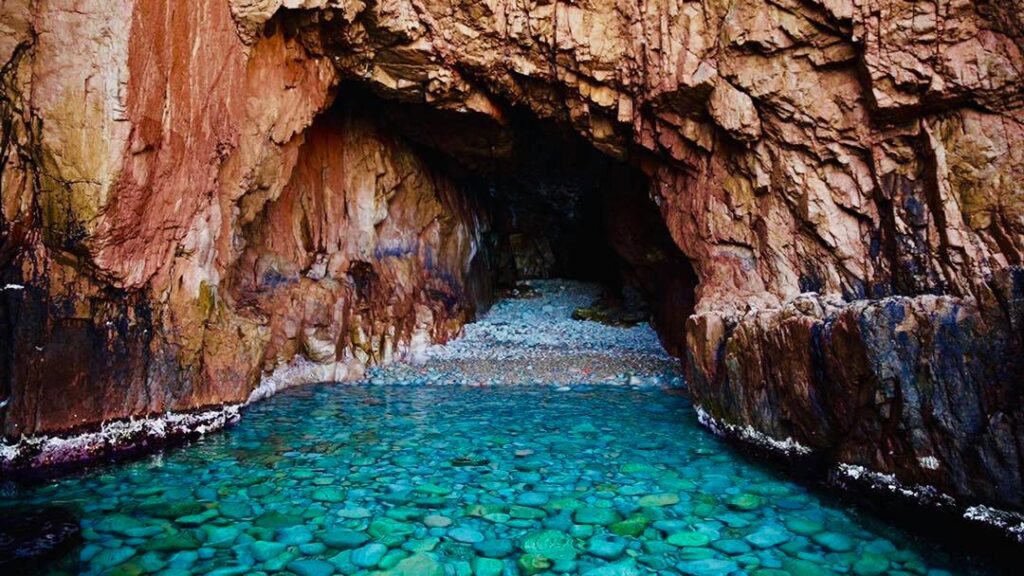 >>Also Read: What is Corsica Famous For
Plage de Porticcio, Porticcio
From Ajaccio, proceed to the south by road or take a 20-minute ferry ride across the bay, and you will see Porticcio, a chic resort fronted by an unending swath of golden sand and backed by wood hills. Visiting in the spring, you might still see snow on remote mountains from there.
To the north, the major stretch of beach is Plage de la Viva, and it boasts of anything you might need, from watersports to loungers and beach bars. Going further south and approaching the Pointe de Porticco are more secluded Corsican beaches.
Lotu Beach (Northeast)
Approaching the west of Saleccia, in the following bay along is Lotu Beach. It perches at the exit of Etang de Lotu, which is a little lake. It is made of two different beaches- Big Lotu and Little Lotu. Both beaches are calm and quiet but undeveloped. However, there is a restaurant, the incredible La Cabane du Lodu, where you can savor grilled prawns or tasty lamb cutlets. Similar to several remote beach restaurants in France, this place does not accept credit cards, so don't forget to take enough cash there.
Roccapina (West)
A rock formation makes up the backdrop for the astonishing Roccapina Beach in the shape of a lion. There is a story that thieves hid precious stones from a shipwreck in the rock. When the light touches it in a particular way, the legend says that the jewels that are packed inside shine brighter than the remaining parts of the rock.
It is well known a remote place with some car parks close by, and it has tracks through the maquis shrubs that lead to the Roccapina beach.
Palombaggia Beach
This beach is close to the town of Porto-Vecchio whose 1500s citadel and beguiling narrow streets are an ideal place to move before or after a trip to Palombaggia, one of the most popular Corsican beaches. There are some shaded beachside restaurants to get away from the summer sun's tirade. Walk out to the sea between the bland rocks that ascend from the seabed and discover the 3 km-wide beach at your service. For many meters out to the sea, the water remains shallow.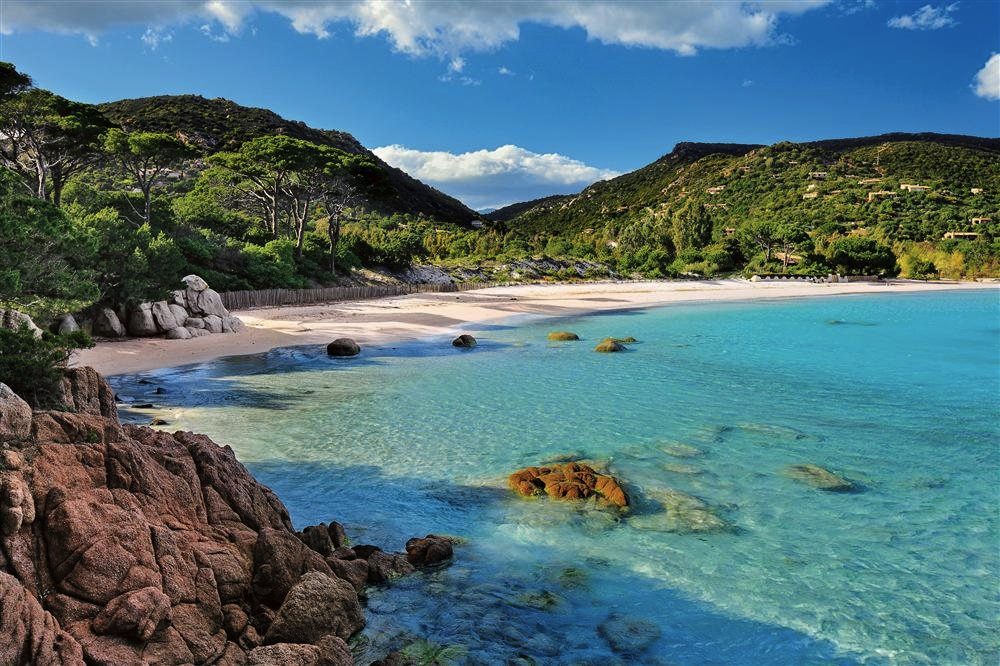 >>Also Read: Things To Do In Corsica
Plage du Petit Sperone
This is on Corsica's south-east tip. Sperone is a short drive from Bonifacio even though the closest car park is at Piantarella (you might have to cover the last distance on foot). As such, this place is not as active as it would otherwise be. Petit Sperone and Grand Sperone are the two beaches here. These two beautiful covers are encircled by the pleasantly-smelling Corsican maquis, and beyond Sperone are the Lavezzi islands that descend into the distance.
Plage de Cupabia
Cupabia is a dramatic scenic beach with colors that you would have thought are typical of the Caribbean. It is a large beach in the Chiavari area on the west coast, where the landscape is unspoiled and hilly. The sand is course-grained and pale, making it perfect for snorkeling. Bear in mind that this place can be windier than the east coast.
Ostriconi (North)
The area encircling this beach is fascinatingly charming, with full green mountains cascading to the sandy shore. Close by, I'Ile-Rousse is the largest town, and it has a rich history you can explore when free. It is a lively port, and ferries come in from Nice, Toulon, and Marseille. L'Ile-Rousse was founded in the 1700s by Pasquale Paoli, a local leader, to compete with the existing ports like Calvi, which were managed by Genovese merchants in Italy.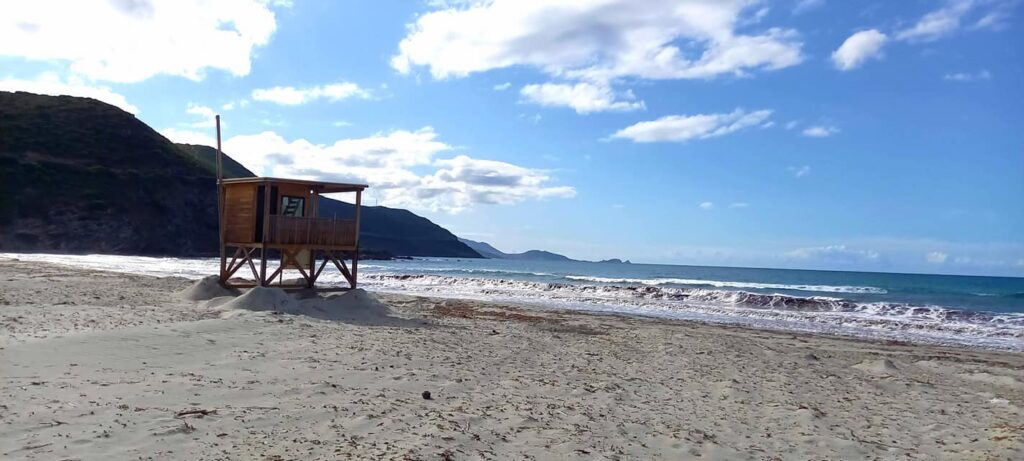 >>Also Read: Best Beaches in the French Riviera
Bodri
Bodri's sweeping sands are situated on the north coast, just outside the well-known resort of L'Ile-Rousse. Though popular, it offers calm and can be reached through the coastal train; however, you must request the stop or else the driver will keep going. You will also find a car park. Ghuinchitu is the closest beach and is gorgeous.
Final Thoughts
From sweeping bays with smooth pebbles to distant sandy beaches that can only be reached by boat, Corsica has some beautiful beaches for some great time on the coast. The island is said to be the queen of the Mediterranean when it comes to awe-inspiring beaches. Her deep emerald color and the mountainous landscape turn the sea and highlight the beaches' soft sand. Make Corsica your next summer vacation stop and visit some of these beaches; you'll love it.