Best Beaches in the French Riviera
The French Riviera, also known as Cote d'Azur, has a reputation for opulent private beaches that have become the playgrounds of celebrities and the elusive rich. Living up to the billing, several beaches in the French Riviera feature glamorous beach clubs with soothing cabana offerings and exclusive gourmet restaurants that look over the waves.
But the French Riviera in southern France has an expansive array of beaches, including a lot of fantastic public beaches. The natural spectacle is incredible, and the coastline is simply ravishing. Discover places to chill by the sea with my list of the best beaches in the French Riviera in no particular order.
>>Also Read: Best Beaches in France
Paloma Beach, Saint-Jean-Cap-Ferrat
This beautiful beach in Saint-Jean-Cap-Ferrat is named after Paloma Picasso. It is an exclusive hidden beach that makes for a perfect summer treasure. Paloma beach is located in a place often patronized for its typical creamy-white style, toothsome Mediterranean dishes, and an awesome setting for an afternoon laze. Stop in Saint-Jean-Cap-Ferrat's center for an unmatched experience and an absolutely Instagram-worthy view.
Paloma Beach is also said to be one of the wealthiest areas in Europe. It contends with Monaco for millionaires per hectare. It first became the playground of fame and wealth just after WW1. The Belgian monarch, King Leopold II, commenced the trend of constructing massive villas. Since then, the area has witnessed changes by rich people who build mansions and facilities of luxury. Divers also love Paloma Beach because of its clear water.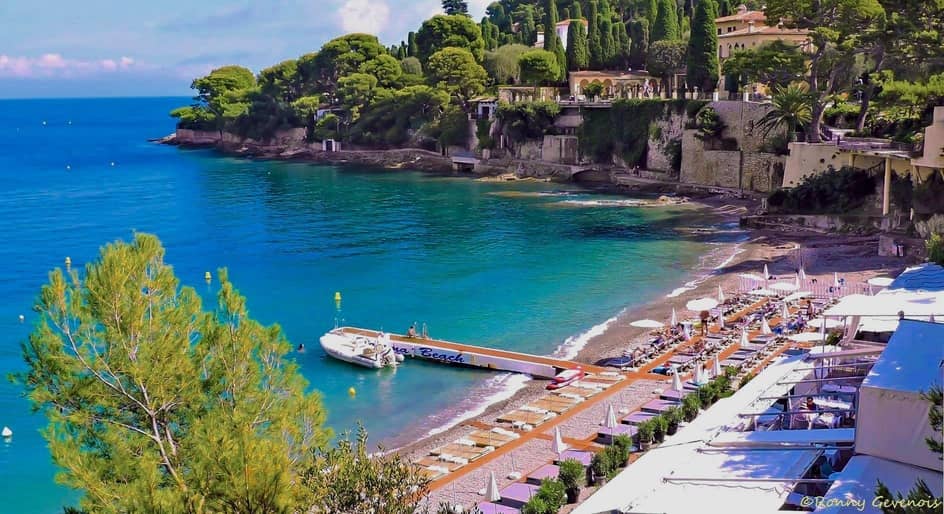 Plage Pampelonne, St Tropez
Plage Pampelonne is a popular destination of the international jet set. It affords visitors the chance to get a tan and launch deep into the waters in style. For leisure and relaxation, Plage de Pampelonne should be the top spot for you. It has two wonderful beach clubs close to each other- Cabane Bambou and Club Les Palmiers. The former is a paradise-like restaurant that doubles as a bar and beach boutique. If you are looking to rent cabanas in a perfect spot, Plage de Pampelonne is surely the place to visit.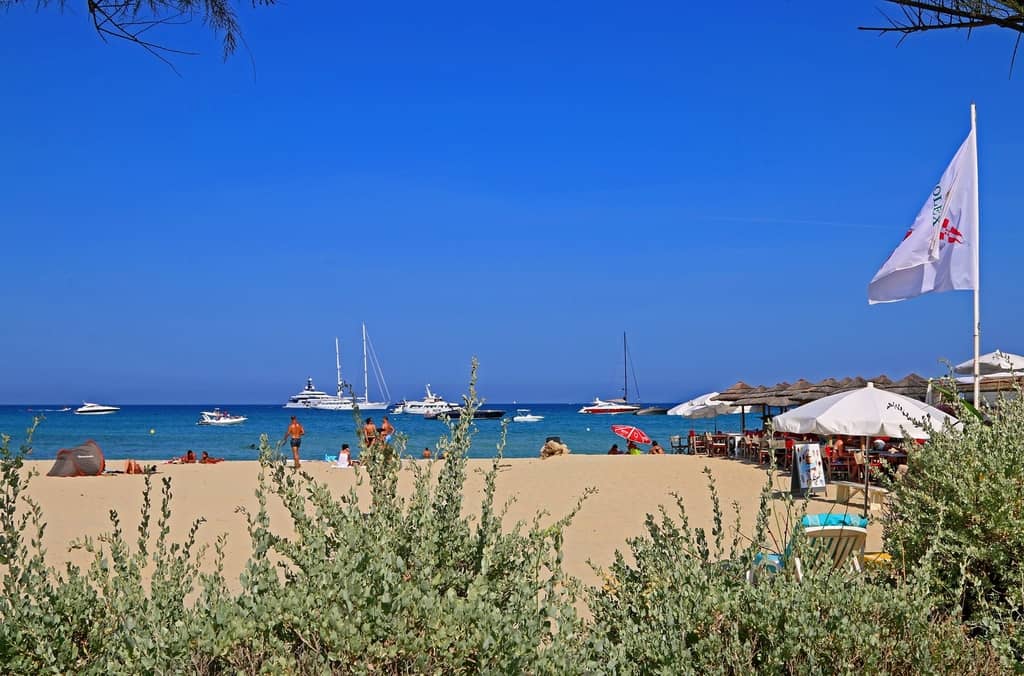 Eden Plage Mala, Cap d'Ail
Its striking red décor and imposing ambiance give Eden Plage Mala the epithet Ruby of the French Riviera. Vacationers can expect a perfect summer here at the pebbly beach and restaurant. Marked by astonishing French Riviera cliffs, this place can also serve as a host for special events, say a birthday party while on holiday.
Cap d'Ail is a town close to Monaco. It's a stunning coastal spot where the blue sea meets a pebbly beach that is shielded by cliffs. Even though the beach area is an open 'secret', several visitors don't know much about Mala. Sunday is the best time to visit here if you don't mind the crowds. The beach club comes alive when DJs and live music take charge of proceedings. Among the beach facilities offered here are water-taxis for ferry visitors. There are also options for beauty and wellness treatments.
Les Sablettes Beach, Menton
You wouldn't want to leave Menton after you have witnessed the orange lightning sunrise at the Promenade de la Mer. Les Sablettes beach club has caught the attention of the nation and attracted tourists to the town of Menton. The expansive beach facilities include water sports, a wellness area, and the most delectable Mediterranean cuisine.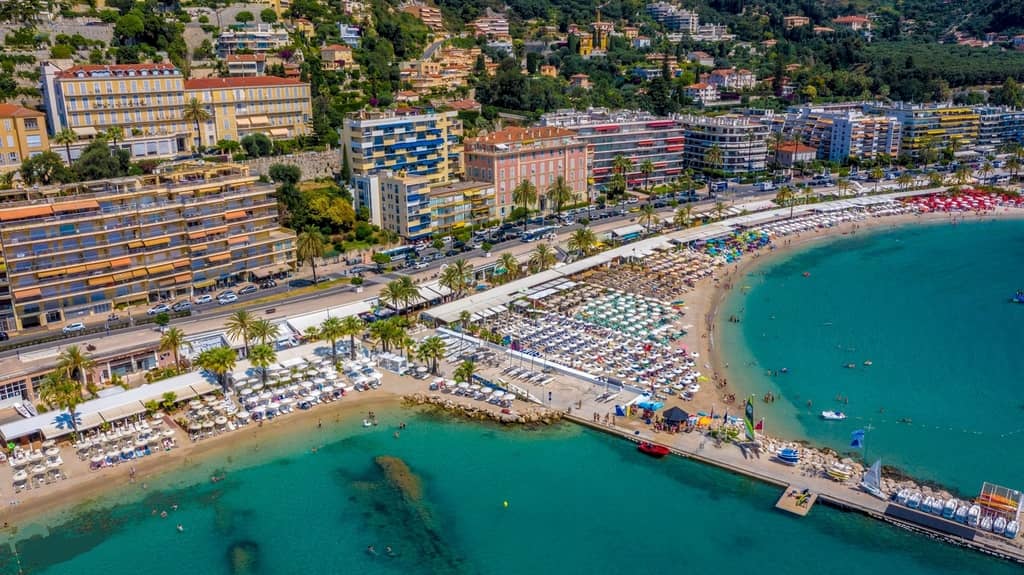 >>Also Read: Most Beautiful Beaches Near Perpignan
Anjuna Beach, Èze-sur-Mer 
In an alluring bay in Èze-sur-Mer, visitors will discover the lively Anjuna Beach, a brisk outpost with a swath of striking aqua umbrellas, embellished accents, and loungers. Popular stars visit here to relax, and the place pulls many yacht owners. During the Monaco Grand Prix, visitors flock around Anjuna Beach to chill. The ambiance is often buzzing with live music while the staff is impressive.
Plage Keller, Bay of la Garoupe, Cap d'Antibes
Plage Keller is a sophisticated and exclusive beach club with a vibrant reputation because of its history. In the Jazz Age era, literary giants like Hemmingway and Fitzgerald enjoyed bathing and beach parties with other luminaries. This eventful history has given an unchanged holiday vibe to La Garoupe, where people now visit Le César for its fantastic food and seafront terrace.
Plages du Prado, Marseille
Marseille's urban beaches are a major feature of the city's affluent cultural and social make-up. Plages du Prado is 20 minutes by bus from Vieux Port (the central) and is the largest. The beach is made up of several sandy expanses made in the late 1970s.
Plage du Midi, Cannes
Plage du Midi is one of Cannes' most popular beaches. Owing to its size, it is not difficult to explore it on your own amid the playgrounds, palms, and poseurs. The beach also offers several spaces if you are in a big group, as well as lounger rentals and an umbrella. The breakwater and the rocks edging the beach provide enough spaces for a seafront picnic. What is more, the sunset view over the ruddy Corniche de L'Estrerel steep should never be missed.
>>Also Read: Best Nudist Beaches in France
Plage des Marinières, Nice
Located in the wide natural enthrall of Villefranche-sur-Mer's deepwater harbor, this beach is the major sandy beach of Nice. More than half a mile long, Plage des Marinières can be easily reached. Still, trains and facilities are many to the convenience of visitors. Proceed to the eastern side if you are looking for a more serene spot.
Plage des Catalans, Marseille
Situated around the corner of the Vieux Port is Plage des Catalans. It is the busiest span of sand in Marseille. You will discover all demographics of this flourishing port-city manifested here, whether it is new couples taking pictures on the water's edge or children playing volleyball. A visit to this part of Marseille is a perfect detail of what a vacation in the city is all about: people watching, feeling the city's heartbeat, and joining the crowd.
>>Also Read: Marseille Travel Guide
Larvotto Beach, Monaco 
The gorgeous Larvotto Beach is the only public beach in Monaco. It is a swathe of delicately designed coastal calm, and it is made up of two palm-fringed coves. It is in the center of the principality's beach scene every summer. Its shallow water is crystal clear and calm, while the cocktails that you'll be served in the private section are sparkling.
The beach is mostly public, even though you'll need to arrive in time in the high season to get a space. Additionally, there are rental facilities for different water sports on the beach and a decent selection of bars and restaurants. You might want to stretch your legs a bit. You can do that at the road that transverses along Larvotto Beach's top- called Avenue Princess France- that used to be the most expensive street to live in the world.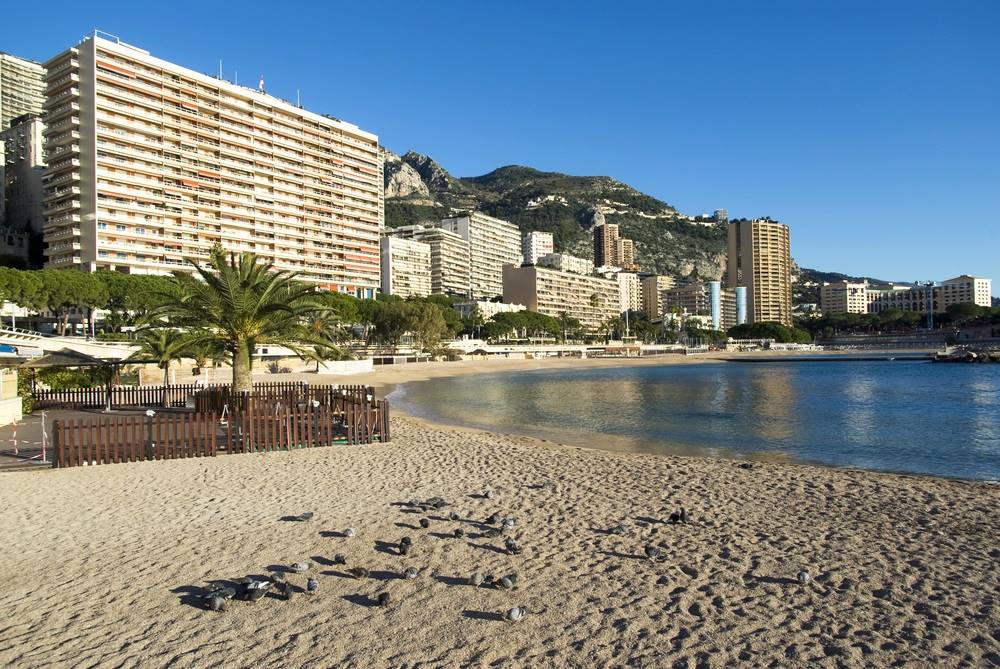 Plage D'Argent, Porquerolles  
In between Marseille and St. Tropez is Ile de Porquerolles, a quiet island that has no traffic and one of Cote d'Azur's best beaches. The beach of D'Argent is curve-shaped sugary sand reached through a sandy path that goes beyond pine woodlands and vineyards. You'll find a fantastic restaurant/café offering waterside aperitifs and fish that'll make you want to stay longer. There's only one way to arrive here, and that's through boats. Therefore, a fleet of yachts is a typical summertime scene.
Plage de la Réserve, Nice
Of the rocky beaches situated along the stretch of the coastal path close to the city's port area, Plage de la Réserve is the wildest. Get yourself a comfortable place to lay your towel just before delving into the cobalt waves. It's a stunning niche to get away from the summer crush and take in some authentic Niçoise color, with young adults launching into the slack tide and lovers sharing a snack under the rolling seabirds and the wave's lap. From Plage de la Réserve, you can also see some amazing views over the Bay of Angels.
>>Also Read: What Is Nice Famous For?
Plage d'Abel Baliff, Esterel Coast
 The French Riviera's range of mountains called the Esterel Coast is popular for its reddish color and rocky nice views. Usually overlooked by the yacht fans running to attractions of St. Tropez and Cannes, this can be interesting to the inquisitive traveler willing to take a close look at the French Riviera's black sheep.
Along the sea, the isolated beaches included here are quiet, copper-colored, and distinct. Plage d'Abel Baliff is one of Cote d'Azur's best beaches. It is a clean slip of pebbly waterline encircled by pleasantly smelling eucalyptus. For comfort, management recommends water shoes.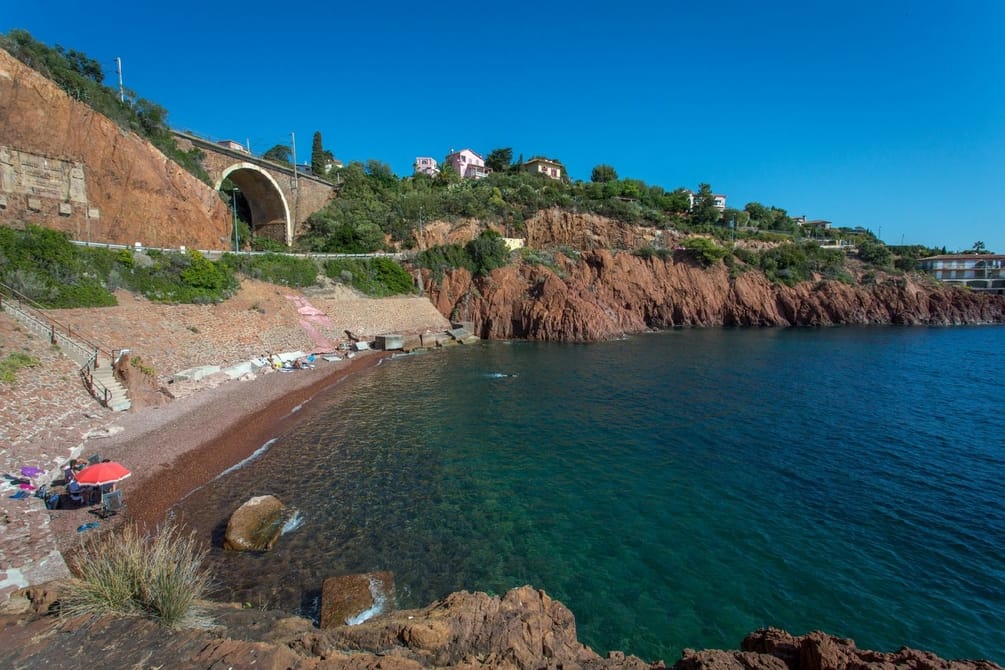 Final Thoughts
A rich ensemble of the most glamorous beaches, cafes, and clubs can be found along the coastline of the French Riviera. This area has developed into the most densely populated and exclusive summer destination for travelers who are looking to have a crack at what the south of France has to offer. For every curious beachgoer, I featured some of the most sophisticated places along this seaside expanse where they can try out delectable foods and enjoy breathtaking sea views.