Gorgeous French Polynesia Islands Off The Beaten Path
Boasting of 118 islands and over 68% of the nation's population on Tahiti, it is not difficult to explore French Polynesia. Travelers will love the stunning islands and the additional off-the-beaten-path that features the Society Islands and Tuamotu chain of islands.
 Bora Bora and Tahiti are the most recognized islands in French Polynesia- popular resplendent green scapes, incredible lagoons, and luxurious white sand. But, the less popular islands that ring Tahiti- sometimes referred to as the 'Hidden Paradise islands" have a distinct and fascinating experience that can be tremendously gratifying for the traveler that desires to go off the beaten path.
Savor a range of accommodations from beach bungalows, garden view rooms. Stay in an overwater bungalow with the crystal-clear lagoon waters beneath. In the case that you want company, proceed to small isles where Polynesian culture is celebrated.
>>Also Read: Best Things to Do in French Polynesia
Here Are Some Of Our Favorite Off-the-Beaten-Path French Polynesia Islands:
Huahine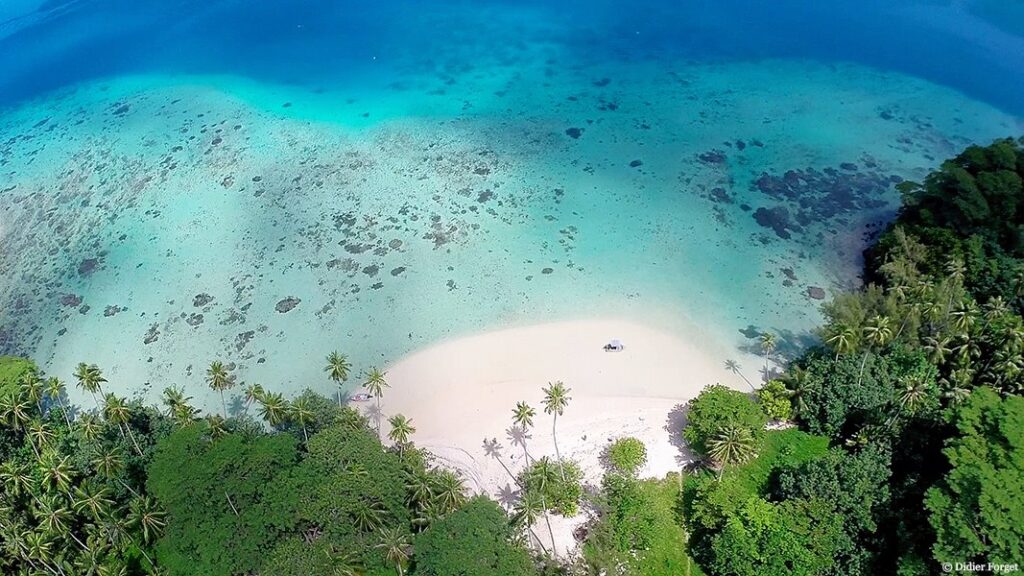 Just a short 40 minute-flight from Papeete, Huahine has earned the epithet 'the Garden Island' for its lush vegetation, tropical jungles, banana grooves, vanilla orchids, and breadfruit trees. Hallowed temples concealed among the dense plant life, making for a ravishing landscape that compares natural beauty with the remnants of an ancient civilization.
Visitors will want to take the fantastic views, largely unpaved paths to pass through wonderful scenery, lavish vegetation, and small villages like Maeva. Maeva is an area with rich archaeological artifacts that date back as far as a thousand years. Huahine is encircled by coral reed that isolates its sandy beaches and turquoise lagoons from the sea, thereby sustaining tranquility.
Huahine is divided into the southern Huahine iti (small) and the northern Huahine nui (big). Travelers can relax comfortably at the Royal Huahine- a hotel that provides affordable boutique-style accommodation on the island's separated western coast. The Rotal Huahine is accessible only by boat, and it offers an isolated offshore ambiance. The plush resort can also be reached on a Tahiti Cruise. Visitors can stay in overwater bungalows with coral reef close by, offering a brilliant retreat for snorkeling and diving.
>>Also Read: Most Beautiful Islands in French Polynesia
Rangiroa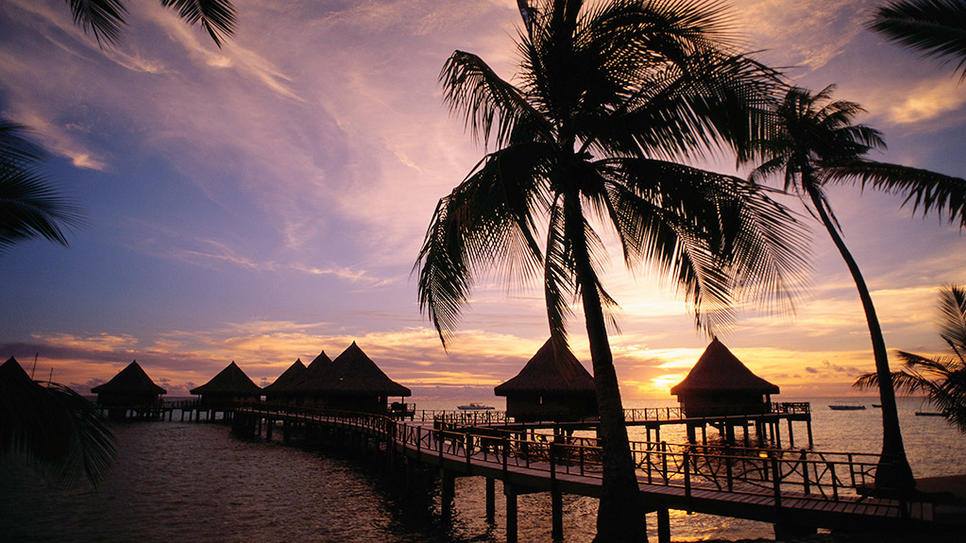 About an hour from the Papeete International Airport and part of Tahiti's Tuamotu Islands, Rangiroa is the world's second-largest atoll. This atoll could be described as a vast lagoon- an endless string of coral that encloses a fine green mass of water. The lagoon's tranquility makes the atoll one of the fantastic dive destinations in the world. Two bodies of water- the Moana-uri that means 'Wild Ocean' and the Moana-tea that means 'Peaceful Ocean' encircle Rangiroa.
Popular for the density of its marine life, this atoll is an enchanting destination for sea lovers. Lovers of underwater can buy a dive pass. Visitors can take sailing tours, go for drag fishing, take motorboat cruise to the close Tipuata Village, or partake in endless aqua activities. The popular Blue Lagoon of Too'o should not be missed too.
In addition, Rangiroa has several things to offer on land, as the bird haven on Motu Paio and the Kia Ora Resort- making this trip accessible and easy. Bear in mind that resorts here usually offer a low season promotion that will allow you to enjoy certain benefits.
>>Also Read: Best Time to Visit French Polynesia
Tikehau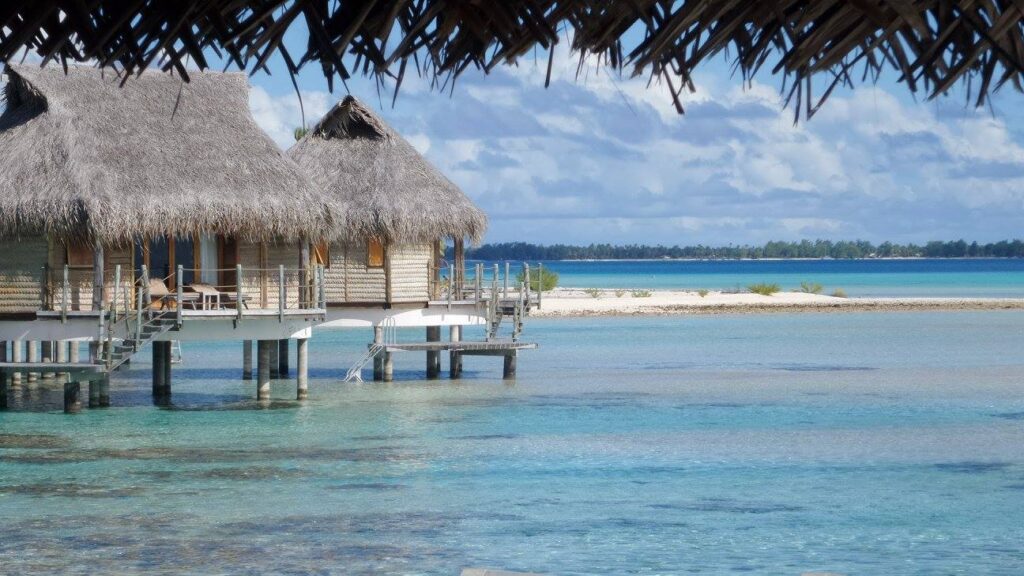 The coral atoll Tikehau is part of the commune in Rangiroa. Popular for its diverse population of fish and pink sand, Tikehau consists of two major islands and different islets, all of which are wrapped in coconut palms. The main village in the atoll is Tuherahera, and the whole atoll is encircled by a persisting ring of coral reef. Tikehau has lots of colorful marine life like many islands in French Polynesia- something you will love to see as an underwater enthusiast.
Taha'a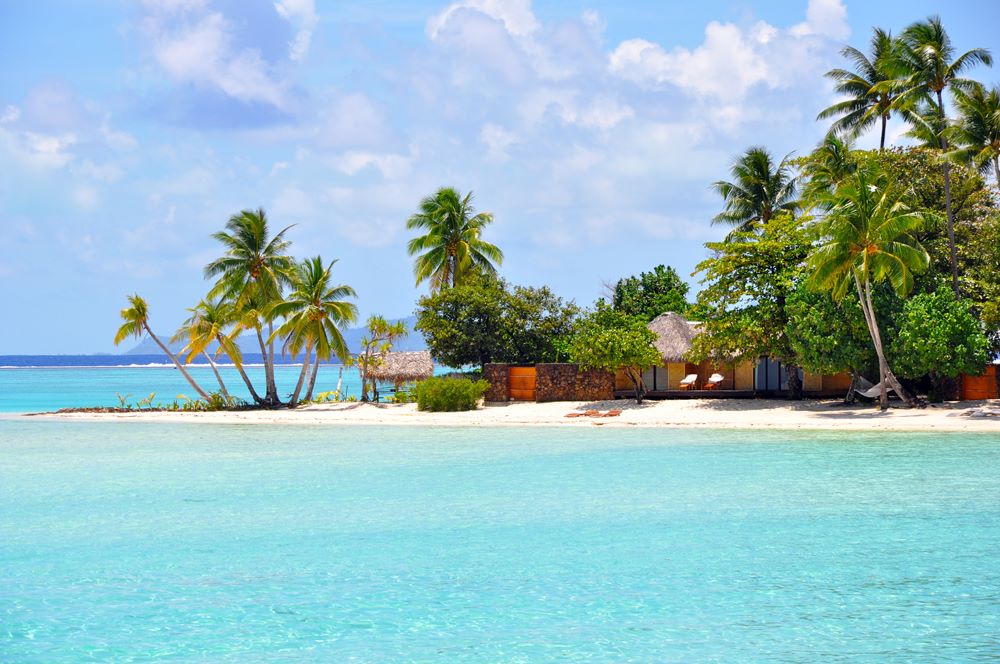 Situated 35 minutes by boat from the Raiatea airport, Taha'a makes 80% of the entire vanilla in French Polynesia. Upon arrival, you will be greeted by the welcoming scent in the air. The laid-back island hosts the luxurious Le Taha'a Island Resort that is situated on the Motu Tautua islet. There, visitors can stay in stunning overwater suites. There, they can catch vistas of close by Bora Bora.
Moorea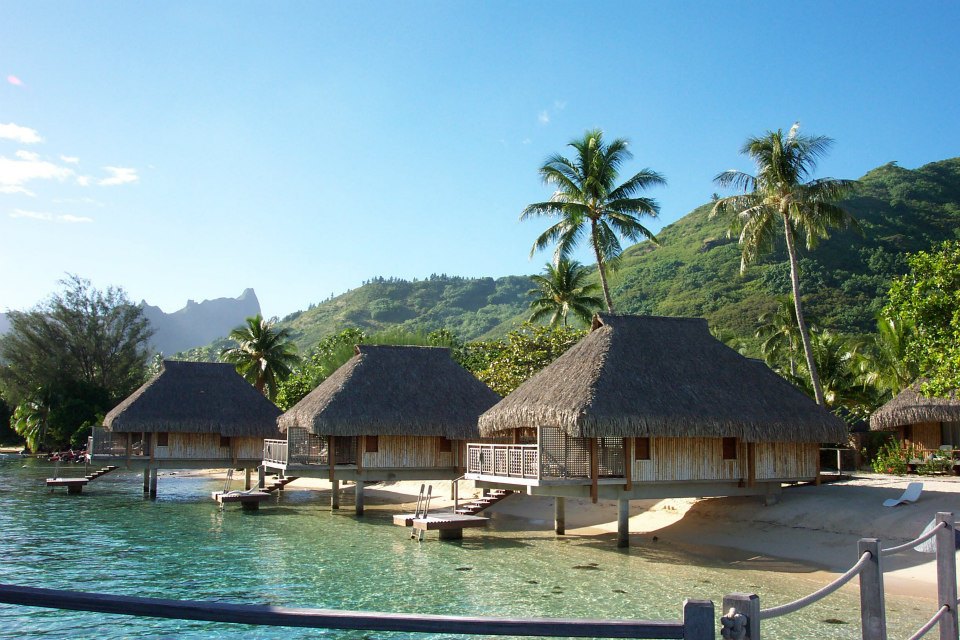 Not far from the main island of Tahiti but feeling like a planet away, Moorea is quite easy to like. This is probably because of its relaxed allure or because of its unique heart shape. Moorea has something for every type of tourist. Hiking in the early hours of the day and reclining on the beach at noon, perfectly go together. There is also a great scuba diving and feeding stingrays and sharks as part of the daily routine.
>>Also Read: Is French Polynesia Expensive?
Fakarava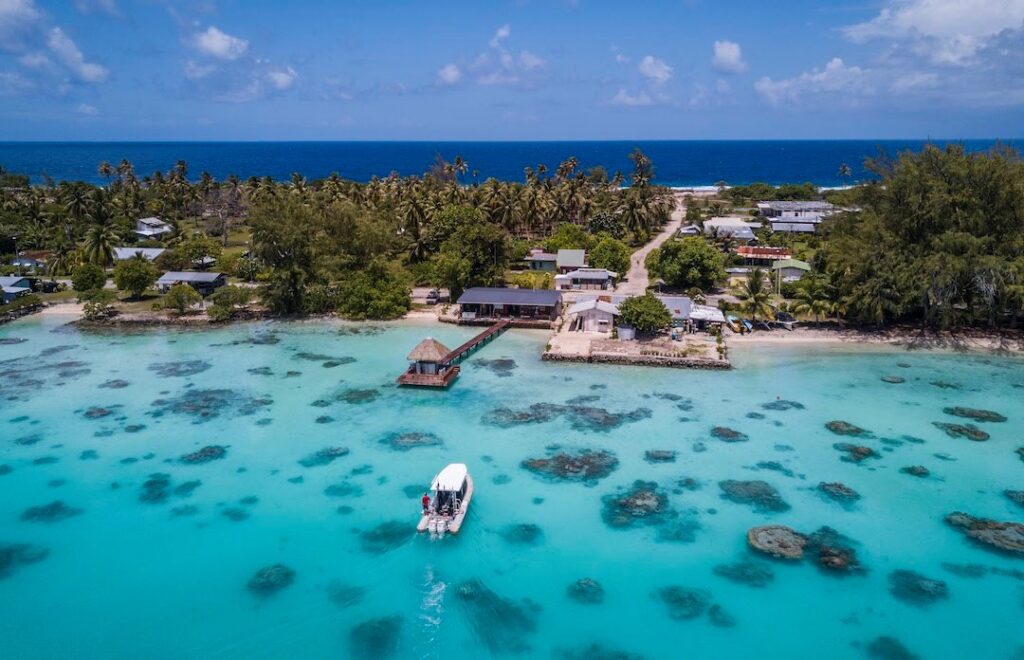 Fakarava is one of the gems in French Polynesia. The UNESCO Biosphere Reserve is a large coral atoll that offers more than the regular world-class scuba diving. How can you enjoy this scintillating experience? Go swimming in the morning with walls of sharks in terrific spots like the 'Alibaba Canyon'. At noon, go to a remote beach and have all the space to yourself. And at night, have a tasty dinner of red tuna and fall asleep to the sounds of the unwavering ocean waves outside of your bungalow window.
Hiva Oa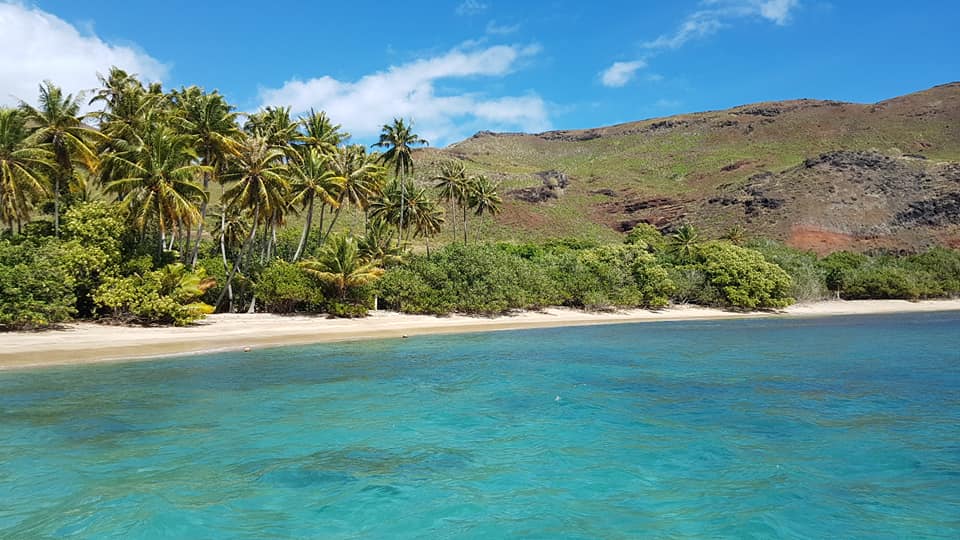 Also known as the island of Gauguin and Brel on the Marquesas Islands, Hiva Oa is the type of place that leaves you breathless from the time you arrive until the moment you unfortunately leave. It is abundant in nature and has an ancient history. Whether by foot or on horseback or in a 4×4- you can seize the day at Hiva Oa. Unearth secret beaches (concealed inside bay after bay), visit timeless hamlets, and stand close to the ancient tiki statues.
>>Also Read: Is French Polynesia Safe?
Nuku Hiva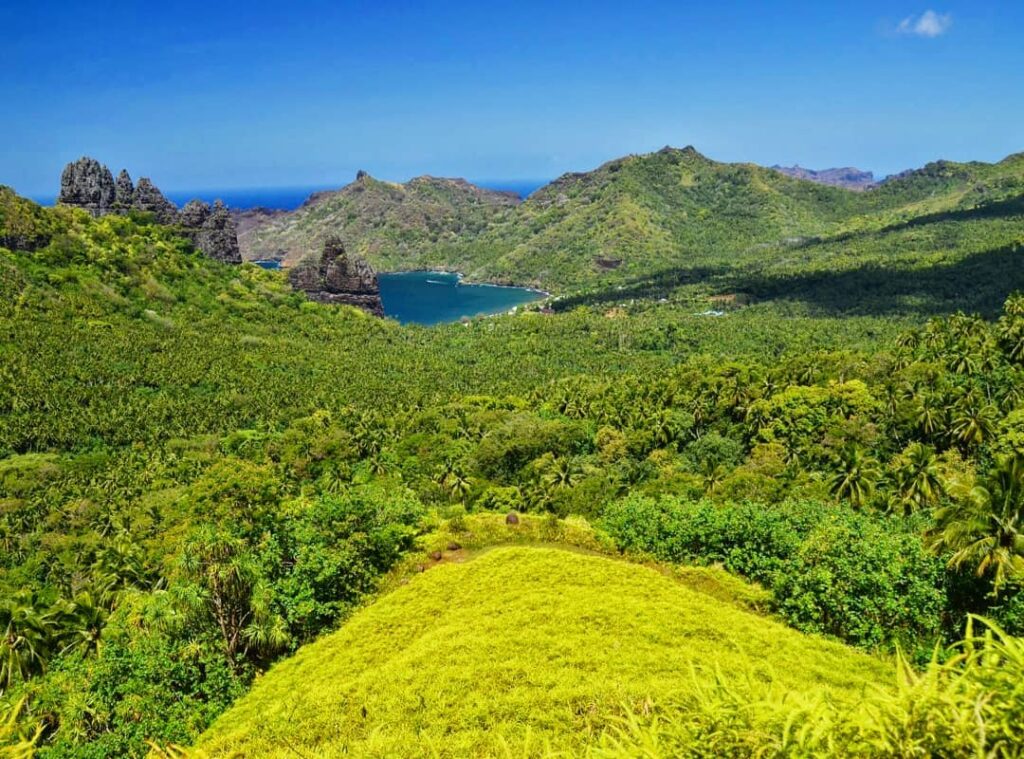 Nuku Hiva is on the remote Marquesas Islands and one of nature's golden achievements. It is wildly ravishing beyond imagination. The one hour thirty minutes' trip from the dusty airport will be the fondest airport trip you will ever have. The islanders here are particularly welcoming as they will go to any length to take you on a tour around their paradise and display the rich ancient culture of Marquesas.
Maupiti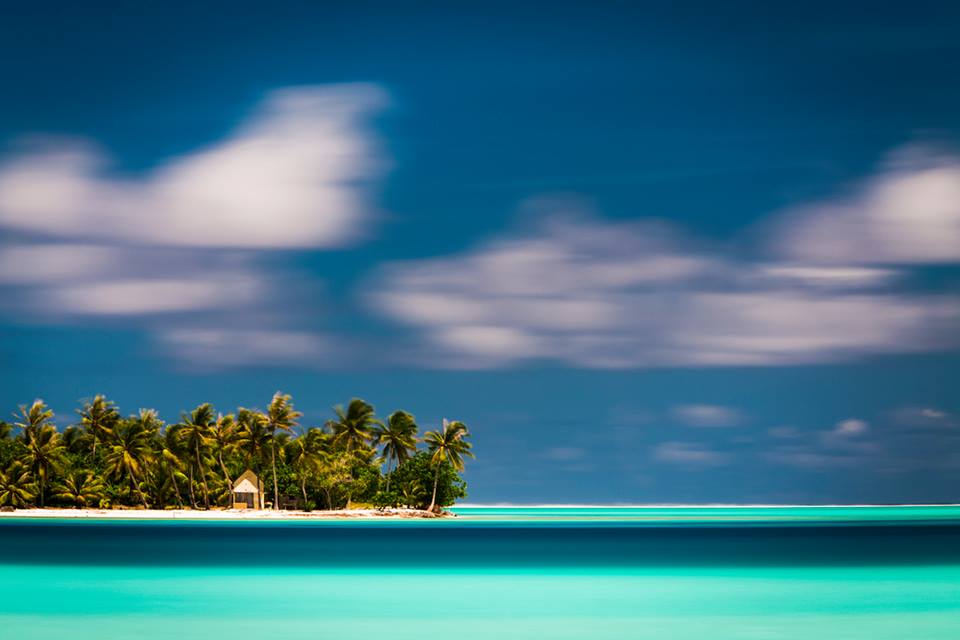 Well, within the mark of paradise's definition, Maupiti is eye-popping and laidback. With a splendid lagoon and the most accommodating inhabitants, Maupiti is in a lot of ways the way Bora Bora used to be prior to its popularity among travelers. Actually, Maupiti looks like a little version of Bora Bora but just different. There are no resorts here, just comely family pensions with much delectable food and tropical flowers growing in the garden. Ascend Mount Teurafaatiu for some marvelous views, stroll across the lagoon to your own beach and swim with massive manta rays.
Tahiti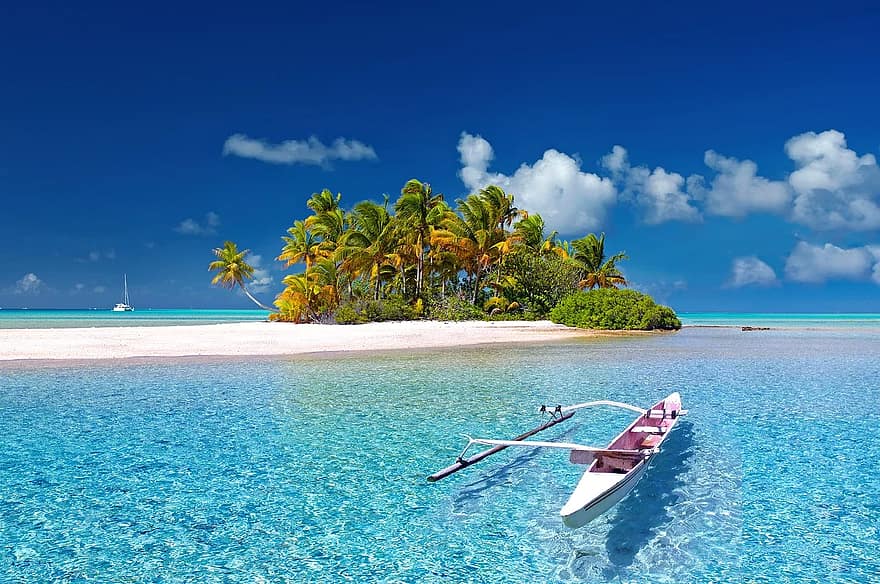 The major island where more than 70% of the inhabitants are overlooked by tourists. What remiss! The only real 'city' in the country, Papeete can be as splendid to enjoy for days. Explore the exotic Papeete market by day, shop for a few black pearls at noon, and have dinner with islanders in the legendary roulottes food vans. The maximum fun starts after you leave the crowded city. You will find black sand beaches, tropical gardens, and waves that lure the best surfers in the world at the plush coastline.
Manihi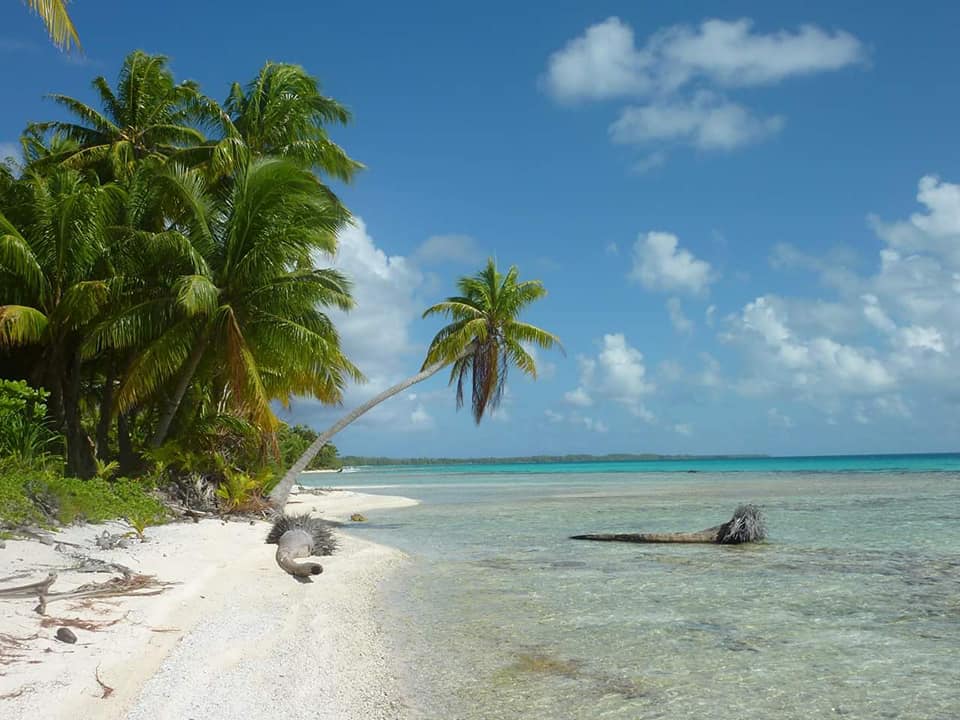 Situated in the Tuamotu islands, Manihi is home to the source of Tahitian pearl farming. An aura of coral formations shields the large lagoon that is the perfect place to kayak, snorkel, or float into the sun-drenched horizon. Buoys and ropes dot the lagoon; this shows oysters culturing pearls under the surface, a craft that several local families on the island have been practicing for a long time.
Ahe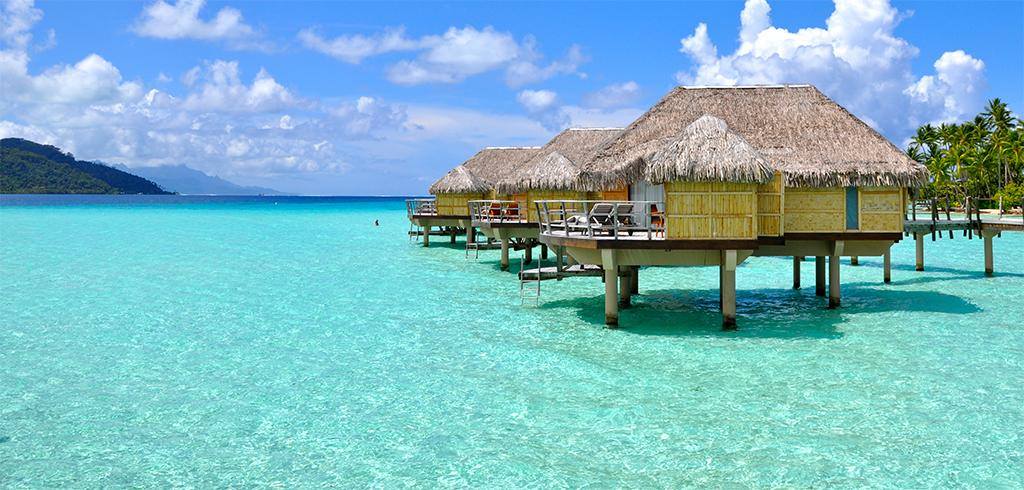 This 20 by 10 km ring of coral is a beauty. The many colors of its pure aqua-blue water, the foaming breakers around the reef, and the thin strips of the coral-sand beach of its several isolated motu constitute a charming scene here. Ahe is less developed than lots of its neighboring atolls owing to its geography. The atoll's allure brings a large number of yachters between May and August every year. Ahe is primed for relaxation, but if you are bent on doing something adrenaline-pumping, there are brilliant options available like fishing, snorkeling, and diving.
>>Also Read: What is French Polynesia Famous For?
Most Beautiful Quiet Islands in French Polynesia – Summary
Here are the off-beaten-path French Polynesia islands. If you are fantasizing about a tropical trip to French Polynesia, this list should get you started. These are where turquoise water goes under an overwater bungalow and flashy marine life circles. Do the Haka dance in the center of an ancient temple in Nuku Hiva or go for a hunting trip in the middle of nowhere. With these and much more- you choose your tropical indulgence.
Here Is Also a Map Of The Islands Suggested in This Guide To Help You Get Around: