What is French Polynesia Known For?
French Polynesia is undeniably one of the most breathtaking places in the world. It is ringed by thousands of miles of the Pacific Ocean. It is a delightful honeymoon destination, and celebrities are known to make this beautiful place their playground. With its crystal-clear waters, teeming reefs, and vibrant culture, it is not surprising why French Polynesia is popular amongst tourists.
>>Also Read: Is French Polynesia Safe?
Here are Some Things French Polynesia is Famous For:
Heiva Festival
A Tahitian dance performance is part of a well-thought visit to French Polynesia. But travel between late June and late July to find much of the Society Islands involved in the incredible dance frenzy that is the Heiva Festival. In 1820, Tahitian dance was banned by missionaries from the London Missionary Society. The dance was regarded as too titillating.
As soon as the French seized control of the islands 60 years after, however, dance got popular again; but a watered-down version. Madeleine Moua, a Papeete schoolteacher, revived the local dance in the 1960s. From the revival came the Heiva Festival.
Competitions and performances are held in Papeete's Maison de la Culture (cultural center), while others take place on the islands of Bora Bora, Huahine, and Moorea. As for persons who want to wear a grass skirt and coconut brand shake their hips with vim, they can learn the moves through the old Ori Tahiti International School of Tahitian Dance.
>>Also Read: Best Things to Do in French Polynesia
The Lagoon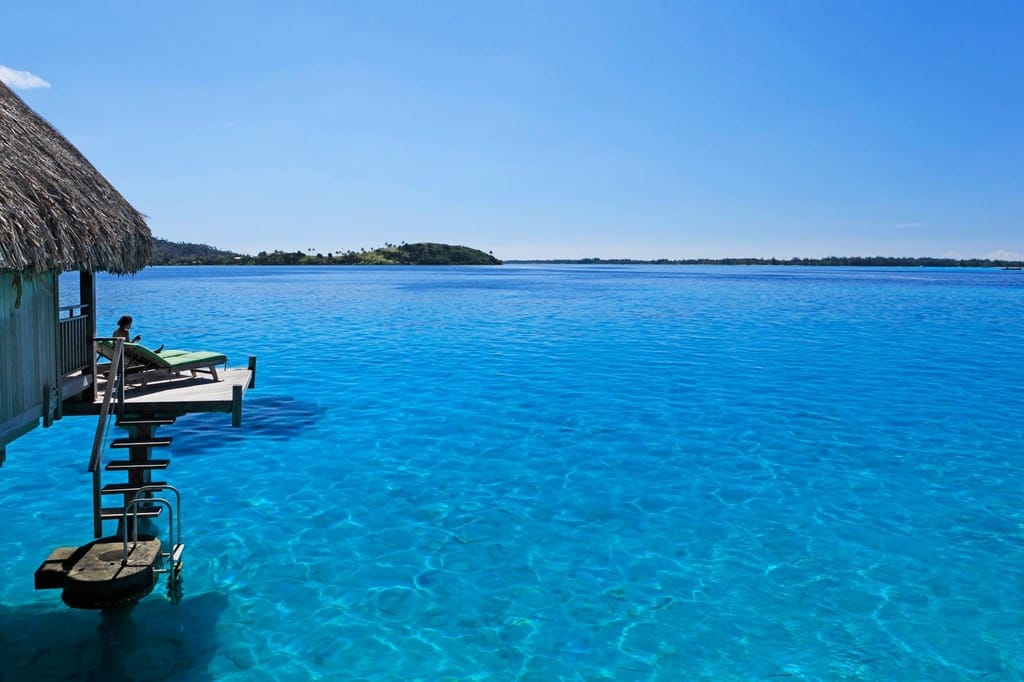 One of the things to do in French Polynesia is to have a great picnic at the lagoon. This is Bora Bora's magnificent lagoon, which is said to have seen shades of blue. It is known for its marine life and terrific scenery. A way to surely immerse yourself in this goodness is with a 'motu picnic'. Motus, or small islands, surround the lagoon and are great places to see the stately Otemanu, the main volcanic island, and its cloudy peak.
A regular tour begins with snorkeling in the coral gardens' clear waters, where fish swim up to have their picture taken, and the sporadic moray eel silver comes close. Afterward, the boatman might rush up a coconut to get a tropical snack to go with the barbecue fete. The day wraps off with a walk through the waters among stingrays benign and sharks that are black-tipped.
Marquesas Islands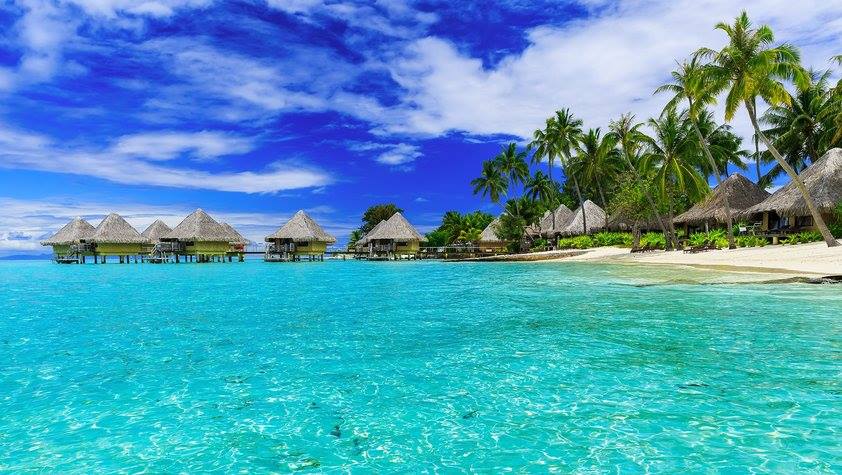 These islands are called the "Land of Men" because of their sturdy inhabitants; exemplified by their full-body horsemanship, tattoos, and their adeptness in taming the wild environment. A trip to these remote roughed islands can be completed in satisfaction while still having their pure features and socializing with the locals.
Passenger ship/cargo Aranui 3 completes the 933-mile journey from the island of Tahiti to the Marquesas about 7 times yearly, reaching 6 of the islands. While husky men unload supplies for natives and get busy with copra (the dried meat of the coconut used in the production of oil), passengers take excursions to archaeological sites, villages, and the resting place of Paul Gauguin, the French artists who died in 1903on Hiva Ora Island. The two-weeks voyages also include two relaxing days at sea. This allows much time for passengers to lie by the pool or to attend lectures.
Ancient Temples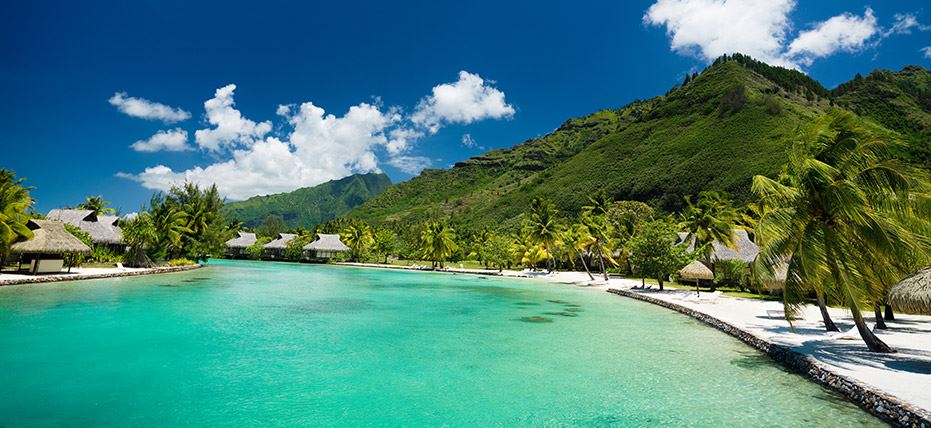 Stories of human sacrifices and jungles marked with stone tikis (human-like stone figures) and the ruins of ancient temples look like you are touring in Jumanji. French Polynesia has many sites where the islands' earliest natives worshiped a lot of gods. Temples made with stones were also majestic compounds and meeting places, the story says human sacrifices were carried out until the mid-1700s.
While tikis and marae are ubiquitous, the islands of Huahine and Raiatea have the most expansive and best kept. Raiate is also called the sacred island; its massive Taputapuatea marae, dating back to 1000 A.D., was the focal temple of eastern Polynesia at the time. Close by, Huahine's marae are said to be older. It houses the island's 8 royal chiefs. Visitors can explore them without much supervision, but if you will rather be led, there are tours to help you.
The Sea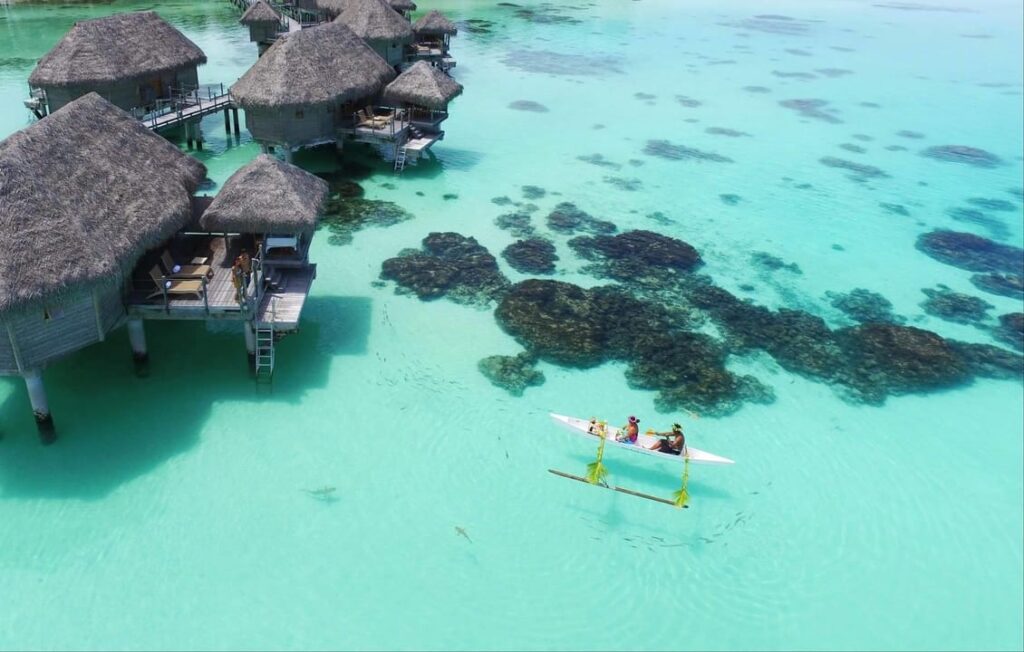 The sea is another thing French Polynesia is popular for, and you should look forward to sleeping over the sea. Sleep to the calming lapping of lagoon waters and rising to a refreshing dip is the beauty of the bungalow's overwater. Overwater bungalows do not have their 1960s form. They are now small hotel suites with plunge pools.
The walk along the pontoon to a separate room is alluringly romantic, while the glass floor panel shows swimming marine creatures under. Overwater bungalows are expensive, but when in French Polynesia, the ambiance is out of the world.
The Pearls 
Finding a pearl shop in French Polynesia is not difficult to get. They are as exceptional as the reef sharks in the lagoons. However, visiting a pearl farm prior to a shop is a perfect way to learn about the phenomenal Tahitian black pearls, called the Pinctada margaritifera.
Begin with a visit to the Robert pearl Museum in Papeete to see wonderful objects like a pearl-embellished book of prayer that Charles II of France used to own. You can dive but with a guide for your own string of oysters and retain the pearl when you visit the Bora Boral Pearl Company's farm. Even though it is a lottery (not all the oysters make a gem), the owners assure they will give visitors a pearl from their stall for those who do not see a lucky oyster. The farm explains the intensive process involving the culture and harvesting of pearls.
If you merely want to visit a farm without planning to dive, there are many other options for you. The owners are expected to provide the chance of buying a few pearl souvenirs.
Papeete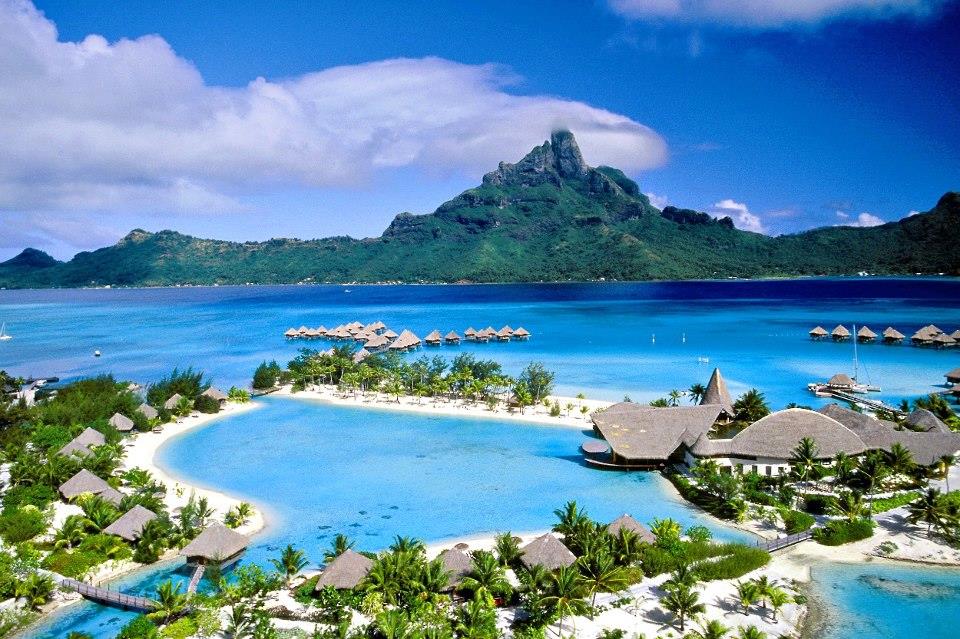 Looking for where to buy baskets, straw hats, sarongs, baskets, and peals is layered experienced at Papeete's general market. The inviting smells of vanilla and coconut suffuse the air, while the artistes play their ukuleles. Even though the market is opened throughout the day, it gets busy in the morning when fresh fish is brought. Also, on Sunday mornings when women come to shop in preparation for family lunches.
Those who are familiar with Papeete go to the waterfront Place Vaiete to eat at food trucks or roulottes when the sun goes down. There, they have a great selection of meals from Poisson cru (marinated raw fish in coconut milk) to Asia stir-fry dishes as well as crepes.
The Lagoon Within a Lagoon
In Rangiroa, the biggest atoll in the Tuamotus, thrill-seekers will find two lagoons. A long group of 415 little motus strung together in a distorted circle, Rangiora harbors a lagoon that fits within the entire island of Tahiti. And in this expansive body of water is a little patch of nirvana called the Blue Lagoon.
It is a 60-minute boat ride from the town of Avatoru, and as soon as you are there, it is pleasant. The sand is golden, the water is aquamarine, and you might see a small reef of sharks swim up to get a bite when the beach barbecue is ready.
ATV Into the Jungle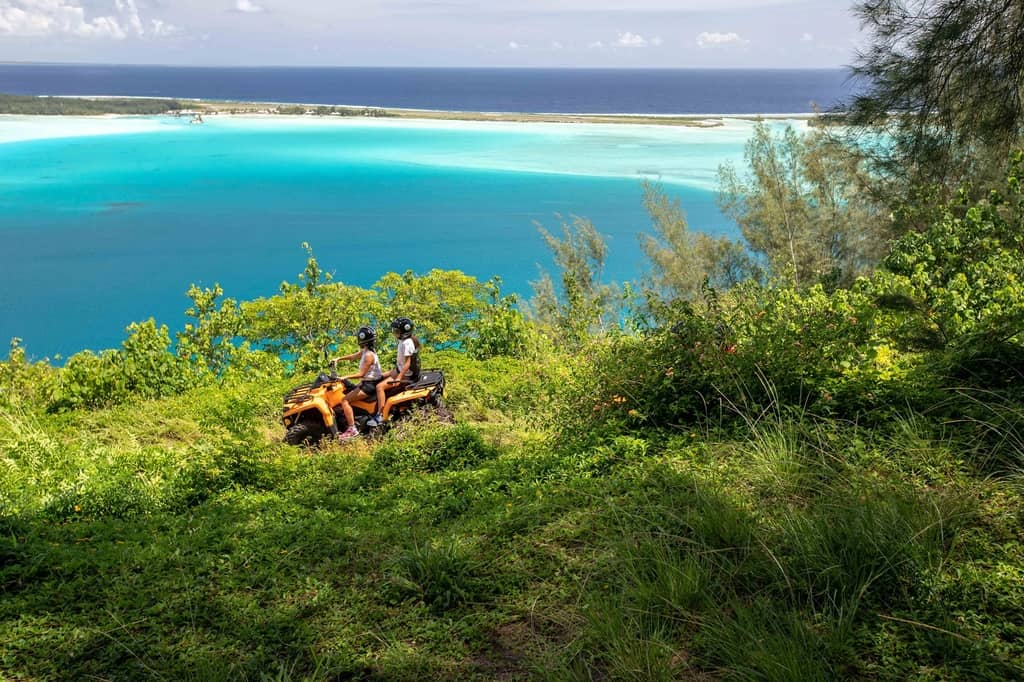 Past the lagoons and beaches, there is a lot to do in the volcanic islands of French Polynesia. So an ATV tour of Moorea is an interesting ride. Quad riders trail their leader over the rugged roads of the Opunohu Valley to the Belvedere lookout for views of beautiful Opunohu and Cook's Bays, strolling past old stone temples.
At Opunohu Agricultural College, there is a stop for a guided walk along the fruit plantations and an opportunity to sample delectable jams and pineapples. ATV Moorea Tours is a top-notch option.
Bora Bora's heavy jungle also conceals many things, unveiled in a 4WD tour of its roughed inside. Steep alley, lava tubes, waterholes perfect for swimming, and steep peaks are stops on Tahiti Safari Expedition's 4WD and hiking tours on French Polynesia's largest island.
What is French Polynesia Known For? – Summary
Naturally elegant and brilliantly artificial, French Polynesia is a fantastic destination for adventurers of all sorts. Its structures, character, and form tell tales of magnificence and rich history across time. French Polynesia is expensive, but you can cut prices by monitoring package deals. There are several tour operators to choose from, depending on what you are looking for. The islands offer more than their glitzy resorts as a trip. There is a massive step to seeing, appreciating, and enjoying the world from the Pacific.