Does French Polynesia Belong to France?
As a kid, maps fascinated me a lot. I had atlases in my room and knew several countries across the world by name. Identifying them by their capital and the national flag became a hobby, but certain regions in the globe confused my preteen self. I knew France is a vast expanse of land in western Europe but was confounded about how a considerable fraction of the South Pacific islands were exactly French to have been called French Polynesia. 
Seeing how far apart France and French Polynesia are (15906.14 km), my concerns were quite valid. France technically owns French Polynesia, which is regarded as an overseas collectivity. This means that French Polynesia is a group of many islands that is under French control despite being offshore of Europe and thousands of miles away from France.
So, French Polynesia is governed by France even though they are not close. Five different island groups constitute French Polynesia. These groups are the Society Islands, the Gambier Islands, the Marquesas Islands, the Tuamotu Archipelago, and the Austral Islands. French Polynesia consists of 118 islands in total, but just 67 of them can or do sustain life. 
French Polynesia's Size 
Its total area is a combined 1,608 square miles. French Polynesia's boundaries include about 131 square miles of water and 1,477 square miles of land. It is 92% of land and 8% water. The population (2019) of French Polynesia is around 287,361, making it the world's 182nd most populated country. 
Linguistic Affiliation
Most residents speak both French and Tahitian, the major Polynesian language. Older islanders still speak a local Polynesian language on the more secluded islands, and in the secluded Austral Islands, languages vary from island to island.
These languages are now homogenous, and Tahitian is starting to take the place of local languages. Meanwhile, Older Chinese islanders speak the Hakka dialect, but younger residents speak Tahitian often and French. 
Symbolism and Identity 
French Polynesia uses both the French flag and its own flag that shows a red outrigger canoe on a yellow background over a blue sea. The canoe signifies the Polynesian seafaring practice. Other cultural symbols relate to the land's fecundity (the breadfruit), the local culture (the tiki figure), and the islands' beauty (the black pearl and the tiare gardenia blossom).
History 
Cradle of the Nation- The five groups of islands that make up French Polynesia were joined into a new national entity by the step-by-step process of conquest and annexation of the Austral group in 1900 by France. Additionally, the French centralization of authority and administration, transportation, jobs, and services in Papeete aided the national identity's development. 
National identity- Even though several islanders take pride in their relationship with French culture, French Polynesian identity is more Polynesian than French. Admittedly, some islanders prefer independence from France, and they clamor to revert to a more traditional Polynesian culture.
Ethnic relations- Economic inequalities between groups and continued cultural differences are often the cause of tensions between the majority Polynesian ethnic group and the minority European and Chinese groups. Despite the tensions, violence is a rarity, just like discrimination against the members of any group.
Transportation 
By Plane
As French Polynesia occupies an incredibly remote position in the South Pacific Ocean, flying is the major option to reach there. Air Tahiti Nui is French Polynesia's national airline. Faa'a International Airport is the major airport, and it is built on Tahiti's lagoon about 5 km west of Papeete, close to many big hotels like the InterContinental. The flag carrier also flies to Paris through Los Angeles and nonstop to Auckland and Tokyo. Air Tahiti Nui partners with Air France, Air New Zealand, Japan Airlines, and Qantas to easily link with Paris, Sydney, New York, and other places.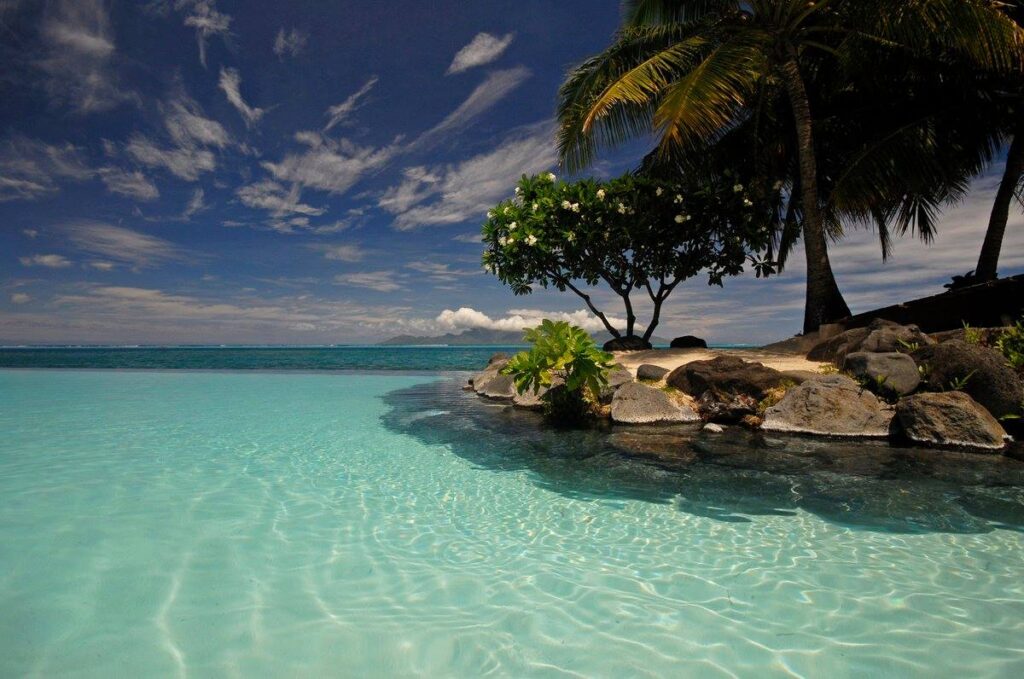 >>Also Read: Most Beautiful Islands in French Polynesia
Getting Around
French Polynesia has the same surface as the European Union, but the combined land area is just the size of Mallorca in Spain. The two islands where most people live are Tahiti and Moorea. These islands have public transport and street networks, including a great tourist infrastructure. To move from one island to another, there are various options:
By Plane
Air Tahiti links other destinations in the South Pacific via domestic flights. It manages 11 turboprop aircraft (4 ATR42-500) with 48 seats, 5 ATR 72-500 with 66 seats, 1 Twin Otter with 19 seats, and 1 Beechcraft with 8 seats). The airline also offers many types of Air Tahiti Air passes, and you should see their website for more on pricing as it is subject to change.
By Boat
If you want to travel between most islands in French Polynesia, ferries are the surest bet. Ferry boats and catamarans cross between Moorea ad Tahiti many times a day. Furthermore, cargo boats and schooners serve all the occupied islands from Papeete. Another boat option is the two cruise ships/luxury liners that ply the islands.
Dining
In Tahiti and her islands, fine food is a natural style of cooking based on fresh products that are exotically mixed. You will also find European cuisine within a tropical setting, while Asian cooking adds its textures and tastes as well. Food materials are fresh in French Polynesia, whether it is bonito, tuna, mahimahi, or the several types of lagoon fish that are made in several ways: boiled, roasted, and raw. 
Raw fish a la tahitienne is one of the top-rated dishes in French Polynesia. It is marinated in lemon juice coconut milk. The Chinese ma'a tinito is another popular dish that is a blend of kidney beans, pork, macaroni, and Chinese cabbage.
Tamara's Tahiti (Tahitian-style feasts) are primed for family occasions and celebrations where a meal consisting of sucking fish, pig, yams, breadfruit, and fe'i bananas is wrapped in banana leaves and steamed in an earth-dug oven over slices of hot stones. Often, the big hotels organize big buffet evenings that afford a full and wide view of local culinary treats followed by local dance performances. While you are there in Tahiti and her Islands, you should know that tipping is not a custom.
Accommodation 
Covering 3 different archipelagoes (Tuamotu, Society, and Marquesas), about 50 international class hotels can be found on 12 islands. Even though the islands of Tahiti, Bora Bora, and Moorea offer more than 80% of hotel capacity, the smaller islands are also opening high-class hospitality outfits. Many international groups are established: Sofitel, InterContinental, Novotel, Sheraton, Meridien, Club Med, Orient Express, and Radisson. South Pacific Management and Maitai are two local chains that are part of the scene too. While hotels in French Polynesia comply with international standards, the Polynesian style has been respected in its use of bamboo, pandanus, and shell light fixtures.
For tourists who like the authenticity and simplicity of the local experience more, family hotels are the typical type of accommodation as they are friendly and warm. There are also vacation rentals, and it is a growing niche on the islands.
>>Also Read: Is French Polynesia Expensive?
Safety 
In terms of security, Tahiti has one of the lowest crime rates in France and its territories. But petty crimes like purse snatching and pickpocketing are not rare. Being an overseas French territory, French forces (Army, Air Force, Navy) and Gendarmerie offer defense and law enforcement. 
In addition, you do not need vaccines to visit French Polynesia. Ensure that you bring jelly-type sandals for walking amid coral in the water and along the beaches. Old sneakers would do, too, as long as your feet cannot be cut. You can encounter sharks when in the lagoon while snorkeling or scuba diving. They are known to be harmless. Stingrays are harmless, too but be careful of moray eels that camouflage deep in the corals. As for health safety, medical treatment is great. Together with many private clinics and two major hospitals, medical service is provided all-around the clock. 
>>Also Read: Is French Polynesia Safe?
Does French Polynesia Belong to France? – Summary
Yes, French Polynesia does belong to France and is an overseas collectivity of France. But how French is French Polynesia? Very French, actually. And if you have already impressed your significant other with the fantastic beaches of Nice, the enamoring streets of Paris, and the beautiful vineyards of Bordeaux, it might be time to take the adventure up a notch. Blow them away with a sojourn in French Polynesia, one of France's most exclusive, exotic, and eccentric overseas territories.