Is Moulin Rouge Worth It?
With the completion of the Eiffel Tower, the preparation of an International Exhibition, and the opening of the Moulin Rouge, 1889 was a big year for Paris. Exactly as old as the Eiffel Tower, the Moulin Rouge is the oldest cabaret with its popularity continuing to soar. It is difficult to miss its peculiar lucent red windmill at the bottom of Montmartre, along Boulevard de Clichy just on Place Blanche.
Selling out weeks in advance, Moulin Rouge stands at the foremost show in Paris. The iconic Doriss Dancing Girls- beautiful in their feathers, rhinestone, and sequins costumes- are among the hundred performers usually on set. You should expect that a visit to the Moulin Rouge would be worth it immensely. Also, it is recommended that visitors explore the areas around the Moulin Rouge before or after their expected visit to the cabaret to have a great time there.
>>Also Read: Best Things To Do In Paris
Here Are the Exciting Things to Do in Moulin Rouge To Make The Experience Worth It
Eiffel Tower Dinner + River Cruise + Moulin Rouge
Add to your Moulin Rouge expedition the best of Paris' nightlife. You can start with a trip to the Eiffel Tower, where you can reserve space to stay under the glass dome on Level One. Then go for a nighttime cruise of the Seine to behold all the marvelous views of the brightened city.
Next up, go to the iconic Moulin Rouge for the evening's series of the show. An Eiffel Tower dinner, cruise, champagne at Moulin Rouge, Moulin Rouge show, and transportation to take you back to your hostel or restaurant at the evening's end. It is more than you can ask for.
>>Also Read: Best Tours To Take In Paris
Moulin Rouge Dinner and Show with VIP Seating
Every tourist should look forward to a having a Moulin Rouge Dinner along with a VIP Seating. If you cannot book well in advance, there are alternatives to achieve this including the services that tour companies render. On the balcony of the Moulin Rouge are about 24 exclusive seats with perfect views of the sets, dancing, and stages. There is also the skip-the-line entry option that is accompanied by a four-course French dinner, and great champagnes and wines chosen by the comelier.
Moulin Rouge Dinner, Show, and Hotel Transportation
This is a nighttime Moulin Rouge activity that you should indulge. Some tour operators include a pickup and transportation back to visitors' hotel at the night's end, which is quite cool. The action starts around 19:00 with a delectable multi-course meal that includes classic local food and champagne. After dinner, visitors can relax and savor the incredible cabaret show.
The best part of using tour operators is that visitors do not need to worry about organizing details. From tickets to dinner, show, champagne, and transportation- everything is included. Another merit of using tour operators is that different packages let visitors select either the hotel transportation (has earlier explained) or transportation from a central location in the city or no transportation at all (for those who are looking to cut costs). It is recommended that you secure your tickets well in advance as they sell out quickly.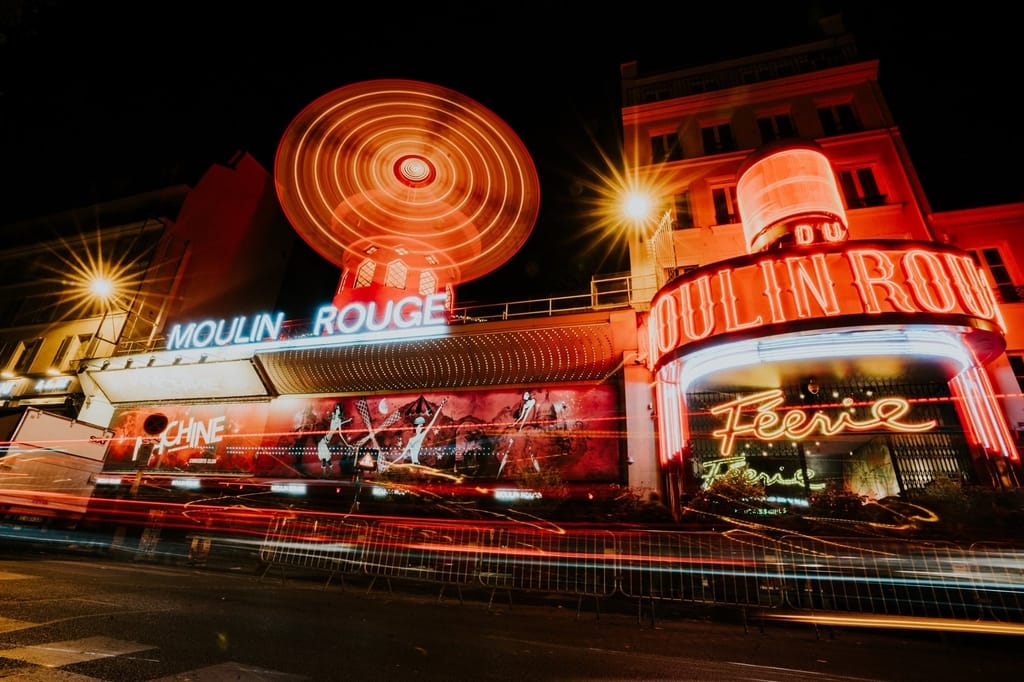 Paris by Night City Tour + Moulin Rouge Show
The French capital is terrific by day and enchanting by night. Behold Paris' lights on your way to Moulin Rouge. Your driver takes you on a best-of-the-city pathway from Place de la Concorde, Opera and Champs-Elysees to Pigalle, Place Vendôme, Montmartre, and all things between these. In addition, from pick-up and return transportation to your hotel address, Moulin Rouge, champagne, to the illuminations tour- all details can be arranged with the tour company.
Dinner Cruise on the Seine River + Moulin Rouge Cabaret
You can start your late adventures with a dinner cruise on the glass-enclosed boats from Marina de Paris. You should look forward to this activity because you will dine and wine at your personal space that includes a table while you enjoy the sights of the city monuments passing by. After this, you will be driven to Moulin Rouge for an eye-popping show accompanied with champagne.
>>Also Read: Should You Visit The Moulin Rouge?
Visit the Crazy Horse Paris
For a high-octane, sensual cabaret performance by ravishing (sometimes nudes) women, go to the Crazy Horse Paris not far from the Champs-Elysees Avenue. While many visitors choose the 'most famous cabaret in the world" (the Moulin Rouge), Crazy Horse provides an amazingly impressive experience at a more affordable cost.
Slack into the soft armchairs under red lights, have champagne (or any other drink), and be entertained by the tens of dances moving to rhythmic sounds in this small place. Interestingly, Beyonce's 2013 music video was inspired by Crazy Horse, if you want another reason to visit. You might want to eat before you visit as Crazy Horse does not offer meals.
Moulin Rouge Show with Hotel Transportation 
It is fine if you want to see the cabaret show without dinner. It is the same wonder show with transportation to and from your accommodation lodge and some sparkling wine to have while you enjoy the foremost show in Europe. This is an easy option because there is no need to worry about how to reach there on the Metro or what to do when you are bound to depart. Many tour operators have both 9 pm and 11 pm shows for this option.
Moulin Rouge Dinner and Show
For those who want dinner and the show but can manage their own transportation, this is the option for them. This mix of dinner and show includes every other thing except reaching and leaving your hotel. Check with your tour operator for other exclusive offers to enjoy the Moulin Rouge.
Other Places Worth Visiting Near The Moulin Rouge
Moulin Rouge-inspired Art at the Musee d'Orsay
Regular Moulin Rouge customers like avant-garde artists visit Paris in their droves during the city's heyday for its solid entertainment (including circuses, theater, cabarets, and brothels), cheap rent and a network of other artists.
Inspired by their experiences and the people who made the institutions, a lot of artists painted and drew works in an attempt to catch the essence of the cabaret at Moulin Rouge. Visitors can see some of these art pieces at museums across different parts of the city, including the Musee d'Orsay where Henri de Toulouse-Lautrec's Jane Avril Dansant and Giovanni Boldini's Scène de fête can all be seen. The museum acquired Boldini's work in 2010 and displayed the Moulin Rouge after its 1889 first appearance before it became a lively entertainment spot.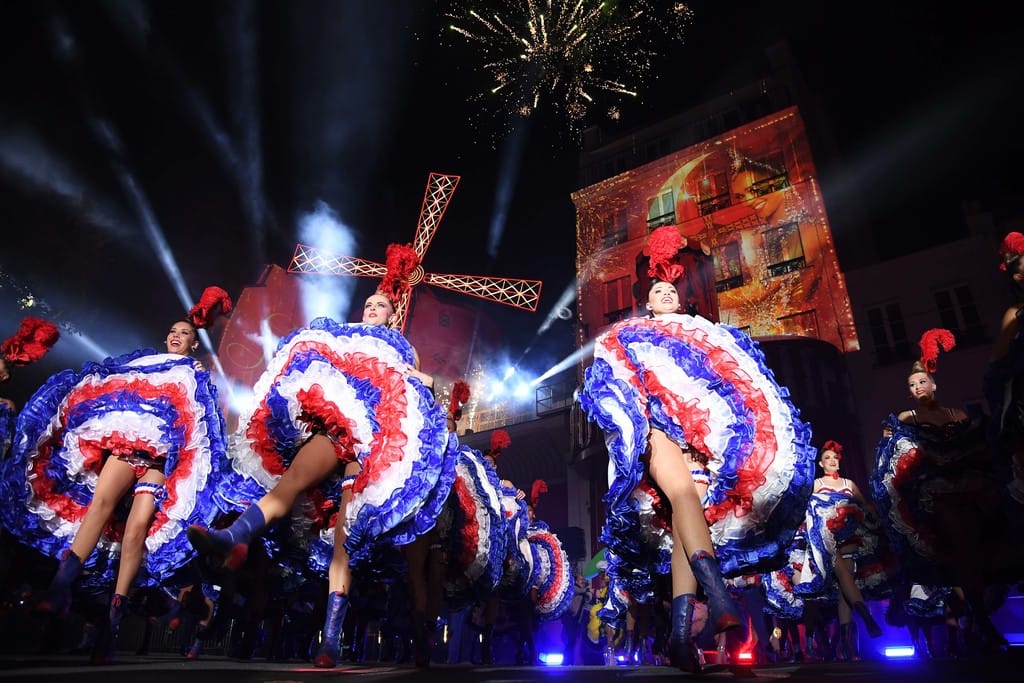 Montmartre District 
Stroll through cobblestone streets in the historic Montmartre district in the 18th arrondissement, the home of Moulin Rouge! and its maker's inspiration. Its beauty and luster include arts, parks, museums, a vineyard, and even gardens. Pause to admire the phenomenal red windmill at Moulin Rouge (that perches on the corner of boulevard de Clichy and Place Blanche) and be enamored in the same streets once plied by artists including Henri Matisse, Edgar Degas, and Pablo Picasso.
Also in the area is the amazing white Sacré-Cœur Basilica that is one of the city's most visited landmarks. The church perches on the top of a hill for the entire city to see. It also serves as an ideal place to see the city from above. Visit the Square Louise Michel too to skip the long walk to the top and still get a magnificent view of the Sacré-Cœur Basilica and the rest of Paris.
Also Read:
>>Is Montmartre Worth Visiting?
>>What is Montmartre Famous For
>>Is Montmartre Safe?
>>Montmartre Neighborhood Guide in Paris
Lux Bar
For a long time, people-watching from a comfortable café has been one of the impressive things to do in Paris. Ensure you spare a few hours to do this. You can sit with a crossword, book, or just order a delightful drink, and watch the world evolve before you at Lux Bar.
It is a small café that is close to the Moulin Rouge where visitors can descend from near the major boulevard; and watch the tourists that come to adore the 'Red Mill'. Café des Deux Moulins and Le Refuge are also great cafes to people-watch in the area.
Is Moulin Rouge Worth Visiting? – Summary
Yes, the Moulin Rouge is worth it; it might be a little touristy but it is an essential Parisian experience. The Moulin Rouge has seen show business stars, actors, musicians, and iconic names pass through its doors over its 120-year existence. Apart from tourists, the Moulin Rouge is also frequented by locals. Be prepared for a treat as the performers -in their flamboyant costumes- give the performance of their lives. While the highlight of Moulin Rouge is the evening show, the occasional matinees inspire awe too. A visit there is an ultimate Paris night out!
>>Also Read: Nightlife Guide For Paris