The City of History and Art and the first French commune to be freed during WW2, Ajaccio is one the gems of the ravishing island of Corsica. Ajaccio blends the wonders of the Mediterranean Sea and the charm of southern France, much to the pleasure of travelers. The Corsican town has been a well-known vacation spot since the 1800s.
Being on an island in southern France and among the choicest destinations in the region, it will not be out of order for a budget traveler to worry about expenses on vacation there. Ajaccio is the economic hub of Corsica and is decently expensive.
>>Also Read: What is Ajaccio Famous For?
Here Is What You Need to Know About Expenses in Ajaccio:
Transportation Cost
The city is well connected, and you can reach any area with ease at a lower cost. A one-way ticket often costs a euro, and a monthly pass is around 20 euros for visitors that plan to stay for weeks. If you rent a car, you can get a liter of gasoline for around 1.68 euros.
Road Access
Ajaccio is accessible from Bonifacio NR193 through NR196 and National Route NR194 from Bastia. These two major axis and all the roads leading to villages in the outskirts link the city from the north- the site of the city, making a cul de sac blocked by the sea to the south. Just the Boulevard du Roi and the Cours Napoleon cross Ajaccio. Together with high urban density, this explains why there are many traffic and parking issues, particularly in the rush hours and in the summertime tourist season.
Communal Bus Services
Communal bus services are the cheapest means of transportation in Ajaccio, like in many French cities. There is the Muvistrada that offer services on about 21 urban routes, a 'city' route for local connects, and 20 suburban lines. The frequency is not the same as they vary by demand, with intervals of half an hour for the major routes. Authorities also introduced a Tramway between Mezzana station in the outskirts and the city station situated in the center.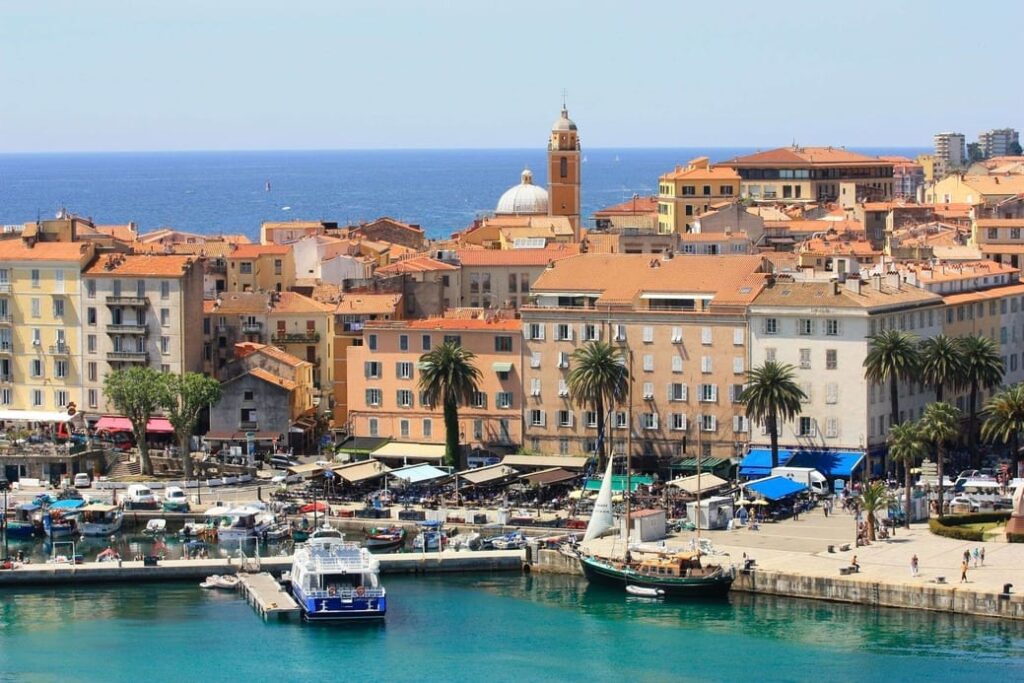 >>Also Read: Is Ajaccio Worth Visiting?
Restaurants 
Eating out in Ajaccio can take a chunk of your budget, but if you do not mind, there are several options to enjoy the special delicacies on offer. A decent meal in an inexpensive restaurant will cost around 25 euros. A three-course meal for two at a mid-range restaurant will cost around 45 euros. And for junk food lovers, McMeal will cost around 8 euros.
Beer lovers have a wide range of options as well. A domestic beer of 0.5-liter draught will cost around 5 euros, while an imported beer of 0.33 liter will cost about 3 euros. You can get a regular cappuccino for 2 euros while a 0.33-liter bottle of water will cost 2 euros.
>>Also Read: Weekend Trip To Bastia, Corsica
Markets
Travelers who fancy self-catering while on vacation will get enough of fresh produce in the markets here. A liter of milk will cost around 0.84 euros for the lactose-tolerant ones. A loaf of White Bread (500 g) will go for around 1.80 euros while a kilogram of rice (white) costs 2 euros. You can get a dozen eggs for 2.62 euros, and a kilogram of local cheese is sold for about 29.67 euros.
A kilogram of chicken fillets goes for around 12.25 euros. But a kilogram of beef Round or back leg red meat costs more about 15 euros. When you go for fruits, ensure that they are clean and fresh. A kilogram of apples, banana, oranges, tomato, and the potato will cost 1.97, 1.87, 1.75, 2.62, and 2 euros, respectively.
>>Also Read: Is Corsica Worth Visiting?
Accommodation Cost in Ajaccio
You will be spoiled for accommodation choice in Ajaccio. There are lots of options for you, from hostels to Airbnb to 5-star hotels.
Hotel Marengo 
This hotel is 10 km from the Parata Tower and the Sanguinaires Islands. Every room is air-conditioned, and there is a flat-screen TV for the comfort of guests. The hotel offers free WiFi throughout its property, and you will also find luggage storage space.
Visitors can engage in different activities, like hiking and diving. Ajaccio Town Hall is just 1.3 km from this hotel, while the University of Corsica Pasquale Paoli is just 6 km away. The closest airport is Napoleon Bonaparte Airport, which is 7 km from the hotel. There is public parking close by.
Address: 2 Rue Marengo BP 244, 20179 Ajaccio, France
Hôtel Le Week End
This 4-star hotel is a nest for honeymooners who are looking to relax in southern France. The hotel provides a sun terrace and a seasonal outdoor pool. The onsite bar is one of the major features here too. The rooms are air-conditioned with TV and programmed cable channels and a coffee machine. You will also find free toiletries and bathrobes with complimentary WiFi throughout the property. You can also hike a bike or a car. Parata Tower is 3.6 km from the property, while Sanguinaires Islands is 3.4 km from the hotel.
Address: Route des Sanguinaires, 20000 Ajaccio
Hotel Napoleon
For visitors interested in business travel or sight-seeing, this hotel is typically situated in the city center of Ajaccio, and a few steps away from the congress meeting venue, not far from the tourist attractions and beaches. The rooms here are air-conditioned with complimentary WiFi.
In addition, the guest rooms are furnished with a hairdryer, private bathroom, and a flat-screen TV with cable channels and satellite. This hotel offers 24 hours front desk, and there is a bar where visitors can savor an aperitif.
Nearby is Ajaccio Campo dell'Oro Airport is 7 km away while the port is just 1.5 km from Hotel Napoleon. You can also find a private parking on the property that is under CCTV and is available on request.
Address: 4 Rue Lorenzo, 2000 Ajaccio, France
Hôtel Spunta Di Mare
Five minutes from the international airport and 50 m from Corse Azur Beach, Hôtel Spunta Di Mare is a seafront hotel located at the entrance of the city center. It has picturesque views of the city Bay, a heated indoor swimming pool, and posh rooms. As a guest, you will enjoy regional wines at the hotel bar and a delectable menu served in the restaurant. As a tip, a buffet breakfast is prepared every morning.
With a 24-hour reception, Hôtel Spunta Di Mare also has a solarium and a sports room. This hotel can organize water-based recreational activities and excursions. There is also free private parking for about 26 cars available; however, reservations cannot be made.
Best Western Plus Ajaccio Amirauté
This hotel offers port and sea views and is near the city center as well as Ajaccio Airport. It also has an exterior swimming pool, a sun terrace, and a Swimspa (heated to 32°C throughout the year).
In a typical guest room here, you will find modern decor, air conditioning and a flat-screen TV, and coffee/tea facilities. Some of the rooms have views of the sea. Services/facilities offered here include a restaurant, a bar, unlimited and free WiFi, bicycle racks, a secure and private garage, a motorbike tool kit, and meeting and business facilities. After reservation, a pushchair, a baby cot, and a bottle warmer are available. Onsite, breakfast is available, serving the island's specialties.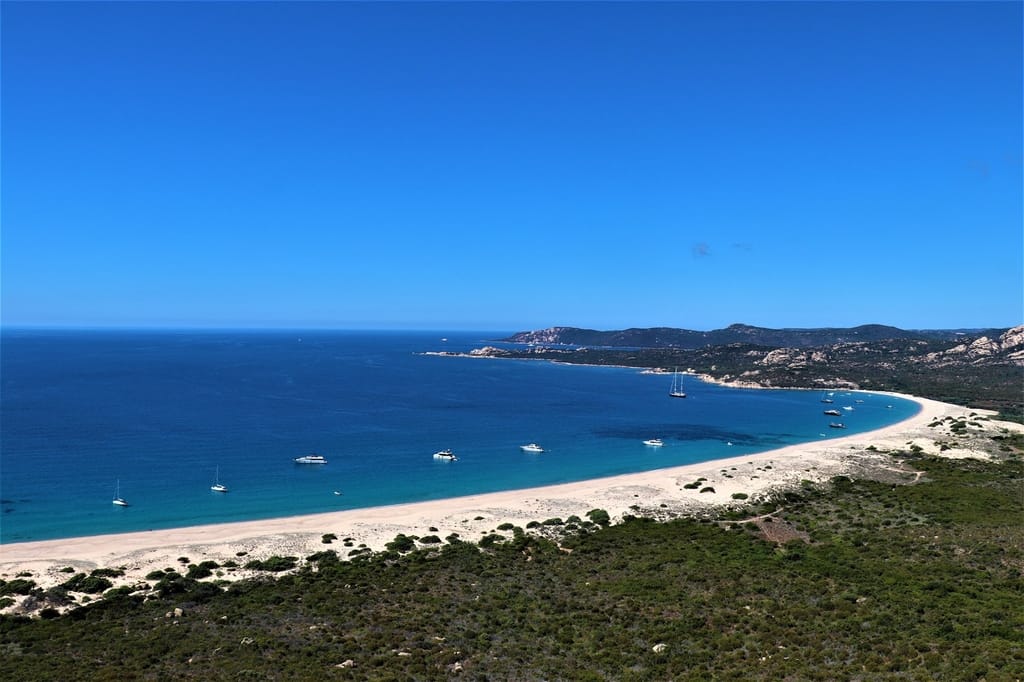 >>Also Read: Is Corsica Expensive?
Things to Do and See in Ajaccio
Perhaps, the most thrilling things to do in Ajaccio are hoverboarding, jetpacking, and flyboarding. To an exciting time, flyboarding offers more, and jetpacking allows you to fly up to 10 m above the water. As for merely riding above the turquoise waters, hoverboarding is the perfect fit.
Also, you can immerse yourself at Porto Ota, which is close to two hours from Ajaccio. Offering scuba diving sessions is the Centre de Plongee du Golfe de Porto for beginners. An amazing home to a wide range of sea-animal varieties is the Gulf of Ajaccio. Visitors will have the opportunity to appreciate a sperm whale, a dolphin, or a rorqual.
For vacationers who are not into water sports, La Richiusa, close to Ajaccio, is among the most popular canyons on the island of Corsica. The Canyon is situated in the Migliarella mountain range, near the village of Bocognano. Anyone can reach there, and the instructors will be delighted to lead visitors through the astonishing scenery and the cliffs.
>>Also Read: Things To Do In Ajaccio
Is Ajaccio Expensive? – Summary
Ajaccio is relatively expensive; however, it is one of the best places to be in Corsica. With proper financial planning, Ajaccio can be sufficiently explored and well enjoyed without breaking the bank. If you are looking to cut traveling costs significantly, visit in the off-peak season when things are generally known to cost less, and few tourists are in town. With good preparation, you won't spend too much to be comfortable in the Imperial City.
>>Also Read: Things To Do In Corsica