Top Kayaking & Canoeing Spots in France
Among tourists' favorite destinations in the world, France stands unique because it is versatile. For the most refreshing of holiday experiences, the country offers a tad more than your expectations. And given its natural landmarks and incredible coastlines, it is a top kayaking and canoeing choice for adventurers. Few rivers and lakes also extend the kayaking locations across France. 
While France has some of the best kayaking in the world, a swell time there depends on certain factors. For example, whether you have ever done it before, if so your preference; whether on flat or white water, the category of the water, and whether you are a strong swimmer or not all determines how much fun you will have. Another factor is the season. Are you going in summer, spring, autumn? Then the water levels will be very much different during the year on most rivers, which will change the level of difficulty a lot. Your goals matter too; are you looking to relax in a perfect scenic paddle or a more thorough and challenging experience. 
Just before we delve into the catchy kayaking and cannoning spots in France;
Ηere are Few Tips you Should Know to Get Started:
Secure the Right Accommodation
You should put this in place before setting out. For the lovers of kayaking, traveling by car can be easy enough to prepare and be girded with your own equipment. However, those who prefer to travel lighter will find that there are enough rental companies across the country offering canoe and kayak hire. These services come in different packages at affordable prices. Employing their services will certainly remove the hassle from your trip while you focus on relaxation. 
In addition, you will find few gîtes and holiday homes that offer the use of kayaks and life jackets in the price of the rental. And fortune might smile on you to get some useful advice on the local waterways from peddling colleagues. Choose from the vast array of coastal locations and riverside spots as you travel around to experience a wide variety of kayak opportunities in the area. 
Maximize the Sightseeing Opportunities 
Kayaking is fun and it offers a distinct angle from which to view and explore the gorgeous natural coastline and rivers. You can explore remote islands and beaches other means of transportation cannot get to and experience the best of nature. Be prepared to use kayaking to visit some mainstream attractions in the region you will choose to explore. Nothing beats the experience.
Enjoy Amazing Picnics
Perhaps a perfect kayaking experience is not complete with an amazing picnic. Many kayak expeditions require the packing of provisions for a meal or two al fresco during the day. In the case that you are visiting a rural place, ensure you do not forget anything you will be needing.
You can do French cuisines too. They give you the chance to feast like a king with cheeses, cold meats, and fresh bread. As a common knowledge to kayakers, the bottom of the boat is a perfect spot to chill bottles. Place your white wine in the bosom of your boat for some happy time later on. Do not forget to take along water too if visiting in the summer.
Improve your Skills and Knowledge 
Are you a beginner or just looking to sharpen your sea kayaking skills? France has many operators on coasts that offer trips to a short course with qualified kayak instructors. Check that your chosen provider is licensed by the FFCK (French canoe Union) to make sure instructors are properly qualified and that the boats and equipment are kept in good order. Nothing should spoil your fun.
Know the Regulations
Regulations and rules are usually made for our safety. To go on kayaking, you should be conversant with basic rules and best practices so that you do not err for your own safety. If as an expert in canoeing or a seasoned kayaker, from another country, take time out to read up local regulations. As an example, all paddlers are required to carry appropriate safety equipment according to the distance from shore they are leaving from.
Some of the equipment are charts of the area with tidal flow information, a magnetic compass, a buoyancy aid, spare paddles, flares, paddle floats, a balling mechanism, tow lines, deck lines, and towing point, signaling mirrors, and an audible method of attracting attention.
French law dictates that sea kayakers must remain within 12kms (around 6 nautical miles) from a safety point so an open water trip of twice this distance is the maximum permitted. You can get more information on FFCK's website.
Best Kayaking and Canoeing Spots in France
Verdon Gorge
It is one of the popular canoeing and kayaking places in Europe. Blessed with a startling sight, the Verdon Gorge in the Provence has a length of 21 km and a depth up to 700m. As a tip, if you will be visiting for the first time, kayaking and canoeing here will be initially rough; especially the first hundred meters.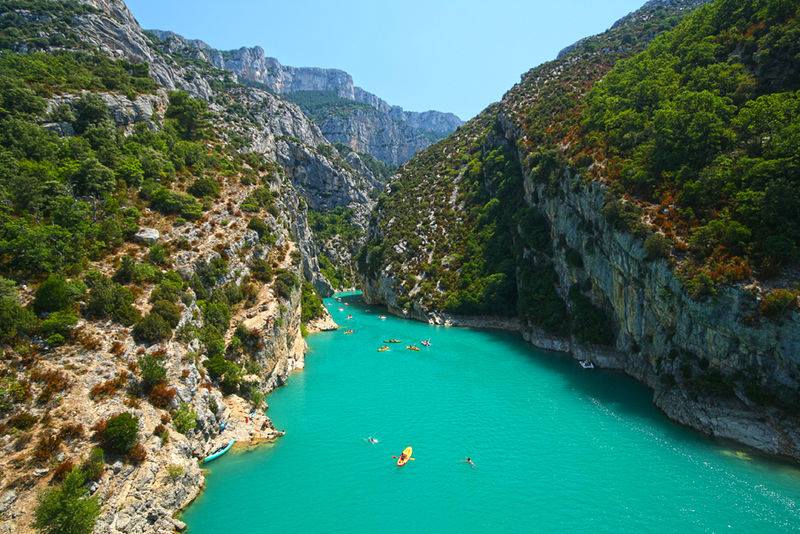 Though deep, it is difficult to calculate its depth. If you are there in the afternoon, you will see people launching themselves from cliffs and even the bridge into the water. If you are not with your own kayak, try to rent one early in the morning and not in the afternoon for a great choice.
Ardeche Gorge
Paddling down the 30km Ardeche gorge in Southeast France is one of the most scenic kayaking views in the world. The gorge is beautiful and you can pass under Pont D'Arc a huge natural stone bridge. Depending on the water level, with class I to II rapids, beginners can kayak it any time. In the summer, the waters are warm and it is a common spot for families in search of laid back, sunny days on the river. You will also find excellent joints to stop for sumptuous lunch.
When you visit in the spring, there are faster-flowing waters. And if you want something more thorough, take on the full 60 km descent crossing dams on fun canoe toboggans. Lots of kayak hire shops and guided tours are readily available.
Southern French Alps
As a kayaker looking for the best white water in Europe, the Southern French Alps beckons. Rivers like the Bonne, Guil, Durance, Souloise, and Ubaye all offer technically challenging kayaking that is primed for experts only. The rivers are decently close to each other and could be on a single trip. If your desire is to paddle different rivers each day for your holiday, you will find it engaging here. 
Loire Valley 
Loire Valley is a brilliant kayaking destination that offers some great water to canoe and wine to relax. There are many shops to hire canoe and kayaking equipment. The tranquil scenery of the river makes promises and delivers an unmatched experience at any time of the year. The hills and the riverside architecture will complement your overall experience. 
Bordeaux
Not just known for its wines, Bordeaux offers great kayaking and canoeing like no other place in Europe. It affords you the chance to enjoy wine tasting kayak style along Gironde and other rivers close by. The rivers are often clam, and what rapids there can often be avoided. There are also organized wine tasting kayaking tours or hire shops if you want to plan it yourself. This is the perfect way to discover the Aquitaine region of France, an incredible beauty with deluxe-class wines.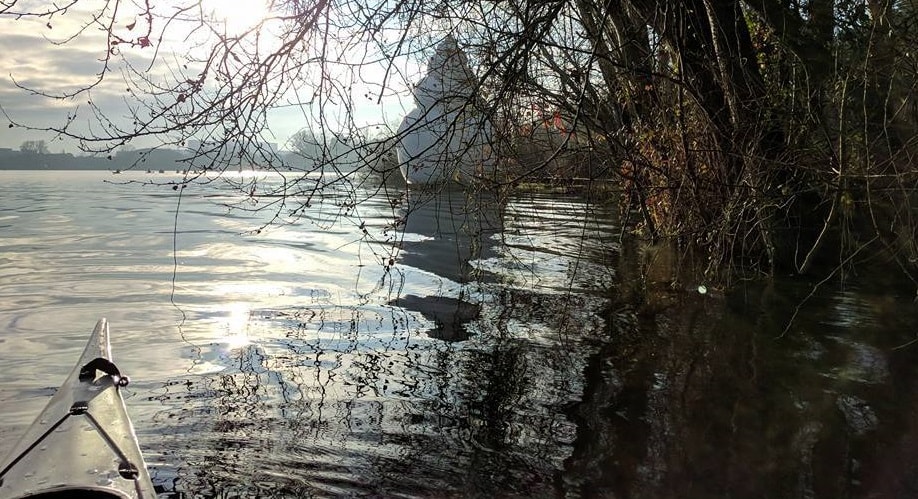 Normandy
The most popular kayaking spot in Normandy is the dashing Parc Naturel de Normandie-Maine situated on the Sarthe and Varenne rivers. There are one-day and multi-day kayaking tours available. The rapids are class I to III, so beginners and families will find it less intense. While well-trained guides are on-site, you can hire kayaking equipment for the action. 
Dordogne
Spanning about 500 km that reaches the sea near Bordeaux, Dordogne offers one of the best kayaking in the south of France. Though the region is famed among tourists, most of the lodge on the land. But the river provides a natural and distinct way to explore.
There are no rapids and no whitewater challenges. While the flow is fast in places, there are also stretches where kayakers will need to paddle continuously to avoid coming to a complete stop. These are not the bits to float. The points where to place the paddle across the lap and sit back are when there are straight stretches and a decent current.
While in action, there are high limestone cliffs on one side sometimes, and other times you can spot a regal chateau high above the trees. There are a few places where a bridge crossing the river creates an idyllic scene, and other times it is just the birds and the tree that will steal your attention.
Cap d'Antibes  
Towering limestone cliffs and the presence of waves hitting the edge of the rocks causing waves, give an adventurous feel to your trip on the water. There are countless natural bays for resting swimming and enjoying a perfect picnic. If you are the type that loves extreme sport and adventure, do not forget to rent a canoe or kayak during your holiday in the south of France for a momentous vacation experience.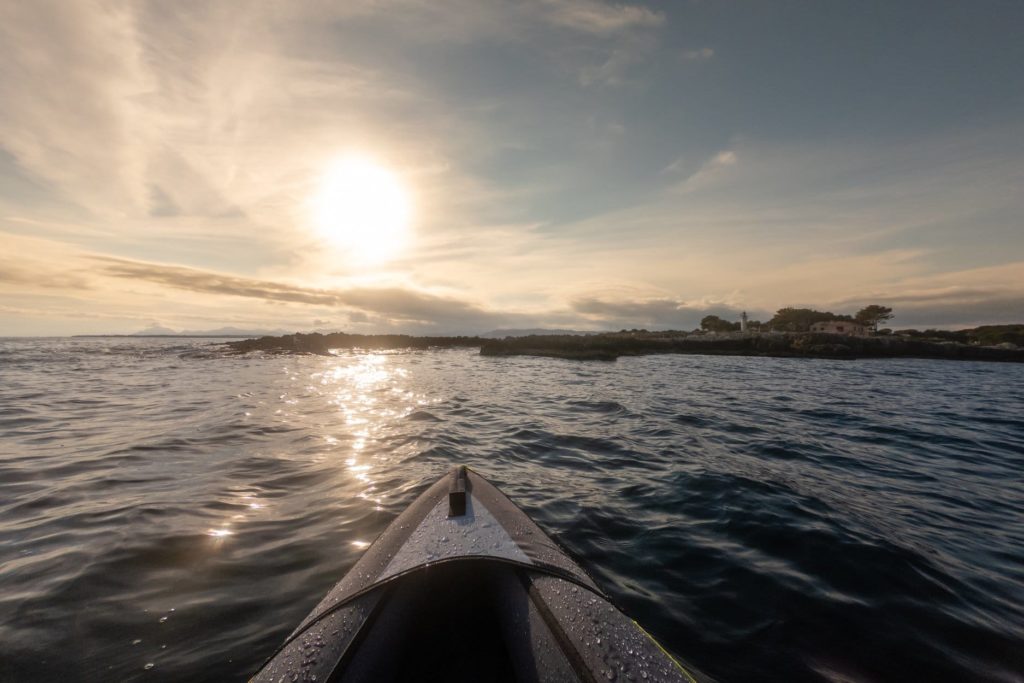 Lac St. Croix 
Situated in the south of France, Lac St. Croix is an ideal spot for kayak and canoeing for lots of reasons. The lake was formed in 1975 by placing a dam in the river Verdon. The azure lake, of which only this color, (which is enough to attract tourists from all over the world), has sandy beaches and on this spot, the river Verdon is so quiet that you can paddle hundreds of meters without risks.
A good place to rent a canoe or kayak is at the town of Moustiers Saint-Marie, the place where the Verdon is located in Lac St. Croix. If you want to go on the water with kids then you can do it here; the current is weal and children can swim in the river or lake. If you love to engage in more activity, then the Verdon River is the place to go for you. This is located on the other side of Lac St. Croix. There are parts on the Verdon where you can as well peddle freewheeling, but those are for short pieces. 
Most of the water cannot be reached by a kayak or canoe as a result of risks. The Verdon is not water where one can quietly paddle and enjoy the setting, it is for the most part whitewater which makes it dangerous.
Brittany's Coastline 
Brittany's rich coastline has a lot to offer in terms of kayaking and canoeing opportunities. Take your time to enjoy your trip to this part of northwestern France. Usually, the west and north coasts offer a greater tidal range and stronger tidal flow while the southern coast provides calmer conditions.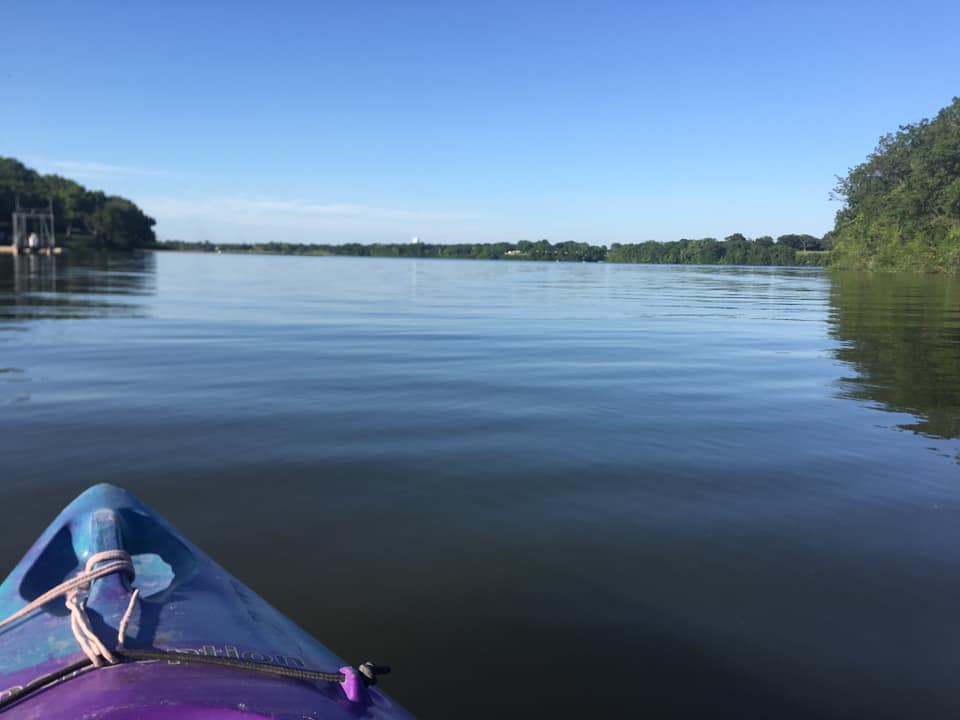 Along Brittany's coastline, is the Golfe du Morbihan. It is an expanse of water on the east side of the southern coast that is marked with islands. It is common for the tidal flow at the entrance to the Golfe to reach in excess of 8 knots as the full force of the Atlantic tidal floods in making for interesting current conditions, perfect for a strong kayaker but sometimes tough going even for the powerful inter-island ferries. 
Top Kayaking & Canoeing Spots in France – Summary
In France, you will find a wide variety of routes and scenic coastlines that are primed for kayaking and canoeing of all expertise. Do not miss out on a Kayaking & Canoeing experience on a visit to France.