While your definition of what makes for a great beach will largely depend on what you're looking for. Rugged and untouched, scenic coastlines, beach boardwalk shops or plenty of bikini-clad babes. There is certainly a beach in France that's just right for you. From the dramatic cliffs of Normandy beaches to the sandy playgrounds along the Mediterranean coast; France's shoreline is just as diverse as its interior.
Of course, going to the beach in France is largely a summertime activity. The beaches in France in August are packed not only with international tourists, but also French nationals enjoying their vacations. Because the weather in France can be unpredictable in the spring, you'll be best off hitting these beaches in the summer months.
Here Are Some Of The Best Beaches In France
Brittany Coast Beaches
After the French Riviera, the Brittany coast is the second-most popular beach destination in France. There is a beautiful mixture of white-sand beaches ideal for sunbathing and swimming as well as rocky bays and dramatic cliffs that make for a rough and gorgeous coastline. There are also many islands just off the coast of Brittany that are excellent for hiking as well as working on your tan.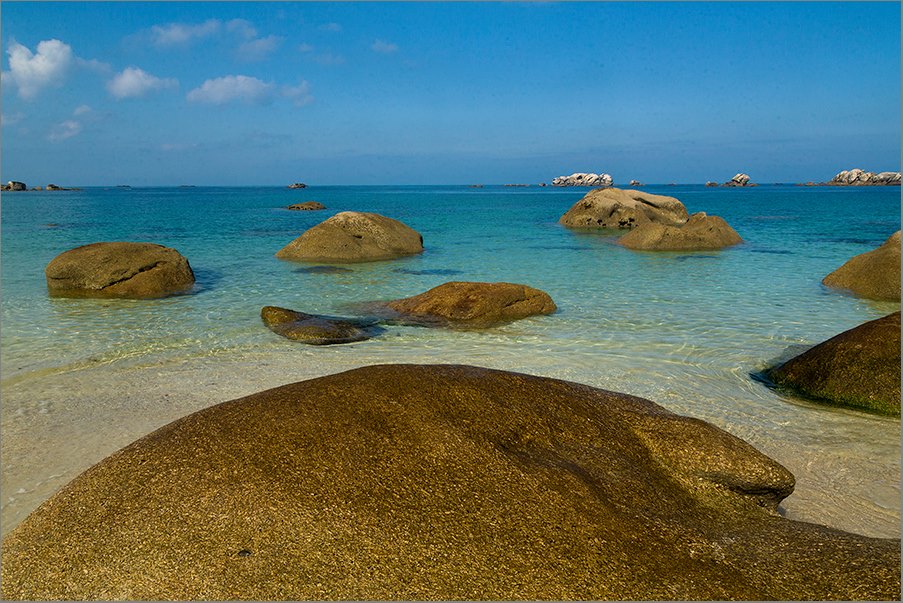 Quiberon
Quiberon is at the tip of a thin peninsula extending out into the Atlantic; it has a superb beach, and you can relive your childhood eating saltwater taffy from the boardwalk shops and freshly made waffles sprinkled with powdered sugar. The beach here is long and sandy, with a delightful boardwalk full of beach-resort sort of shops and restaurants. In addition, while the sandy beach is great for working on your tan and taking a dip, the Côte Sauvage is just a few kms away with rocky coastlines, cliffs, and coves that make for some fantastic photo ops.
La Baule
This is perhaps one of the most popular beach destinations in France and is mostly known for its immensely long, wide, white sand beach that stretches along the length of the Baie de la Baule. The town itself is hugely popular with both French national and international tourists who flock to this spot on the Guerande Peninsula every summer. The shoreline also features hotels, shops, restaurants, and such; while it is certainly not a beach where you'd go to get away from people, it is a real slice of French life that is a world away from Paris.
Belle-île
Located just off the coast from Quiberon via daily ferry services. It definitely lives up to its name of "beautiful island." It measures 17km x 9km and has a mixture of sharp cliffs and stunning beaches; the largest being called Les Grands Sables (the great sands). The island is well known across France and was a setting for a portion of Dumas' The Three Musketeers and The Man in the Iron Mask as well as for a series of impressionist paintings by Claude Monet in the late 19th century. While the island can be explored on a day trip, there are also a handful of hotels where guests can opt to stay overnight.
Normandy Coast Beaches
If you are a history buff, the beaches of Normandy are perhaps best known to you, as the landing point for the Allied Troops on D-Day during WWII in France. However, with large expanses of sand and massive cliffs marking almost the entirety of France's Normandy coast, there are lots of good beaches in this region.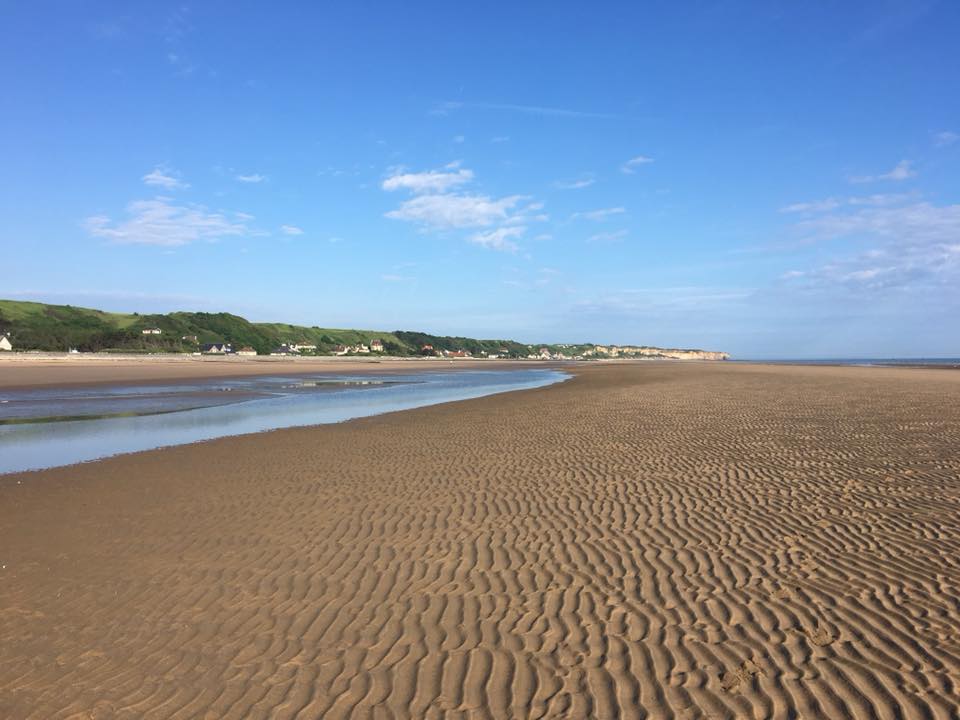 Trouville
Although not as famous or popular as its neighboring beach town of Deauville, this is a delightful seaside town located between two estuaries. Trouville offers a mix of great shops and restaurants in town and beaches that are less crowded than many of the neighboring resorts. There is also an excellent fish market here.
Dieppe
This coastal port city is more known for its fishing industry than its beaches, but the town does feature a very wide, large sandy beach flanked by cliffs. Dieppe has a rich fishing history, and the church at the top of the hill overlooking the quaint port town even has the names of all the fishermen lost at sea lining the walls. Although the best beach-going weather is definitely in the summer months, there is also a wonderful Herring Festival in Dieppe that happens every November.
Omaha Beach
This beach with a very American name is located next to the Normandy American Cemetery. A place with almost 19,000 burials of US servicemen and women, an educational addition to a trip here. There is a monument on the top of the dunes as well as a couple of former gun emplacements and some undercover trenches to explore. As it is not very easily accessible, it may not get too crowded during summer; it may be worth seeking out.
Les Salines
Located to the north of Granville, Les Salines is a popular beach separated from the inland town by a large expanse of sand dunes. On the other side of the dunes, travelers can find a few huts selling snacks and restrooms.
Southwestern France / Atlantic Coast Beaches
This southern stretch of the Atlantic coast of France not far from Spain is known as the surfing capital of France. It is home to many popular and very beautiful beach resorts towns.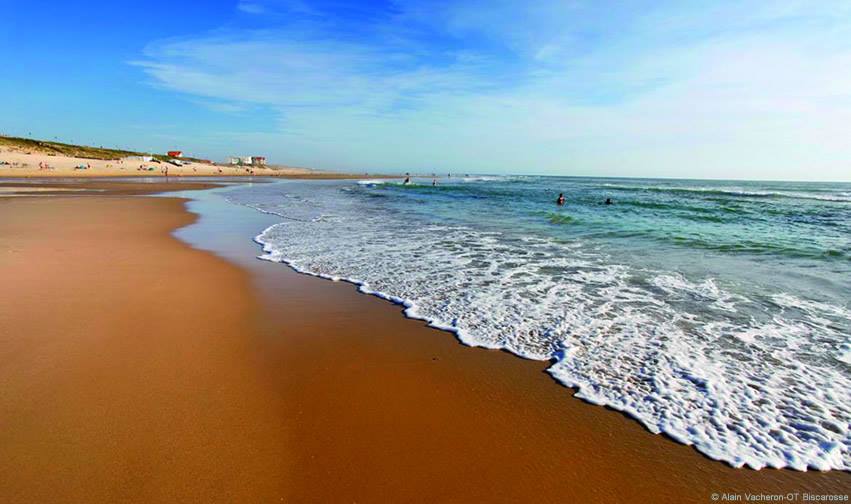 Biarritz
This famous beach resort located just steps away from the Spanish border attracts an international crowd of surfers as well as summer beachgoers. The "Grande Plage" (Big Beach) is where you can find plenty of sunbathers soaking up the sun in the shadow of two large casinos and many waterfront shops and restaurants. While the beach at Biarritz is fantastic, this town is most interesting for its unique combination of strong surfing culture, French and Spanish ties, and Basque influence. Because this town lies in the heart of Basque country, visitors will see Basque flags prevalent throughout town.
Cap Ferret
If you are looking for a charming, low-key, and still totally beautiful beach town in France, go no further than Cap Ferret, located on France's western Atlantic coast. While you may not find it in the pages of the tabloids, you will find a charming fishing village with small wooden houses, white and blue shutters, plenty of oyster farmers and fresh fish.
Saint-Jean-de-Luz
Hugging the Spanish border in the heart of Basque country is St-Jean-de-Luz, that's big on charm. Although fishing was once the main industry here, tourism has gotten more popular, though you'll find far fewer people and smaller crowds than in nearby Biarritz. Travelers will find themselves able to enjoy both sunbathing on the sand and exploring the quaint town-center here.
French Mediterranean Beaches
The beaches of the French Riviera have long been a vacation hot spot for international jet-setters and movie stars; and with good reason. With warm Mediterranean waters, beautiful seaside towns, plenty of sunshine and great beaches, it is no surprise that these beaches are some of the most famous in the world.
Cassis
Not to be confused with crème de Cassis, which a specialty liqueur made from black currants, Cassis is a picturesque port town that's an easy day trip from Marseille. Although not nearly as famous as its nearby Riviera neighbor, Cassis is just as delightful as St.-Tropez but without the $20 Cokes. Cassis is defined by white cliffs and sheltered inlets called Calanques.
Cap d'Agde
If you are looking to hit the nude beaches in France, then heading to Cap d'Agde isn't a bad idea. Although there is a lovely public beach and a popular resort town here, there is also a "village naturiste" located on the northeastern edge of town. Sometimes referred to as the "Naked City," nudity is legal and common throughout this entire resort—including in its restaurants, shops, and beaches. While you don't have to necessarily spend your time naked at this lovely beach, at least you know you have the option.
Sète
Sometimes referred to as the "Venice of Languedoc," this seaside resort town is the eastern starting point of the Canal du Midi, one of France's many popular canals with barge cruise vacations. Laced with canals and built around Mont St.-Clair, Sète is a great beach destination for the traveler looking for both sand and culture.
Saint-Maxime
Located on the gulf of St.-Tropez, Sainte Maxime is a beautiful beach resort town that is much more laid back and subdued than its glamorous neighbor. The beach here has also received a Blue Flag rating, meaning it has met stringent quality standards for bathers. There is also a convenient ferry service to St. Tropez for those who want a quieter place to stay but still want to check out what all the talk is about nearby.
Camargue
You probably didn't think flamingos lived in France. However, this beach area located close to Arles is home to more than 400 species of birds, including the flamingo. The protected area in the Rhône River delta (called the Bouches du Rhône or mouths of the Rhône) is Europe's largest river delta of brine lagoons (étangs), swamps and home to lots of flora and fauna. Because this is a protected area, there are also some lovely expanses of beach to be found that are far away from any boardwalk shops, hotels, and people.