Best Beaches in Northern France
When summer vacationers draw their plans and itineraries, the northern areas of France are usually overlooked. Nevertheless, the best beaches in northern France can rival other fine ones in the rest of Europe.
The beaches in northern France tend to have tides, but they are all sandy paradise that begs to be enjoyed. Several of them, unique in their own way, can allure different kinds of tourists. You should discover them if they are calling out to you too and get packing. These treasures on the northern coast of France should claim the top spot on your vacation list.
Here are Some of the Best and Most Beautiful Beaches in Northern France.
Berck-sur-Mer Beach, Hauts-de-France
For a town rich in culture and history, Berck-sur-Mer can impress with the breathtaking views of its surrounding area. Apart from its capacity to attract several collectors of fine arts who want to experience the amazing offer at the famous 'Berck School' of painters who flourished in the 1800s, this old but striking northern commune also charms families and beachgoers.
Situated in an ornithological nature reserve called the Marquenterre regional park, Berck-sur-Mer beach has a magical sandy beach that can accommodate a whole country in the summer months. The beach extends for miles up north, reaching Le Touquet. Just a strip of beach cafes mark the far-reaching beach. Not many places have such an atmosphere of remoteness that is fitting for a calm summer getaway.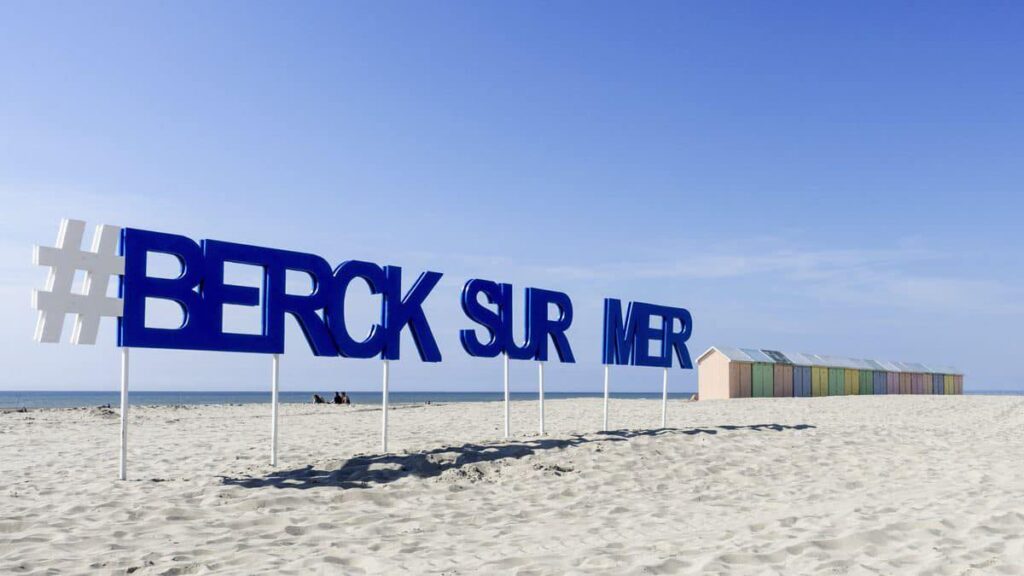 >>Also Read: Best Beaches in France
Equihen-Plage Beach, Hauts-de-France
Equihen-Plage is a broad sandy beach that is perfect for a splendid beach holiday. There is a gaping space that is never overcrowded, even in the thick of summertime. But when the high tide rolls in, beachgoers often gather around the edges of green hills that offer a phenomenal backdrop to an already incredible location. Go a little further up north, and you will reach the end of the very long Equihen-Plage beach, stretching from Berck-sur-Mer.
Baie d'Audierne Beach, Brittany
Apart from the warm, comfortable sand under one's feet that has made this place so charming, the sand's color matches that of surrounding dunes and low greenery, making this beach shimmer as though it is gold. If you choose to do another thing, you will be spoiled for choices as there are lots of natural features that will satisfy you. From cliffs and marshlands to ridges and the amazing Goyen tidal river, Baie d'Audierne beach deserves all the top reviews it gets.  
Audresselles Beach, Hauts-de-France
While an overwhelming number of beachgoers would not care much about what small coastal towns have to offer, they must do in this case. The town has white houses embellished with red shingles, and extensive farmlands are stretching in the background. And like most of the beaches in this area of France, the width of Audresselles beach is usually affected by tides. This is why seaweed is sometimes left behind, making the surrounding less beautiful.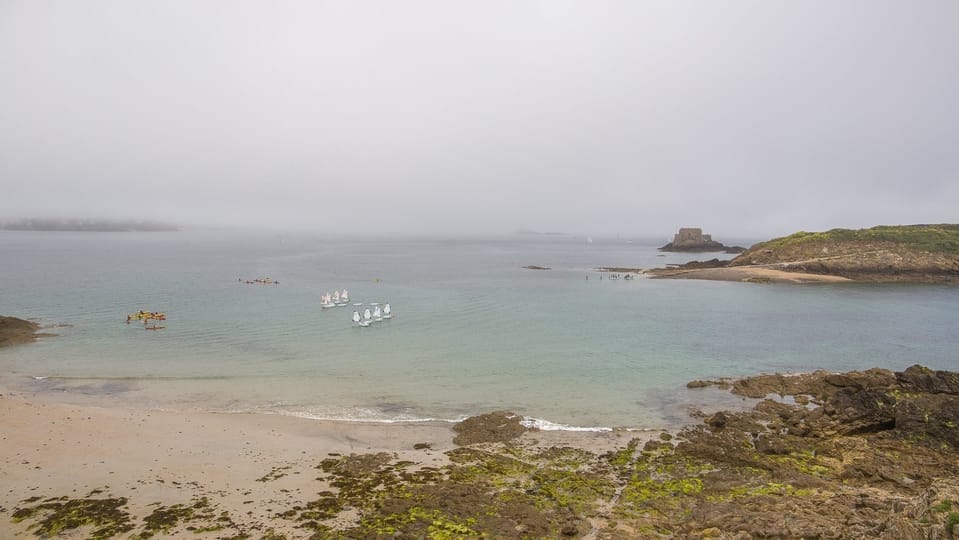 Le Touquet Paris-Plage Beach, Hauts-de-France
Situated in Hauts-de-France, an area with stunning natural features and lots of charms, Le Touquet also has a more vibrant setting for a younger crowd. As soon as you reach there and hear the music blasting from the several casinos, nightclubs, and pubs, you will hardly want any other adventurous vacation than this in northern France. Apart from that, you can relish the advantages of having lots of water sports to select from while there.
Plage de Meneham Beach, Brittany
Hauts-de-France boasts of many beaches, but Plage de Meneham has something different to offer. Instead of almost pristine beaches, the town of Meneham has an indeed striking sight of rocks jutting from both the water and beach. In addition, Plage de Meneham is sandy with no pebbles to ruin the softness, just these massive jagged rocks.
Merlimont Beach, Hauts-de-France
Tucked away from luxurious cities is a small and cozy town with one of northern France's most charming beaches called Merlimont in Hauts-de-France. This beach suits sand lovers and visitors with kids as it offers an exciting range of water sports. Also, visitors have a sense of safety since the beach is supervised by lifeguards throughout the summer season and on weekends in May.
Consequently, this petit piece of paradise offers not only relaxation and safety on sand but a bar too with the terrace on the beach where refreshments can be found. Meanwhile, the low tide is when you can find beautiful shells.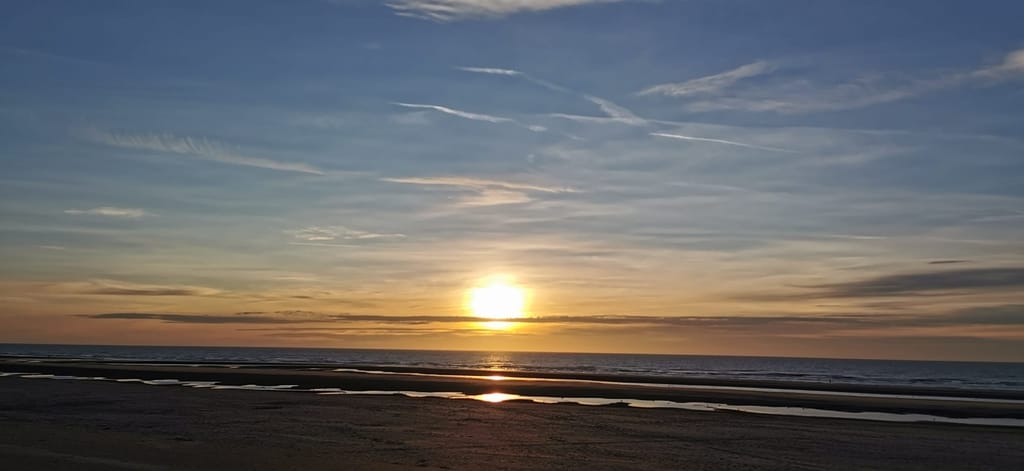 Cap Gris-Nez Beach, Hauts-de-France
Cap Gris-Nez beach might be the smallest part of Cap Gris-Nez, but it certainly is an astonishing one. There, you will be able to enjoy the sight of the sea before you and the surrounding high hills that offer a sea view more appealing than anything on Cote d'Azur. It is one of the reasons why a lot of visitors come to this incredible piece of land for exploratory missions that will require them to leave the beach and into the craggy surrounding areas. Furthermore, it is the closest any visitor will get from mainland Europe. 
St Cecile Plage Beach, Hauts-de-France
Hanging over beyond the beach are apartments and hotels where tourists can settle down before going to one of the priciest beaches in entire northern France. Akin to some other places on this list of best beaches in northern France, this place has small dunes beautifying the surroundings of the beach, ideal for groups of friends and families.
Wissant Beach, Hauts-de-France
In the summer, there are countless sports you can explore, like sailings and kite surfing which are the highlights of Wissant beach. Apart from sports, you will find some bars with scrumptious seafood and dainty wine diversity. While enjoying a glass of your favorite wine and relaxing close to the sea on the hot summer day, you can see 'le flobarts'- popular traditional fishing boats.
Fort-Mahon and Quend-Plage
At Fort-Mahon beach, there is no stopping you from having a splendid time either alone, with loved ones, or with friendly strangers. From kite-surfing, paddle-boarding, kayaking to sailing, with the addition of an 18-hole golf course, it will be hard not to be impressed here. A small coastal track will take you to Quend-Plage-Les-pins, the 15 km-long beach that is popular for sand-yachting and treetop adventures in the pine forest, pony rides, bird watching in the Marquenterre reserve bird, and walking with a donkey.
>>Also Read: Best Beaches in Normandy
Ambleteuse
Beside Les Deux Caps, Boulogne-sur-Mer, and its Nausicaa aquarium (Europe's largest), this laidback spit with a genuine French ambiance offers the unique experience of revealing your beach towel afoot its fort, the walls of which lie partly over by waves at the high end.
Malo les Bains and Bray Dunes
This beach is now a calm spot for remembrance, recognized for its role in the Bataille de Dunkerque. Families also like its shallow waters that are perfect for paddling and sunset walks along the dam around the restaurant's terraces. Meanwhile, the 10 km beach at Bray-Dunes is one of the great spots for sports-loving families and people who love sand-yachting, wind-surfing, kite-surfing, and longe-cote (sea-wading). 
Baie de Somme and La Maye
Not far from the active A16, the Bay of Somme is a paradise of fun and calm, with steam-train rides, bird-watching in the Marquenterre reserve, and foraging for edible plants. Plage de la Maye will surely give you a feeling that you are in another world when you visit. 
Normandy landing Beaches 
Widely known for the site of the D-Day landings, Normandy beaches played host to one of the continent's most crucial military events. As a result, the extended, sloping beaches are now a slightly eerie but fascinating reminder of the clash. 
Best Beaches in the North of France – Final Thoughts
On the pristine coast of northern France, families who love outdoor activities have so many options with its 190 km beaches spanning from Dunkirk's port to the Normandy border. There are also massive stretches with wild dunes to adorable gems with beach huts. Regardless of the one you choose, your children can stay safe in supervised swimming sections. Also, if you choose to stay in the area (I recommend eBooking because of its vast selection of hotels and great prices), you will have the chance to explore the magnificent area with some thrilling attractions.