Among the most eye-catching cities on the French Riviera, Antibes will always be one of them. Rightly so, it is the second-largest city after Nice in the south of France. Antibes offers several great things to do regardless of your vacation taste in cities and your disposition as a tourist. There, you will find incredible restaurants with Mediterranean cuisine, excellent luxury hotels with amazing views, some of the most gorgeous yachts in the region, and of course, brilliant beaches.
Here Are Some Of The Best Beaches in Antibes
Plage de la Gravette
Plage de la Gravette is an astonishing sand beach in the center of Antibes, close to Antibes Old Town. Unlike the other beaches on Cote d'Azur, this is one is a public beach and that is why entry is free. Plage de la Gravette beach might not have several facilities, but it has many showers for visitors' use. You will also find a public toilet close to the beach's entrance. However, to purchase a sandwich or bottle of water, you will need to trek to the city center. But since it is situated 5 minutes by foot, it is not stressful.
On the gates, there is a sign that says dogs are not allowed. But in winter, you will see people meandering around with their dogs. In the summer, Plage de la Gravette gets so crowded that finding a place to put your towel might be difficult. During this time, both tourists and locals with their families and friends enjoy the beach.
Another reason you should visit Plage de la Gravette is that its water is warmer and there are infrequent waves. It is not open to the sea by a breakwater, ultimately making the beach kid-friendly. In Antibes, the water temperature in August is 24 degrees. So you might consider swimming.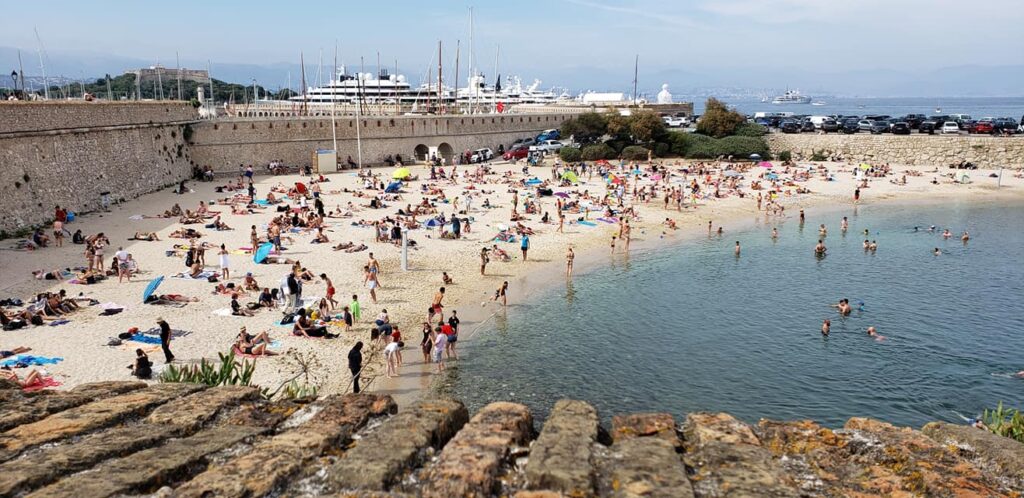 Ponteil Beach
Plage du Ponteil is the second biggest sandy beach in the city. It spans along the coastline in southern Antibes between Cap d'Antibes and Old Town. It is not a broad beach but certainly long enough. Also, it is the widest known beach among locals. Additionally, it is well furnished with nice facilities for visitors. You can also check out a food stall on the beach where you can get snacks and sandwiches. Also, there is a petit supermarket and restaurant where Italian cuisine is served. If you have more time to spare, indulge in seaside pleasures by enjoying a croissant and coffee close to boulangerie d'llete.
Plage de Salis 
This beach is a gorgeous little one with soft sand situated close to the Ponteil beach and at the start of the Cap d'Antibes. You will find free public toilets on the Sailing Club building's extreme side. There are open-air showers for visitors while dogs are not allowed, especially from mid-April to October 1. At night, the water can be terrible. Given its proximity to the Cap d'Antibes, it provides impeccable views for those who want to appreciate the surrounding. From there, you can see the city's marina and the pine-forested peninsula with its deluxe villas. 
Plage du Fort Carre 
It is a wide and long beach, situated almost outside of Antibes. But do not forget that it is a small town, so it might take as little as 20 minutes to reach Plage du Fort Carre from the Old Antibes on foot. Plage du Fort Carre is also a pebbly beach situated close to the road. Those who want to visit by car will find it convenient. There is the Fort Carre parking space, which is free. It is a 5-minute walk to the coast. 
You will see lots of locals parking their cars on the beach by the road's side because of enough space. While the coastline is wide, the beach is seldom crowded even though it is popular. Meanwhile, there are no chairs, umbrellas, or other equipment on Plage du Fort Carre. So do not forget to bring an umbrella when visiting. 
In the summertime, there is a stall where visitors can get soft drinks, beer, and ice cream. Items can be expensive here, and that is why locals usually take their food and drinks with them. In the case that you do not want a fridge bag, you can get cold drinks and snacks in front of the stall.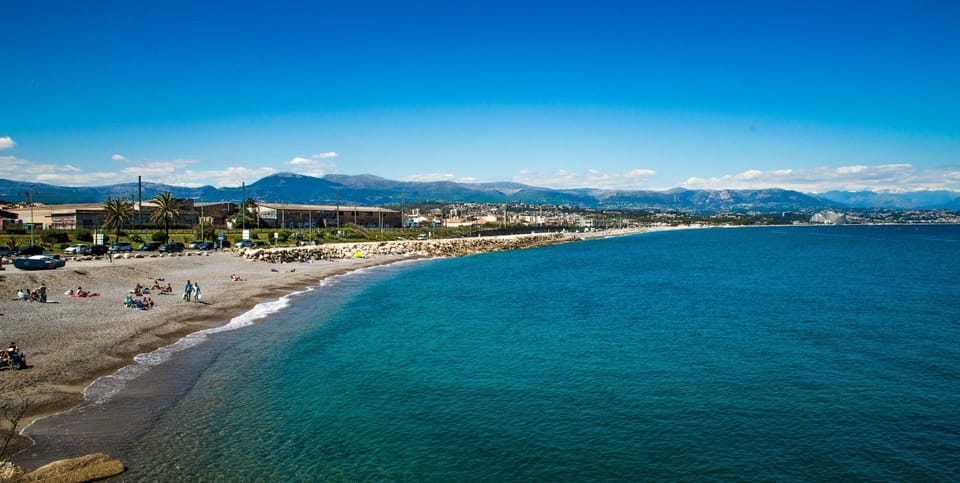 Port de l'Olivette Beach
Port de l'Olivette beach is one of the most picturesque beaches in the whole of Antibes. It is where tourists usually capture their happy moments on camera. The beach is often featured on tourist brochures and advertising platforms. This is because it has a charming view, and the flashy fishing boats anchored in blue water make up a brilliant scene.
For those who are looking to swim, they can go down to one of the several small beaches. The sand is coarse and a blend of rocks and sand. But the crystal clear water and sensational view are worth the small inconvenience. 
Plage de la Garoupe 
Plage de la Garoupe beach has an intriguing history. In the late Belle Epoque and the early Jazz Age, the French Riviera was regarded as a wintertime resort alone. But in the 1920s, a popular American socialite couple- the Murphys- purchased a villa on the Cap d'Antibes and spent several hours taking care of this beach just to attract their rich and famous friends in the summer. This plan worked well as the likes of Hemingway, Fitzgerald, and even Picasso, among others, attended fun-filled parties and enjoy the beautiful small beach the Murphys had prepared. 
As a worthy aside, Plage de la Garoupe has banned selfies, arguing that they are distractions to enjoying precious moments on the beach. Private beach clubs in the area close in late September/early October; therefore, Plage de la Garoupe bit stores up with a large amount of driftwood/seaweed in the winter storms. 
Plage de la Garoupe's location and setting are something to talk about. The views are resplendent, and when you look behind towards Nice across the Bay of Angels, you see the imposing Alps. It is also the jumping-off point to one of the most incredible coastal walks of the French Riviera, a rough stone track that leads to the craggy foreland to Millionaire's Bay.
Parking is easy here as there is enough space in the streets and around the beach, but the car park can be mighty busy in summer. Plage de la Garoupe is perfect for swimming, with nicer water quality than the beaches closer to the city. You will also find some rocks there, but it is mostly a cool sandy seabed.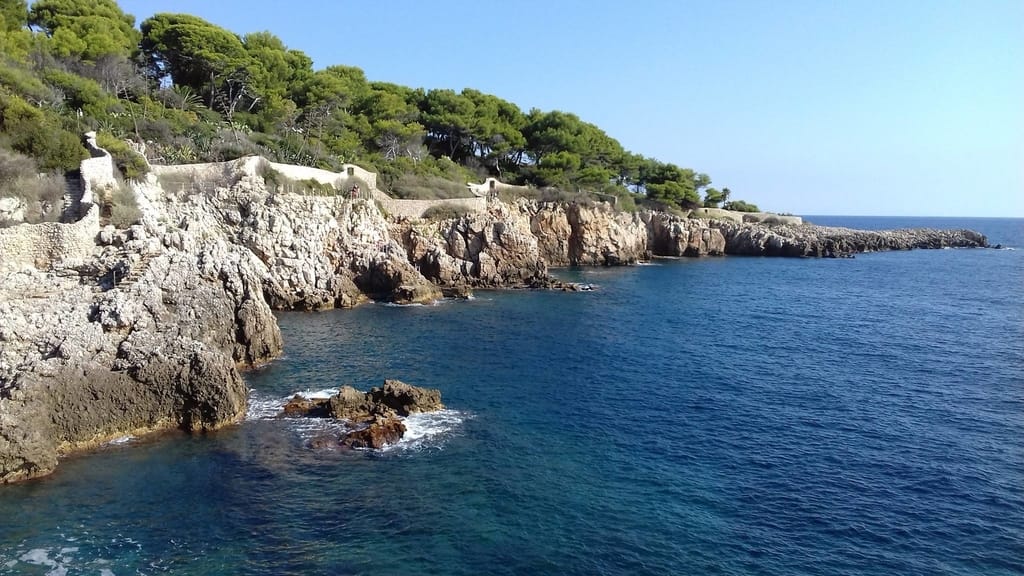 Plage de la Pierre au Tambour 
If what you want is absolute quiet, then proceed to the petit bay closest to the port, Plage de l'Amiral. There are no watersports, no restaurants, no facilities, just tranquility. No wonder the older crowd who do not mind watching the boats visit here and go from the small harbor and take a calm swim in the quiet cove that is sheltered on both sides by rock walls. You can take a delightful stroll in the area to see and visit the port's restaurants and shops there.
The part of Plage de la Pierre au Tambour that is closest to the port is calmer and quieter than the watersports section. The beach boasts of some restaurants on the shore and the road to Antibes. Plage de la Pierre au Tambour is a pebble beach; nevertheless, in some sections, it feels more like shale rather than the big pebbles that are popular on the Cote d'Azur. Jetskiing, watersports, parasailing, kayaking, and banana frequent this beach. 
Final Thoughts
A playground of the rich, fine white sand and impressive views back over the Alps as well as the Old Town, beaches in Antibes will always be a pride of southern France. It is not surprising that they get very busy every summer with festivities and other attractions. If you are looking to visit with your pets, ensure that you know the beach's policy on animals to save you a lot of stress. Some beaches have beach clubs, so do not be too much in a hurry that you forget to properly have fun in Antibes.
Pro Tip: If you are from another country and planning a road trip in France then you need to get an IDP on International Driver's Association.