The super region of Normandy houses close to 650 km of striking coastline. In addition to this, its ivory cliffs, sandy shores, and spectacular events that these waters witnessed in history all cumulate to beaches that will give the ones in southern France a run for their money. Some of them are wild retreats, quiet, while others are more active with a range of highlights and seafood close by.
Whether you are planning to clamber in and out of rock pools, take a walk along the yellowish sands, sunbathe in a magnificent broad bay, or an eye-catching sheltered cover, there is something special for you. 
Here Are My Picks For The Best Beaches in Normandy, France.
Arromanches-les-Bains
 Arromanches-Les-Bains is a port town and was a significant locale in the June 6, 1944, D-Day landings. To marks its role, visitors will discover here the Landing Museum, which takes guests through the invasion campaign of Normandy and Arromanches 360. A round cinema that looks over Mulberry Harbor shows a film with almost unseen WW2 footage. Apart from its poignant history, its vast expanse of the sandy beach gives time to savor the sun or relax in the water after a moving history lesson.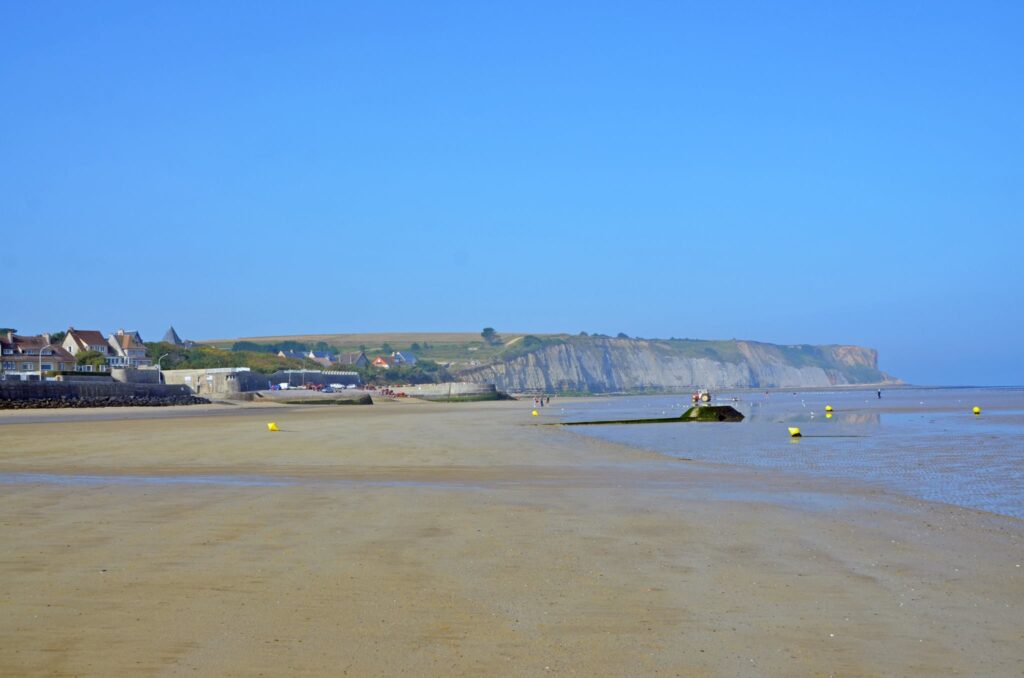 >>Also Read: Best Beaches near Nantes
Ravenoville 
Ravenoville, a small town, is a home to around 270 residents. Ravenoville-Plage and Ravenoille-Bourg both make up this place. The former is recognized for its beach and the flash pastel fishing abodes that are along its shores. The commune also played a significant role in the WW2 events; the neighboring Sainte-Mere-Eglise was the first freed French commune. Its location on Utah beach is the section where the American soldiers were landing in the Invasion. Consequently, it is a village of natural attractions, spectacular architecture, and deep history.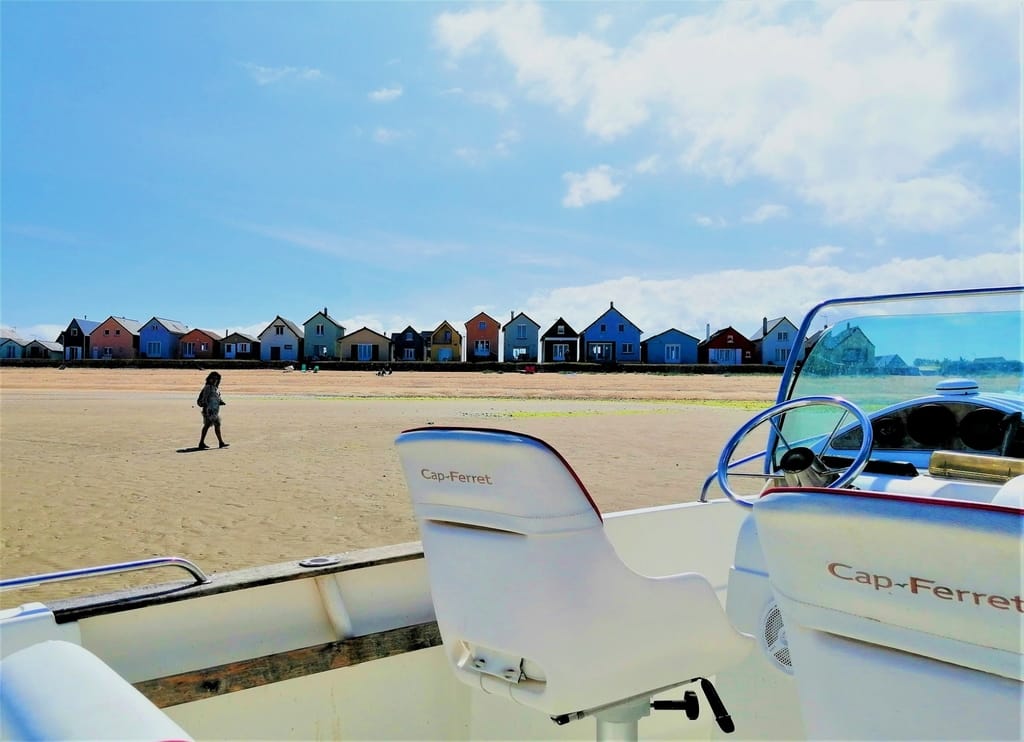 >>Also Read: Best Beaches near Bordeaux
Etretat
For many tourists, Etretat is the best beach in Normandy. Its setting is incredible as the large limestone cliffs that span close to 4 km around the coast makes this place a popular choice. As soon as you witness it yourself, you will know why. You will not get an actual beach vibe with fine sand and comfortable sunbathing; however, the coastline is a splendid picnic spot.
Additionally, there are about 3 arches (naturally occurring) made of limestone and a pointed rock arrangement called L'Aiguille that translates to 'needle' in English. It will be recalled that Impressionist geniuses like Monet and Manet painted Etretat cliffs by inspiration. Authors like Alexandre Dumas and Guy de Maupassant were also inspired to scribe stories set here. Lovers of art and literature would definitely love it here as this Normandy beach is perfect for them.
Deauville 
For many Parisians, Deauville is a hot spot in the summertime. This is fitting given Deauville's closeness to Paris than any other beach in Normandy. Jump on the train from the city, and be at the seaside in about an hour.
Deauville is regarded as a resort town, and it is usually called the Cote d'Azur of the north. It is replete with high-end restaurants, shopping, and cafes that are great for a weekend getaway. When you get bored of lounging by the water, take your things and see Les Planches, a promenade that takes you back in time. The promenade was made in the 1920s so that women could enjoy the beach without worrying about staining their long apparel.
Trouville 
This beach is situated close to Deauville and was made popular in the late 19th-century by Napoleon III. Many beach cabanas are long Trouville, as well as beautiful homes along the boardwalk. Monet loved this town, so as an art lover looking for inspiration, you might want to do it like the geniuses of old and check here out.
You will find tennis courts and a swimming pool close to the beach. Trouville is known to be less fancy than Deauville, and more laidback, but it is absolutely perfect for some calm.
Plage du Plat Gousset, Granville.
Granville is the place to be if you are a seafood buff. There is also a seaside salt-water swimming pool here, which is ideal for families looking to go to the sea for some swimming but also want to watch their kids. Families do love Granville for its sailing school, too, which focuses on teaching kids water sports.
Apart from the seafood and beaches, there are some rich museums worth seeing in Granville. The Museum of Modern Art, a museum on Christian Dior, and a museum on the history of the town are some of those. If you still have more time on your hands in Granville, jump on a ferry to an archipelago just off Iles Chausey. Several inlets deserve checking out on a day trip.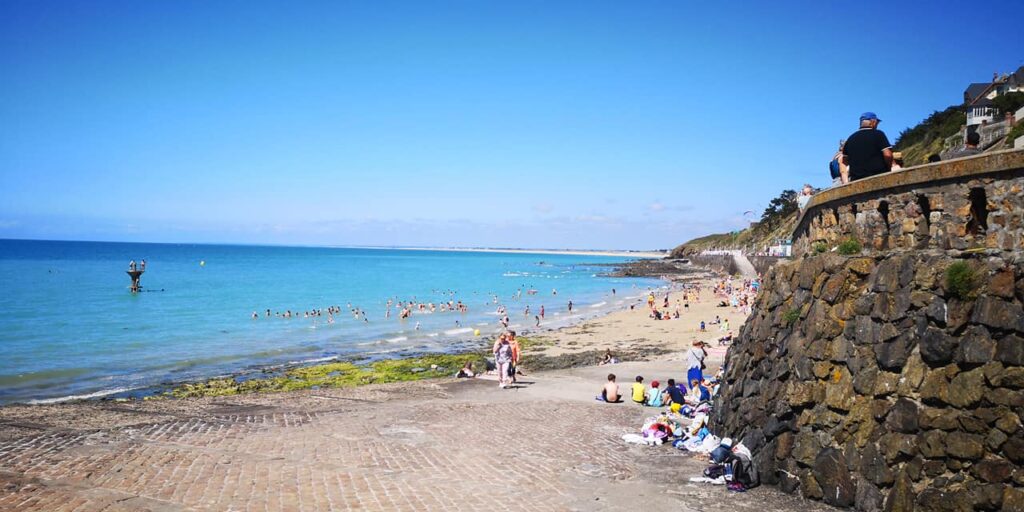 >>Also Read: Best Beaches Near Montpellier
Cabourg
Followers of the French author Marcel Proust might be familiar with that name. His masterpiece In Search of Lost Time is set in Blabec- the fictional town of which he based on the Normandy town.
Not only did Proust center his fictional town on Cabourg, but he also wrote many parts of the book itself while holidaying there every summer between 1907 and 1914. The town of Cabourg would later pay the author some respect by naming a promenade after him, the Promenade Marcel Proust, which stretches in the Grand-Hotel where the author lodged. Apart from the stunning place for walking into the author's world, Cabourg has sandy and quiet inviting beaches.
Barneville-Carteret 
Barneville-Carteret perches on the Contentin Peninsula's west coast in the Manche area. For a long time, it has been the choicest destination for Normans looking to spend vacations close home. That is why you will see several vacation campsites and rentals close to its shores. There are lots of things to do, including rowing, sailing, horseback riding, and golfing. Also, it is a bubbling fishing port with ferry departures to the Channel Islands.
Fecamp
Fecamp's striking features on the Alabaster Coast are its pebble stone beaches and the ivory cliffs that touch its shores. Reaching more than 90 m in height, the cliffs are at their tallest here. They all add to the scintillating landscape. You can navigate the waters here by kayak or try windsurfing, a popular Norman activity. Private lessons and rentals are available.
Iles Chausey
This is a group of islands off Granville's coast. In the low tide, there are about 365 inlets, reducing to 65 in high tide. You can reach the Grand Ile- the major island- from Granville, and it takes about an hour by boat. A hotel can be seen on the island to host visitors who want to pass the night, along with some shops and restaurants. This place is also home to several fauna and flora species.

Final Thoughts
Most of the beaches I have featured in the post are summer spots, but they can be peaceful and quiet in the wintertime. If you are in Paris or plan to travel there, you can take a worthy break and escape the fast-paced city life in the region of Normandy. These beaches are some of the best in the region. While a lot of leisure park and family-friendly beaches in Normandy are monitored by lifeguards in the summer and holidays throughout the year, ensure that you look out for the flags; so you know the nearest lifeguard stations for a safe swim with the children.