Beautiful and modern-Mediterranean, Montpellier in southern France is an extraordinary tourist destination with its deep culture and impressive landmarks. I hope that this Montpellier Travel Guide will make your vacation there just a little better. The city is less than three hours from Barcelona and Italy, and just 11 kilometers from the Mediterranean Sea. With its southern feel, Montpellier ranks high among the most beautiful European cities to go on vacation.
On a typical day in the city, you will find exciting cafes terraces crowded with people having a drink and enjoying the city's lively spirit. In truth, Montpellier always attracted artists. Artists on its streets are a common sight as you will observe when you navigate the city. And if you haven't heard, a trip to Montpellier for sunbathing is a thing. In a year, the city experiences about 300 sunny days. 
Being an innovative city, it has contributed immensely to France in diverse ways. Montpellier is dubbed the city of medicine as it has introduced cutting-edge inventions and has particularly high research activities. In addition, with a deep historical and architectural heritage, there is almost nothing spectacular you will not see in Montpellier. 
As a testimony to its cultural credentials, Montpellier is the host of significant events like FISE (International extreme sports festival), dance festivals, Tour de France cycling competition, Bazille painting exhibition, and much more. The city is beyond a tourist spot to be seen, it must be experienced for all its goodness.
Here Is A Comprehensive Guide To Montpellier
Visit the Old Town
Pass the crooked streets of Montpellier's old town and the sensational little squares you bump into, like the places de la Canourgue and St Roch. Akin to many old towns, Montpellier has undergone several rebuildings, and you will see the incredible 17th and 18th-century mansions scattered on the street.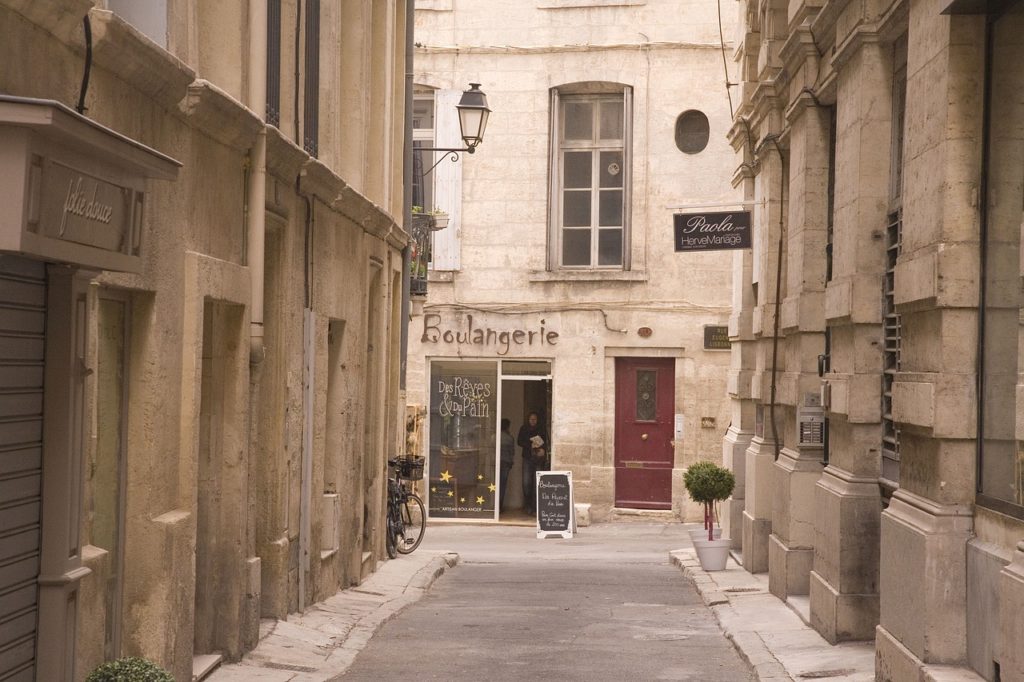 On summer evenings, when its time to dine outdoors, you will see students lined up in the bars at Place Jean-Jaures and Place du Marche aux Fleurs for some great time. Beyond the Old Town is Place de la Comedie, a new area lined with cafes and shops. While you will see at one of its end the gallant 19th-century Opera, the other end connects the Esplanade, a place for strolling and finally to the Corum concert hall.
Take a Summer Stroll at La Promenade Royale du Peyrou
This gorgeous spot has formal gardens that look over Montpellier and out to the impressive Cévennes parklands. Fruit and vegetable markets display the splendor brightness and fragrance of Southern France admixture, at one end. And you have the opportunity to purchase unique gifts and artifacts at a big Saturday flea market close by.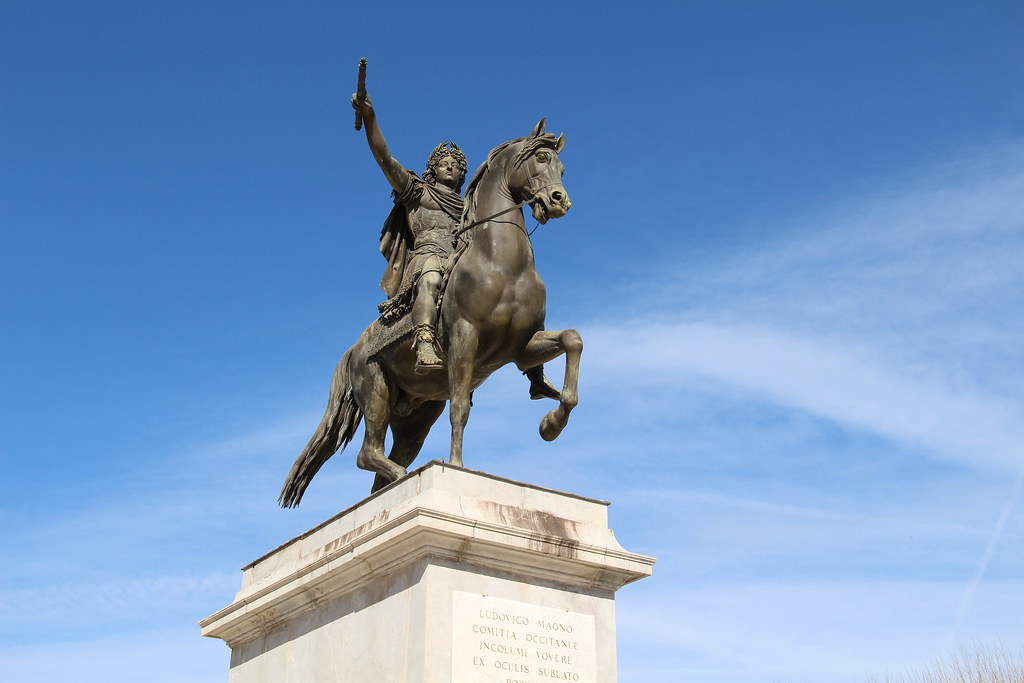 In addition, there are many intricate details you will find. Like the statue of Louis XIV, which is from 1828, replacing an earlier version that the French melted down to make cannons. It shows him on horseback stretching his arm towards Spain.
Louis XIV's pride at the Arc de Triomphe (Porte du Peyrou)
The Sun King, Louis XIV as Hercules, stands at Montpellier's end, reminding inhabitants of the French great ruler's victories. The majestic entryway was crafted on the Porte Saint-Denis in Paris and finished in 1693. French history enthusiasts will find the Triumphal Arch amusing as they get unhindered access to Louis XIV's era. They will also have the chance to look into the arch's inscriptions and reliefs, that narrates, albeit one-sided, the story of major events in the king's reign.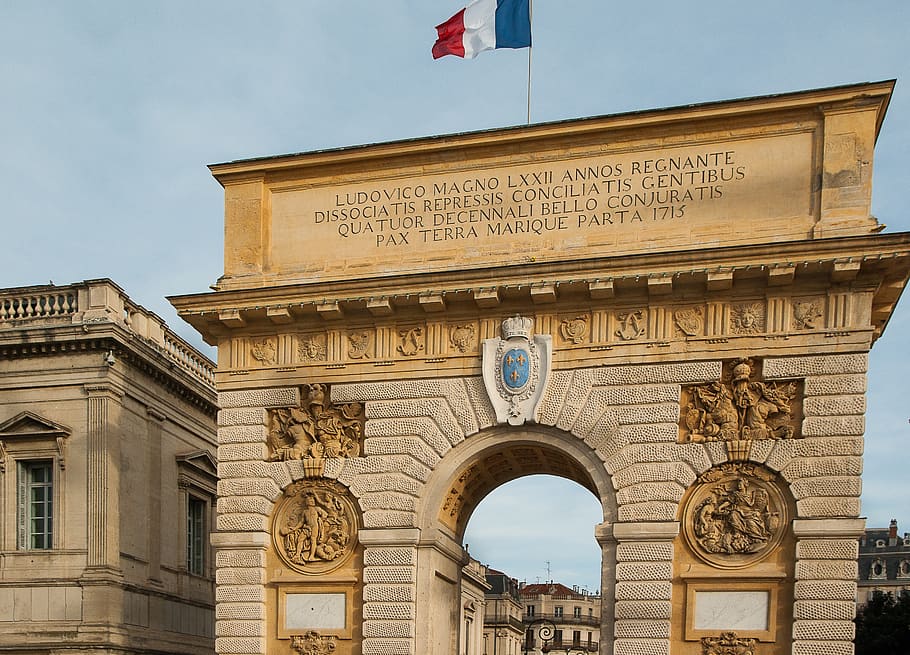 There is also the Capture of Namur from the Nine Year's War, with a figure representing the Netherlands bowing in deference to the king. You will see a relief displaying the constriction of the Canal des Deux Mers, a gigantic engineering project that linked the Bay of Biscay with the Mediterranean in the 17th-century. 
Be Enticed by the Arts at Pavillon Populaire
In an imposing spot on the Esplanade Charles de Gaulle is a ravishing building built at the end of the 19th-century. For more than a century, it has been the site of all sorts of public exhibitions, but in the 1990s, it was dedicated to great temporary exhibitions of photography, put on for free. 
At the Pavillon Populaire, there a three exhibitions a year, displaying the most revered 20th-century photographers like Brassaï, Bernard Plossu or Jakob Tuggener. After a visit to this spot, you will fall in love with arts and designs all over again. 
Greet Nature at Montpellier Zoological Park
How about a trip to the zoo to see nature's engrossing diversity? It was established in 1964 and bordered by a nature reserve on the rough banks of the Lez River. The Montpellier Zoological Park is one of the city's landmarks. Henri de Lunaret, who owned the Hôtel des Trésoriers, the ownership of the historic estate where Montpellier's zoo is set. He bequeathed the land to the city as long as it would have a charitable purpose.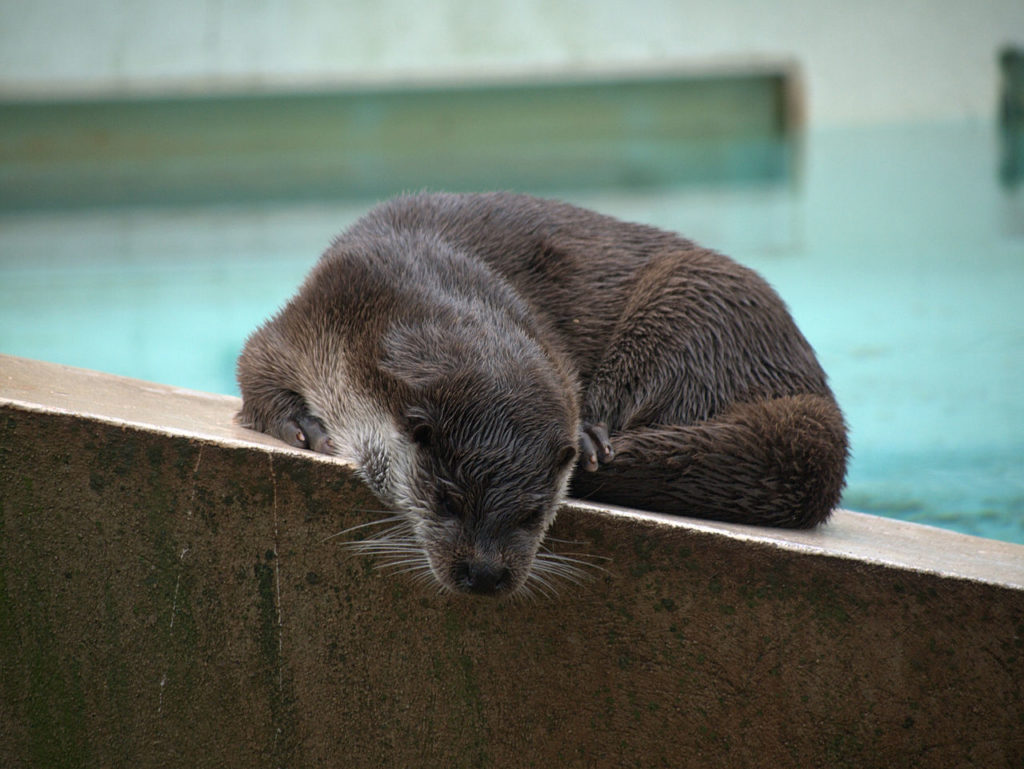 In the zoo, there are over 750 animals from 140 species, including giraffes, white rhinos, Syrian brown bears, cheetahs, and an impressive aquarium. Enclosures are in six different "biozones", blending habitats from around the world.
Step Into the Fantastic Fabre Museum 
By now, you will have observed that the city of Marseille is an art-inclined city. This is also evident as locals invest in arts and cultural causes. Little wonder the artists from around the city helped turn the fantastic Fabre Museum into a massive art attraction, commencing with François-Xavier Fabre, whose donation in the 1820s led to its foundation.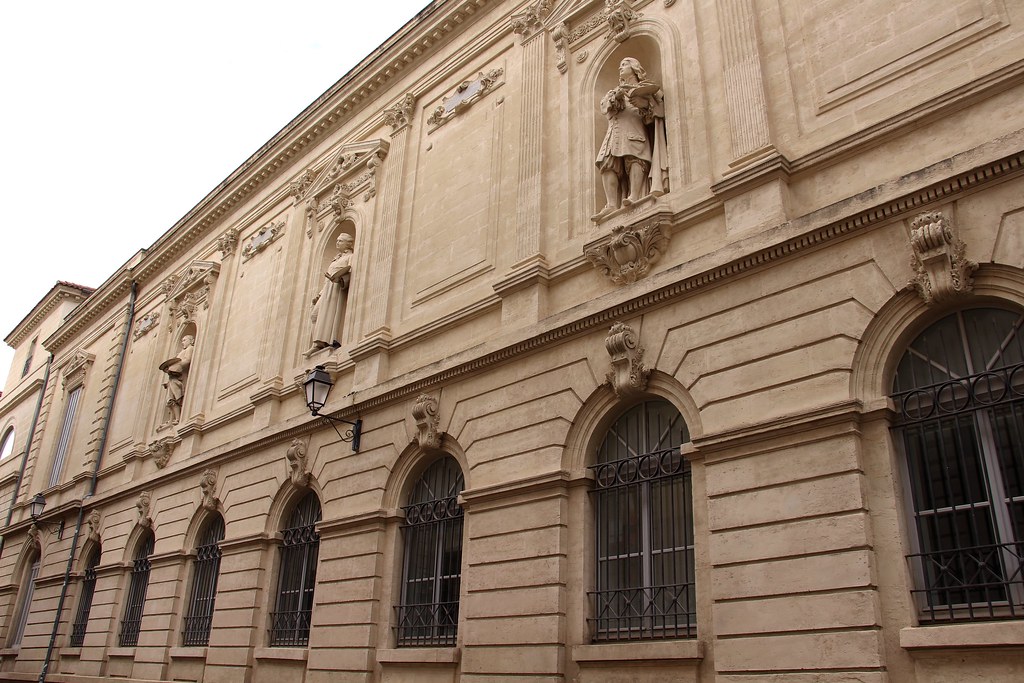 Since then, the collection has spiked to over 800 artworks, donated by names like Frédéric Bazille later that century, and Pierre Soulages more recently. From Rubens to Veronese to Rigaud to Zurbarán, the museum's paintings and sculptures are displayed in chronological order. Step into the glorious art fortress to see magnificent baroque for your pleasure. 
Catch the Urban Vibe at the Odysseum
Do not pass on the chance to socialize with locals. And who knows? That might be the highlight of your trip to Montpellier. The Odysseum is an open-aired leisure and vibrant commercial hub. At this lively spot, you will find restaurants, department stores, as well as leisure centers. You can take tram No.1 to get there. The area is situated in just the city of Montpellier. Getting in, there are an animal park and aquarium mare nostrum that you can visit. And for the adventure-seeking ones, the rock wall at the Altissimo Montpellier Odysseum is set to be engaged.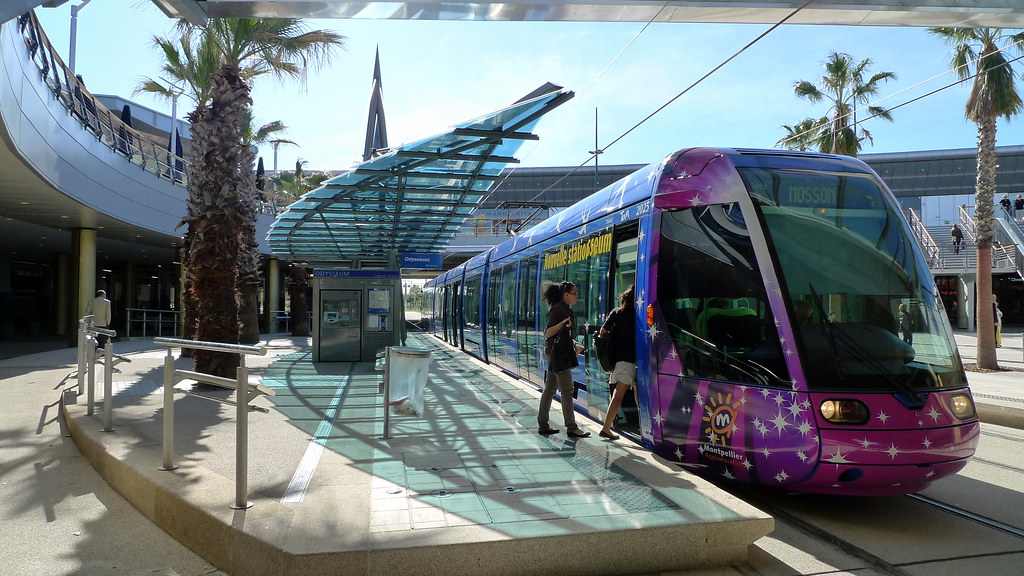 When to Visit Montpellier 
Prosperous and blessed, Montpellier enjoys a Mediterranean climate and an abundant cultural heritage. 
Artists are not the only group that finds the city irresistible; students and other professionals love the city as much too. While you will have the opportunity to see its neighborhoods, monuments, tourist destinations, and nearby cities at any time throughout the year; summer and fall are the best time to visit.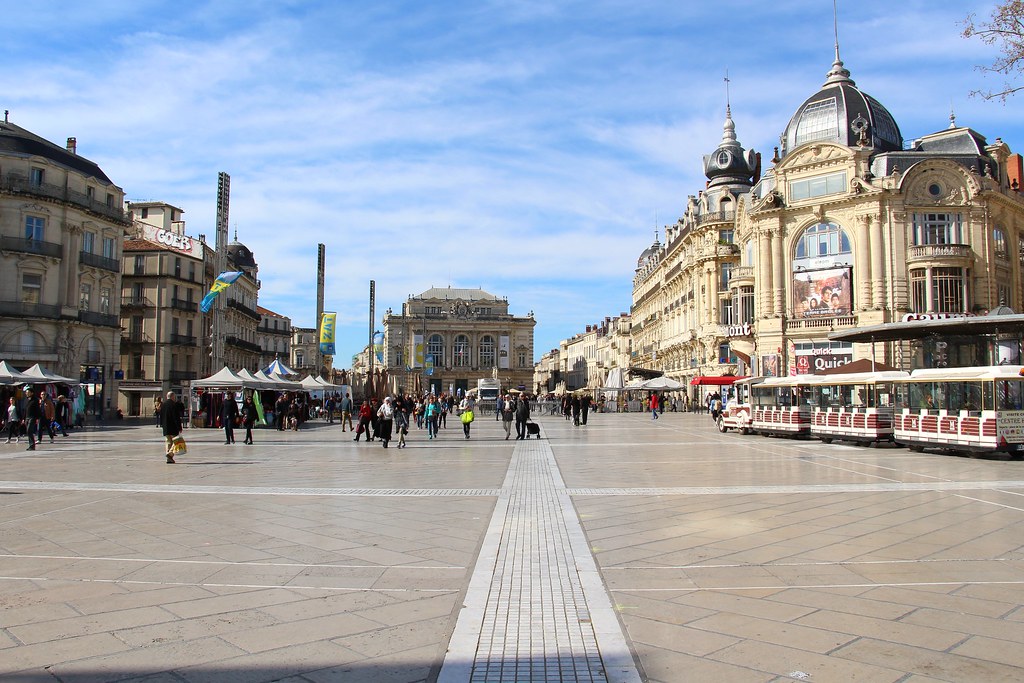 Summer
In summer, you can enjoy some sun, and the beaches close by like Palavas-Les-Flots or Villeneuve-Les Maguelone; which are located about 10 km southwest of Montpellier. This is also a great time to see the city's inland and behold their magnificence. Social life is leading here. The city hosts Summer Festivals which takes place every Saturday evening throughout summer and showcases the area's affluence. It also brings support to the wine-making industry.
You and friends can attend musical parties with dances, tastings, and a night-time market. The event takes place on the Esplanade Charles de Gaulle, and you will have the opportunity to take a guided tour, if you like, of the city's historic center. If you take a tour, it lasts for about an hour and a half. 
Fall
Visiting in the fall is also a good time since the city will be calmer. You can visit its neighborhoods and its surroundings more easily where you will see a diverse landscape with pleasant temperatures. And you might be lucky to be around for the International Guitar Festival. It is a famous music festival that Montpellier hosts every year in the fall. The event displays the guitar in all its forms and mastery during this meetup. 
It promises to create an original and electric atmosphere with top guns in music and up-and-coming artists. And lasting a day in September, the 2+2=5 artistic event gathers up-and-coming artists from different genres to celebrate music. Do not miss the chance to see the next superstar. 
Transportation in Montpellier 
The largest section of the city center is a pedestrian area that is not accessible to vehicles except during certain hours. We suggest that you leave your vehicle in one of the parking lots within the city and take public transportation. The public transport is managed by the TAM (Transportation for the Urban Area of Montpellier) network that offers different services, including the tram, bikes, and bus. 
Tramway and Buses
In Montpellier, there are four tram lines that run from 4:30 am to 1:30 am (2:30 am on Friday and Saturday nights) every day of the year (except May 1st). Popular artists that include Christian Lacroix designed the trams. Thanks to the 84 stations serviced by the tram and four lines, you can get to wherever you are going on time. You can access the place de la Comedie, the popular tourist attraction, through line 2 and the SNCF station, Montpellier Saint-Roch through line 1. 
There is the minibus that handles late-night travel to the urban center's different communes. Note that during summer, on Thursdays to Saturdays, the TAM network offers a bus service called Amigo, for people who love to move at night. 
Car
If you are considering renting a car, you might want to rethink that. Driving around Montpellier is difficult, but you will get to leave your car in the exterior area of the city's center. More so, the TAM network offers many parking lots, including seven that are located downtown with different services. Also, many taxis are available for long trips, short ones, or visiting Montpellier and its surroundings. However, taxis can be expensive. Madulauto, a car-sharing service has also been created by the TAM network to ease movement at any time of the day. 
Bicycles
Cycling around Montpellier can be a cracking experience. That is why Vélomagg, a service for everyone for all needs, was created. These self-service bikes are available throughout the year, and you will have access to about 51 bike stations scattered across the big city. In addition, you can take the bike directly from the terminal with your debit or credit card. 
Train
The Montpellier Saint-Roch train station serves the cities on the TER lines like Nimes and Narbonne. Intercity trains leaving from this station offer connections to the regions (Midi-Pyrenees and Provence-Alpes-Cote d'Azur) as well as to Luxembourg, Strasbourg, and Portbou in Spain.
Plane
The Montpellier Mediterranee Airport is located 10 minutes from the center of the city, and you can get there by taxi. An airport shuttle (line 20) is readily available at the Place de L'Europe stop on tramline 1 in the direction of Odysseum. It will take you straight to the airport in just a quarter of an hour. The trip is free for kids under 5, and a single shuttle ticket is very cheap. 
Montpellier Travel Blog – Conclusion
Montpellier is an exciting city to visit when next you will be in France. It is beautiful and an architectural treat with a lot of history. The city is full of boutiques and sidewalk cafes that will catch your attention each time you walk by. Beautiful and enticing, it attracts people from all walks of life. People say that Montpellier rivals Toulouse as the most thriving city of Southern France and thousands of students keep the city young and vibrant. It is a flourishing city for tourists as well.