Best Parks to Go For a Run in Paris
One of the coolest ways to discover Paris is on foot and by running as well. With these, you get to see the beautiful French capital from a view similar to that of a local. What is more, there is a wide range of spots, far from the noise and bustle of city traffic, to see the city's iconic monuments, riverbanks, secret passageways, parks, and canals. 
Whether or not you are an experienced runner, there is always something special for you. Paris is a great playground for runners, especially when you are conversant with places to avoid congestion, stoplights, and pedestrians. The city's numerous gardens and parks are safe: the Parc Montsouris, Jardin des Plantes, the Parc Monceau, Parc de Bercy, and the Jardin du Luxembourg.
These are not the only runner-friendly places to go. Some will lead you past iconic buildings, while others will show you Paris' less popular hidden angles. So get your sneakers ready for some of the city's best parks to run.
>>Also Read: Best Bike Routes Around Paris
Here Are Some Of The Best Places Where to Can Go For A Run in Paris
The Parc des Buttes Chaumont
Located in the north of the City of Lights, Parc des Buttes Chaumont is an ideal place for some runs. This place will definitely set your heart palpitating. Every athletic challenge is offered in a terrific setting where different people gather for some fresh air. The major part of this place spans about 2 km. Before visiting, ensure you check for opening and closing hours.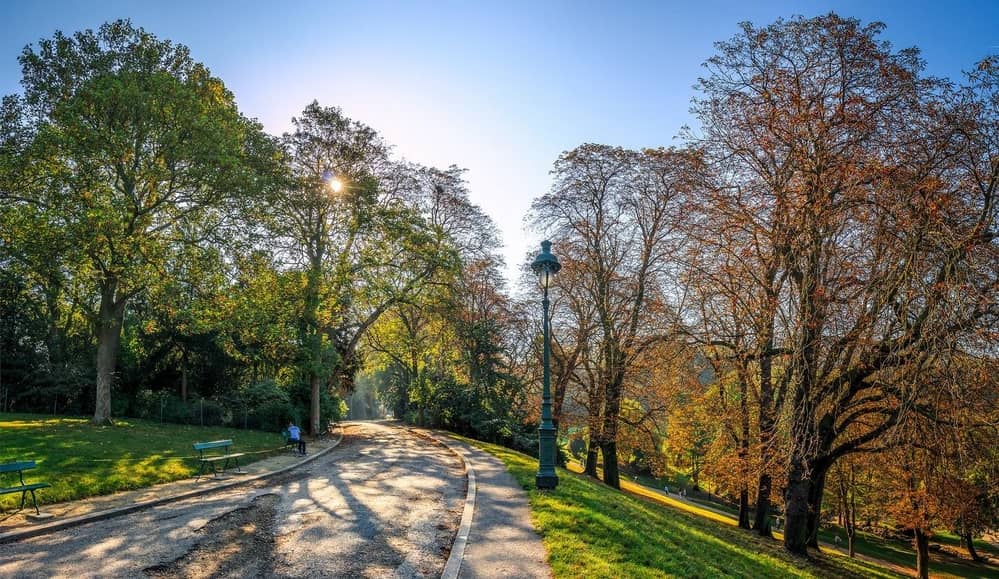 >>Also Read: Best Pet-Friendly Parks In Paris
The Bois de Boulogne (West) and the Bois de Vincennes (East) 
Bois de Boulogne and Bois de Vincennes offer a decent taste of countryside central Paris. The parks are nice places to run through nature between lakes and vegetation, with a great buffet of tree-lined passages for running to meet all skill levels.
At the lakes, you will also find many athletic courses. If you are looking to take your running skills up a notch, a visit to Bois de Boulogne and the Bois de Vincennes will afford you that. As a tip, the Bois Boulogne two main lakes have a perimeter of 2.5km and 1km. In the Bois de Vincennes, the Lac Daumesnil has a 2km perimeter. The good news here is that there are no opening or closing hours. 
The Banks of Seine 
The Seine River is an impressive river that is quite known for many things among tourists. Part of its illustrious reputation is an incredible spot for running. For a long while now, the river's banks have not been opened to vehicular traffic. But the River Gauche and River Droite are pleasant destinations for runners and pedestrians.
To give you some perspective, running here is moving along a UNESCO World Heritage Site, as you discover some of Paris; most elegant monuments. That is indeed special! While there are no opening hours, the distance between the Pont de l'Alma and the Louvre museum is about 2.5km.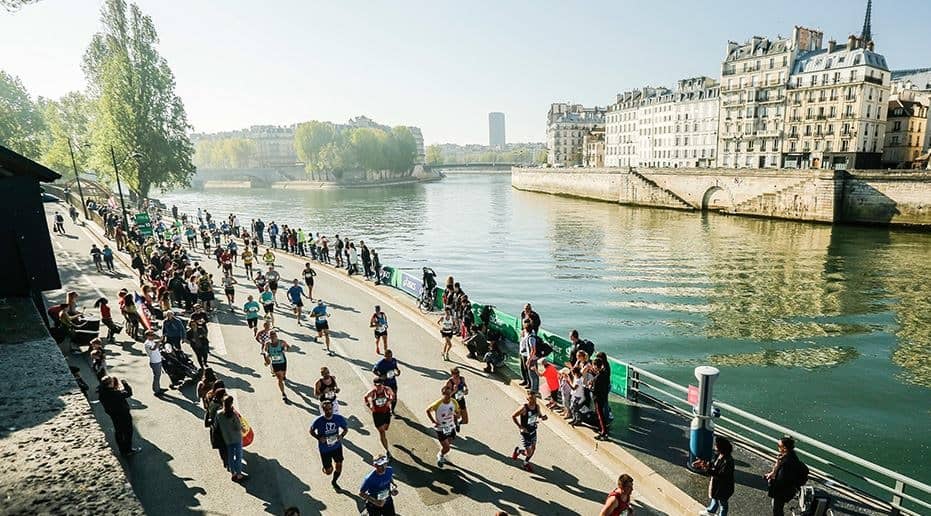 The Coulée Verte Renée-Dumont (East) 
This plant-filled promenade is the city's best-kept secrets, and it trails Paris' old rail lines from Opéra Bastille to the entrance of Bois de Vincennes. Get through the gardens and tunnels just seven meters below the grounds. Though you are in the middle of the city, one is bound to feel incredibly comfortable along this idyllically rustic path.
Champ de Mars and the Stade Emile Anthoine
Close to the Eiffel Tower, this place offers you astonishing views of the French capital as you run through the popular paths of the Champs de Mars. There is the Emile Anthoine athletic center too, it provides a vantage view of one Paris' breathtaking monuments. Champ de Mars' perimeter is about 2km, and the Emile Anthoine's is about 350m, with several other free athletic stadia in the city. 
The Jardin des Tuileries
This is a genuine small paradise for runners with phenomenal settings and flat land. Right from the Place de la Concorde to the Musée du Louvre, the trail is beautified with stunning pools, flowerbeds, and statues. Run like a royal in its 2,5km round-trip between Concorde and the Louvre.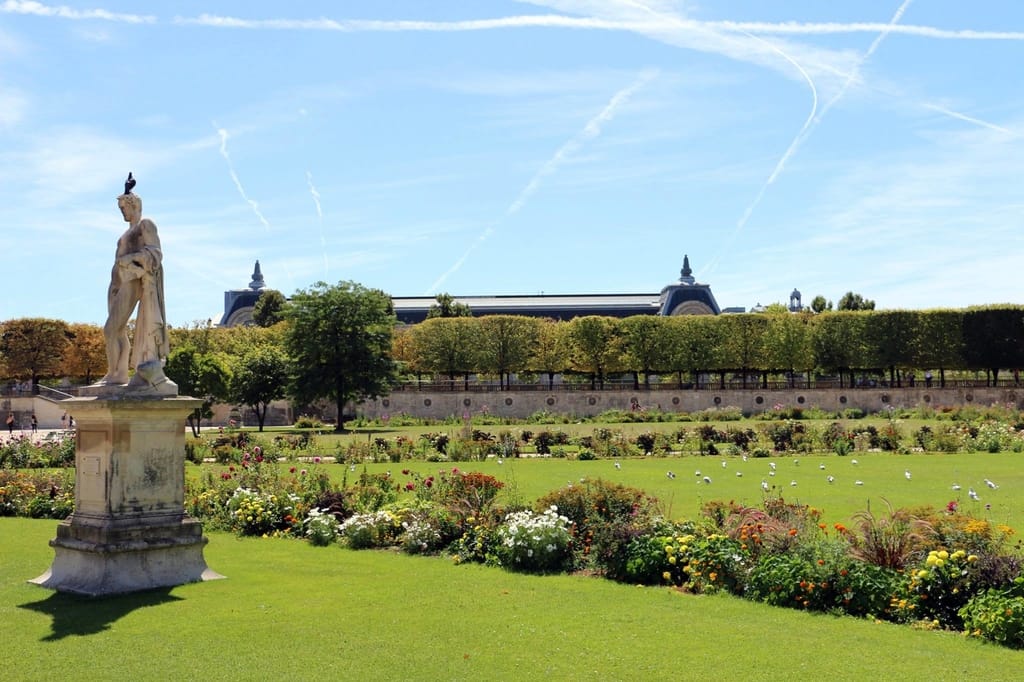 The Canal de l'Ourcq (North)
This is one of the coolest spots in the north of Paris for athletes and runners. Canal de l'Ourcq is perfect for a run away from the city's bustles and niggling traffic. Right from the Basin de la Villette to Pantin is about km, and you can even proceed further. There are no particular opening hours here, so you can stop anytime. 
Le Jardin des Plantes
This fantastic runner-friendly place is located in the 5th arrondissement. Given its rectangular shape, Jardin des Plantes is ideal for laps. Lush with greenery and love, it is the city's major botanical garden. While running, you will be treated to the amazing smells and sights of the wonderful collection of flowers in the garden. 
Le Canal St. Martin
Often times, tourists visit Paris without unraveling the gem that Le Canal St. Martin is, especially runners. This is probably because it is quite far from most tourist attractions close to the city center. And the perfect way to blend in is to join the swath of runners that pace along the banks. 
Its surroundings are instagrammable and will undoubtedly show you an unusual side of the City of Light; including its well-lit, painted buildings, and dainty terrace restaurants. You will definitely pass several nice spots to stop for meals after the 4.5km that it covers; the area now hosts lots of diners.
Best Parks to Go For a Run in Paris – Summary
A brilliant way to explore a new place well is to get a map, get in running gear, and start moving. Whether day or night, whether you're an athlete or a casual runner, there is something for you in the bright city of Paris.
After you go for your run you can indulge yourself to one of The Best French Pastries.
Where do you go for a run in Paris? Let us know in the comments below.