23 Of The Best French Pastries You Must Try
I have a confession to make. I'm officially in love with… French Pastries.
At my first visit to the shop, I've thrown out 30 euro without any second thoughts for a box of various tartlets, éclairs, and all that other mouth-watering treats. I had no idea how most of them were named and which taste it's going to have, but you know what? I haven't made a single wrong choice!
Each and every piece was so utterly delicious that I came back the next day and the next day and almost every day after that….
I've just recently got over this addiction to try each and every pastry they make here at Besançon as each patisserie has a few particular types of cake that you won't find at the competitors' place next door.
So, after a delicious meal of seafood and wine, don't forget to grab one of the next French pastries for dessert.
You'll never know the real taste of France, till you'll try one of these pastries! 
>>Also Read: The Best Patisseries in Paris
Here Is A List Of The Best French Pastries
1. Éclair au Chocolat – The Best Frech Pastry
I don't know how they manage to have this amazing moisture filling that soaks the whole éclair with deep chocolate taste… And the icing is firm on the top and starts melting in your mouth once you take the first bite.
There's nothing better than grabbing a few fresh eclairs + espresso and enjoy your morning on a café terrace doing my favorite thing – people watching.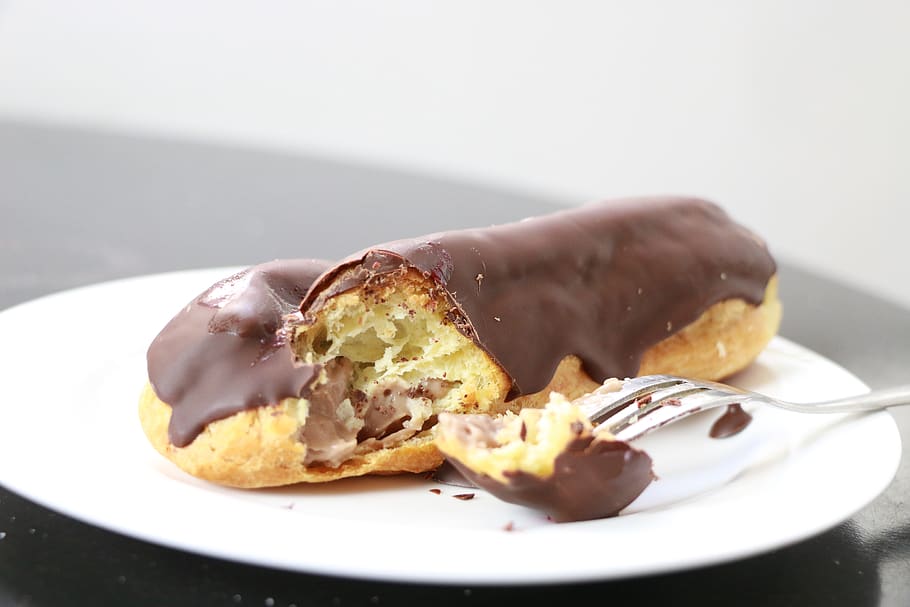 2. Tarte Framboise 
Fresh raspberries placed on top of amazing crème bedding. A beautiful mixture of sourish berries and sweet cream!
3. Tartelette aux Fraises
Amazing twin sister to the previous one. Some delicious crème bedding and lots of strawberries on top.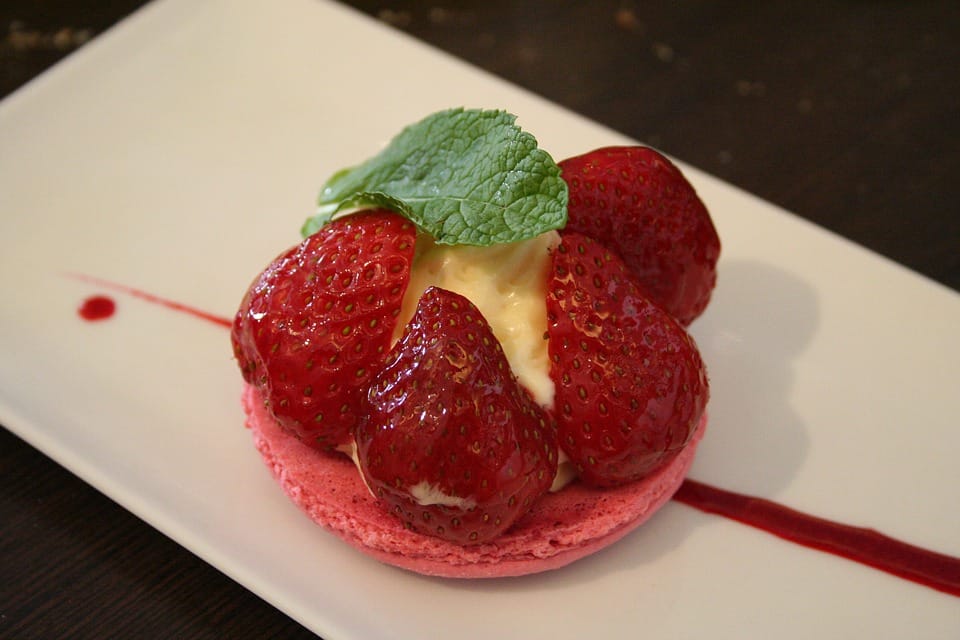 4. La Figue
A greenish delight to be found almost at every patisserie. Sweet gooey icing hides thick milky cream inside. Loads of cream.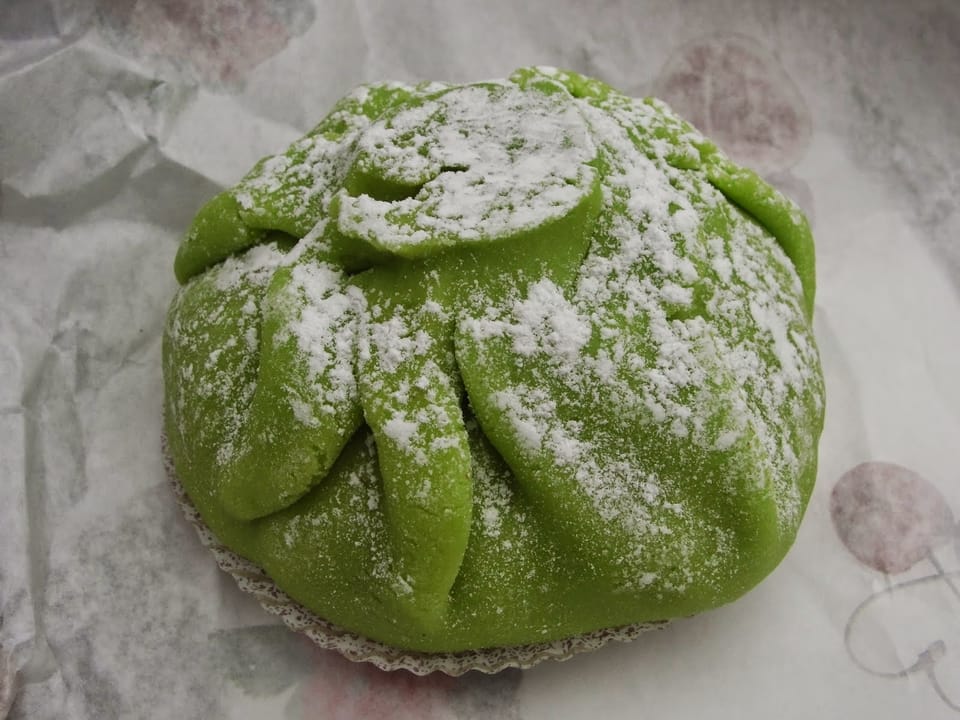 5. Opera Cake
Served in small rectangle bars, it's an amazing treat consisting of few layers of cake, well-soaked in coffee syrup and layers of chocolate paste + coffee buttercream.
It was originally created in 1955 at Dalloyau patisserie in Paris and named after a dancer from the Opera House, who came to the shop and appealed to the wife of the owner.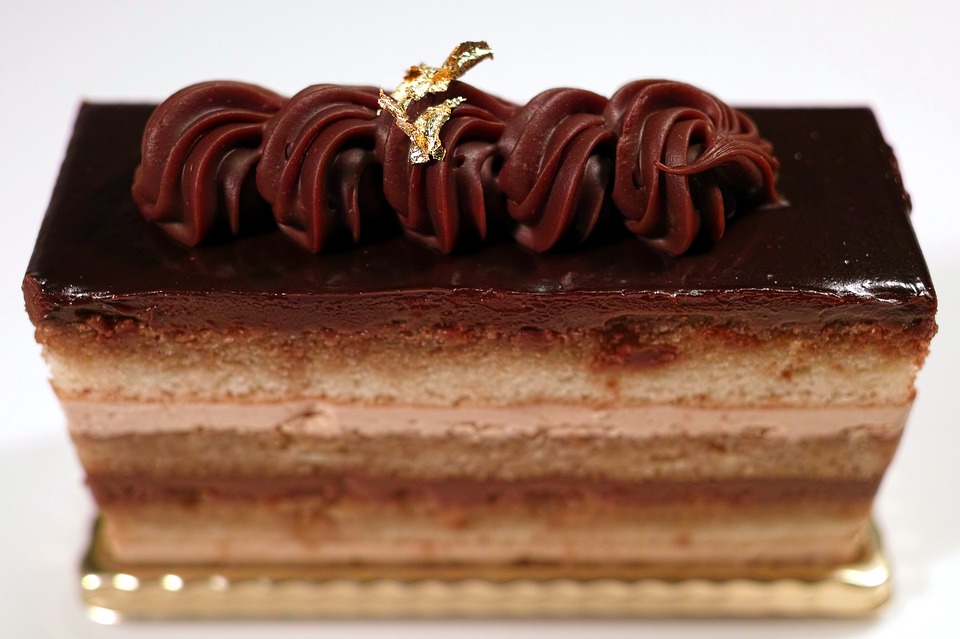 6. Macarons
Of all colors and tastes! Strawberry, mango, floral, pistachio – you name it!
There are more combinations than you can imagine! With Laduree and Pierre Herme being the most luxurious and well-known brands, there are still lots of other bakers who mastered the skill of creating perfect macarons.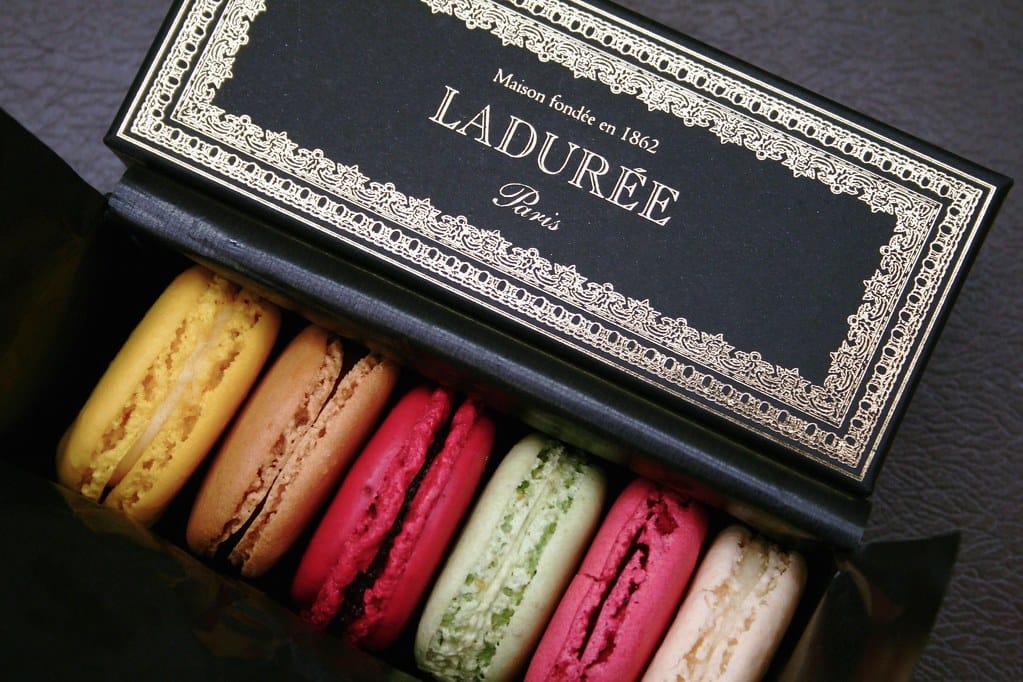 7. Brioche Praline Rose 
Made of light and buttery dough and generously sprinkled with candied nuts in rose syrup (my guess) and occasionally covered in sugar powder. Mmm. Pure delight!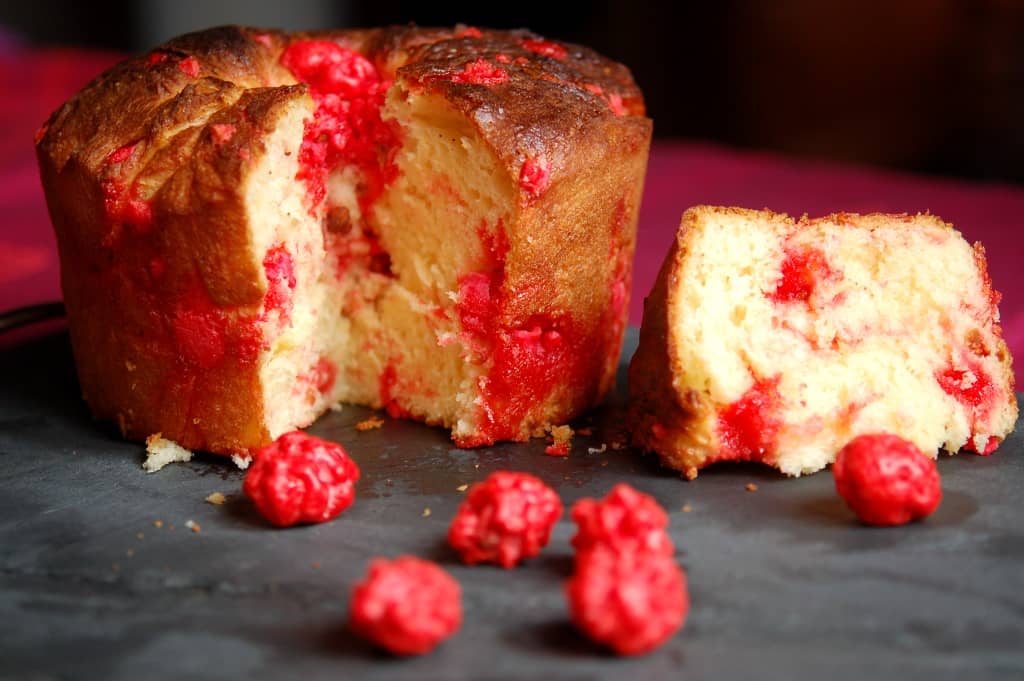 8. Tarte au citron
For all lemon-flavor lovers like me. A crunchy basket full of amazing lemonish (not that sour!), jelly-like filling.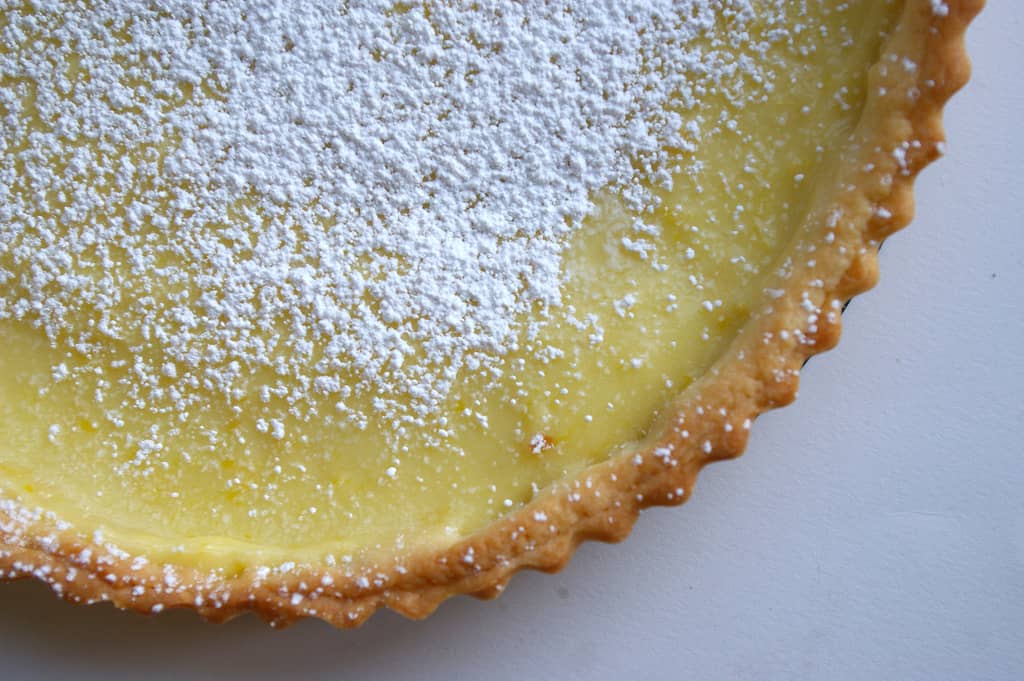 9. Tarte au Chocolat
The same thin crunchy basket filled with rich-flavored chocolate pasta.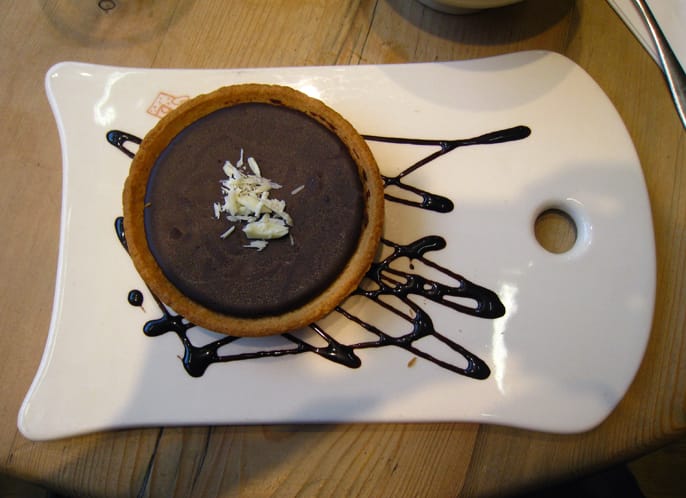 10. Paris-Brest
A cake sandwich made of two beagle-like buns and lots of thick coffee cream inside and thin peanut slices on top. The name was given after a bike race between Paris and Brest as someone said the cake resembled a bike wheel (huh?).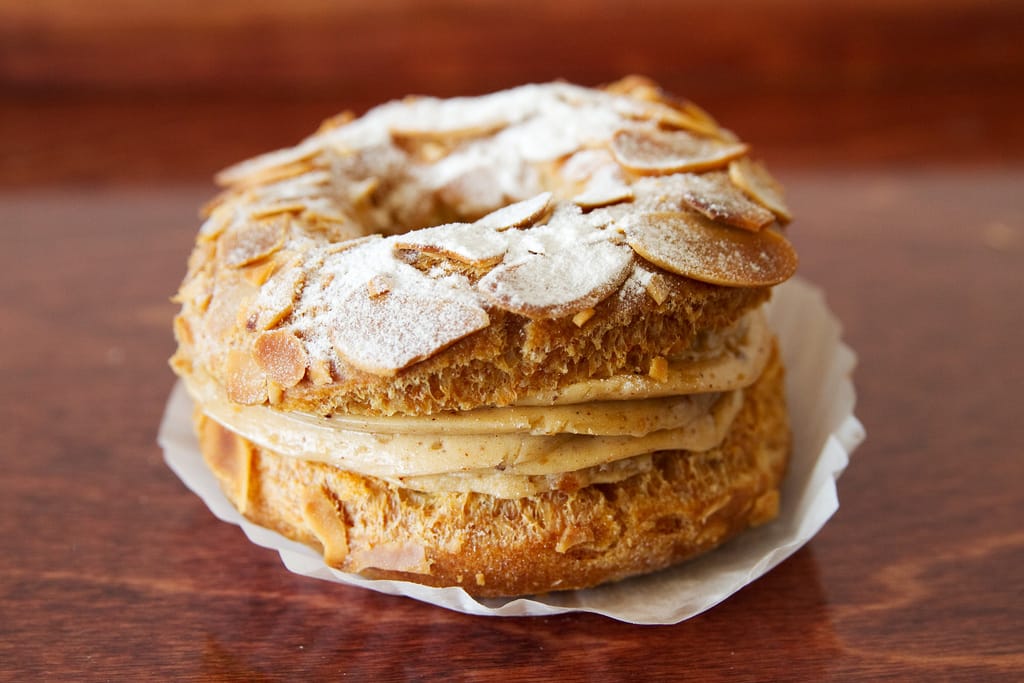 11. Religieuse
Consists of two tries of pastry and filled in with yummy cream. Covered with various icings of all colors and beautiful cream decorations, so that each one reminds me of a cute cream castle.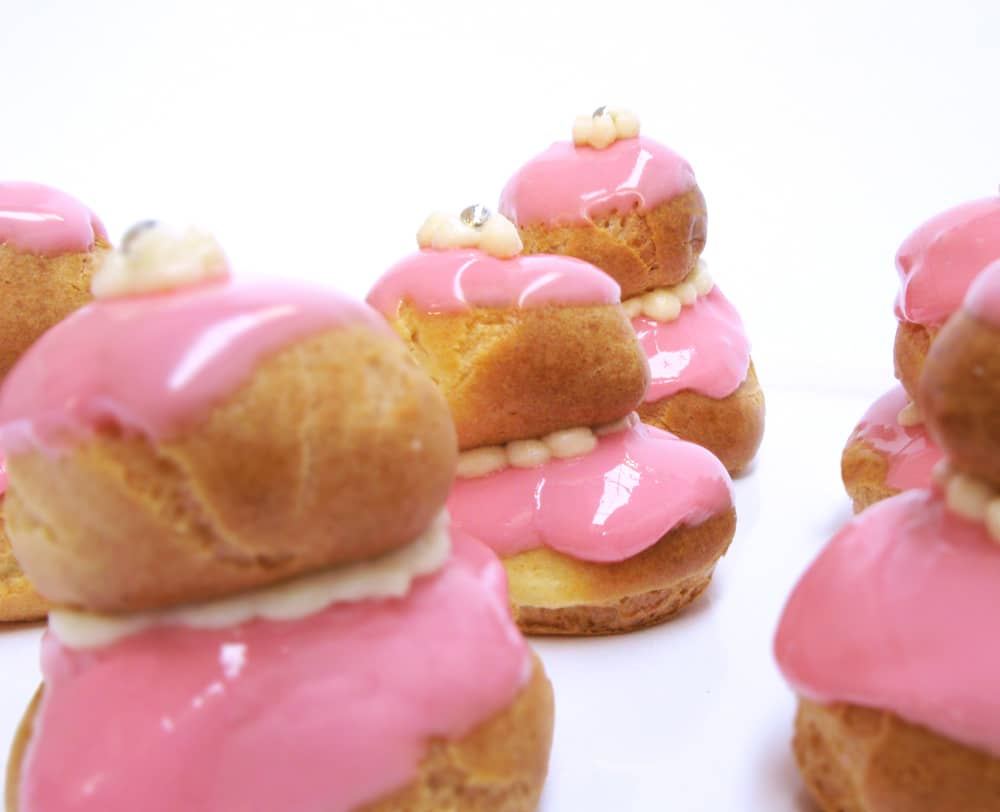 12. Tarte Tatin
An apple tart, that's baked pastry side upped and flipped back before serving so that the delicious brown sugar and butter covered the apples in a caramel crust.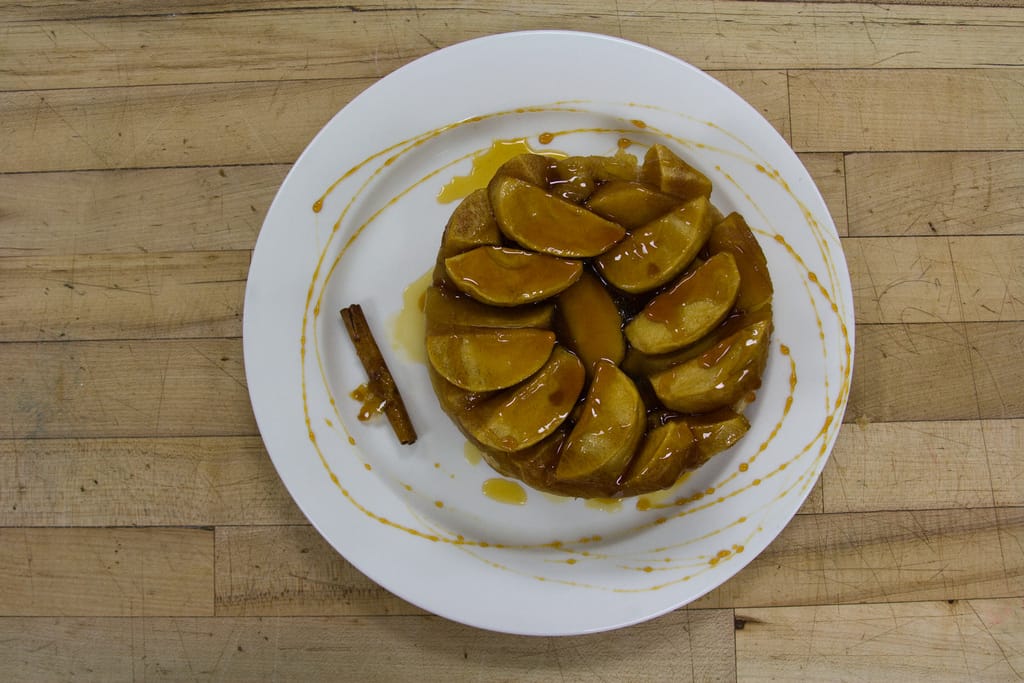 13. Marie Antoinette 
Did you know that Marie Antoinette never said that famous phrase "let them eat cake!"?
It was someone of her biographers who later made it up.
This desert's made of two pink macaron shelves with fresh raspberries and vanilla (or rose cream) sandwiched in between.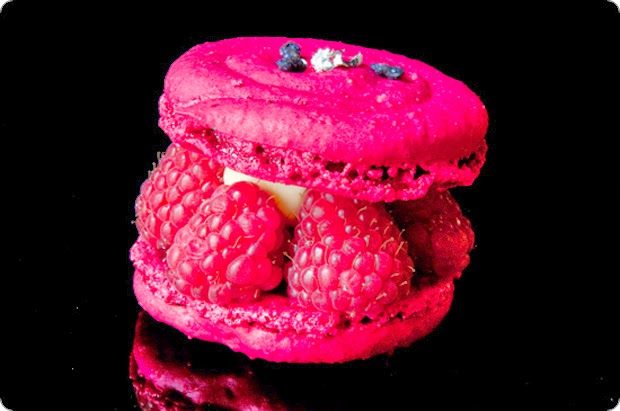 14. Mille-Feuille
Now, you've probably seen and even tried this pastry more commonly known as Napoleon, but the French version is fantastic too! With layers of buttery pastry and pastry cream and liquid icing on top with chocolate leafy deco.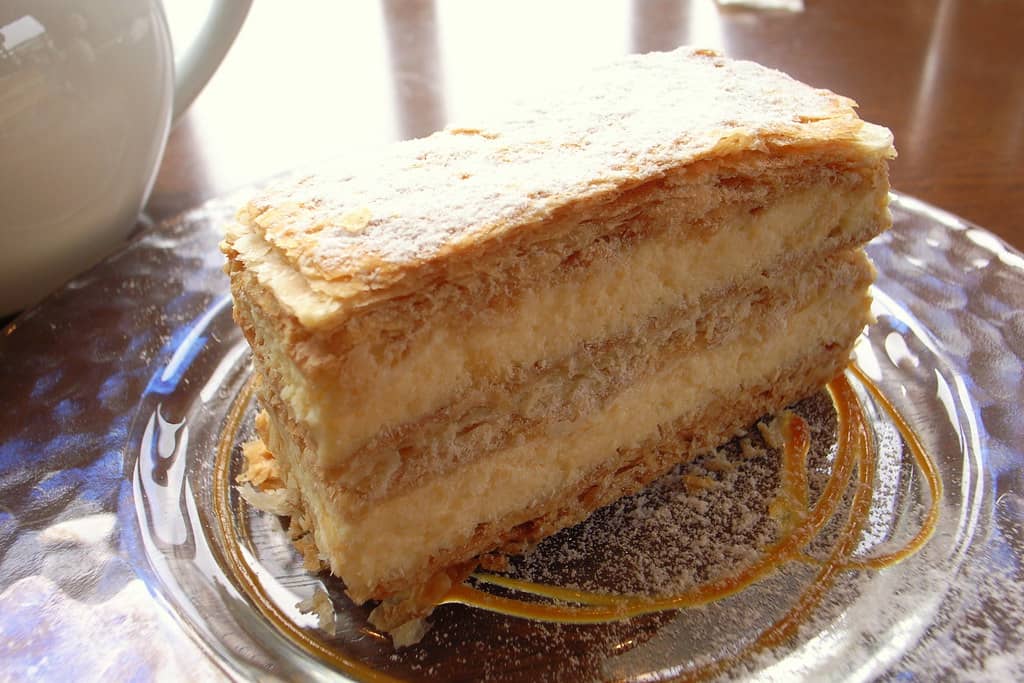 15. Croquembouche or Salambo
I'm not talking about Flaubert's book now, but of utterly delicious pastry similar to éclair in dough and filling, but with colorful icing and choco sprinkles.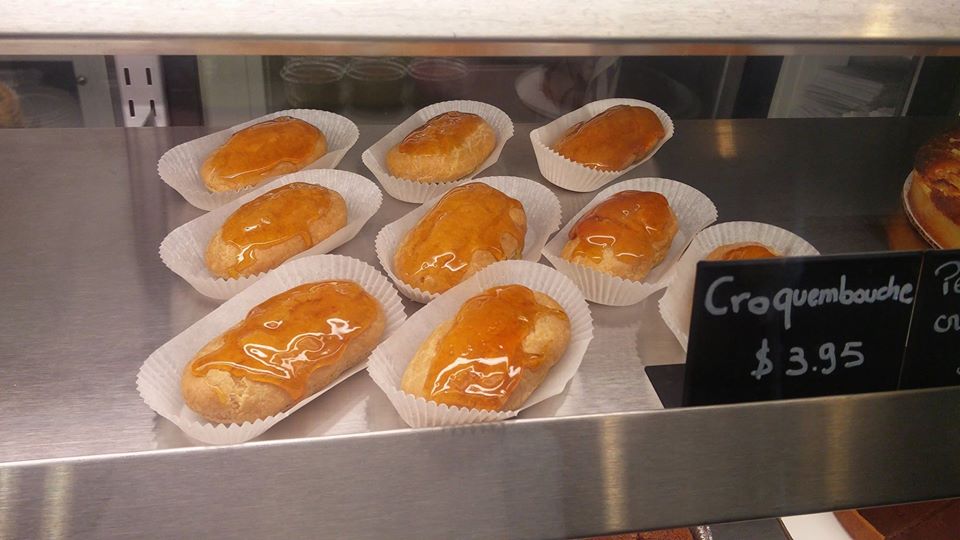 16. Crème Caramel
A milky pudding generously covered with liquid, gooey caramel.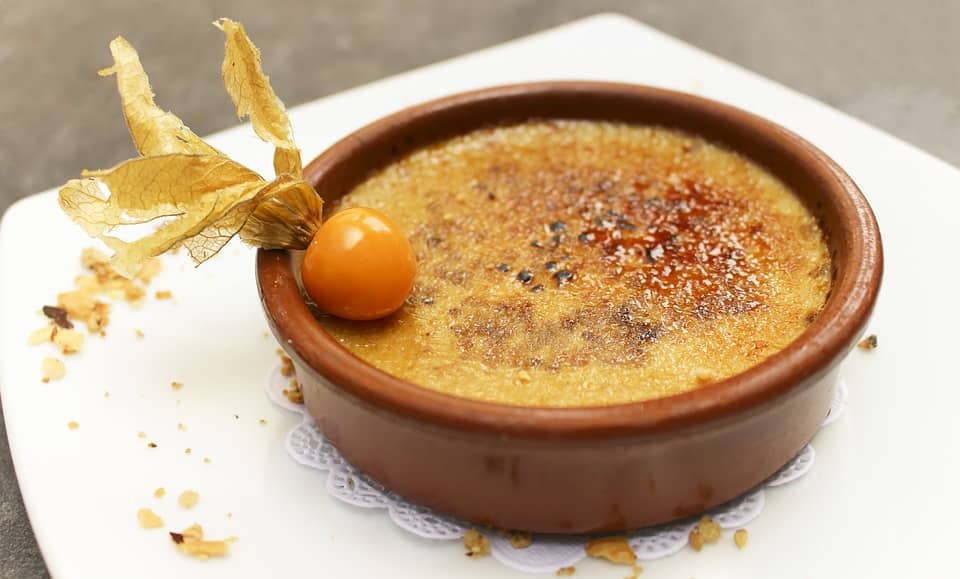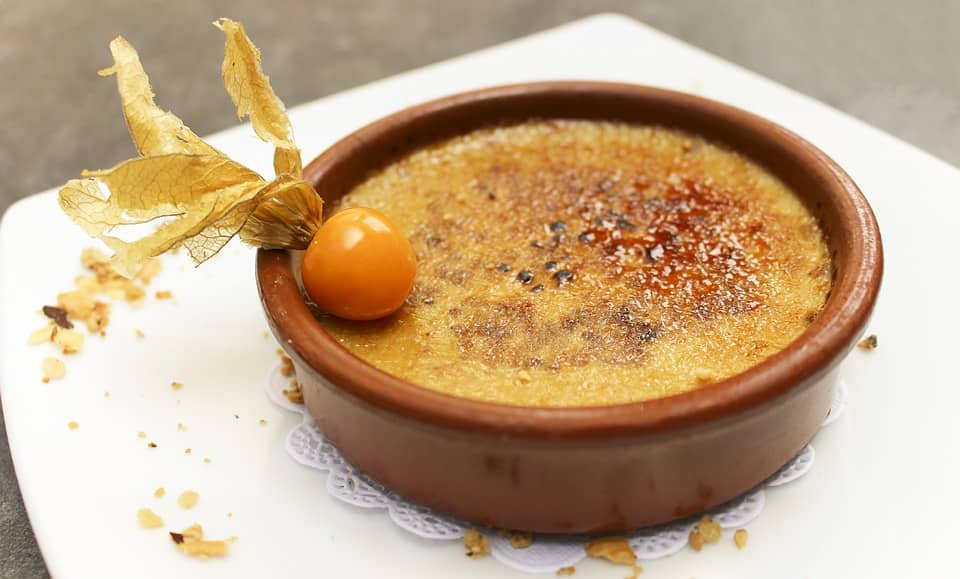 17. Petits Four 
A collection of various small cakes usually served after a meal. A perfect gift box for a sweet-toothed like me.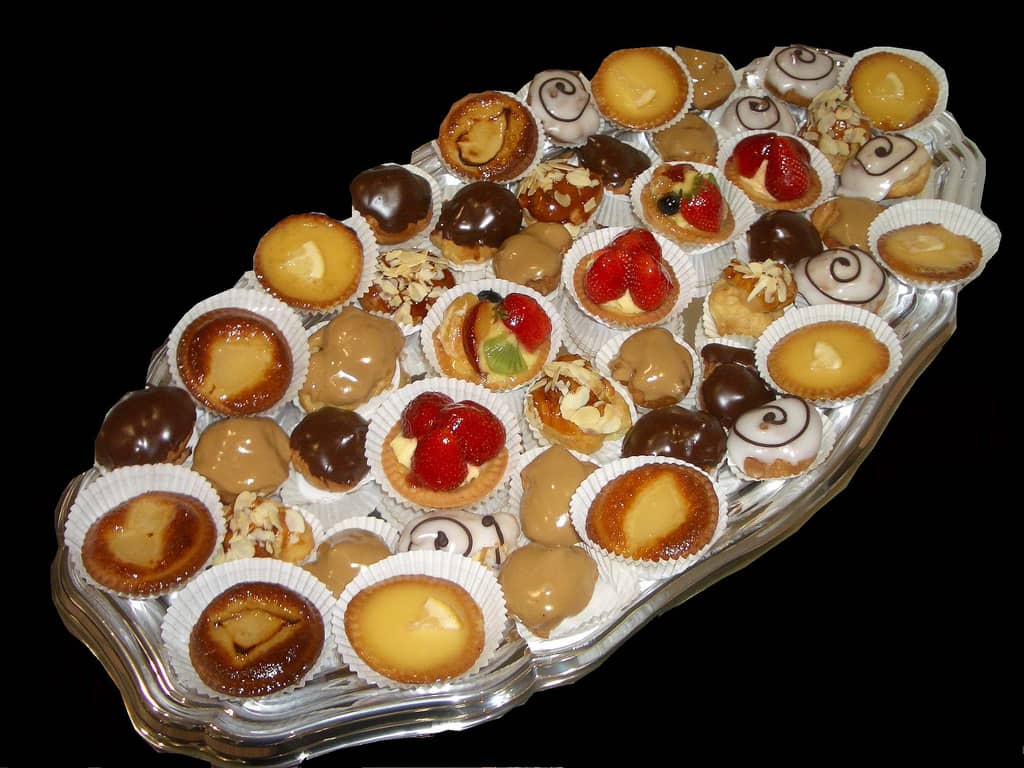 18. Tutti Frutti 
A pastry pedestal with colorful fruit balls of dragon fruit, mango, kiwi, and other exotic yummies on top. That's a total eye candy that melts at your mouth at the same time.
19. Mango Tarte
I've tried this one at La Pâtisserie des Rêves in Paris, and the taste was so close to fresh mangoes I've eaten back in Indonesia.
20. Grand Cru
For everyone who is officially having long, solid relationships with chocolate. The desert consists of numerous layers of chocolate, chocolate biscuit, and a thin layer of praline.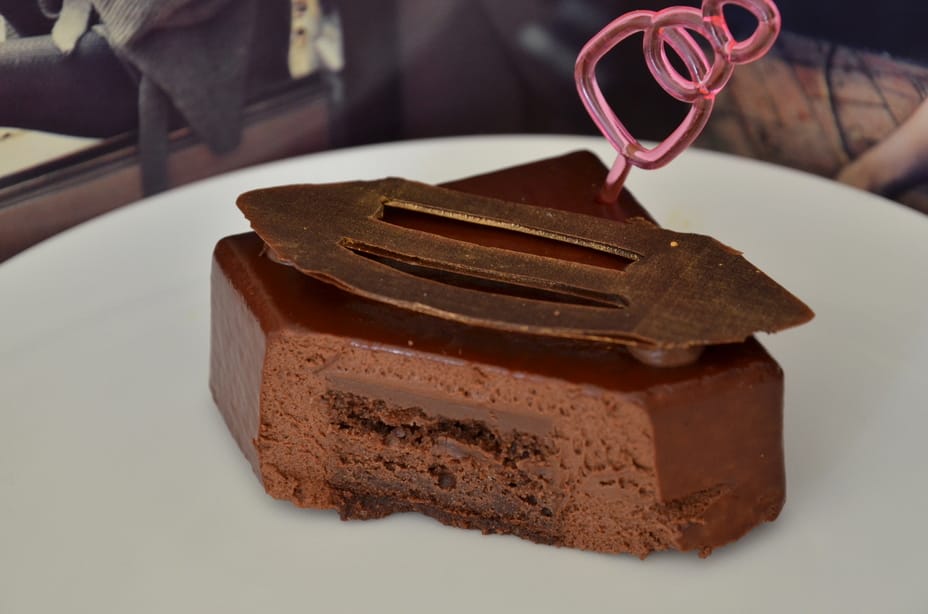 21 Chocolate Bouchons 
You just make the first bite, and you don't notice how the whole box of these little choco devils is gone…
22. Le Merveilleux 
This marvelous pastry that consists of meringue, delicate chocolate mousse mixed with floral crème, all coated in the thinnest white or black chocolate slices imaginable. A floating desert disappears in your mouth within seconds with a light after taste, making you crave for more.
23. Saint-Honoré 
Saint-Honore is considered to be the patron of all French bakers and pastry chefs. (I'm not that surprised that they have one!)
This dessert consists of a round pastry at the bottom, topped by a pile of crème cheboust and whipped cream. What makes the desert so special are tiny cream puffs, dipped in caramelized sugar and added at the sides of the desert
Have you tried any of the best French pastries? What are your favorite sweets from anywhere in the world?