The beautiful city of Rouen is the capital Normandy and, like Paris, is crossed by the Seine River. It is just about 90 minutes' drive (135 km) from the center of Paris. Rouen is widely known for several things. First, Joan d'Arc was tried and executed here, and the cathedral that inspired the brilliant artist Monet to paint more than 30 paintings still stands today. With many cathedrals, Rouen has the charm of traditional French culture.
>>Also Read: Is Rouen Worth Visiting?
Here Are a Few Things Rouen is Famous For: 
Cathédrale Notre-Dame de Rouen (Rouen Cathedral)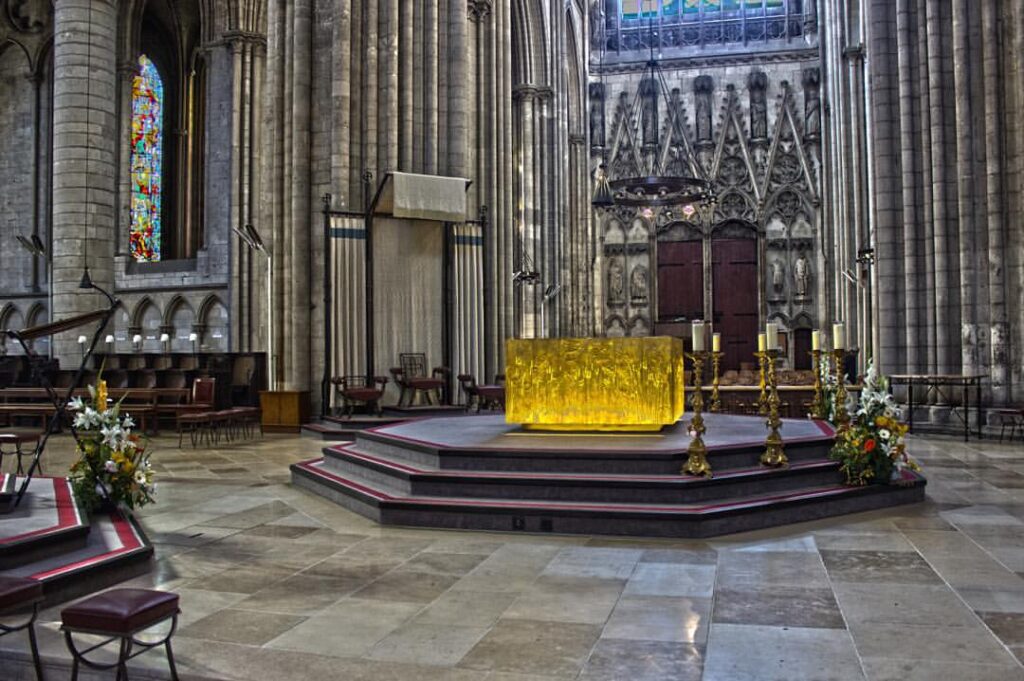 This Roman Catholic cathedral is Rouen's biggest attraction. It is the most famous emblem of the city with its impressive and beautiful architecture. Cathédrale Notre-Dame de Rouen has witnessed a lot of destruction and renovations in the last century or so. It also contains the tomb of an English king, Richard the Lionheart. Located in the center of Rouen, the Cathédrale Notre-Dame is one of the most visited monuments. At night, incredible light shows lit up the cathedral.
>>Also Read: Most Famous Landmarks in France
Aître Saint-Maclou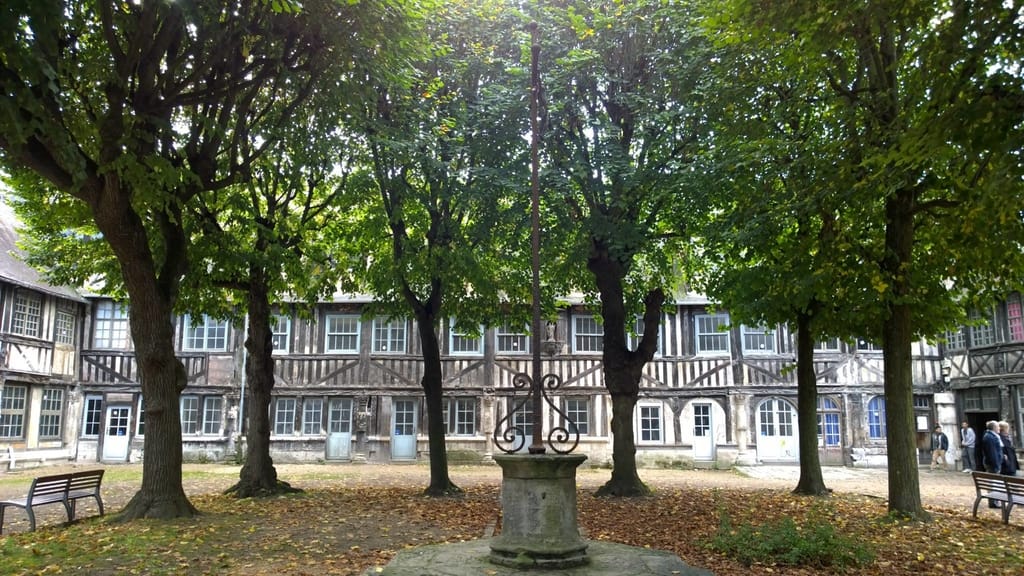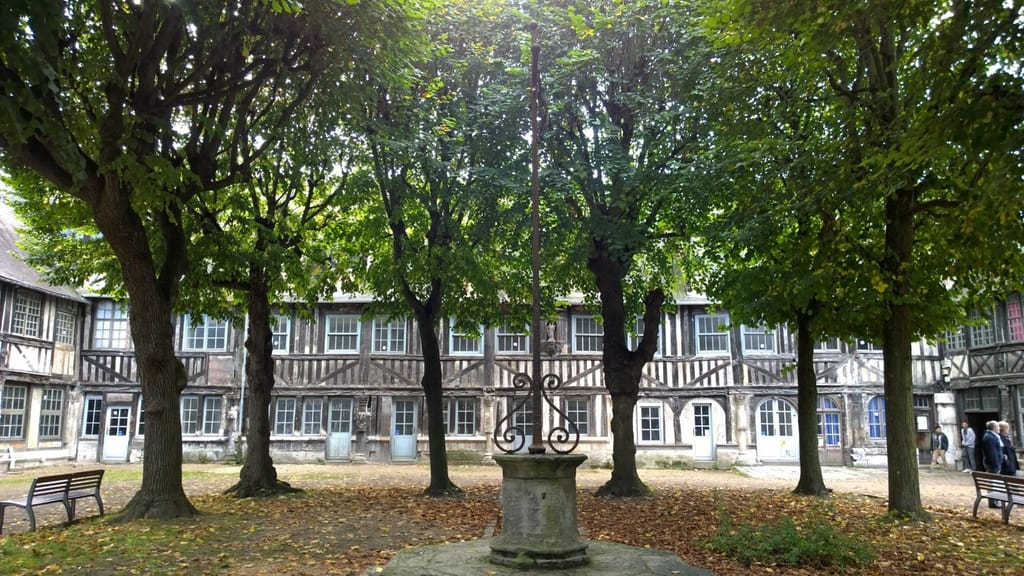 This attraction is a medieval building. It used to be a plague ground embellished with 'Dance of Death' statues and grim death carvings. Aître Saint-Maclou also served as a burial ground in the Roman era. The buildings' wooden frames were decorated with grim details like cult objects, skulls, and bones that bring to the mind of visitors its burial history. Today, Aître Saint-Maclou houses the regional school of fine arts. You can check it out for if you have an eye for unique architecture and interesting history. It is located in 186 Rue Martainville, 76000 Rouen.
Tour du Gros-Horloge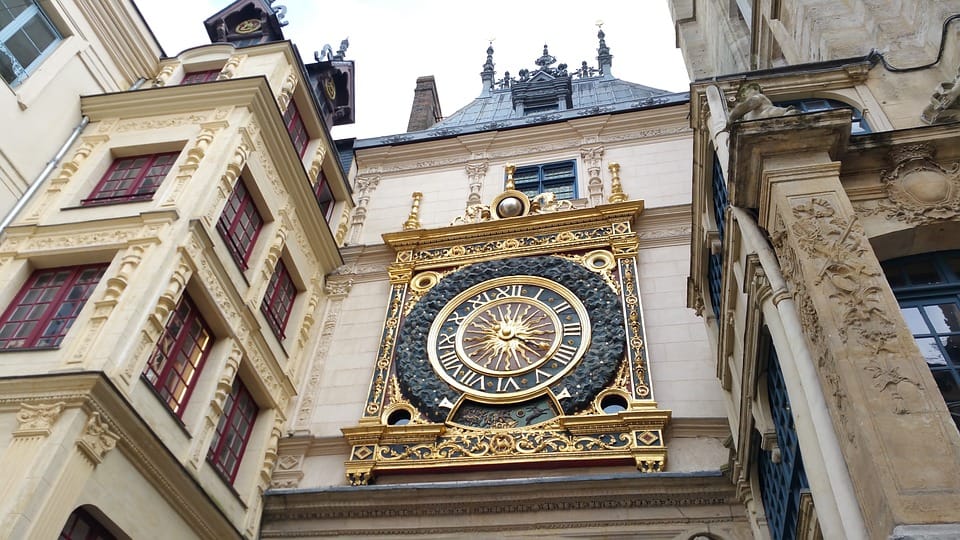 Also known as the Great Clock Tower, this stunning monument is close to the shopping district, making it a brilliant place to visit. The entire setup includes the Gothic belfry, a Renaissance dial, a fountain, and an arcade area. Hear Rouen's bells toll, which works with Europe's oldest watchmaking mechanisms. When visitors reach the tower's apex, they will have an exciting bird's eye view of the town.
Eglise Jeanne d'Arc 
Alongside a museum showcasing Joan of Arc's story, this sanctuary is dedicated to the martyr. It is a Catholic church located in the town center and completed in 1979. This place is where Joan of Arc was executed in 1431 at the stake. Though now reduced to ruins, visitors will see the nearby Church of Saint Vincent, whose stained glass window is now part of the Eglise Jeanne d'Arc. Each visitor will be given a guide headphone that introduces visitors to the different exhibits in the sanctuary.
Tour Jeanne d'Arc 
Built by King Philip Augustus, this tower is the only standing piece of the Castle of Rouen. It has a 30 meters height and a unique sharp-pointed roof, which has become the city's emblem. You will have the chance to witness history because here, Joan of Arc was trialed. In WW2, the Germans converted Tour Jeanne d'Arc to a bunker. Tour du Gros-Horloge is a great place to see a breathtaking bird view of Rouen. Tour Jeanne d'Arc offers that chance too brilliantly, and you should be camera-ready when you visit.
Musée de la Ceramique – Museum of Ceramics 
Located in the city center, this is a ceramic museum with an impressive collection of artworks and utensils made from ceramic. It boasts of more than five thousand pieces from ancient times till today is dedicated to the art of ceramic promotion and works. The museum's building has neoclassical interiors, which were made in the 1600s. If you are an art enthusiast, you should stop by to see some of the magnificent works from French artists. Musée de la Ceramique can be found at 1 Rue Faucon, 76000 Rouen.
Vieux Rouen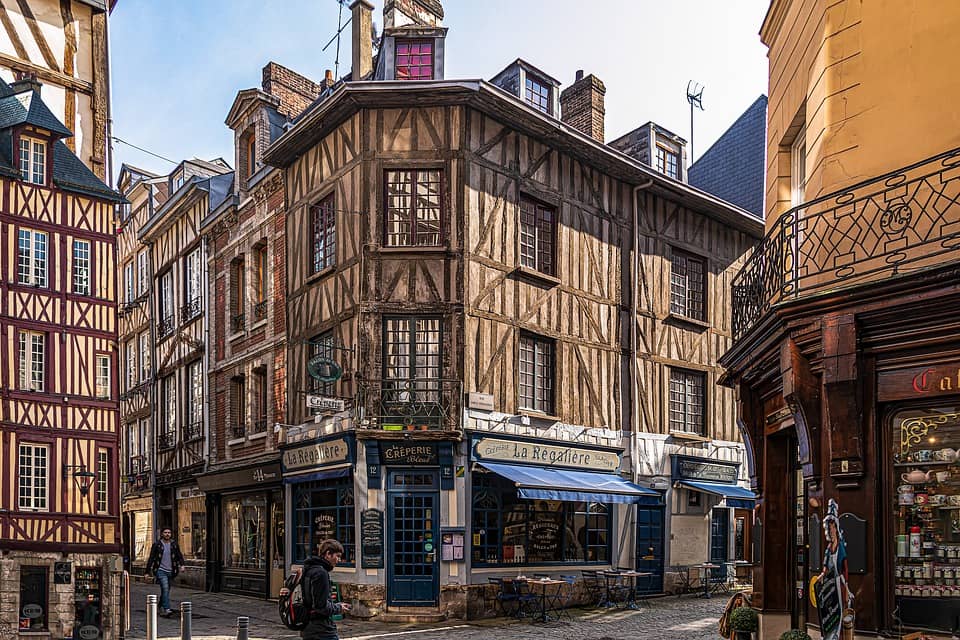 The city's old city center has lots of timbered buildings and paved cobblestone roads. The setting is astounding, and you should take some pictures here. After that, indulge in some shopping at hip stores in the area where you can also relax. All the major sights are within walking distance. You will be fascinated by how the buildings have endured through time and still standing today.
You can find restaurants and cafes here with stalls dealing with local produce and souvenirs. On a few occasions, Rouen's activities and town events are organized here on weekends, making it a solid and bubbling place to visit.
La Galerie Restaurant Rouen
The city is famous for its culinary excellence too thanks to the brilliant people at La Galerie Restaurant that is located at 4 Rue Sainte Croix des Pelletiers, 76000 Rouen. It is a great restaurant with great menus that has some of the best seafood dishes in the area. With a modern and cozy ambiance, fine dining setting, and good service, this place is worth the price. La Galerie restaurant welcomes guests for meals or drinks and is situated where it can easily be accessed. If you intend to visit, we suggest that you book ahead because the restaurant is quite popular in Rouen.
La Petite Auberge – Taste of Normandy
This place is another great joint in the city to have some of the finest culinary experience in the Normandy area. At La Petite Auberge, the seafood stews and their popular escargots are the major signature dishes every visitor should try. Here the dishes are reasonably priced. The management offers both outdoor and in house dining with the help of their friendly staff. La Petite Auberge is rather small, so it can get crammed with people in the middle of mealtimes. It is located at 164 Rue Martainville, 76000.
Gustave Flaubert's Birthplace 
Popular for his controversial book Madame Bovary, Gustave Flaubert is connected to Rouen is major ways. In fact, where he was born in the city is not converted to a museum and is open to the public. The museum chronicles his life and of 1800s medicine (his father and brother were doctors). You can find Gustave Flaubert's museum at 1, Rue Lecat, off Boulevard des Belges, close to Cauchoise.
You might also want to visit the cradle of playwright Pierre Corneille situated at 4, rue de la Pie. It is not far from Vieux Marche. The massive Gothic Abbatiale St-Ouen near the Hotel de Ville at the rear of Rue de la Republique is a must-see.
Palais de Justice and Monument Juif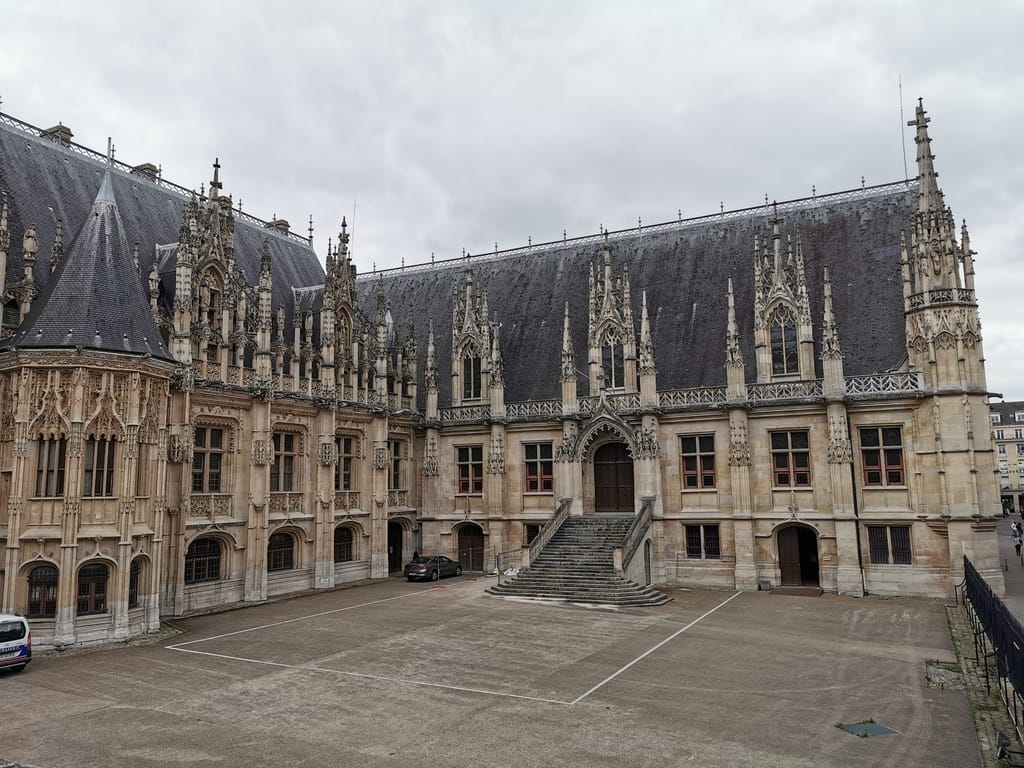 The Palais de Justice and Monument Juif is a shining example of medieval civilian architecture. It houses the city's Law Courts, and it used to serve as the meeting venue of the Parliament of Normandy. Roulland Le Roux built this extraordinary Gothic piece of work in 1508-1509. But during WW2, it was destroyed only to be restored later.
Even though it is not open to public tours, visitors will still be dazzled by the facade's elaborate detailing. At the central wing is the beautiful balustrade and protruding towers. In the course of an Allied shelling in 1944, the Palais de Justice was damaged, and you can still view the holes in the building's walls.
While renovation took place in 1976, the ruins of a splendid stone building were discovered under the courtyard. Initially, the building was mapped to be the lower room of an old rabbinical school (Yeshiva) that can be traced back to the 12th-century.
After unearthing it, an archaeological crypt quickly protected this Jewish monument (Monument Juif). As stated in the street name ('rue aux Juif' meaning 'street of Jews'), this location was the epicenter of the old Jewish quarter that prospered in the reign of William the Conqueror until the 1306 ejection of Jews. The city's Monument Juif is the oldest Jewish monument that is discovered in the country.
What is Rouen Famous For – Summary
The city of Rouen is a great base for taking on the Normandy and Brittany areas at any time of the year. Its famous monuments and attractions charm travelers from different parts of the globe to take in the purely natural scenery and delve deep into the city's goodness. These attractions (old and new) conjure a magic that will inspire you in the very instant you step into the city.
>>Also Read: Is Rouen Safe?