Is Monte Carlo Expensive?
As one of the widest known administrative areas in Monaco, Monte Carlo is the hippest tourist destination inviting a large swath of tourists from various parts of the world every year. Lovers of the casino have a special reason to come to Monte Carlo apart from taking on the other most-sought destinations here. Beyond the popular casinos, visitors can also discover many other interesting things to do in the area.
As the world's smallest region with a population of 15,000, it is blessed with many luxury hotels, trendy restaurants, other different attractions, and more. Monte Carlo is a destination for big-time players, and it might be difficult for a budget traveler to enjoy his time here. So, how expensive is Monte Carlo?
Here is what you need to know about expenses in Monte Carlo:
Average Cost Of a Trip to Monte Carlo
The average price of a week trip to Monte Carlo is around 1700 euros for a solo traveler, 3030 euros for a couple, and about 5700 euros for a family of 4. The hotels in the area range from around 120 to 1,500 euros every night for the whole family. Average global flight costs to Nice Cote d'Azur Airport (NCE) are between 541 euros and 850 euros per head for economy flights and 1700 euros to 2640 euros for first class. I recommend planning 60 euros to 140 euros per head per day for local transportation and dining on traditional food.
Cheapest Time to Visit Monte Carlo
On average, January 1st to April 1st and September 10th to December 9th are the cheapest dates to fly to NCE and stay in a Monte Carlo hotel. While these periods are great, mid-January tends to be the cheapest time to travel to Monte Carlo.
Traveling Cheap to Monte Carlo
Depending on the season, the cheapest trip to Monte Carlo is around 130 euros per person per day. For tourists who wouldn't mind to take standby flights, and deal with discomforts to reduce travel costs. For Monte Carlo, only about 1% of rentals are available in the 15 to 85 euros range, and vacation rental can be booked for as low as 70 euros in a night. These affordable rentals must be booked early, and it may not be in the poshest of areas. A star hotel will tend to be available with rooms beginning from 65 euros.
Hotels in Monte Carlo
In Monte Carlo, the cost of staying there is incredibly higher than your average city. Nevertheless, hotels are less pricey than vacation rentals on average because of the increase in property costs. However, for the best possible rate for your accommodation, you should check both websites like Booking and AirBnB.
If you feel ready to splurge, try the Hotel de Paris that is both beautiful and legendary with amazing ocean views and highly expensive Parisian design. Its restaurant boasts of three Michelin stars and is close to the Monte Carlo casino while the décor is elegant. This is probably one of the most expensive options in Monte Carlo with an average daily rate of $800 during the off-season and $1,500 during August.
Hotel Metropole has the type of lushness the area is popular for- from chandeliers, marble floors, many Michelin-starred restaurants, and plush floral displays. It is both beautiful and romantic. This hotel's average daily rate is from $350 during the off-season and $600 during August.
Port Palace is the perfect hotel if you want a room with a great view. It is a 50-suite outfit that looks over Port Hercule. The rooms are styled, but they are similarly full of light and airy and not fussy. You will be steps away from the Grand Prix circuit and the yacht club when you visit. This hotel's average daily rate is from $350 during the off-season and $550 during August.
The Monte-Carlo Beach Hotel might be the most romantic here but pretty steep. You will probably recognize the hotel because it has been featured in many movies. It is a gorgeous hotel in a listed 30s structure complete with wall paintings, a terracotta façade, and romantic arches. Its 40 rooms have private beaches and a big pool with full gardens. You will also find a Michelin-starred restaurant here. This hotel's average daily rate is about $1,500 a night.
For a beach break, lodge in Monte-Carlo Bay Hotel. It is massive, with 334 rooms and around 10 acres of land in the small country. The views are fascinating from the Lego pink towers, and there is a pool for guests' comfort. It is another establishment with a Michelin-starred restaurant. This hotel's average daily rate is from $400 during the off-season and $750 during August.
Le Meridien Beach Plaza has a private beach, and there are close to 400 rooms, all of which are ravishing in their contemporary style, but just some have private balconies with unmatchable sea views. This hotel's average daily rate is from $270 during the off-season and $600 during August.
Flights Costs to Monte Carlo
Prices increase from an average of 850 euros in early August to a low of 545 euros in mid-January around the world. About 600 euros is the median price, and these prices are based on millions of flights. As for Monte Carlo, the data included 163 airlines and 308 originating airports. Bear in mind that this place has an average variance in price compared with other places.
Flying to Monte Carlo from an airport like JFK in New York would cost significantly more than from an airport in Germany or Spain at an average of just 86 euros.
Daily Expenses Budget
Every-day holiday expenses differ the more based on the tourist's preference. A fine dining restaurant with drinks around the area can cost around 470 euros per person or more, while a regular nice meal might be about 30 euros per person. For private tours, you will spend around 900 euros per day, but self-guided tours are free. Daily expenses vary widely depending on preference and the time of the year.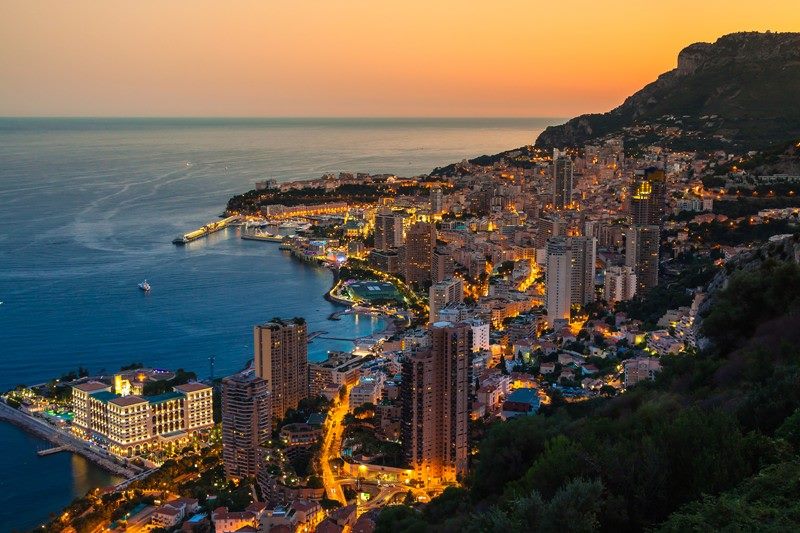 >>Also Read: Is Monaco Expensive?
How Travel Monte Carlo on a Budget
Take on Monaco's Old Town
Monaco's stunning Old Town provides exquisite views of the ocean and country. Jump on the Bateau Bus (water taxi) to reach the Old Town from Monte Carlo. You can also explore the Prince's Palace of Monaco which is the official residence of the Sovereign Prince of Monaco, Albert II, in the historic center and its close gardens.
Attend the Changing of the Guards
This is a ritual that takes place every day at 11:55 in the morning at Palace Square in front of the Prince's Palace. The highlight here is when the palace guards swap their shift. Watching how this centuries-old custom turns out is fun.
Walk the Guard Prix Circuit
Formula 1 Grand Prix is perhaps the most popular thing about Monaco, and because the Grand Prix Circuit courses through the area, visitors can spend an afternoon strolling there. Walk around the circuit and picture yourself speeding down the city streets at 250 kph.
Try Your Luck in a Casino (With Caution and a Limit)
If you a high roller or a small risk taker, you can do a spot of gambling at one of the city's casinos like the Sun Casino or the Café de Paris. Since your trip is on a budget, play with a small amount of money, and you might be lucky. Remember to dress formally when going to a casino. It is the rule around here.
Relax on the Beach
The finest beach in the area is the Larvotto Beach and is open to the public for free. It is a regular Cote d'Azur beach with small pebbles instead of sand and crystal-clear blue water. In the case that you do not want to spend a fortune renting a sun lounger or a chair, bring a thick towel not to feel discomfort on the pebbles. Larvotto Beach is an easy walk from Monte Carlo.
Getting Around
Monte Carlo is a district in the relatively small Monaco, and you will see a lot of attractions on foot. There is a cheap and reliable bus system for those who do not want to walk but want to explore Monaco's other districts. It is affordable, and you can jump on and off buses as you like.
Step Into the Monaco Cathedral
Many significant 1500s paintings and a wooden altar dating from the Spanish Renaissance are situated in the Monaco Cathedral. There are mosaics on the walls, and the altar is made of marble with pillars of granite. This is Princess Grace of Monaco's final resting place, who died in 1982 in a fatal accident. Visitors will also find the tomb of Princess Graces' former husband- Prince Rainier III, and other royals. Admission is free.
Is Monte Carlo Expensive? – Summary
Yes, Monte Carlo is expensive, it might be small, but it is not a pocket-friendly destination; nevertheless, it is very sunny and a perfect place to visit to give yourself a nice treat: chum around with the owners of the posh super-yachts parked up at Port Hercule too!
Do not forget that this is a fabulously busy little district, especially in peak summertime and during the annual Grand Prix event. So if you want to guarantee yourself a bed in one of the finest places to stay in Monte Carlo, research and plan in advance.