Hotels Near the Champs-Elysees in Paris
Sometimes when you're looking for a hotel in a big city, the thing you want to do is find a hotel near a landmark you're familiar with. In a city like Paris, which is full of familiar landmarks, that doesn't necessarily narrow it down much. But if you're into shopping, visiting Paris during the finish of the Tour de France or the Bastille Day parades or if just want to be a short walk from one of the grandest boulevards in the world, then a Paris hotel near the Champs-Elysees is what you're after.
Now, when I was compiling this list of hotels, I was trying to keep them in the budget category; which for Paris is already a challenge, and when you're talking about the area around the Champs-Elysees, it becomes even more difficult. You won't find bargain 2-star hotels a few blocks off the Champs-Elysees; if you do, the "bargain" will be that it's only $250 a night instead of $350+ like many of the area hotels are. This is a really expensive part of the city to stay in, so keep that in mind.
Still, here are a few hotels that won't totally kill a reasonable travel budget and that aren't too far from the Champs-Elysees. Serious budget travelers will likely need to find a cheaper bed elsewhere, but if you have a few friends you're traveling with, it may be worth looking into sharing a triple-sized room in one of these hotels (if this location is really important to you). If you've scored some cheap flights to Paris and have some extra travel budget to spend, that's one thing; but, if you're really scrimping, you might want to look elsewhere.
Here Are The Best Affordable Hotels in Paris Near the Champs-Elysees
Mercure Paris Champs Elysees
Most of the hotels on this list are on the north side of the Champs-Elysees, so the Mercure Paris Champs Elysees hotel is the notable exception. It's the closest hotel to the Arc de Triomphe, and yet it's also in a business district of the city. This means that while it's close to things tourists love to see in Paris, it might offer a respite from the crush of people around the Champs-Elysees; especially if you opt to walk the other way and explore the neighborhood a bit more.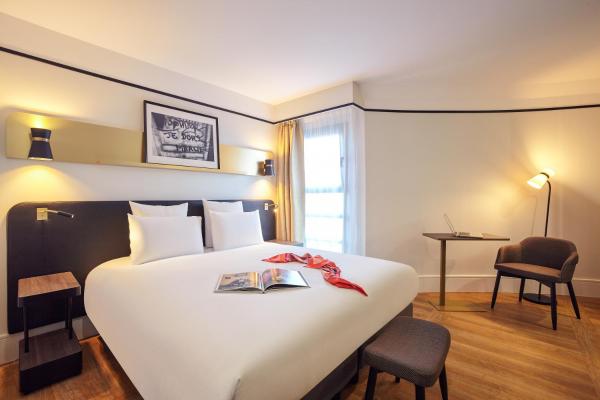 The Mercure Paris Champs Elysees hotel has 46 rooms, WiFi throughout the hotel, and an internal courtyard garden that most of the rooms overlook.
Bridgestreet Champs Elysees
Anyone who's staying in Paris for more than a few days would be better off looking for an AirBnB for their stay; if you're hoping to stay near the Champs-Elysees, that's no exception. The Bridgestreet Champs Elysees is a building full of furnished apartments ideal if you're traveling in a group or with a family. These apartments are 100 meters from the Champs-Elysees, and they come in several different sizes. From studios to multi-room apartments; all of which have air conditioning, fully equipped kitchen, and free WiFi.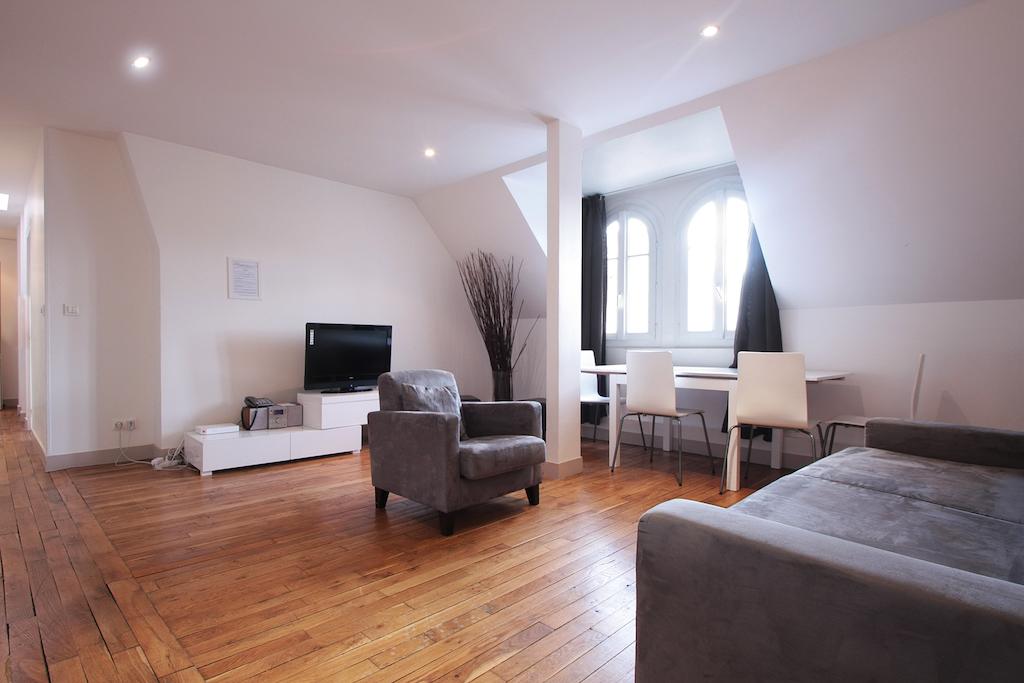 Because this is an apartment building and not a hotel, there isn't a reception desk; you'll need to arrange to meet someone at the building to pick up your key, and you can't rely on a concierge to help you with anything. It's a great solution for a more self-reliant traveler, and it's a great deal – especially for its location.
Adagio Aparthotel Paris Haussmann Champs-Elysees
The Adagio Aparthotel Paris Haussmann Champs-Elysees is another apartment rental option near the Champs-Elysees, but this one – as the name "aparthotel" indicates – is something of a hybrid between a totally hands-off apartment rental and a full-service hotel. The 53 furnished apartments range in size from studios to multi-room apartments suitable for four people, and they all have air conditioning and kitchenettes.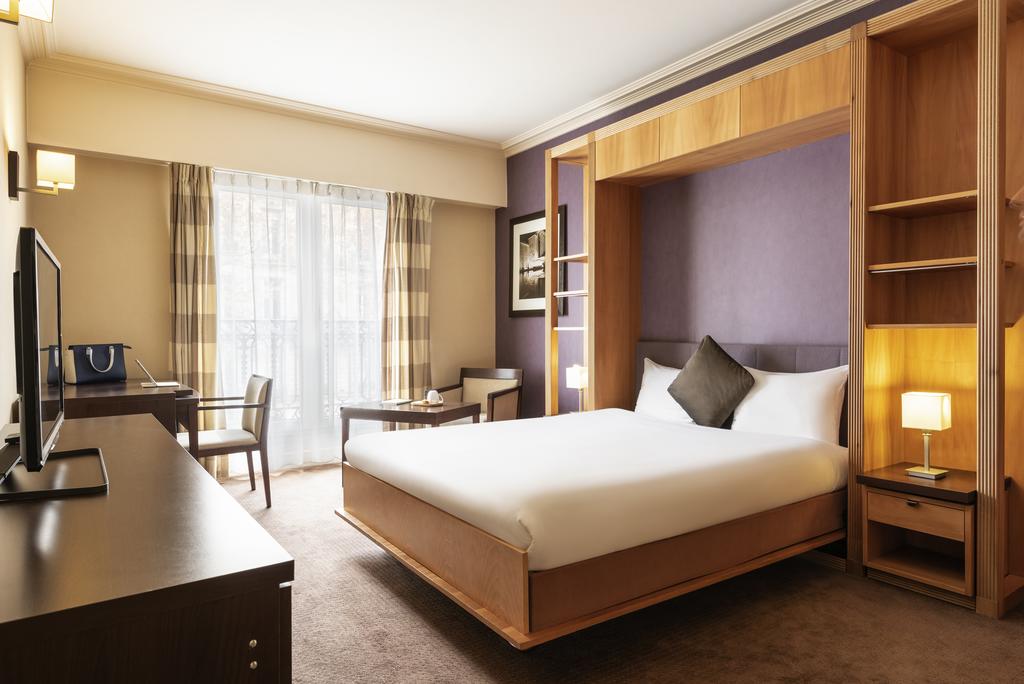 But there's also a breakfast room in the building where you can get a bite to eat each morning, a cleaning service that comes through once a week to change sheets and towels, and a front desk that's staffed 24 hours a day. WiFi is available in all public areas for free.
Hotel Beauchamps
If you think staying in a stylish part of Paris calls for a stylish hotel, then you'll want to look at the Hotel Beauchamps. The hotel is decorated in a comfortable contemporary style, both in the public areas and the rooms, and all 89 rooms have air conditioning and a flat-screen TV. And if all of that shopping has you worn out by day's end, you'll be glad to know that the hotel even offers in-room massages; for a fee, of course.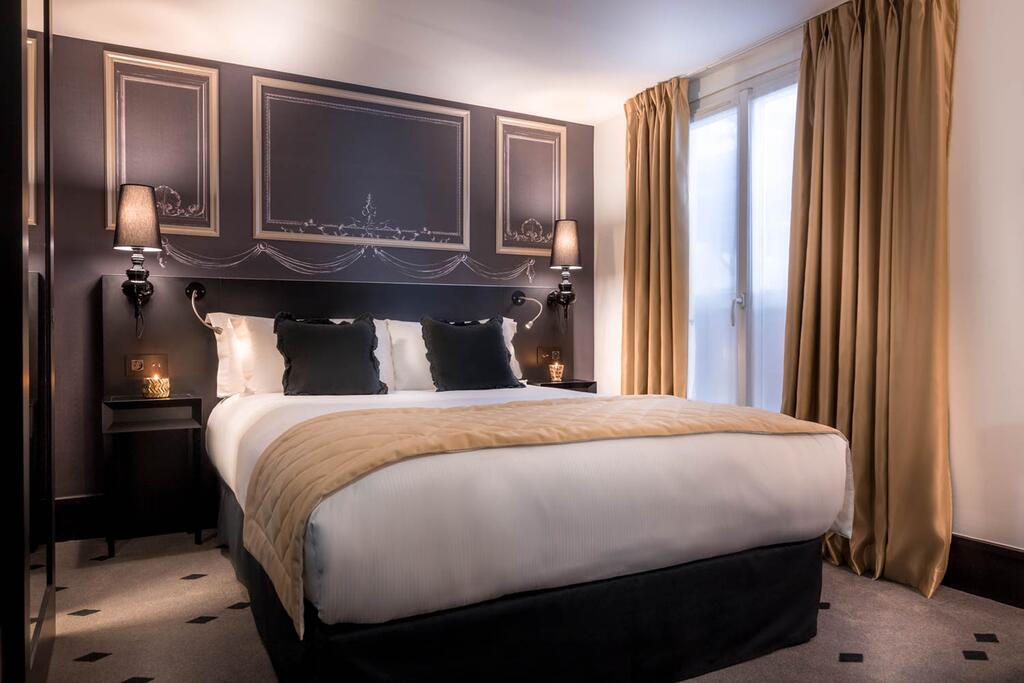 The Hotel Beauchamps has an arrangement with a nearby pool facility if you'd like to go swimming, there's an on-site restaurant, and all of this is a few steps from the Champs-Elysees.
Amastan Hotel
The Amastan Hotel is a smaller family-run hotel about 200 meters from the Champs-Elysees, close to one end of the Tuileries garden. There are only 18 rooms in the hotel, and it occupies a former private home. Each room has air conditioning and free WiFi.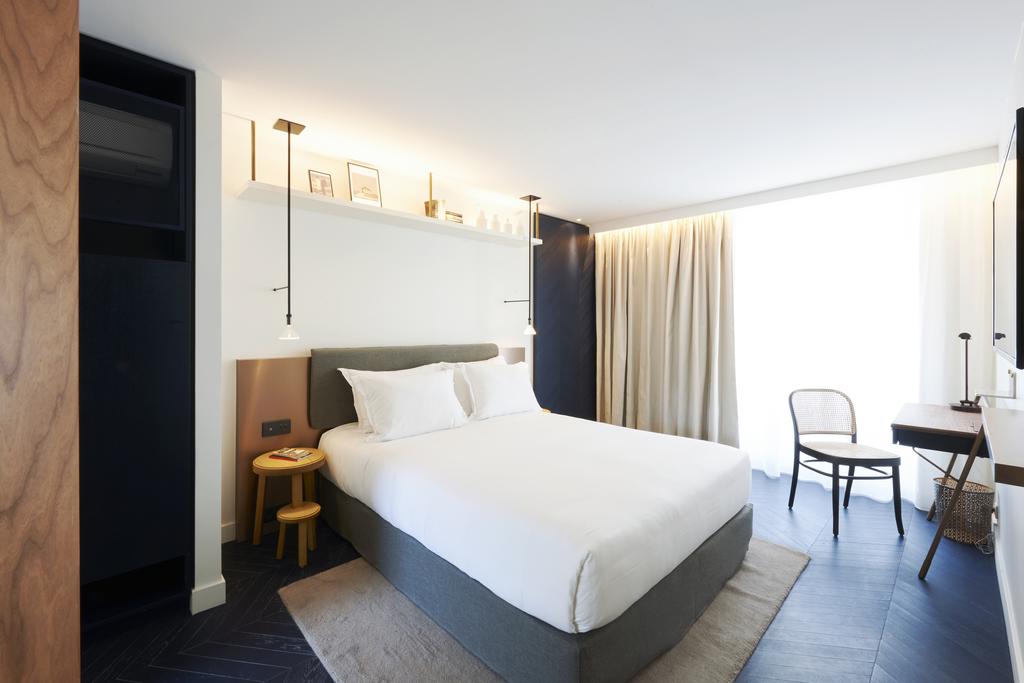 One perk that the Amastan Hotel has that you won't find at other hotels is an owner who is (as the hotel's site says) an "expert in early Christianity, Gnosticism, and Grail hunts" – which means in addition to running the hotel he also leads tours of Paris sights mentioned in Dan Brown's "Da Vinci Code" novel.