Top 10 Things To Do In Provence
A sun-soaked region marked by blue Mediterranean waters and vivid blue skies, fields of golden sunflowers, vibrant purple lavender, poppies, and lemon and olive trees. Provence was a favored region for impressionist painters like Van Gogh and Cezanne; they used the pervasive light and stunning palette of colors to vividly paint landscapes here. With scents of lavender and herbs, 300 days of sunshine a year, beautiful beaches, deep canyons, bustling markets full of fresh melons, cheeses, and olives, it is no surprise Provence is one of the most attractive areas to visit in France. But unlike some places that may not live up to all the hype, Provence deserves all of the accolades it receives.
The Provencal countryside and ports of Marseille characterized by author and filmmaker Marcel Pagnol still holds true today; old men gathered in town squares playing petanque; people clinking glasses of pastis on sun-soaked café terraces; market stalls with fresh Cavaillon melons, bunches of lavender, fresh olives and fresh, crusty breads; fish coming straight from the boat to Marseille's fish market; roman ruins and medieval cobblestoned villages.
Claiming so many great things to do, views, and food, the only hard part about choosing whether to take a trip to Provence could very well be deciding where to go and what to see. Since you could potentially fill a lifetime with exploring this diverse and colorful region; here is my list of the Top 10 Things to Do and See in Provence. Narrowing this list down to just 10 things was hard enough. So, I refused to order the list from most to least important and are listed in no particular order.
Here Are My 10 Favorite Things To Do, See, and Eat in Provence:
1. Walk through Marseille's Vieux Port and Eat Bouillabaisse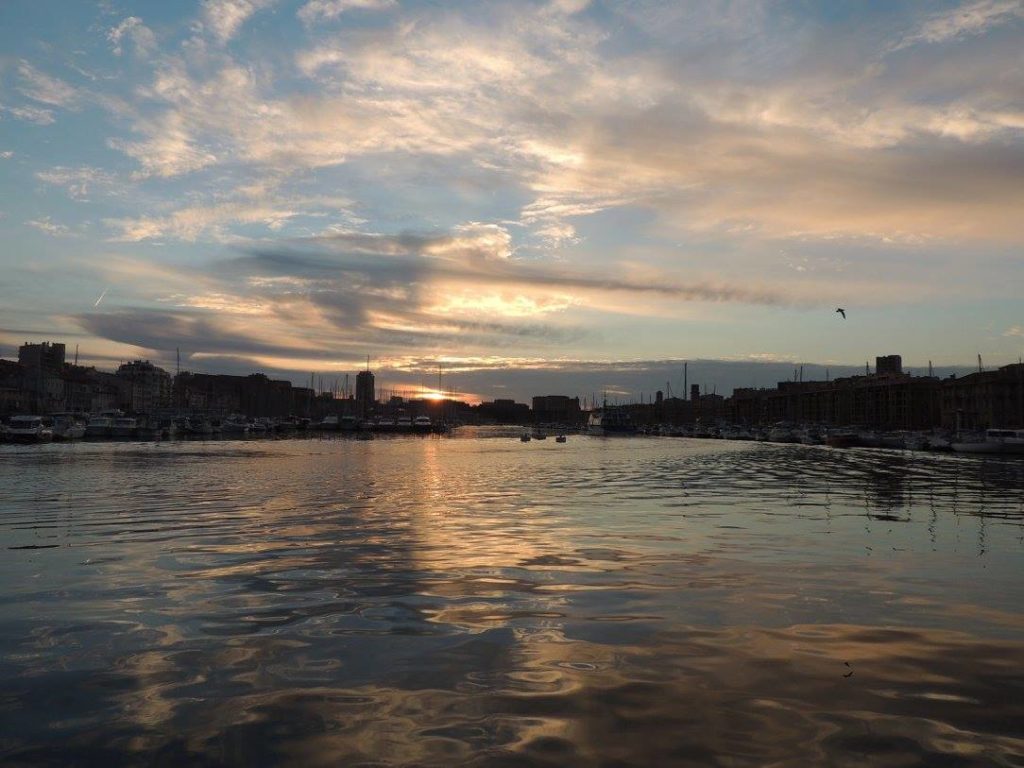 The second-largest city in France, Marseille is certainly not what many people picture when they envision quiet, stoned villages set among fields of lavender. Marseille is big, gritty and rough'n'tumble, but don't let this city's harsh exterior discourage you from making a visit. With terra cotta roofed buildings set against the azure Mediterranean waters and blending French and North African culture; Marseille is an extremely diverse, unique, culturally rich, and beautiful city to make a stop in.
Visitors to Marseilles should not miss heading to the Vieux Port area of the city. There, you will find market stalls filled Provencal products, Moroccan-like souks, and a centuries-old fish market with fish straight off the boat. In Vieux Port's Le Panier, you'll find narrow, twisting alleys and authentic shops. You'll also find pedestrianized shopping streets (Rue St-Feereol).
Make sure you stop at a restaurant and get a steamy bowl of bouillabaisse; a traditional Marseille fish soup containing various kinds of fish, shellfish, and vegetables.
>>Hotels Near Vieux Port in Marseille
>>Things To Do In Marseille
>>Marseille Travel Guide
>>Day Trips From Marseille
2. Visit the Palais de Papes and Check out the Famous the Pont d'Avignon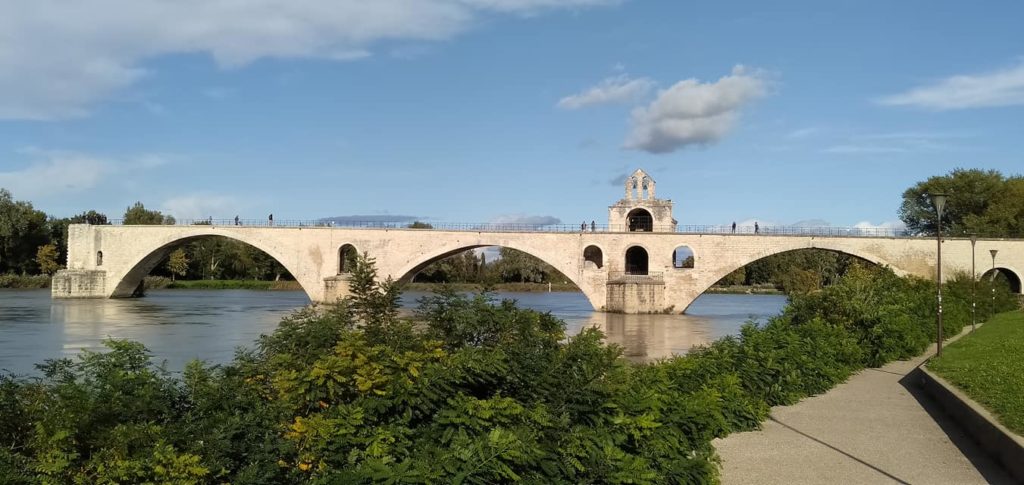 Avignon has long been one of my favorite cities in Provence. Home to impressive and amazingly well-preserved art and architecture, Avignon is not only picturesque but also full of history. The Papal Palace, which was home to many popes through the 14th century, boasts magnificent huge halls, gorgeous gardens and is the largest Gothic palace in the world.
While Avignon is probably known for its famous bridge, Pont d'Avignon (sometimes known as Pont Saint-Bénézet), it is a lively city with an intense student population, lots of history and makes for a great jumping-off point for traveling the region.
3. Visit The Roman Ruins and See Where Van Gogh Painted Starry Night in the Charming Village of Saint Remy de Provence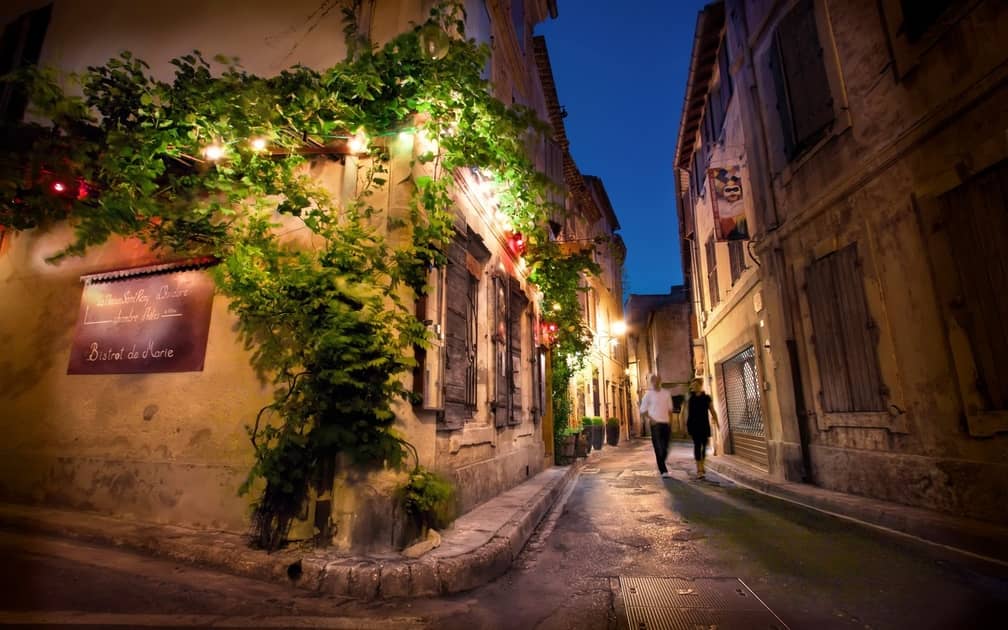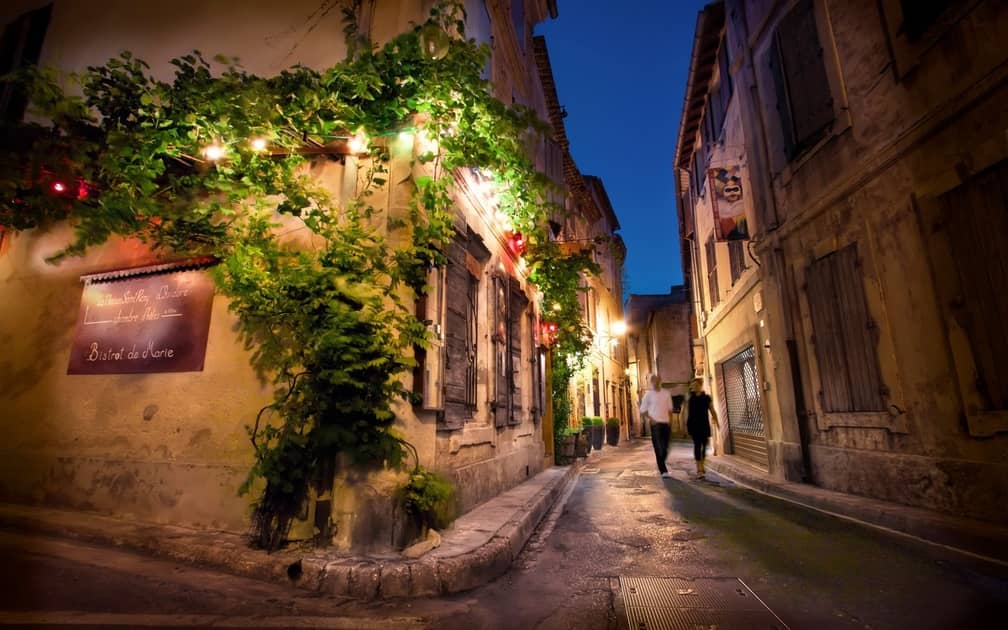 Positioned just 20 km south of Avignon, Saint Remy de Provence is a charming, traditional Provencal village. Marked by Roman ruins (especially the Triumphant Arch of Glanum), Saint Remy is a little, slow-moving town with an abundance of history. Not only was it once the site of a Roman city, but it was also where Van Gogh stayed at the Monastery de Mausole when he was being treated (unsuccessfully) for his numerous mental problems and where he painted the famous Starry Night painting as well as the birthplace of the great Nostradamus.
There is a lovely town square in this normally sleepy town, which has a good choice of hotels, restaurants, and stores. On Wednesdays, St. Remy is home to a popular and busy market. Stalls full of fresh produce (including melons grown in nearby Cavaillon), ceramics, and other Provencal goods fill the city. Though the atmosphere is lively and pleasant if you'd prefer to dodge the crowds, make sure you stay away from St. Remy on Wednesdays in the high-season.
4. Check out Wild Horses and Flamingos in the Camargue Wetlands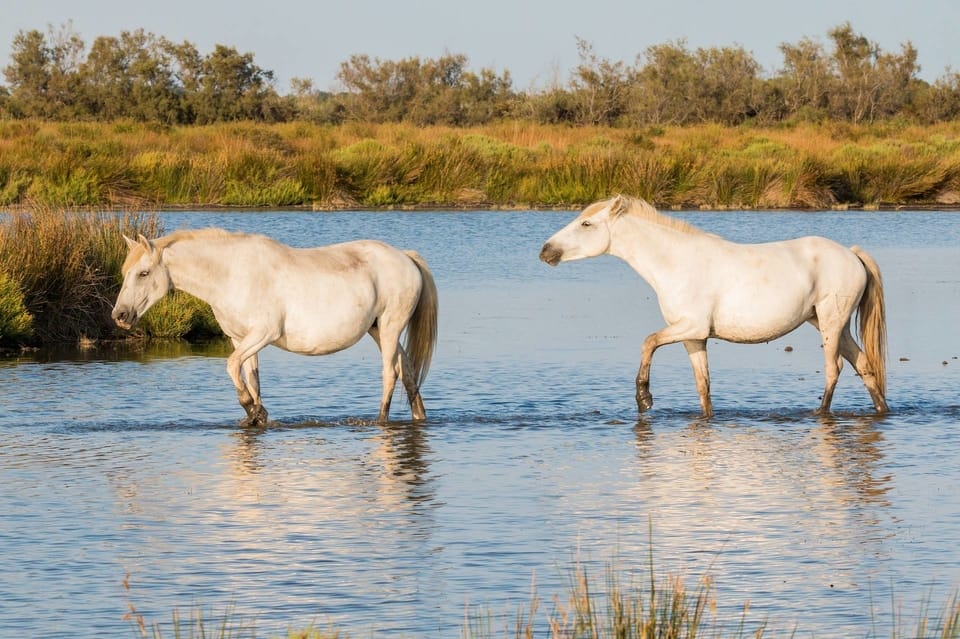 The bleached, desolate landscape of the Camargue landscapes stands in stark contrast to the usually brightly colored scenery of Provence, but this wetland wilderness should not be missed by visitors headed to this area of Provence. The marshes, salt pans and rice fields in this protected region are roamed by wild white horses, black bulls and pink flamingos. The 780-sq-km area at the Rhone River delta was created over thousands of years by sediment flowing from the River to the Mediterranean. Today the area is home to over 500 species of migratory birds.
This beautiful area is great to explore by bike, car, or horseback. If you are like me and seem to get by any and all mosquitoes in any given area, make sure you wear lots of bug repellent; the swamps attract lots of those little bugs. While there are some flamingos here that hang out year-round, if you want to catch a glimpse of the pink birds you should visit in the spring, summer or fall before they migrate to Spain and Senegal for warmer weather.
5. Visit the Ancient Stone Village of Les Baux-de-Provence
Although one of the most visited spots in France, Les Baux is well worth braving potential crowds and other tourists. Les Baux is located about 25 km south of Avignon just past the small town of Saint Remy de Provence; the village sits precariously on a 245-meter high limestone baou (which means rocky spur in Provencal). This uniquely magnificent village has been home to mankind since 6000 BCE. Throughout the Middle Ages was home to the most powerful lords in the south of France.
The steep rocks and cliffs facing a valley full of olive trees and vines boast a chateau, a church, and old narrow roads on top of the hill. Its unparalleled beauty has inspired authors and artists for many years and is even said to be the influence of Dante Alighieri's Purgatory in the Inferno. It is an absolutely magnificent spot and shouldn't be missed on a tour of Provence.
6. Hike in the Gorges du Verdon and visit Moustiers Sainte Marie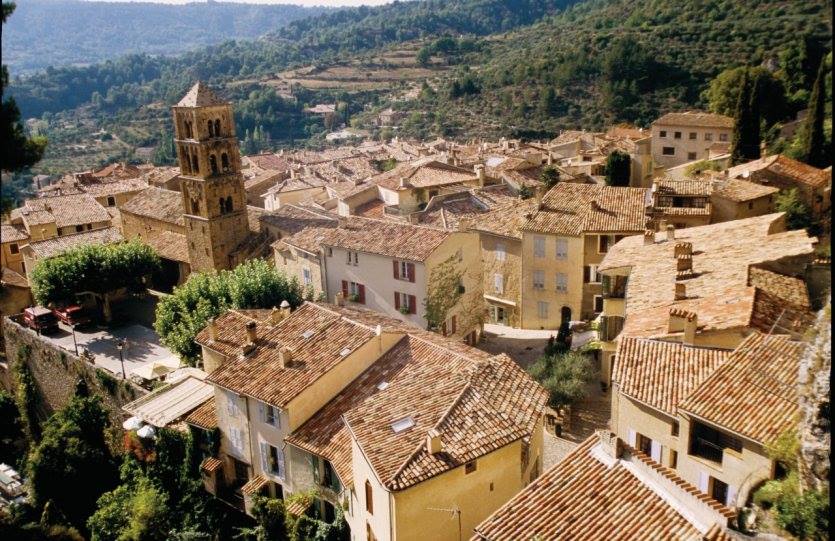 Also known as the Grand Canyon of Verdon, the plunging Gorges du Verdon is Europe's deepest canyon. Etched out the limestone plateau. A deep, narrow canyon with almost oddly bright green waters flowing through the bottom, the Gorges du Verdon plunge 250m-750m deep and is only 8m-90m wide. There is a great hike up this canyon, though I have never done it myself as my mother's fear of small, enclosed spaces kept the family far away from the long, dark tunnel hikers must go through (if you do it, make sure you bring good flashlights!).
While the drive to the beautiful Medieval town of Moustiers Sainte Marie is long and windy and can be very slow, a visit to this charming village is well worth it. Perched on the cliffs above the Gorges and marked by red-tiled roofs, this scenic village seems a million miles away from the 21st century.
7. Shop the Markets at L'Isle-sur-la-Sorgue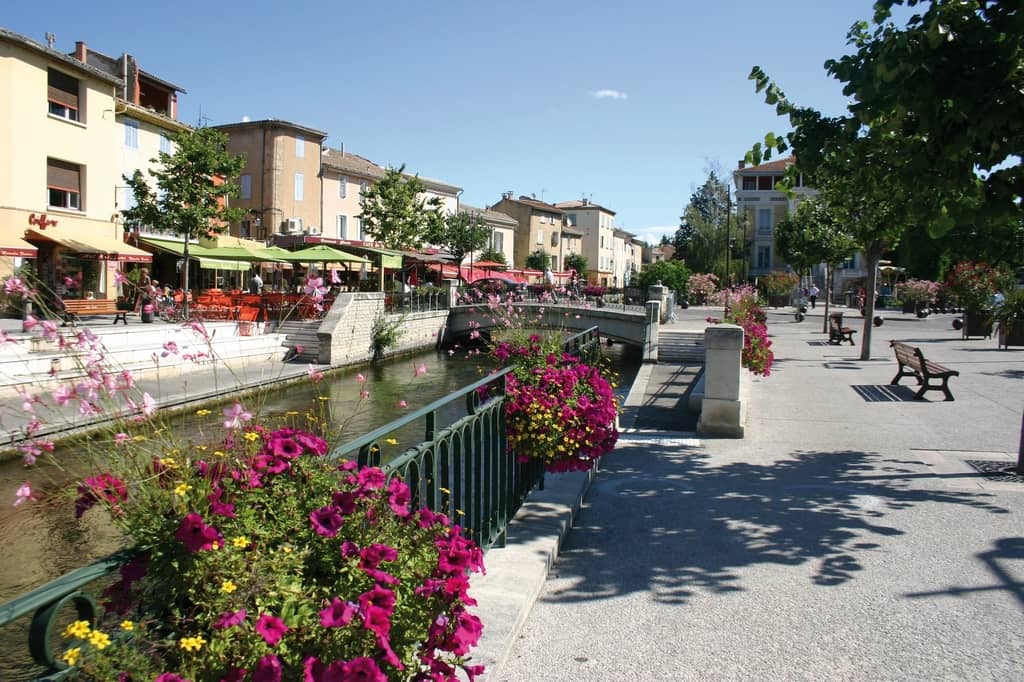 Often called the antique capital of France, L'Isle-sur-la-Sorgue sits on a winding set of canals and is home to the largest marche aux puces (flea market) in France outside of Paris. Many antique and bric-abac dealers post up in this small, picturesque Provence town year-round.
Isle sur la Sorgue is also home to a great Provencal market every Sunday and Thursday. Here you will find Provencal street market with stalls overflowing with fresh walnuts and olives, men in aprons slicing hunks from giant wheels of cheese, brightly colored produce spilling out of bins and baguettes leaving crusty crumbs on tables. It has long been one of my very favorite markets in France.
8. Walk On the Beach and Explore the Calanques at Cassis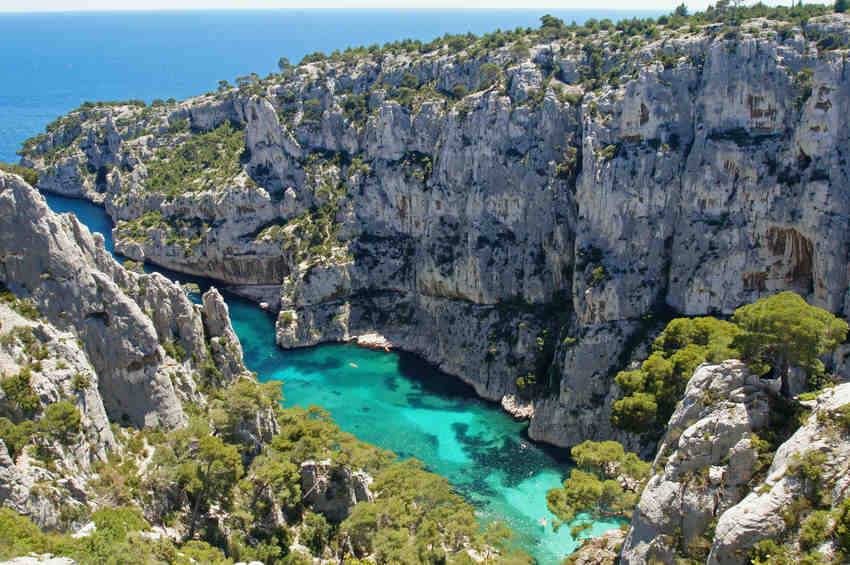 Although this charming fishing town on the Mediterranean coast bears the same name as a specialty liqueur made from black currants, it should not be confused with the main ingredient in a kir. Cassis is a charming port town located not far from Marseille. Cassis was an old fishing port and was reconstructed on the old remains in the 18th century, resulting in a more natural layout than most medieval villages. A stroll through the old village roads will unveil well-preserved old buildings; some dating back to the 1500s, and some renovated with the vivid colors of Provence.
Although not nearly as famous as its nearby Riviera neighbor, Cassis is just as delightful as St. Tropez with an extremely beautiful town and beach. Cassis is characterized by white, limestone cliffs and narrow, steep-walled inlets called calanques. It also has a beautiful, wide sandy beach ideal for working on your tan on in the summer; of course in the French tradition, sans bikini top.
The picture-perfect portside village is marked by brightly colored buildings, and its harbor is dotted with masts and fishing boats. Although not a "hidden" beach town in France, Cassis tends to be less crowded than other Mediterranean cities and nearby Marseille.
>>Cassis is one of France's Best Beaches
>> Best Beaches in the French Mediterranean
>>Best Nudist Beaches in France
9. Soak in the Thermal Springs and Check out Fields of Lavender at Digne-les-Bains City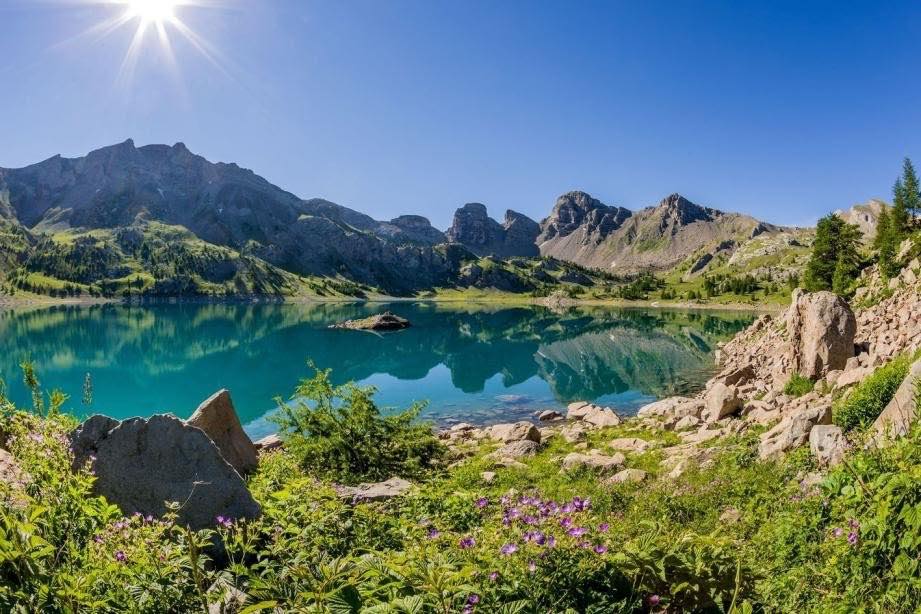 Located at the foot of the Alps near the Gorges du Verdon and 100 km northeast of Aix-en-Provence, Digne-les-Bains is named for supposedly curative thermal springs located here. Wild and cultivated fields of lavender carpet the mountains and plains around Digne-les-Bains, and the town celebrates the harvest of the fragrant purple plant every year during a 5 day festival the first weekend in August. While Digne-les-Bains City is a great place to simply soak up the beauty of the natural surroundings; it is also a great place to soak in the thermal pools here.
Located 2 km from Digne-les-Bains City, you can soak in the thermal pools, cover yourself in clay and seaweed or soak in a lavender bath at the Etablissement Thermal. There is also a great Provencal market in town on Wednesday, Saturday mornings.
The best part of going to Digne-les-Bains, however, very well could be getting there. The famous Train des Pignes (Pine Cone Train) chugs along a narrow-gauge railway from Nice to Digne-les-Bains. The train crosses through some of Provence's most stunning mountainous scenery and is well worth a trip to Digne-les-Bains.
10. Visit Roman Ruins or Watch Bullfighting in Arles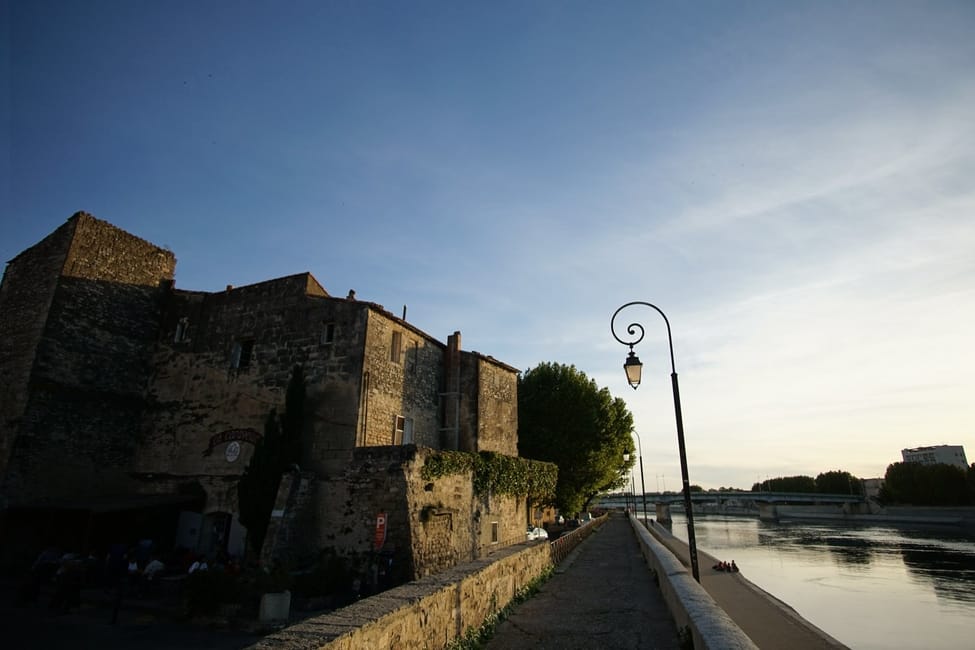 Although the narrow, winding streets, stone squares, and colorful houses may look oddly familiar from many Van Gogh paintings, Arles' historical roots date back far further than the days of the famous impressionist painter. Arles was the site of a Celtic settlement, a Greek colony, and later a Roman city. So, it is easy to imagine that this Provencal city is bursting at the seams with history and culture.
Arles made an important political decision in Roman times when it chose to back Caesar (rather than loser Pompey). As a result, Cesar plundered Marseille (they supported the losing guy) and built Arles into a prosperous port and city in southern France. Today the city boasts a 20,000 seat Roman amphitheater, which once hosted gruesome gladiator battles and now stages corrida (bullfighting), which sends the entire city into a fervor when the bullfighting season begins each spring.


Do you have any other suggestions of Things To Do In Provence? Leave your comments below!