Hotels Near Vieux Port in Marseille
Considered to be the "melting pot" of France, Marseille is a large and dynamic city located on the shores of France's Mediterranean coast. It's the third most populous city in France (after Paris and Lyon), and has long served as an important port city. In fact, Marseille is one of the oldest cities in Europe – established by the Phoenicians sometime around 600 B.C. It's so old, we're going to call it olde. It deserves the extra "e."
While the terracotta-roofed buildings, sun-drenched promenades, petanque-playing inhabitants, and Mistral-whipped boats in the Port may make you feel like you've stepped in a Marcel Pagnol movie, Marseille is certainly not the type of Provençal city you picture when you see a Cézanne or Van Gogh painting. It can be gritty, grimy, and litter-filled, but it's a city with a gloriously rooted soul of sorts. Its vibrant cultural mélange and location on the Mediterranean make it a city slicker's city. It's got a vibe like no other in Europe.
The Vieux Port and neighboring Le Panier quartiers are absolute must-sees for anyone visiting Marseille. Not only is Vieux Port the site of Marseille's renowned fish market; it makes the list of Things To Do In Marseille. When it comes to finding a hotel in this large city, you are probably best off-centering yourself near Vieux Port.
Here Are The Best Hotels Near Vieux Port in Marseille
Hotel Carré Marseille Vieux Port
While many of the hotels located on the Vieux Port tend to be expensive, the Hotel Kyriad is a terrific budget option. It offers the same great location for substantially less money per night, even if it's not the top of the line luxury.
It's got WiFi, and they have special "Evasion Rates" (LOL) that start at just €45 a night on the weekends.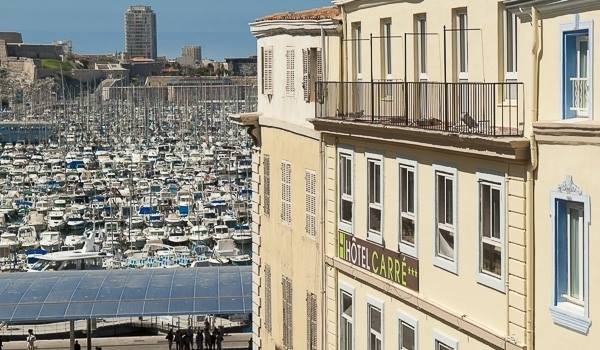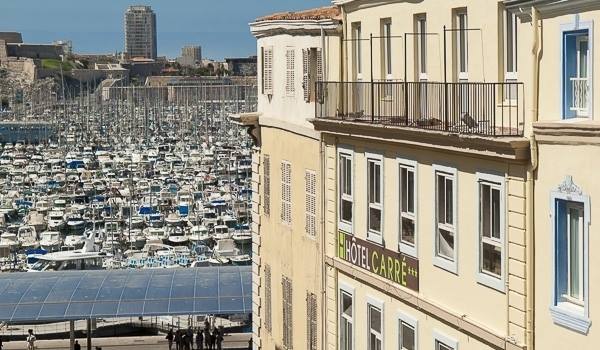 Grand Tonic Hotel Marseille
The Grand Tonic Hotel is smack in the middle of the curve of the Vieux Port, but only a fraction of their rooms have a sea view – so make sure you specify you want one when you reserve. They have WiFi access and a pretty, sleek interior. And their restaurant has front-row, outdoor seating!
Sofitel Marseille Vieux Port
The Sofitel chain is known for luxury, and this property is no exception. It's got everything you need, and it's gorgeous. If you don't want to splurge on a room, though, at least head up to the rooftop for a spectacular view. Or, really, anyone of their public lunge spaces. Students, this is where you book your parents when they come to visit.
Hôtel La Résidence du Vieux Port Marseille
Funky colors, FREE WIFI – HELLO! – and 40 rooms with a view of the Port. It's kind of spendy, but they have a four-person apartment that could be a great deal for friends or couples traveling together. This is a great boutique hotel for those who want the chic experience without the stuffiness (and cost) of five-star luxury.
New Hotel Le Quai – Vieux Port Marseille
The WiFi is free in the lobby and available for a charge in the rooms. Because of its corner location, they have many rooms with a great view. It's a grand old dame hotel with some nice modern touches inside. Like many of the hotels in Marseille, they have amazing fall weekend deals – so put this one on your list if you're going in the off-season.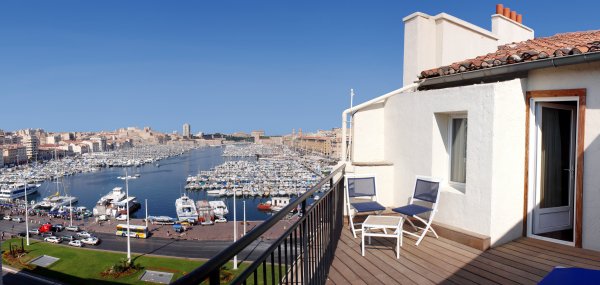 Mercure Marseille Vieux Port
This hotel is a little way off the Port, but the hotel-wide free WiFi and seriously decent rates with even better deals more than make up for it. And it's a block back from the Port, not a mile. I haven't stayed in this particular Mercure, but I've stayed in others, and they're totally acceptable. I'd put this high on my list.
Hôtel Bellevue Marseille
This is not the finest hotel on the planet, but it's clean, cute, very affordable, and is smack on the Port. And they've got WiFi, so you can upload your pictures you took from your room and make all your friends jealous before heading out for some bouillabaisse.
Do you have any other recommendations for Hotels Near Vieux Port in Marseille? Leave your comments below.
Also Read: Marseille Travel Guide