11 Best Ways to Celebrate Christmas in Paris
Paris has so many things to offer that you don't necessarily need to come up with a plan in advance. No, really. You will always find places to visit and things to do in Paris, especially when it comes to Christmas. With Christmas being right around the corner, the city becomes permeated with myriads of tourists from all over the globe. And it isn't surprising, for Paris has long been among cities having an exponential inflow of tourists willing to spend Christmas in the city of love. 
There is something incredibly idiosyncratic about celebrating Christmas in Paris. Well-decorated confectionaries, book stores, museums – whatever you look at will leave you under a potent impression. And that's typical of Paris. Gazing at such places, you'd want to make your visit even more romantic and invite your partner to dinner in a creative way, e.g., using this invitation card maker.
More to the point, Paris is humongous and has a lot going on, particularly during Christmas, so you'll never get bored. Nonetheless, here are some things that will let you have a mesmerizing Christmas and feel yourself an authentic Parisian.
Practice cafe-hopping
It matters not if you plan to visit Paris alone, with your friends, family members, or a beloved one. In any scenario, if you're open-minded and extraverted, cafe-hopping is your go-to. The concept of cafe-hopping is straightforward: you visit various cafes in a single outing. That's for you to decide on meals and/or drinks to consume upon entering every cafe; the more places you want to visit, the fewer things you'll need to order. 
Likewise, it's up to you which cafes to hop in. However, consider adding places like Cafe de la Paix and La Cuisine de l'E7 Restaurant to your list. Those provide mouth-watering and Christmas sweets.
Visit various museums
Parisians are enamored of museums. Ask any person residing in Paris whether they go to museums, and you'll always get a definitive and positive answer. Cultural events and places are entrenched in the French genetic code. There are always many things going on in Paris, culturally-wise. 
Paris encompasses several museums that attract millions of visitors annually. And going to such aesthetic-laden places is another excellent way to spend Christmas in Paris. Although getting tickets might be a challenge in itself, try to visit the Louvre along with Orsay and Orangerie Museums.
Explore Disneyland
Many people associate Christmas with the time when miracles happen. If you are among those people, visiting Disneyland is a good option. Disneyland holds a firm place as the most visited destination among tourists and locals. And that's for a reason. 
This magic place is saturated with the festive atmosphere, lights, and the sweet smell of chocolate and mulled wine. Hence if you want to observe a miracle, Disneyland is the place to achieve that.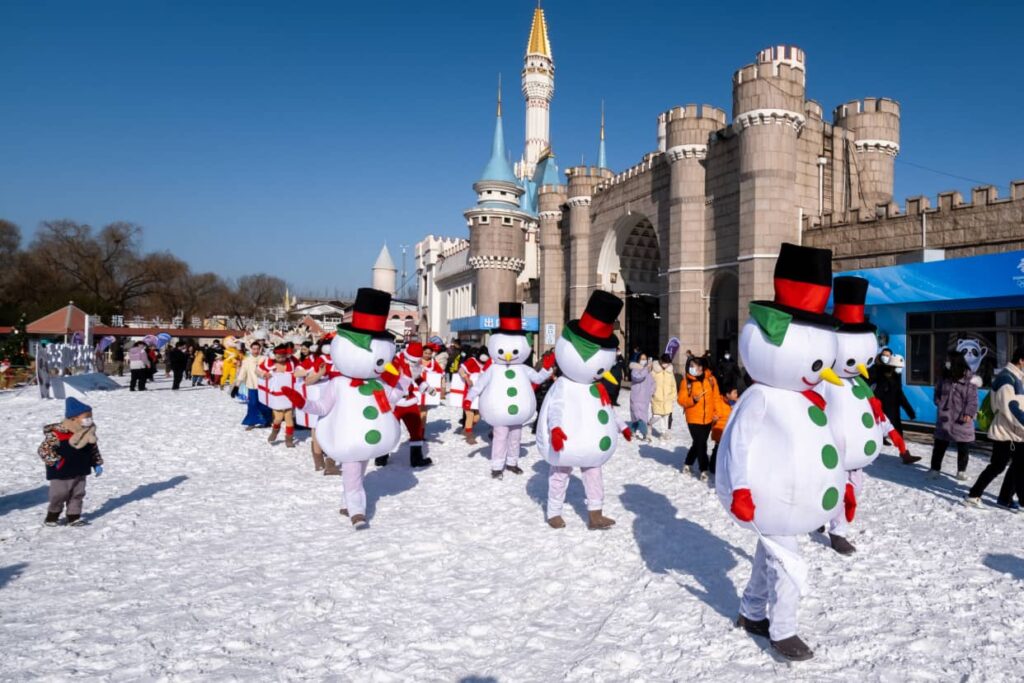 Attend the mass
Paris is an authentic melting pot. Many cultures, ethnicities, and religions coexist here, allowing anyone to spend a proper Christmas. If you are a catholic or orthodox who celebrates Christmas in December, you'll find a host of masses during Christmas Eve with gorgeous, holy, and exclusive concerts and choirs. You are encouraged to visit the Madeleine Church or the Sacre-Coeur Basilica. 
Book a hotel suite
The primary purpose of hotels is to provide a roof under the head and let people recharge their batteries. In Paris, though, specifically during Christmas, hotels become unique places packed with captivating Christmas agendas. 
It shouldn't surprise you that many people, including Parisians, opt for booking a hotel suite and spending several days enjoying palatable food, bed linen, fragrance, and events. Four Seasons George V, Hotel de Crillon, and The Ritz are perfect places to celebrate Christmas. Alternatively, you can go with apartment rentals. Airbnb works just fine in Paris, so you'll manage to find something toasty.
Visit Christmas markets
Going to Paris, you can't avoid Christmas markets. Christmas markets are visually pleasing in Paris, incorporating various places with unique cuisine and delicacies. Whatever you plan to taste, make sure to have a few sips of vin chaud stands – mulled wine – to fuel your evening walks and let you enjoy the city for a significantly longer time.
Do some ice skating
Ice skating may not be your cup of tea, but it doesn't mean you won't go to the ice rink, mainly if your partner craves some skating. But worry not, as Parisians love ice skating. Paris has a handful of ice skating rinks scattered around the city, with each of them being fascinating and worth visiting. However, you may give priority to La Defense, Bercy Village, or Grand Palais.
Hang out with people you don't know at all
Paris is a fantastic city with its pros and cons. Visiting standard tourist places, you only scratch the surface of what Paris is. If you want to dive into the city, you should interact with locals. Not only will you learn how the city lives, but you will also get the chance to comprehend (or at least try to) the things that make Paris Paris. 
Rent a bike or car and learn the city
Another superb way to celebrate Christmas in Paris is to look at it from several angles. Every city looks different when you meander the streets on foot, by bicycle, or by car. The choice hinges on your budget. If you're tight on it, you can easily explore the city by tram or bus. More importantly, it will unveil a new perspective on the city no matter what you choose.
Buckle up and go on a cruise along the Seine
Freezing as it might seem (and feel), going on a cruise along the Seine River is a remarkable way to spend Christmas. Paris is usually not as cold in December as many portray it. Typically, it's around 8-10 degrees Celsius in the city; therefore, the weather allows people to enjoy Christmas markets and winter walks. 
Indubitably, it doesn't mean you can spend hours outdoors, which is why going on a cruise is a good option, as you can go on a deck, enjoy Paris from the water, and return to the cabin having a glass of a typical Parisian drink – cognac.
Become an authentic flâneur
Paris is a cradle for many thinkers and poets, from Baudelaire and Rimbaud to Sartre and Foucault. Knowing that they lived in Paris is one thing. But realizing that they used to walk down this same street and see very much the same things can be mind-blowing! 
One of the most enigmatic and inspiring representatives of the Symbolism movement, Charles Baudelaire, established the term flâneur as a literary figure. A flâneur is a person that rambles the city. Baudelaire made flâneur an intelligent and perceptive individual who strolls the city with no particular aim but to learn its semiotic landscape and thus impact on people. 
Being a flâneur doesn't require much but to keep your eyes and mind wide open. Embedding this concept in your journey will help you understand the relationship between Paris and its inhabitants. Moreover, it will motivate you to visit places off the beaten track, automatically making you more than just a tourist to this city. 
Have you decided yet?
And there you have it. Choosing those wasn't an easy task since Paris comprises hundreds if not thousands of ways to spend Christmas. Nor will it be easy for you to decide what to do during your stay. 
But what can be said for sure is that whatever you pick (it doesn't necessarily need to be from the mentioned list) will let you experience that grandeur feeling Paris radiates every Christmas. 
Make sure to open your soul to Paris and savor the moment, and you'll end up a different, more romantic, and mature person in the long run.