Normandy conjures up a few images. For starters, there's the D-Day Beaches. Then there's the Bayeux Tapestry, Joan of Arc and Mont St Michel. And don't forget the coastal resorts of Deauville, Trouville, Honfleur, and the birth of Impressionism.
Here a Few Tips on What to See, Do, Eat and Drink in Normandy
Getting Around
If you're traveling independently, a car is essential. Trains run as far as Rouen or Caen, but after that, you're on your own. Roads are good, but watch out for traffic problems around the main autoroutes, particularly in summer as everybody heads off en vacances.
Where to Stay in Normandy
Bayeux: Most battlefield tours leave from Bayeux, plus there is the attraction of the Tapestry. It is a quintessentially French town, with cafés aplenty, pastry shops, and a Saturday market selling everything from orthopedic mattresses to live animals.
The Churchill Hotel is a popular place to stay. Decorated with D-Day photographs and memorabilia, you could say that it has embraced the Libération theme.
Rouen: For eastern Normandy, Rouen is a good base. Monet's paintings made the Gothic Cathedral famous, and Joan of Arc was burnt to death here. Sticking to the Impressionist theme, Rouen is within easy striking distance of Giverny, Monet's famous garden.
Things To Do in Normandy (What I Did in Normandy)
Many visitors come to Normandy purely to visit the landing sites and memorials of the D-Day liberation. We took the half-day Sword Beach and British Airborne Sector tour with Olivier, who was ultra-enthusiastic and knowledgeable.
We started our tour where D-Day began: at Pegasus Bridge. Shortly after midnight on June 6th, 1944, gliders from the British 6th Airborne Division landed here (and further along at Horsa Bridge), and the nearby Café Gondree became France's first liberated building. The signal "Ham and Jam" (Pegasus and Horsa) was sent out to indicate the successful capture.
We moved onto the Merville Battery, a key D-Day target, and now an exceptionally well-preserved museum. We wandered through the bunkers to get a real picture of life as a German soldier. The site also hosts a restored Dakota aircraft (be sure to go onboard).
The saddest part of any tour is a visit to a cemetery. Ranville is a small Commonwealth cemetery. The graves are mainly British and Canadian, but there is also a small German section. The 'unknown' graves are particularly moving.
Sword Beach (the port of Ouistreham) was the landing site for 28,000 British and 177 Free French soldiers. These days, it's a location for sailors, kite fliers, and holidaymakers. Olivier pointed out a few houses where remnants of German gun turrets remain.
The Hillman Bunker Complex near Colleville-Montgomery was our final stop of the afternoon but didn't disappoint. For a start, it is still all but invisible. One minute we were staring at golden fields of wheat, the next we were down in a bunker, reading about the Suffolk Regiment and why the village of Colleville-sur-Orne was renamed after Field Marshal Montgomery!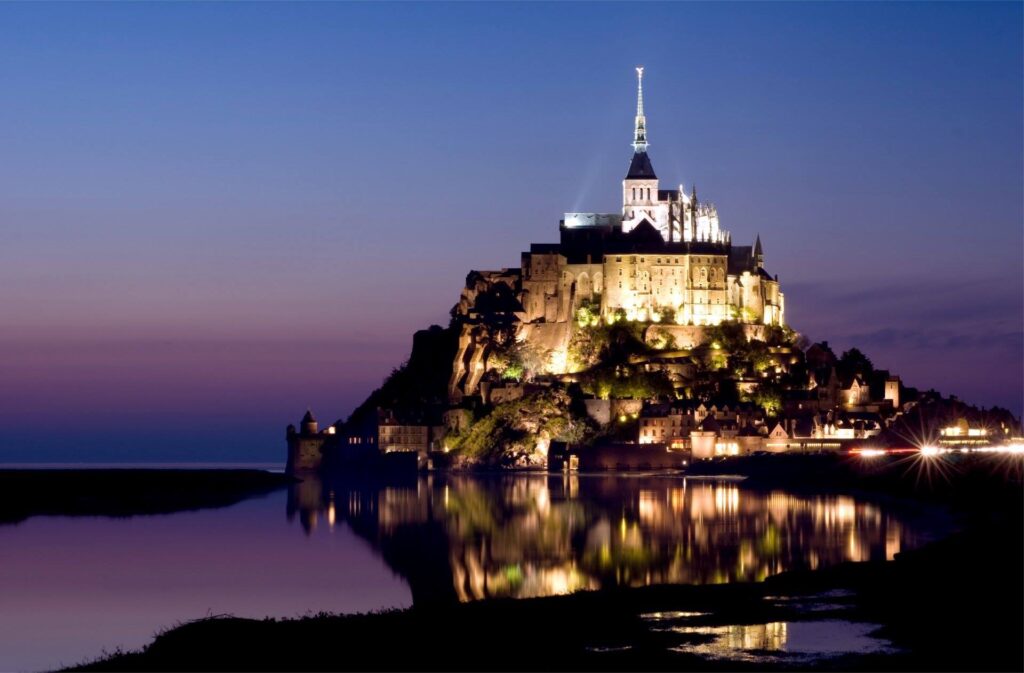 Should You Take a Tour in Normandy?
After a fabulous (yet tiring) afternoon, we returned to our hotel and pondered the question: do you need a tour to visit the D-Day sites?
To put it bluntly, yes, you do. The big sites are easy enough to find yourself, BUT the smaller sites can be really hidden away. Plus, a good guide like Olivier provides the details and personal stories that make the sites come alive.
Most tours are for half a day or a whole day. Still, if you have a particular interest or itinerary you'd like to follow, talk to tour companies before you leave to see if you can organize a personalized tour. Olivier told us that he has even based a tour on a veteran's photograph of a house!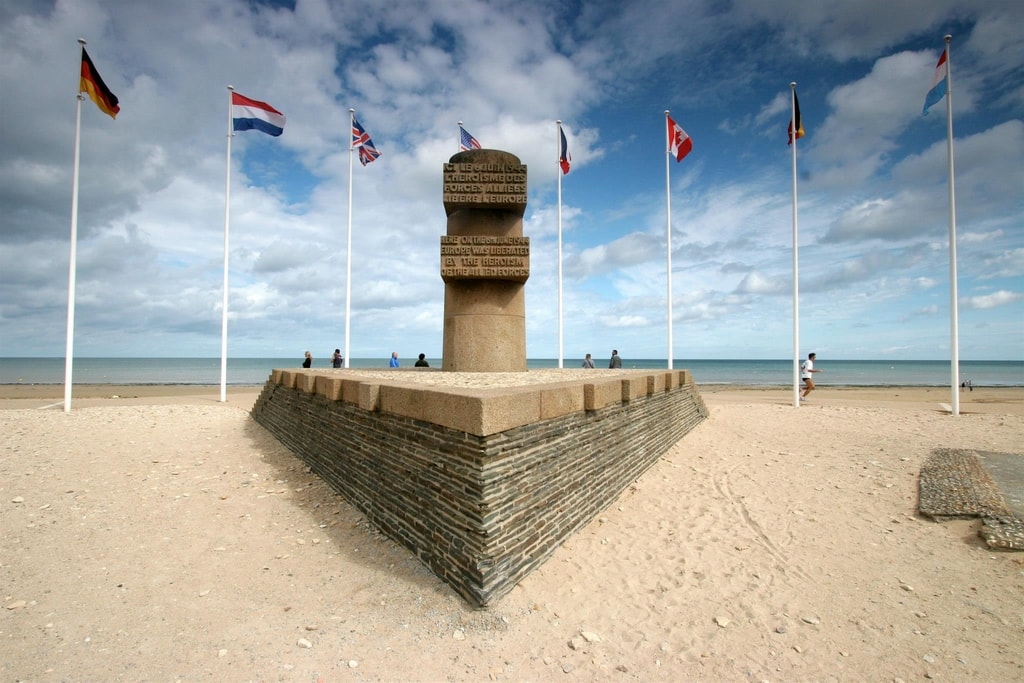 Invasion and All That
Normandy first hit the headlines back in the 11th Century, when William of Normandy invaded England, defeated King Harold at the Battle of Hastings, and crowned himself King at Westminster Abbey. (It's taken 1000 years, but we're almost over it now).
The history actually begins slightly before that, when the Viking King Rollo arrived and settled in Rouen. The "Norse Men" spread westwards and gave Normandy its name.
Thanks to Queen Mathilda (William's wife), we have a more entertaining version of Norman history. She commissioned the Bayeux Tapestry (or "La Tapisserie de la Reine Mathilde") to provide an account of the conquest to a largely illiterate population.
70m long, the tapestry was originally displayed in Bayeux Cathedral and has survived remarkably well. It is now a UNESCO "Memory of the World" and should be on everybody's itinerary.
Now, you may be worried that a piece of needlework may be boring, or that the children are too young to appreciate it. Fear not. The free audio guide that comes with your ticket gives a scene-by-scene account of the story, and there are plenty of cute details that even little ones can relate to. Spot brave King Harold carrying soldiers over the sands at Mont St Michel or the French soldiers cooking chickens over the fire.
Monet and Friends
In the late 1850s, the French railway system spread its branches across the country. Destinations such as Rouen, Orleans, and the coastal resorts of Honfleur and Deauville were suddenly accessible from Paris. As well as holiday makers, the trains carried painters such as Monet, Gauguin, and Pissaro.
2010 is Impressionism's official 150th birthday, and Normandy is falling over itself to celebrate. We visited the "A City for Impressionism" exhibition in Rouen, showing a fine collection of paintings. Most notable are Monet's series of Rouen Cathedral and Pissarro's series of Rouen bridges.
Eating & Drinking
Normandy restaurants serve a lot of steak and veal, often with cream-based sauces. Seafood is also excellent. For dessert, ice-cream features heavily, occasionally mitigated with fruit.
Normandy's apples may be drunk alcohol-free (apple juice), fizzy (cider), or strong (Calvados). Cidre is frequently served in a small earthenware bowl (bolée).
For those (i.e., me) with a love of excellent food, Normandy is a dream. For those who are calorie-counting or have an aversion to dairy…well, there's always salad. (Small confession: one Normandy specialty is homemade tripe (Tripes Maison). I have tried them before. I don't like them. You may feel differently).
How Long Should You Stay in Normandy?
We spent a long weekend in Normandy and agreed that we could definitely fill 10 days or even a fortnight. The downside is perhaps the amount of driving, but the upside is the sheer variety of sights and activities.
Whatever you like and whatever you're looking for, there's a chance that Normandy has it. And this also means that there's something for everybody, whether it's the World War II history buff, the fine art student or the gourmet chef.
And really, you can't say it fair than that!