On the border with Germany is Alsace. After being the subject of disputation for centuries (between France and its neighbor), this region has retained a character comprising the two. This cultural blend encapsulates everything, from cuisine to architecture and language. The glob-shaped peaks of the Vosges eclipse Alsace to the west, prompting a dry microclimate that lets vineyards with Riesling grapes thrive. Some of the quaintest towns you can think of, with canals, timber-framed houses, and flashy flower sets, are on Alsace's wine route.
Here is What Alsace is Famous For:
Strasbourg Cathedral
This 42 m building used to be the world's tallest for 227 years up to 1874. With its colossal scale and high-gothic sculpted stonework, it makes an impression on anyone who sees it. It has even been praised by era-making writers Goethe and Victor Hugo.
Inside, there is enough to keep you interested for hours. Still, the imposing clock is a massive piece of mid-1800s brilliance: it highlights leap years, equinoxes, and different kinds of astronomical features. Observe the gorgeous stained-glass windows, dating between the 1100s and 1300s, and reach the tower for unmatchable views of Strasbourg.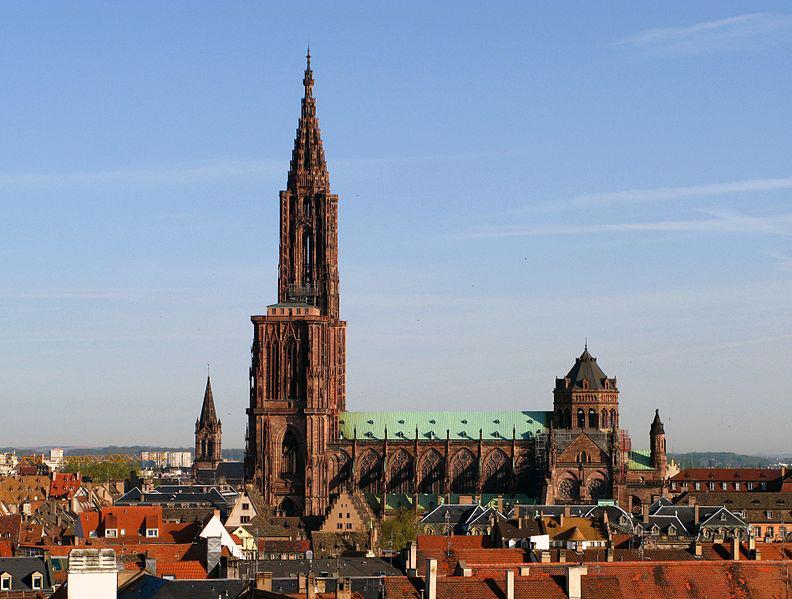 >>Also Read: Cathedrals You Should Visit in France
Petite France
One of the fondest things to do in Alsace is to stroll around the postcard-perfect Petite France. People say that this is the most exciting destination in Strasbourg. Walk along the calm River Ill past flower-decked bridges and capture many scenes on camera, enjoy the setting, savor the great food and wine. This eventful trip starts in Petite France, Strasbourg's most ravishing spot. Then proceed to the Ponts Couverts, where many bridges transverse the River Ill's channels.
Capture a thousand photos on camera of the waterways and quaint houses, step in and out of chocolateries, relax by the river at an outdoor café and give yourself to the charm of Strasbourg's old town. After this, do not fight the temptation to take on the rest of the city and wander into the countryside. Even if it is just for the pictures, this lovely destination is worth a visit. Also, it is where visitors will discover a strip of irresistible restaurants offering the finest of Alsatian cuisine.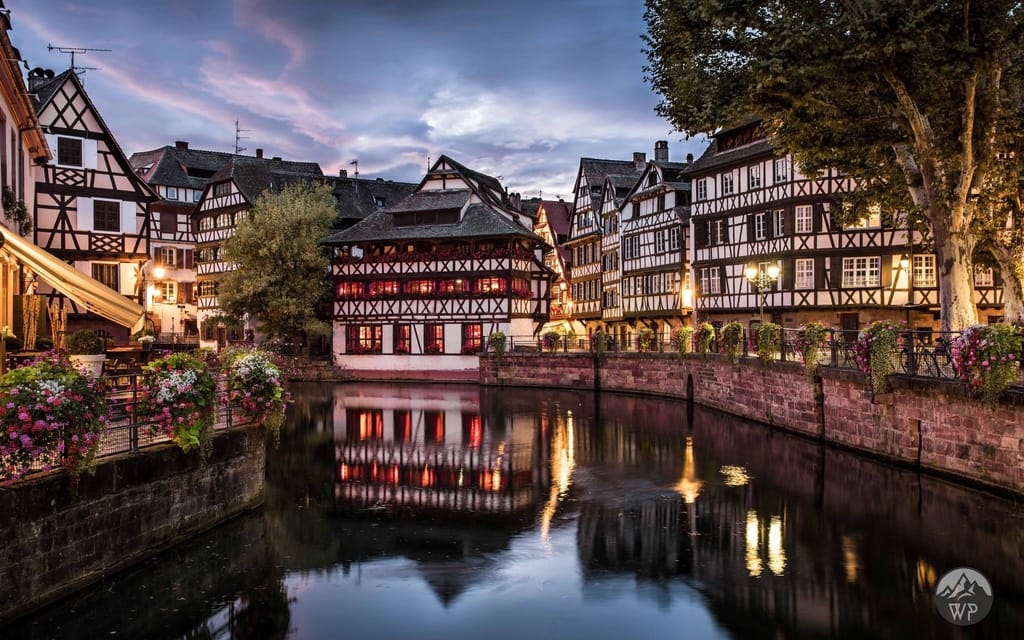 >>Also Read: Strasbourg Travel Guide
Tarte Flambée, Spätzle, Choucroute and other Regional Specialties 
You can savor brilliant Alsatian cuisine; from the delicious and meaty choucroute to the cheesy and creamy tarte flambeé, every meal will be a batch of great choices. At your satisfaction- this is just one of the many things to do in the region when you visit.
For regular visitors to France, it is easy to have the impression that culinary masterpieces are inclined to be of the small form. In Alsace, that is not the case. This is because you will get plates and bowls of hearty food- such a generous treat. Basically, the selection is like nice bar food joining forces with stylish comfort food. There is a carnivore's treat made up of many servings of charcuterie and sausages, choucroute garnie, offered with hot fermented cabbage stewing in wine.
There is also the bread dough with cheese and cream; the tarte flambée that is best enjoyed with a cold Alsatian beer. To reward your adventurous feats in the day, go for a sizzling bowl of spätzle with Munster cheese cream sauce.
>>Also Read: Food Lover's Guide to Strasbourg
Historic Wine Trails
Following the wine trails of the region, you are expected to find more things than the vineyards. This trail courses to Les Trois Chateaux ruins from the 1100s. While the region boasts of prestigious features, its authentic claim to fame is its past wine trails. Owing to the optimal terroir and great year-round weather, the Alsatian grapes are flourishing and making the finest French white wines.
With wine having a significant role in how Alsace prospered, a trip of the wine trails is a must-do when you are visiting. You don't even have to be a wine lover to enjoy here. You can secure a vehicle and drive to the small wine towns., spend the afternoon strolling in the vineyards, and walk to historical ruins like medieval bastions and neglected chateaus.
>>Also Read: Best Wine Tours In France
Vosges Natural Park
Spend a day or more strolling or riding around the famous Vosges Natural Park. After all the delicious food and great wine, you will tend to burn extra calories. You don't necessarily need a gym. The region is home to this natural park, where you can hike to the adorable blue lakes and picturesque viewpoints.
The properly marked cycling and hiking trails courses from quick leisurely walks to more demanding multi-day trails. It is particularly gorgeous in autumn when the trees don colorful oranges and reds. Still, the routes can be reached all year round.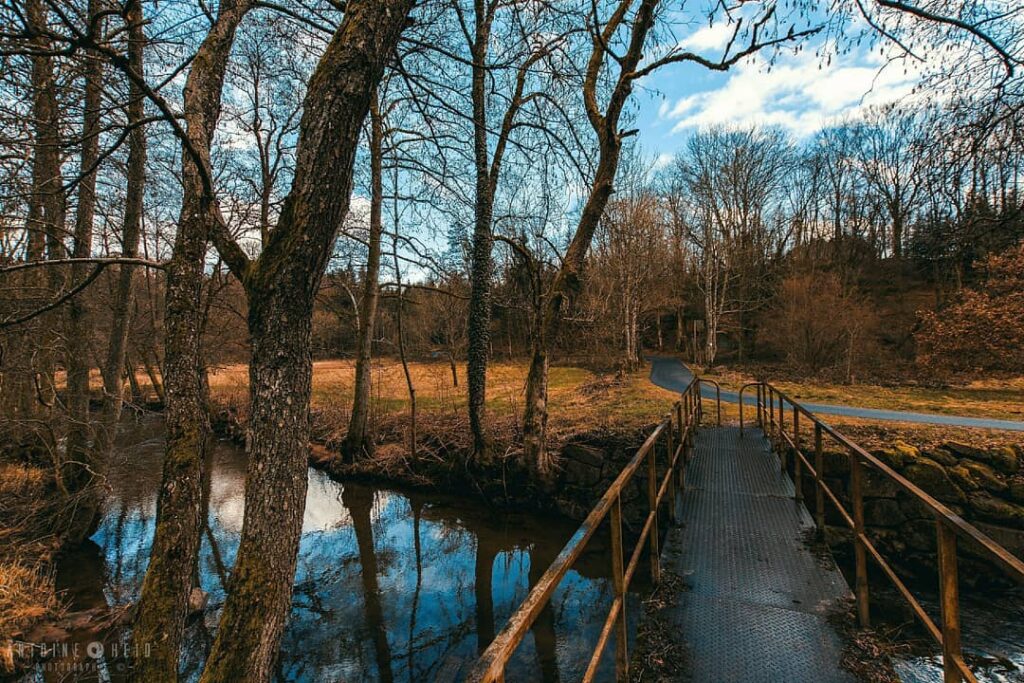 Colmar
A boat trip around Colmar will be a perfect time out in Alsace's wine capital. The medieval town highlights the picture-perfect union of the French and German cultures- from the language to the food to the architecture. Colmar is also the place to sample local wine and treat yourself to a glass of artisanal beer (Alsatian).
Eguisheim
Eguisheim is the calmer and less crowded variant of Colmar. It is the region's cradle of Alsatian wine. A fast circuit of its major avenue will lead visitors to the past traditional Alsatian structures, an alluring dovecot, some pastry shops, and a medieval town square. Explore the town's edges and discover small and big wineries where local tourists from other regions pick wine bottles by the crates. There is the Wolfberger that has an expansive collection and a small museum where visitors can take a quick history lesson of everything about the wine produced in the region.
Riquewihr and Kaysersberg 
It will be difficult to be fed up with the strip of amazing towns in Alsace. While the towns have that unique Alsatian allure, each one has its own character and vibe. Take a few days off to explore the region's wine towns and get intoxicated on the magic and beauty of this adorable French wine region.
Just when you think you have seen enough towns to last a lifetime here, you across Riquewihr. And seeing bright-colored houses and pastel as tasty and pretty as a box of cake sets, you begin another picture-taking spree.
Riquewihr is among Alsace's popular small towns and one that is likely to be crammed with visitors all trying to take the perfect shot of the Dolder; the bell tower that greets everyone stepping into the gorgeous town. In the case that you don't like crowds, do not worry. Just escape into one of the wine cellars underground for a tranquil wine tasting session or get off the major street onto any of the several alleys where you will be treated to ravishing doorways and windows to take that perfect photo shot.
Next to the town is Kayserberg. You can reach for its medieval chateau by climbing and encouraged on the way by inspiring quotes from Albert Schweitzer and get a bird's-eye view of the town, surrounding forests, and vineyards. Then meander around the town square and take a look into antique stores, pottery workshops, and chocolatiers for more of Kayserberg.
Alsatian Countryside
In Alsace, one of the best things to do is to drive the region. Embark on a picturesque road trip through the inviting small towns, expansive vineyards, and picturesque forest roads for a vacation to remember.
Alsace offers one of the most beautiful yet easygoing French road trips from its southern tip shared with Switzerland and its northern border that is shared with German. You will be driving mostly through vineyards and small towns where you can stop to rest and eat from Strasbourg to Colmar to Mulhouse. You are bound to find yourself on mountain toads that courses to scenic views when you take the side roads to the Vosges forest.
>>Also Read: Is Strasbourg Worth Visiting?
Christmas Market
The city of Strasbourg is transformed into a living Christmas snow globe. Catch the infectious yuletide fever and enjoy gingerbread, wine, and all the charming things that we remember Christmas for. Strasbourg regards itself as the capital of Christmas, so celebration for the holiday often takes a notch up.
Visit in late November to December's end, the historic city center changes into an exotic snow globe. A stately Christmas tree imitates the North Star as you are lad through well-lit Christmas tree shops; following the sweet-smelling gingerbread and wine, the air filled with seraphic choristers, and all the charm of Christmas.
>>Also Read: Best Christmas Markets in France
What is Alsace Famous For – Summary
From charming villages splashed in pastel tones to medieval cobbled towns, the amazing Alsace region in eastern France is a holiday spot directly from a fairytale. Spend days strolling around narrow streets, take a road trip through scenic vineyards and to picturesque peaks, and savor the perfect wads of wholesome cuisine and brilliant wine.