Why You Should Visit Galeries Lafayette
For those looking to shop like crazy when in the French capital, it will be brilliant to add a visit to Galeries Lafayette to their Paris itinerary. The world-famous shopping center is a place one should visit at least once in a lifetime.
Situated in a gorgeous area, its stunning architecture is charming, and it not surprising that people from different parts of the world come here in their droves every year. The Galeries Lafayette is more than a shopping center. It is an institution, aesthetically designed in space that allures with its architecture. 
Here is a List Of What to Do and Buy, In Galeries Lafayette
The Setting
The roof of Galerie Lafayette on the 19th arrondissement in the capital seems like the inside of a jewelry box. The decoration here is a nouveau art and still charms lots of people that visit. Commissioned in October 1912, the idea behind the design is to make a 'luxury bazaar' fascinating enough to impress people.
More than a century later, Galerie Lafayette has delivered nothing short of excellence. Art enthusiasts will be able to tell that its stained glass windows are neo-byzantine style and that it is a good choice for the setting. There are also many other decorative statements in the gallery, each with its distinctive charm.
Many floral designs and details can be seen on Galeries Lafayette's dome. Representing the ten important textile cities a hundred years ago, the national Coats of Arms on a floral design tells more. The Opera probably inspired the curved balconies visitors will find. In fact, the gallery resembles an opera house if looked from the first floor.
A Cracking Assortment of Scents and Colors
When visitors enter the Galerie Lafayette, they will find themselves in an incredible world of glitters, fragrances, and colors. Beauty products and perfume brands are on the ground floor, and it might interest visitors that Chanel, Dior, and others share the place with Armani and Dolce & Gabbana, their major competitors. The next floor has accessories and clothing well-arranged, like a neat museum collection.
Prices and Deals 
Another reason to stop at the Galerie Lafayette is the massive deals and unbelievable prices that some products go for. Being an upscale market store, deals are pretty such a big thing for buyers. But it still does not stop many people from only window-shopping at the expensive shops. Retailers offer huge discounts on products to attract people to buy, though.
Galerie Lafayette's History and Future 
The store owes its success to its location and boldness to consistently improve the business. As visitors will observe, the gallery s situated close to the Opera. Altogether, this is a busy area of the capital with easy accessibility.
In the beginning, the store's owners knew that to make a lasting impression on customers and provide real value, control is needed on the products sold. And not long after, fashion products for people were being sold, which was hugely successful.
After five generations, the Galeries Lafayette is still waxing strong as a family business. The architectural heritage, somehow, has been preserved with the help of a Heritage Department. Visitors can use the opportunity to be part of the guided tours of the place. A tour lasts for about 45 minutes and is designed for 10 to 20 participants.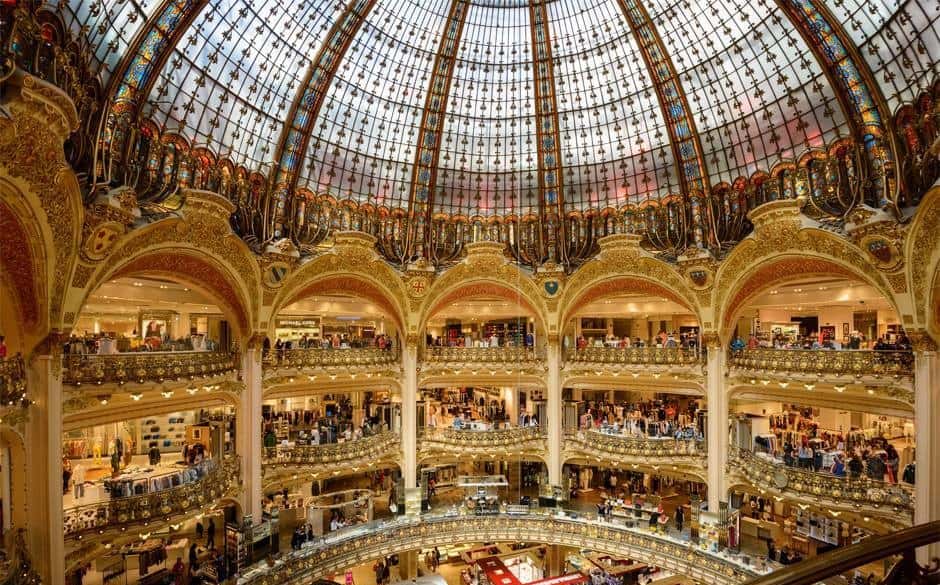 Galeries Lafayette is not merely an upscale department store. The place is developing and expanding on a yearly basis. It measures up to the galleries in Dubai, Milan, Berlin, Casablanca, Jakarta, and Beijing. And though these galleries do not have the glam of the Galeries Lafayette, one can definitely understand the brand's philosophy which is about advancing novelties in the upmarket fashion design and then making it accessible to everyone.
The Collection
The place has emerged as a symbol of French luxury shopping. Having the reputation of one of the world's popular department stores, Galeries Lafayette offers both French and global customers a well-curated catalog of premium and affordable brands.
It bears over 2,500 brands across menswear and womenswear, homeware, and beauty. Galeries Lafayette is a perfect place for those who want to invest in the newest of trends. Those who want to get some luxury souvenirs from Paris will be spoiled for choice as well. The store is an ideal way to also while away an entire day, as there are lots to see and explore.
The Dining Experience 
There are many coffee or macaron stands around the department stores, but Lafayette Gourmet boasts of the best food around. If you like truffles, you would love many spots here. The dessert is also a wonderful treat you should not miss when you visit.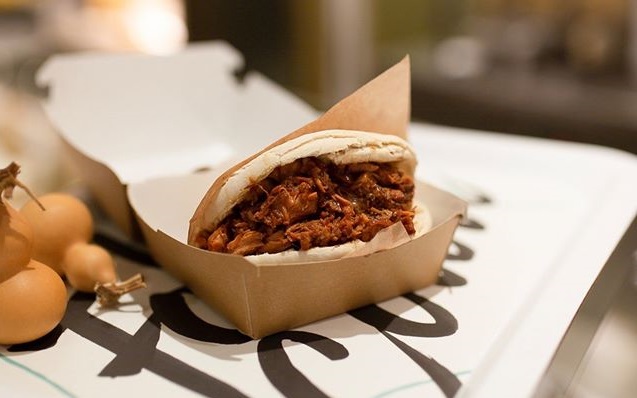 Toys and Games for Children
Excite the young ones by bringing them to the 5th floor of Coupole, a massive Toy section. From creative to educational to building games (Lego etc.) to wooden toys, there are lots to see here. There are also different types of nice dresses, a wide array of books in the children's library, and all the recent releases.
There's Something for Wine Lovers 
Oenophiles can explore France's main wine-producing areas and their grape varieties all in a 90-minute workshop. This wine experience will definitely help them appreciate the smell and subtleties of every bottle, and they will go back to their destinations with more information and a couple of recommended vintages.
Lunch with Wonderful Aerial Views of Paris 
Some visit the Galeries Lafayette to dine while seeing magical views of the city and its iconic monuments. After one's shopping, stopping at La Terrasse at Galeries Lafayette Haussmann would be a rewarding decision.
It is a chance to have a memorable lunch at their restaurant, which has a savory vegetarian cuisine. The food is distinctly cooked in front of the visitors by the chef. This place is a vegetarian's delight that assures quality time at the top of the department store's outdoor terrace.
Lovers of food would want to savor some special French delicacies offered on interesting menus in chic restaurants. They can treat themselves to a tasty snack or meal. For example, this might be a fantastic chance to have a bite of Pierre Herme's option of pastries and macarons.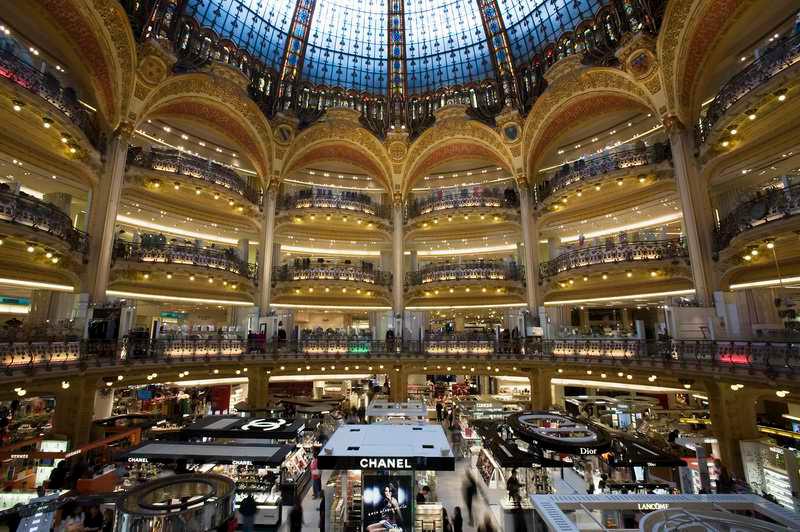 Admire Fashion Mornings in Paris 
There is hardly anything better than entering the center of Paris and visiting Galeries Lafayette's popular store, which is a symbol of the city's excellency in fashion with its awe-inspiring architecture.
As one fiddle with the handles is a bright bag or suddenly sees a pair of the cracking cashmere gloves, they will observe that in addition to all these, exclusive collections like Off-White or Jacquemus make up the impressive setting.
A good number of brands offer options to enhance guests' shopping experience. It is the chance to indulge in nail bars or make-up and enjoy a pop-up event that the store hosts at the time. Some of the events include the awe-inspiring glass-walk or the big rainbow net on the dome. And if it is Christmas, visitors will enter a universe of ecstasy as the store changes and displays its festive glam with the huge Christmas tree.
Why You Should Visit Galeries Lafayette – Summary
The Galeries Lafayette is not your regular upscale shopping strip. Located in a chic neighborhood, there are varieties of things to do and see even if you are short on cash. The rooftop terraces offer phenomenal views of Paris and its splendid monuments that guests would not see anywhere else. A trip to this side of the city is a breathtaking way to end a day trip.