Best Street Food in Paris
When you visit Paris, chances are, you will be busy having fun and seeing all the monuments, most of the time. Whatever you do, by all means, do not forget to try the Best Street Food in Paris. It is great, delicious, and affordable.
Whether prepared or sold on Paris' sidewalks, street food items are made to be easily consumed on the fly. From sandwiches to empanadas, kebabs to dim sum, you have the tastiest food even without spending a fortune. 
Here Is Where To Get The Best Best Street Food in Paris
Sandwiches, Quiches, and Bakery Fare
Sandwiches in Paris do not come the same. At a phenomenal Paris bakery, one can often get a scrumptious sandwich, quiche or savory tart for lower than 5 euros. In addition, one will have different types of sweet goodies to select from for dessert. It is not difficult to spot a Paris bakery on any main street, and the majority offer other lunch items and decent sandwiches.
As a tip, try to avoid buying traditional sandwiches from street vendors who are not real bakers. This is because many 'quack' bakers roam the streets claiming to be experts in the bakery. There is a way to spot the difference. Is Sandwiches et Boissons (sandwiches and drinks) or Boulangerie (bakery) written on the sign? Do they sell loaves of bread, snacks, and sandwiches? More often than not, one will get fresh bread and better handling of hygiene-sensitive fillings like tuna and mayonnaise from bakeries. 
>>Also Read: Where To Get The Best Croissant In Paris
Crepes 
Are you really longing for a good crepe? In Paris, there are many scrumptious, cheap crepes on the streets for sale. However, as lush as it is, you have to have the eye for the good ones. Identifying quality food every traveler ought to boast of. For example, does the food vendor keep a stack of pre-made crepes that are later re-heated, or are the crepes prepared entirely in your presence? As you know, it is better to see how it is made from scratch.
 In addition, observe the ingredients used- do they look fresh, warm, or wilted? Bear in mind that even salad green and tomatoes that are not stored properly can lead to food poison. Crepes are ubiquitous in Paris at walk-in restaurants, stands, and you can easily identify the bad ones from the good ones if you follow in the above tips. 
Also, do not assume that because a vendor prepares their crepes fresh, their other fare is great. It is possible to see stale, bad-looking sandwiches, quiches, or hot dogs being displayed at stands that make good crepes. Do not look at the menu alone; try to observe well before ordering. This is probably the best street food you can eat in Paris.
>>Also Read: Where to Eat the Best Crepes in Paris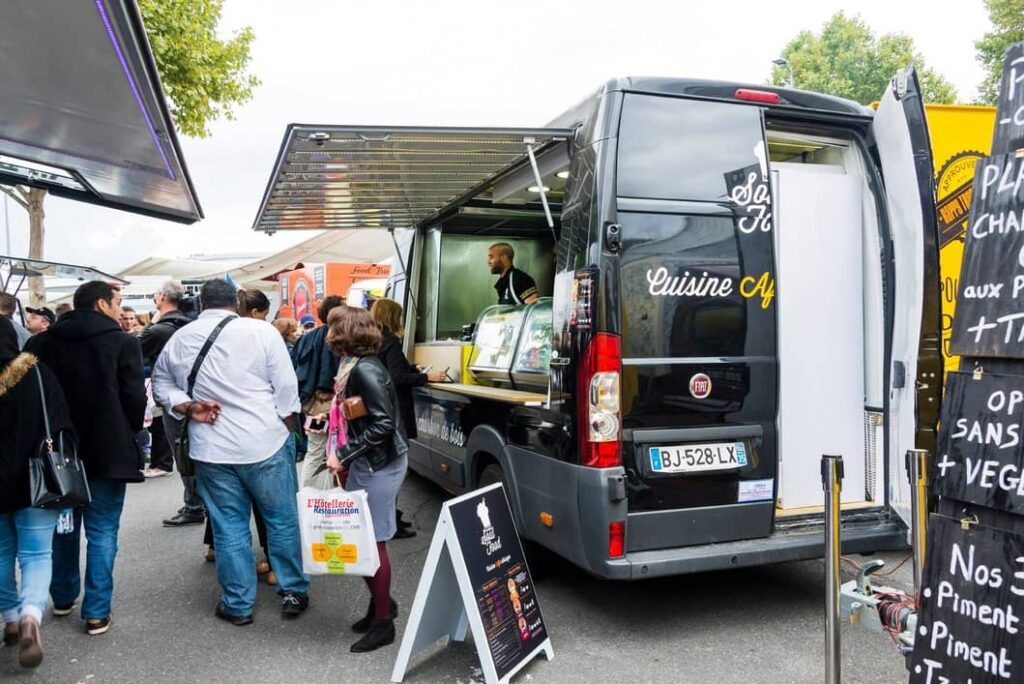 Falafel and other Mediterranean Specialties 
Though not native to the French, Falafel is perhaps the most wanted fast food item in Paris. A strip of always-vibrant restaurants on Rue des Rosiers in the traditional Jewish quarter of the Marias area has become well-known among tourists. You will find soft, thick pita bread is topped with perfectly crisp chicken pea balls, with different vegetables, hummus, hot sauce, and tahini. 
A place like L'As du Falafel at #32 is widely known, but others on the street serve decent sandwiches too as low as 5 euros. Try out the traditional Yiddish treats like strudel or babkas at bakeries like Sacha Finkelysztajn (27 Rue des Rosiers).
Another incredible Mediterranean fast-food specialty in Paris is Lebanese food. The French capital has many of decent to excellent Lebanese diners, offering delicacies like lemon and garlic chicken, shawarma, moutabal, falafel, and Man'Ouche: hand-tossed Lebanese pizza filled with zaatar (thyme, olive-oil mixture, and sesame) and cheese.
Sit-down menus can be very pricey than a sandwich, which is often cheap and incredibly satisfying. Especially for the Lebanese pizzas, you can order at Man'ouche, a simple stand not far from the Center Georges Pompidou at 66, rue Rambuteau. 
>>Also Read: Where to Eat on a Budget in Paris
Arepa 
This is a tasty pita-like corn pocket filled with beef, chicken, or vegetables and an option of sweet, starchy plantains, black beans, or ripe avocado. Try the silky black soup and sweet arepa. Crunchy plantain chips and guacamole, with a bottle of beverage, is a good idea.
Kebab at Grillè 
Kebab is a constant on the streets of Paris. It is a pita pocket of ripped meat and white sauce with glee after a soirée bien arose. At night, Grillé is the place to be for some of Paris' best kebabs. There are also homemade bread and meat you should not miss. 
Fish and Chips
Located at 3 Rue des Viniagriers in the 10th arrondissement, Sunken Chip is one of the numerous spots in the city for some sizzling and delicious fish and chips. You will find an impressive range of homemade chips and fishes. Everything they sell there is homemade.
Sri-Lankan and Indian Fast Food
Feel Asian on the streets of Paris with the best of Indian and Sri-Lankan food varieties. The interesting thing here is that they are cheap, for all the goodness and freshness served. From hand-made parathas (flatbread) to samosas, you will be spoiled for quality choices on the street.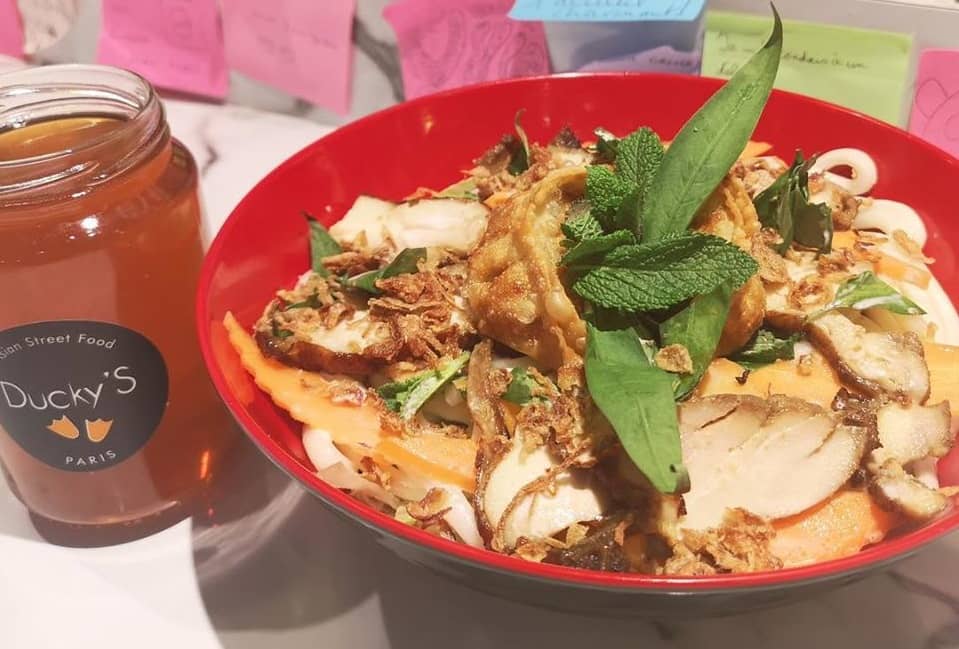 Street Markets
Street markets in Paris are great for getting delicious and affordable food. Walk into one of the city's open-air markets to get what you want with ease. Many of the markets have a few stands that sell quiches, sausages, and sandwiches. 
Areas to Avoid Street Food in Paris
In the city, there are some areas that offer plenty of street food but are traps for tourists. This is because, despite the buzz, the food quality is nothing to write home about. Areas like the northern end of Rue de la Harpe close to Metro St Michel (Latin Quarter), some vendors around Place des Tertres in Montmartre (and the streets encompassing the Sacre Couer), and some stands close to the Eiffel Tower.
This is not to say that all the street food in the aforementioned areas is bad, but observe whether the fare is handled and stored well and are fresh. When in doubt, avoid. Delicious street foods can be the highlight of your Paris trip. All you have to do is spot the basics that we have mentioned in this post, and you will be overly fine. 

>>Also Read:
Best Affordable Restaurants in Paris
Guide To Eating Out In Paris
Paris Restaurant Guide
Where do you think you can find the Best Street Food in Paris? Let us know in the comments below.