Paris, the City of Lights, is a major European city, mostly known for fashion, art, and its food. It is a city where most tourists go, according to recent records, more than 20 million tourists visit Paris every year and around 50,000 people every day. Despite being a great city, Paris has downsides, which are undeniable. Especially as a tourist, when you are unaware of the cities rituals, you should know certain things. If you are visiting the city anytime soon, you should know which Areas To Avoid In Paris at certain times. 
There are few places to avoid in Paris as a tourist. Every traveler has their fair share of experience, so you can never expect what could happen. Even the unsafe places can give you good memories, and the safest place can make your day miserable, you never know. But by the first-hand experience and as chronicled by many tourists and locals, we do have few recommendations to share.
Firstly, Paris city is generally a safe city. As a tourist, the major annoying thing in Paris is pickpockets in touristy areas and scams (you can avoid if you are discernible enough). It is not that it only happens in Paris; clearly, it happens in most of the world- but as Paris is mostly crowded by tourists- it can be risky.
Paris is a city area, with more than 2 million people. In the city, there are places riskier than others. But do not forget that most parts of Paris are very safe. Approach it that way, do not conclude that Paris is generally unsafe but there are some areas to areas to avoid.
>>Also Read: Paris Travel Guide
Here Are a Few Areas To Avoid In Paris When You Visit:
The Gare du Nord / Gare de l'Est area at night after 10:00.
Around Châtelet Les Halles at night at the 1st district but you may feel a bit weird or in danger because of the empty streets or the sight of a few young people wilding at there.
A few blocks around "Porte de Montreuil" station on the 20th district, in the Saint Blaise neighborhood at late hours.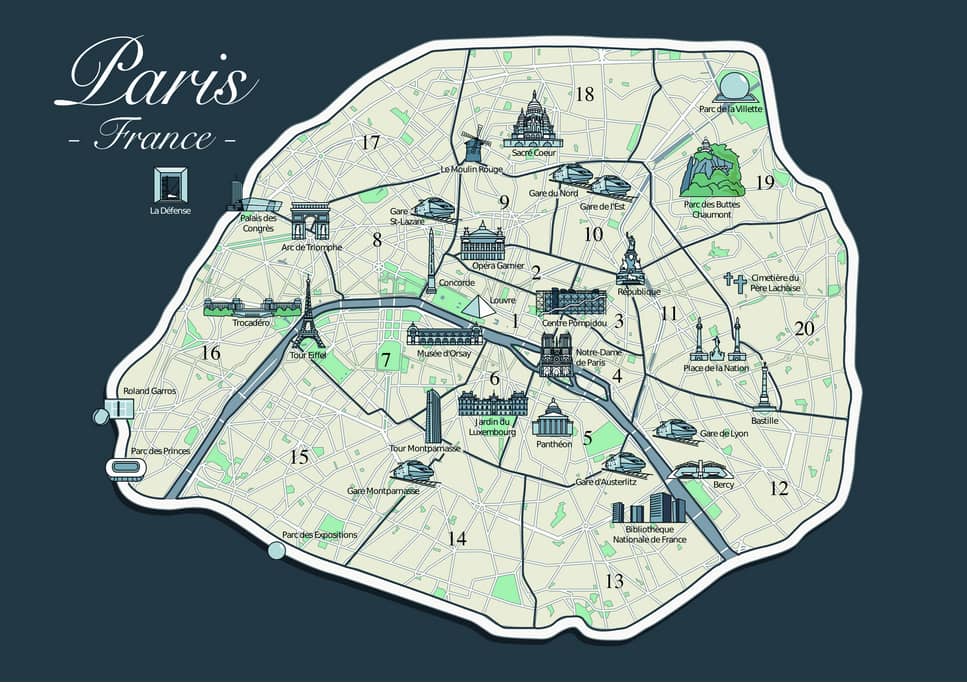 If you have been to Paris before, you should know that Paris used to be a much safer place 15 years ago. Many things have changed. Prices have increased, and many have been forced to live outside the city because of the gaping economic inequality. 
These things definitely make an impact on the outer world. Some whole areas have changed a lot. Places like Stalingrad, Bastille, Place des fêtes, Oberkampf, Place de Clichy, Place d'Italie, Mouffetard, that used to be working-class areas are now considerably upscale. Definitely, most of the original charm of the neighborhoods vanished the same way. 
>>Also Read: Is Paris Safe?
Avoid Going to These Areas As Well
The Eiffel Tower on a Saturday Afternoon in Summer
Although, the Eiffel Tower offers one of the best views and experiences one can have, going on the wrong time can ruin your day also. Most crimes recorded in Eiffel tower are on Saturday afternoons during the summer. Its believed that most pocket pickers and thieves are present on Saturday afternoon.
The Metro
The Parisian Metro is considered safe for almost 90 percent of the visitors, but passengers should be aware of risk possibilities when using public transport. But the good point is that the Security on the Paris Metro has been under closer security since recent terrorist attacks in Europe.
Your experience on the metro also depends on your behavior; if you are showing off expensive jewelry on any items that are flashy, you are inviting the thieves. You should definitely avoid wearing anything expensive in the metro. Also, you should learn a little bit about the techniques of the pocket pickers, so you know if someone has the intention to do it.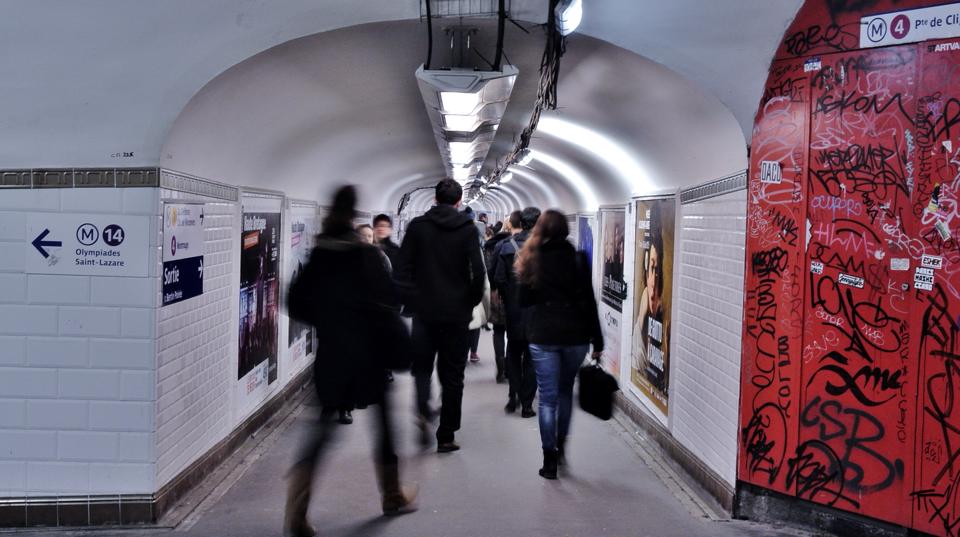 >>Also Read:
Public Transport Guide For Paris
How to Use Public Transportation in Paris
Gare du Nord Area at Night 
If you are traveling to Paris for the first time, you are going to be recommended hotels around the Gare du Nord area, as they are much cheaper as compare so other hotels there. The hostels' area might seem convenient, but the area could be a bit dangerous.
Châtelet Metro Station
Châtelet–Les Halles is the main train hub in Paris and is among the biggest underground stations in the globe. Although a popular station, it has its drawbacks. We suggest you take a cab rather than taking the train. The common practice of thieves is using razor blades or box cutters to open the bottom or side of your bag and take what is inside. That is one more reason to Pack Safe bags. Lightweight stainless steel mesh is sewn inside and is impossible to cut.
The Area Around "Porte de Montreuil" 
The Ibis Paris Porte de Montreuil hotel is located in eastern Paris. The airport is 20km away from the hotel, so many tourists end up staying there. The area around Porte de Montreuil is a bit dangerous after dark, one should definitely avoid it. Many people had their worst experiences there. Many people who have stayed there have shared some creepy stories and how that stay changed their whole visit to Paris. 
The Nightclubs Around the Champs-Elysées
After the dark, tourists tend to enjoy the nightlife, and nightlife establishments surely appeal to anyone looking for a hot night on the nightclub. The night clubs around the Champs-Elysees are mostly luxurious and popular in Europe. So many tourists visit there, but it could even turn your night into a bad one. The Avenue des Champs-Elysées is massive. However, it can be very crowded at any given time. We recommend you to choose a less busy area, like the rue de Rivoli or the Marais.
The Bois De Boulogne
The Bois de Boulogne is one of the biggest parks having a lot of trees in Paris, and a lot of tourists head there to enjoy their tour. This place is like a paradise for the people who love nature, covering 2090 acres. During the day time, this park is perfectly safe, because it is very active and crowded, but never under any circumstances should you go there at night.
We would recommend that you avoid this area after dark as it has a reputation for being frequented by questionable characters.
Northern 18th and 19th District
The 18th and 19th district of Paris is in the Northeastern corner of the city and is one of the amazing neighborhoods. But Northern 18th and 19th district, specifically at night, around Marx Dormoy, Porte de la Chapelle, La Chappelle, Porte de Clignancourt, Porte de la Villette. Montmartre is a very safe area day and night. Pigalle is safe too, there are a lot of tourists and police there, but maybe you can feel disturbed by the adult shops if you go there with kids.
The Moulin Rouse
The Moulin Rouge is on drag with a lot of sleaze, adult shops, etc. Although this place is very active and busy with tourists all the time, there are fewer chances of any crime or inconvenience to occur. The area is quite safe too -in terms of violent crimes- but quite weird and tacky, so avoid going to the place. It is maybe not as swanky as other places. You can shop at the grocery store across the street in the basement, and there were many well-dressed locals there.
1st Arrondissement of Paris
Although the first district is always crowded with tourists, so it is considered much safe. But it is a place of great opportunity for pocket pickers and illegal sellers. You have to be on your guard if you decide to visit that place. But if you are smart enough to deal with situations like that, the first district is the safest place.
Bourse (2nd Arrondissement)
The second district of Paris (The second arrondissement of Paris is one of the 20 arrondissements of the French capital). It is less fancy and flashy than the first but is still expensive and elite. It is an area where you can find a lot of theaters and some nice shops. While it is very safe, watch out for the pickpockets near the Opera House.
The Roundabout at the Arc de Triomphe.
Visiting the Arc de Triomphe roundabout for the first time can be terrifying. The people coming in the roundabout must yield to the people who are already inside it in France, like in other countries. But there are very few exceptions, mainly in Paris. The Arc de Triomphe is the most popular. If you go outside the city, be careful to do it the right way. What is the usual in the arc is the opposite of what subsists in France. This roundabout situation seems a bit backward.
Public Toilets
If you are a traveler in Paris and looking for public toilets, it can be a bit exhausting. They are quite clean and safe, but you have to be careful. Though clean, the issue is that they are unisex, so you are going to see many people there of both genders. We would not recommend you go alone, so you can hand over your stuff to someone you trust before going to the washroom.
>>Also Read: Paris Safety Tips
Areas To Avoid In Paris – Summary
Statistically, Paris remains very safe. There actually isn't a neighborhood in Paris to point at and say "this one is unsafe". Paris is a big city and like in every big city you can find the better and the worst of people. So yeah, the residential neighborhoods can be seen as unsafe because there isn't usually a lot of people there at night, but that doesn't mean that they are unsafe. 
So all the neighborhoods of Paris have their advantages and disadvantages, and choosing the one you want to stay in, depends on your trip's type.
The safety level is similar to any other big city in the world. Of course, you do have many people who travel to Paris who haven't been to a lot of big cities, so they are naturally scared. 
In addition, OSAC, the US Bureau of Diplomatic Security, notes that tourists are generally safe in Paris. Therefore, if you are going on a trip to Paris, go ahead with your plan; just play it a little smart. And keep these points in your head, so your tour could be more memorable and rewarding.


Do you know of any other Areas To Avoid In Paris? Let us know in the comments below.