Best Steakhouses in Paris
Sizzling and well done, rare or medium- how do you like your steak? Paris is arguably the cuisine capital of the world and is definitely a brilliant place for some of the world's tastiest steaks. In fact, a classic steak is a staple on most bistro menus in the city; and if you are relaxing after a good day of sightseeing, you should be having a nicely-cooked cut of meat. New promise, nothing beats that experience. You might be wondering which are the Best Steakhouses in Paris to visit given the incredible number of restaurants in the capital city. No problem as we have listed the best in this article.
>>Also Read: Paris Restaurant Guide
Here Are The Best Steakhouses in Paris
Atelier Carnem
This incredible steakhouse has a charming across-Atlantic feel to it. It is an American-style steakhouse that offers some of the flavorsome steaks in Paris. Located in the 5th arrondissement, the steakhouse specializes in aged meats that are dry-aged. And if you have any great cut you would like to be served, Atelier Carnem got that.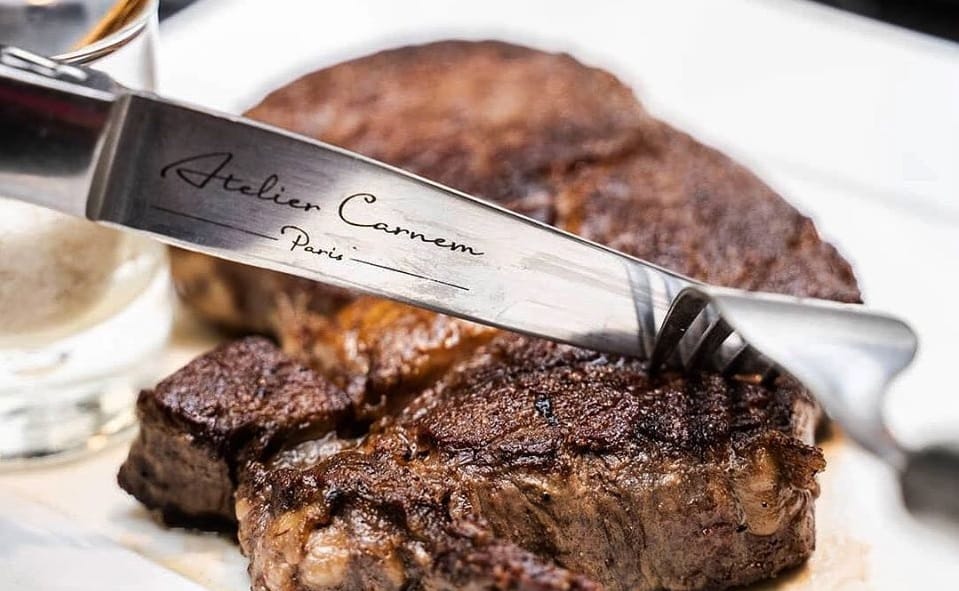 The steakhouse is a purveyor of meat from places that enjoy the exclusive reputation of having the best in the world. As such, you can order a 'ribeye' or an entreôte from beef raised in New Zealand, Chile, and Argentina, etc. Atelier Carnem also has wagyu steaks. 
Another reason why people find the steakhouse terrific is that customers can opt between two distinct cooking styles. That is a bonus! Atelier Carnem has both a plancha and a traditional grill. So, you have a big shout at how you want your steak cooked.
It is not far from the nice Place Monge in Paris's iconic Latin Quarter. It is a very central place also near the Jardin des Plantes and the Pantheon.
>>Also Read: Best Burger Places in Paris
Le Relais de l'Entrecôte
Situated in the fancy street of Rue Saint-Benoit, this is one of the best steakhouses in the city of Paris. It began operations in the 16th arrondissement as a regular brasserie restaurant providing just French fare. But in no time, Le Relais de l'Enctrecôte became popular for its entrecote. Since 1959, the steakhouse has been a local's delight, and today, it ranks high among tourists too.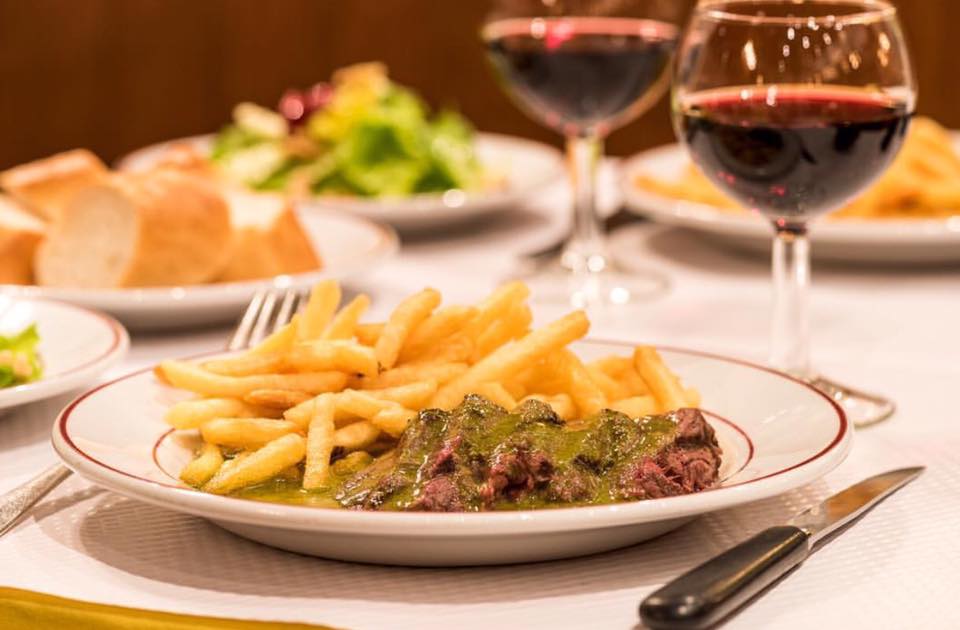 The restaurant's menu is simple, while the impressive enctrecôte is the highlight of the setting. You have the option to choose how your meat will be cooked, and you will not be disappointed. The desserts here are simple and traditional, and you should try them if you spare time to relax. 
There are three branches of Le Relais de l'Enctrecôte across the city. There is one in the 16th arrondissement, close to Montparnasse and one in Saint-Germain. The third is situated in Rue Saint-Benoit, which many people agree to the best of the trio.
>>Also Read: Where to Eat on a Budget in Paris
La Maison de l'Aubrac 
There is a soft and vibrant atmosphere in La Maison de l'Aubrac you will not miss when you visit. The restaurant steakhouse is one of the most expensive in the city, and it is quite telling why it is. Located few meters from the Champs-Elysees, La Maison de l'Aubrac was initially opened in the 1970s as Le Petit Berry. Back in the day, celebrities used to frequent the place. It is said that Picasso did some artwork on the walls.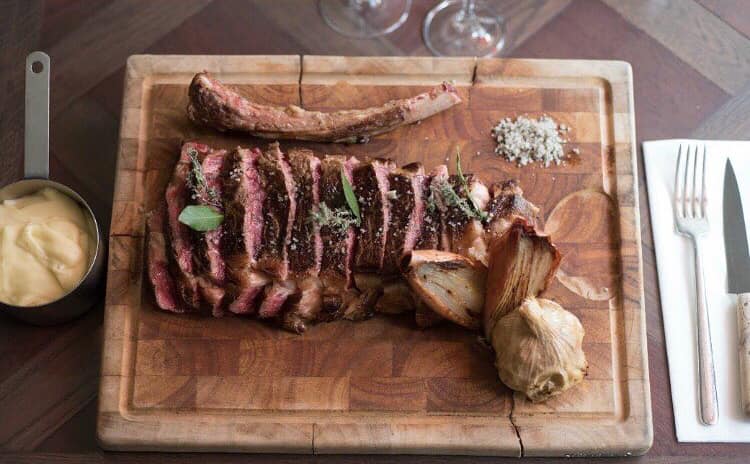 Still, family-owned, the restaurant has not lost its desire to provide the very best for its teeming customers. There is a wide range of classic local dishes you will find here, but the Maison focuses on meat, especially aged meats. 
For some genuine Parisian steak, stop by at La Maison de l'Aubrac as the meat is of great quality. In addition, the restaurant is opened all day every day. It would also be a nice place to spice up your nightlife. 
>>Also Read: Best Affordable Restaurants in Paris
Les Oreilles et la Queue 
This is an expensive steakhouse to visit. It has two branches across the city, and it provides some of the best meat in the world. One is situated by the Eiffel Tower in the 7th arrondissement and the other by Saint Honore.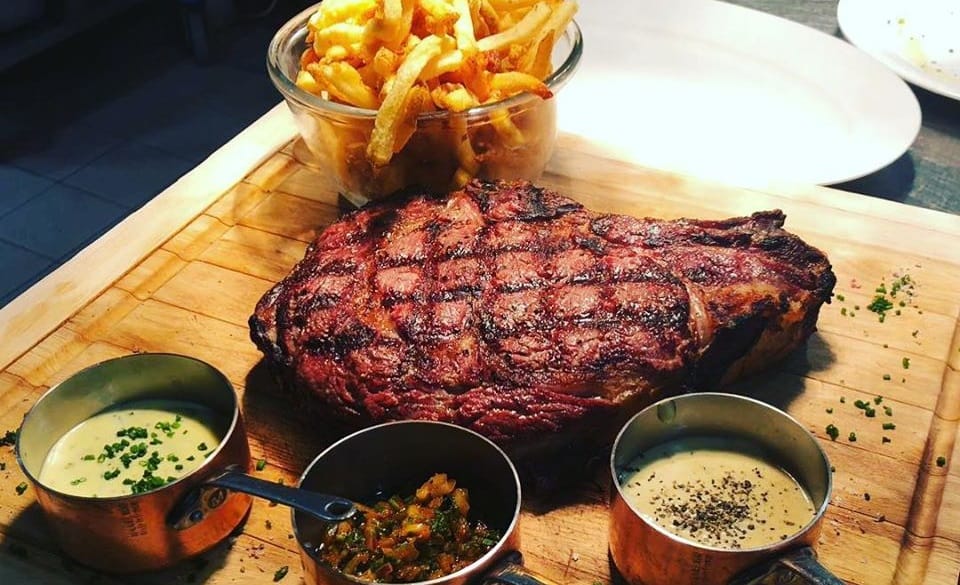 As earlier said, this is an upscale area to get steaks as a ribeye steak costs as high as 48 euros. A scrumptious tartare for 29 euros and a Big Mec Burger for 26 euros are what you can also order. You will surely have a huge bang for your buck over here.
Aller Retour
This is another classy steakhouse you have to visit if you sure have a taste for tasty steaks. Aller Retour is a quaint but cozy restaurant that specializes in everything steak. Prices here are more reasonably cheap than say, at Les Oreilles et la Queue. 
You can even order for just 14 euros, a steak tartare made with Charolais beef. And their Irish sirloin steak goes for 16.50 euros. Aller Retour's interior is very chic, and the staff is great at what they do.
Clover Grill
Quite a reputation Clover Grill has. It was established by the popular chef Jean-Francois Piege. Located between the Louvre museum and Les Halles, this Parisian bistro is a paradise for steak lovers. 
Here, they serve delightful dry-aged meats from all parts of the continent at only midrange prices. And if perhaps you are in the company of a person who is not into steaks, Clover Grill's roasted chicken is a treat!
>>Also Read: What To Eat In France
Persille 
Think of here as a cozy, ideal place for real fun while having a bite of one of Paris's best steaks. Persille is situated in the southwest of the city just across Bercy. The butcher shop is a perfect spot to enjoy anything meat or anything else.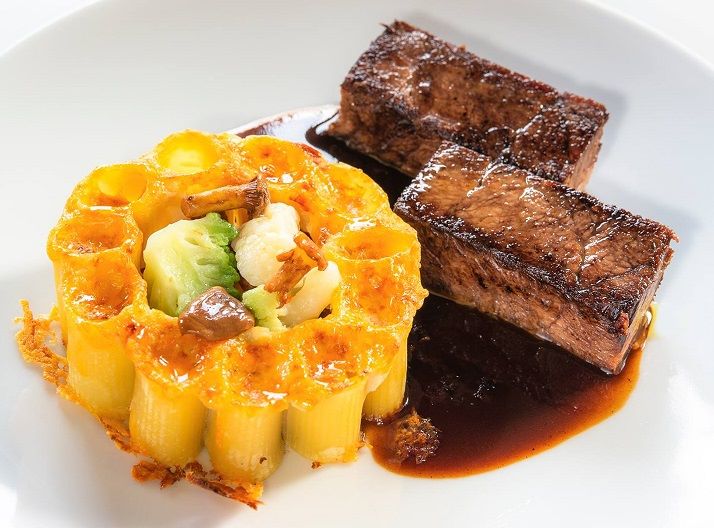 Persille's burgers and steak tartare are great and affordable. You can even have a 240gm combination platter for as low as 23 euros. Also, their Maki Tartare is made with Charolais beef, rice algae, sesame, and sweet soya sauce. Delicious. 
Le Boeuf Volant
Amazing and charming. Le Boeuf Volant is situated in the modish area of Batignolless of the 17th arrondissement. The restaurant has a minimalist feel to its setting, and it serves some steaks on platters.
Prices here are cheap, unlike some steakhouses in upscale areas. For 39 euros you can order a full course meal of 1 entrée 1 meat dish with 1 desert. Though a nice place, Le Boeuf Volant is rather small.
>>Also Read: Top 20 Restaurants In Paris
Bang! à Paris
Got a funky name to it because it is bang awesome! Situated in the upscale area of Canal St Martin, Bang! Serves a wide range of meat, which includes exotic fare from all over the world. Imagine something rare, Bang! has it!! From tasty sauces to incredible tartare, all are served on slate boards to the delight of customers.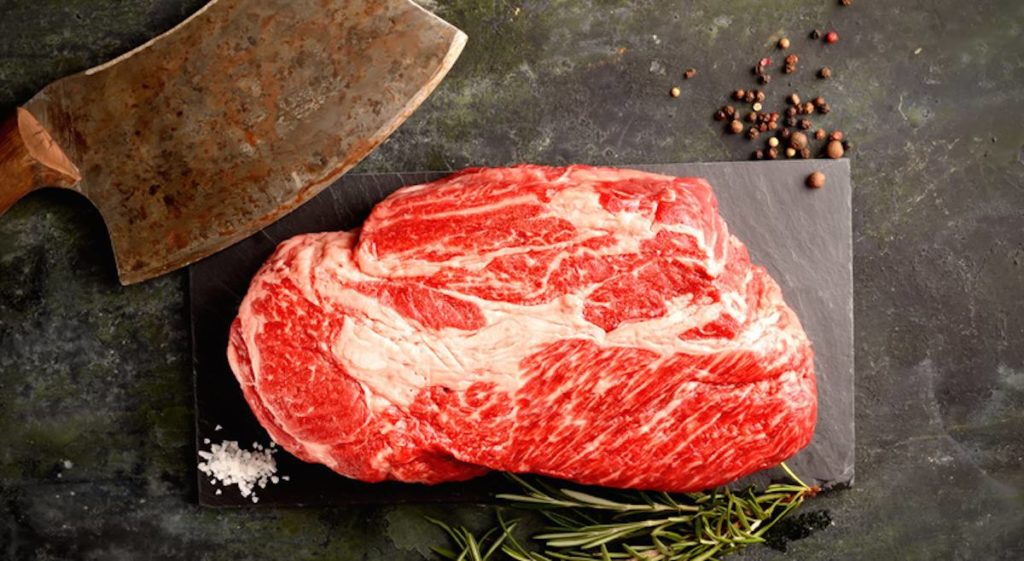 Though their seats are small. You will enjoy every second spent in this amazing place. So if you are looking to enjoy some exotic meat in Paris, a visit to Bang! will quite afford you what you are looking for. 
Also Read: Weird French Food: 12 Strangest Foods in France
Au Boeuf Couronne 
Situated in the NE Paris, in La Villette area, Au Boeuf Couronne boasts of having the laurel of one of Paris' oldest steakhouses. The meat is smashing, and the staff is great. For as low as 26 euros, you can get a 300-gram sirloin steak and even a 400-gram rib eye for about 36 euros. The price here falls in the mid-range category.
Best Steakhouses in Paris – Summary
So there you have it. Some of Paris' own best steakhouses. And the beautiful thing is, you get to determine how you like the meat cooked. For the tastiest steaks in the world, Paris ranks high by far. So ensure you check prices before choosing the one to visit. That would save you a lot.

Also Read:
>>Eating on the Cheap in Paris
>>How Much Should You Tip in France
>>Guide To Eating Out In Paris
>>Best Ethnic Food in Paris
>>Where To Eat Non-French Food in Paris
Which ones do you think are the Best Steakhouses in Paris? Leave your comments down below.