Best Burger Places in Paris
The burger trend and excitement came to Paris a few years ago. It was believed it was going to eventually go into extinction, but they were all mistaken. The restaurants are fast becoming more and more creative and innovative, and they do not allow lapses by leaving anything behind. Whether it's the fries, the meat, the buns, the toppings, or even the sides. Also, in Paris, you can have some of the best burgers in your life.
>>Also Read: Paris Restaurant Guide
Here Are Some Of The Best Burger Joints in Paris
Schwartz's Deli
The burgers at Schwartz's Deli will definitely make you experience the true taste of burgers. All thanks to the quality of ingredients, the generous quantity of food, and the welcoming, effective, and efficient staff, you will sometimes feel like you are somewhere else for a while.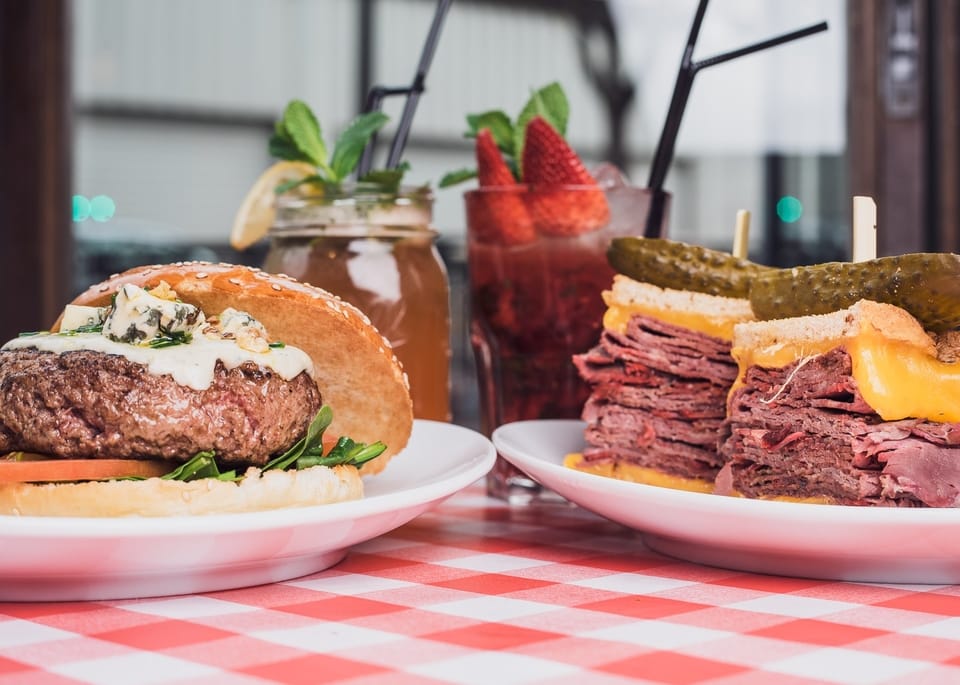 Here, they are generous with serving all at budget-friendly prices. All the burgers cost between €12 and €24. They also have coleslaw on the side as well as French fries, and salad or hash brown. You can order a take- away on the days the restaurant is crowded.
Schwartz's Deli is located at Schwartz's Trocadéro, 7 avenue d'Eylau, 75016 Paris. Metro station: Trocadéro, Lines 6 and 9. They are open from Monday to Friday. From 12 noon – 3pm/ 7:30pm – 11pm, on Saturdays from 12 noon – 5pm / 7pm – 11:30pm, and on Sundays at 12 noon – 5pm / 7pm – 11pm.
>>Also Read: Where to Eat on a Budget in Paris
PNY
One of the best burger joints to visit for a burger in Paris is PNY for its great cocktails and perfect burger buns. Though the burgers may be smaller and the sides a little extra, PNY is a strong contender for the best burger in Paris. The burger comes with a big onion ring, bacon, homemade BBQ sauce, and nine-month-old cheddar.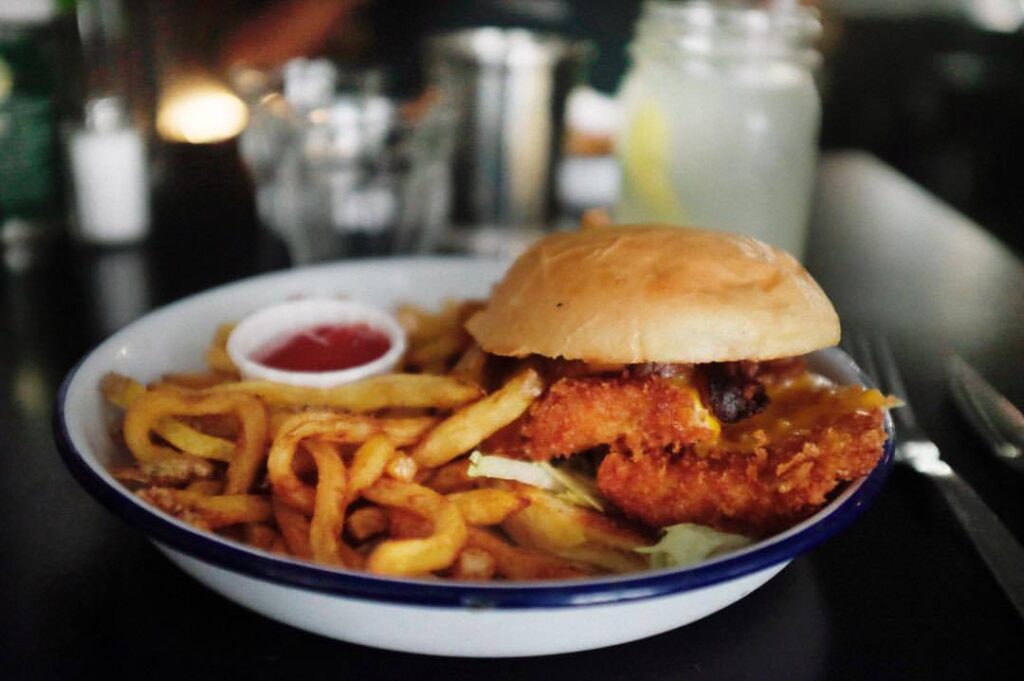 They are also filled with crispy lettuce. If you are a vegetarian, be glad, PNY is the first in France to offer the all exclusive 'viande végétale' patty, which looks, cooks, and tastes almost like meat. It can also be added to all their burgers for €2.9. PNY is located at 1, Rue Perrée, 75003, 24 Rue Pierre Fontaine, 75009, 50 Rue du Faubourg Saint-Denis, 75010, and 96 Rue Oberkampf, 75011.
>>Also Read: Best Street Food in Paris
Ralph's
Ralph's is situated on Boulevard Saint- Germain, where it is believed to have many rich and luxurious brands. From the name, you might have guessed that this restaurant was created by a fashion designer- Ralph Lauren. He wanted to give people a piece of the American dishes in a French setting. At Ralph's, you will be able to taste and enjoy some typical American dishes, including the all favorite burger. The burger is served in an elegant and stylish way.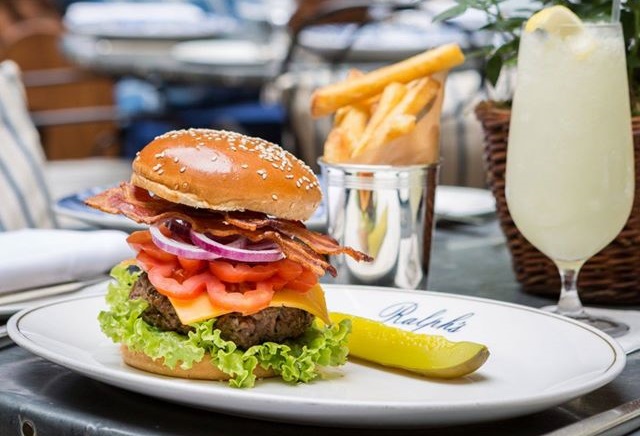 All the ingredients are mastered perfectly, which allows this dish beyond perfection. To enjoy this burger with some coleslaw and fries in Ralph's house in Paris, it will cost you about €30. You will then be able to have a taste and also enjoy this in a soothing and relaxed setting that is beautifully decorated inside as well as in the courtyard. Ralph's is located at 173 boulevard Saint- Germain, 75006 Paris. Metro station: Saint- des- Germain- des- Prés, Line4. They are open every day of the week- noon – 5 pm/7 pm – 11 pm.
>>Also Read: Guide To Eating Out In Paris
Burger & Fries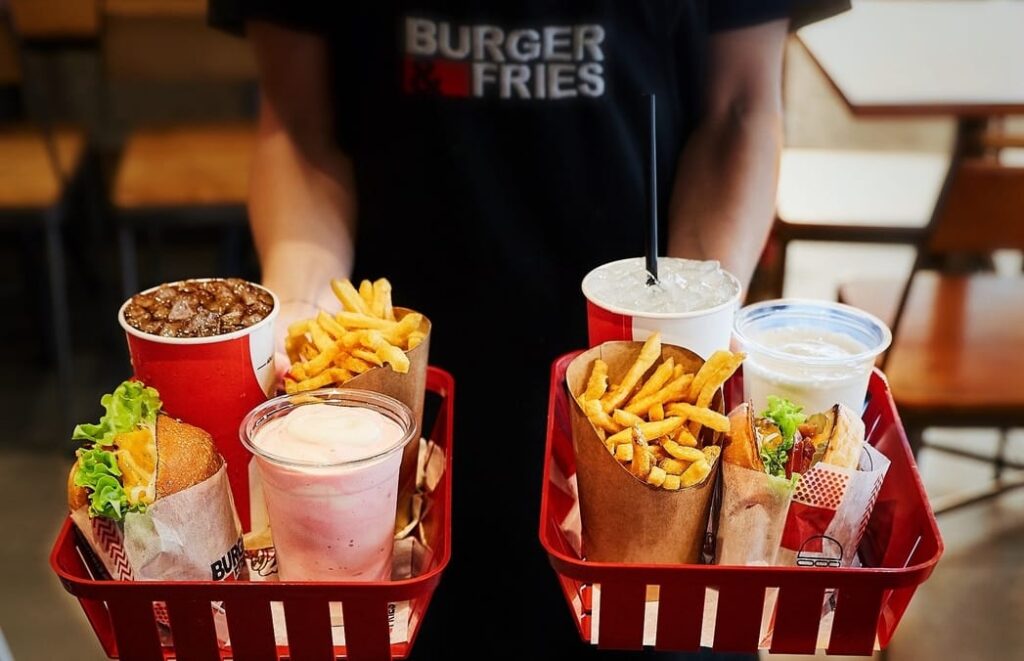 Burger & Fries are famous for having the best burger in Paris by far. A whole meal here costs below €10. The fries come with grilled onions, melted cheese, and great a sauce all for your delight. Everything in Burger and fries is prepared in-house, and with its location in Saint-Denis and the second in Saint-Germain-des-Présa, so its never far away.
>>Also Read: Where To Eat Non-French Food in Paris
L'Atelier Saint-Georges
L'Atelier Saint-Georges is the ultimate burger place in Paris. From the traditional buns to the steaks, and the cheese all for the ultimate burger experience. The buns are handmade from the bakery, the meat is French and minced with a knife, and for the cheese, it is AOC (its designation of origin is controlled). You will likely find in your sandwich some camembert, some cow tome (a type of cheese), some Maure goat cheese, and you might also find some Foie Gras.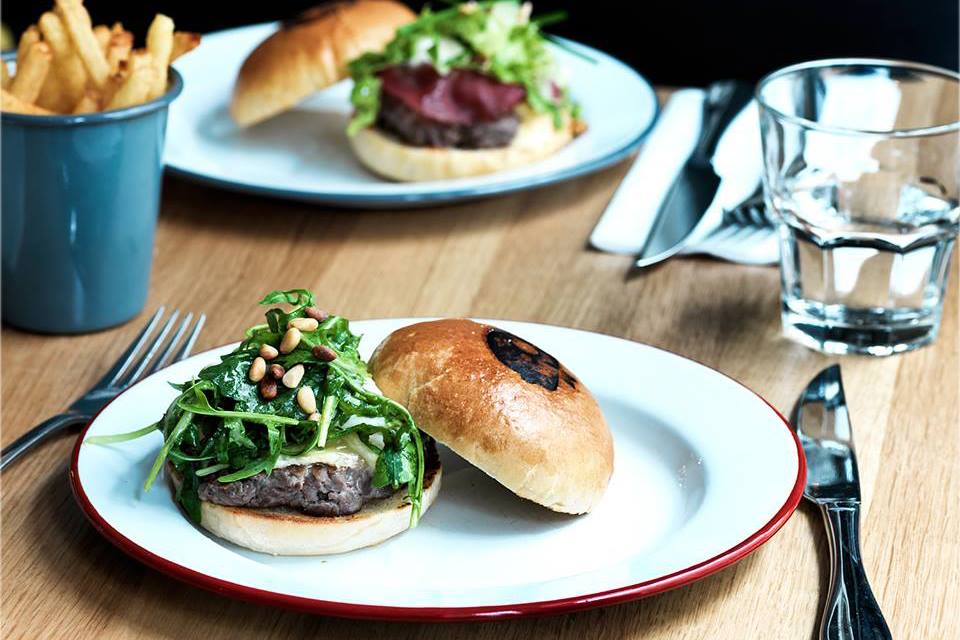 It might cost you a little more than the regular burger, but you will definitely be stunned by this pleasant and beautiful place. The burgers are all at pocket-friendly prices ranging between €12 and €17. Some are available in extra-large sizes for a few more euros. If you wish to get fries, you will have to pay an extra €3. Or you might also want to try the 'to go' menu, and you will get a burger together with a side and drink.
It will only cost you the price of your burger plus €3 if you want to add potato fries or €5 if you want to try the sweet potato fries. Atelier Saint- Georges is situated at 16, Rue Henry Monnier, 75009 Paris. Metro stations: Saint Georges, Line 12, or Pigalle, Lines 2 and 12. Atelier Saint- Georges is closed on Mondays. Open on Tuesday from 7 pm – 10:30 pm. Wednesday from 12 noon – 3 pm/7 pm – 10:30 pm. From Thursday to Saturday from 12 noon – 3 pm/7 pm – 11 pm. And, on Sundays from 12 noon – 3 pm.
>>Also Read: Best Steakhouses in Paris
Cantine California
Cantine California started off in 2012 as a food truck that specialized in burgers and tacos. In 2014, Cantine California opened a restaurant at 46 rue de Turbigo, 75003 Paris. You can still find their truck at Saint Honoré market every Wednesday and Saturday from 11:30 am to 2:30 pm. Alternatively, at Raspail market every Tuesday and Friday from 11:30 am to 2 pm.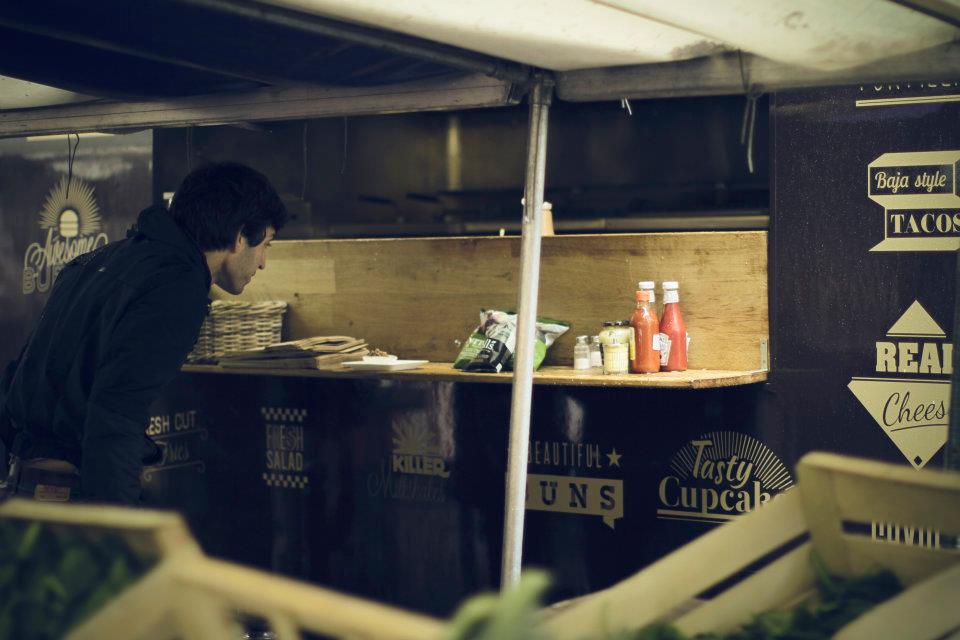 You get to experience their delicious homemade fries as well as their California- style burgers. They all have interesting names like 'what's happening at the truck' or 'the Obama'. The buns here are made by their baker, and the meat is organic. You can try their fruit juices and their homemade iced tea or their locally brewed and artisanal beers to wash down your meal.
Their burgers are all served with fries on the side, which cost €15.75. You can also add extra toppings if you add extra money to it. You can order for more fries for €4. It is open from Monday to Friday from 11:30am – 3pm/ 7pm – 10:30pm. On Saturday from 11:30am – 3:30pm/ 7pm – 10:30pm. And, on Sunday from 11:30am – 3:30pm/ 7pm – 10pm.
>>Also Read: Best Ethnic Food in Paris
Le Ruisseau
One of the best places to get a burger in Paris is Le Ruisseau in the 18th arrondissement. The restaurant comes with timber furniture, plaster walls, and tiled floors. Le Ruisseau is believed by most tourists to have the best burger in Paris. From their delicious Tom burger with tome de Vache au Cidre fondue to the hangover-perfect Spicy BBQ Cheddar Burger with Tabasco and guacamole.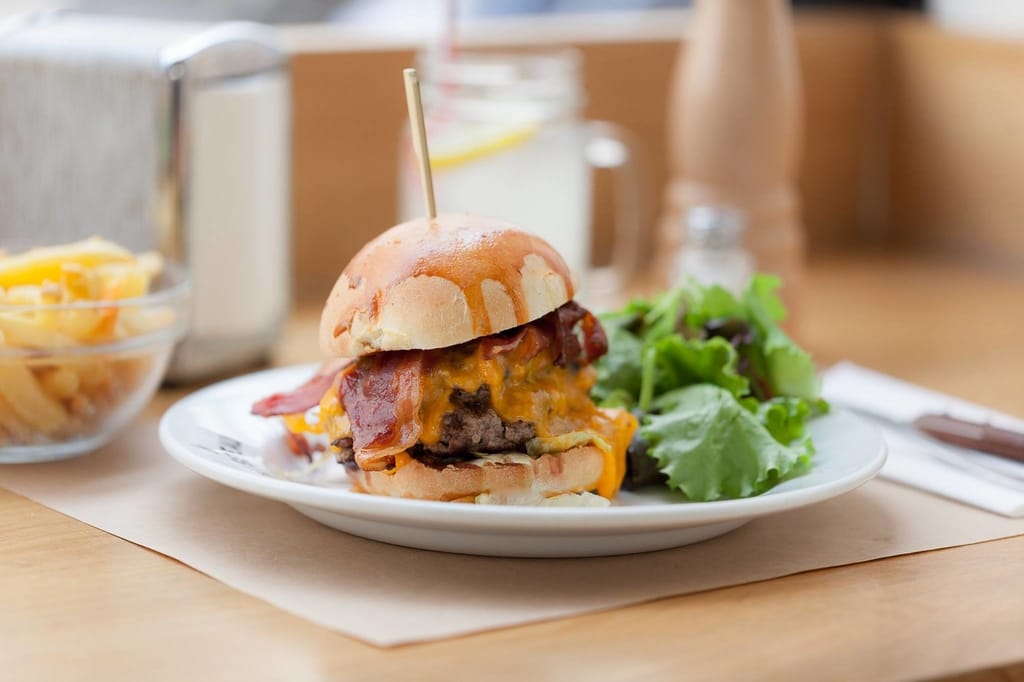 The burgers here are generously sized, the Frites Maison perfection and the meat perfectly cooked- the dipping sauce is tasty. The meal here also comes with salad and the onion rings, which are a standout. You can find them at 65 Rue du Ruisseau, 75018 or 22 Rue Rambuteau, 75003.
>>Also Read: Eating on the Cheap in Paris
Shiso Burger
As the name reminds us of the Japanese aromatic plant, and as you read through the menu, you can spot the names of the dishes you would mostly find in a Korean restaurant (for example, kimchi or bulgogi). Here, the world of burgers meets the traditional Asian cuisines for your quality pleasure. You will get the opportunity to taste and experience exotic burgers like you've never before, all between €12.5 and €15.5.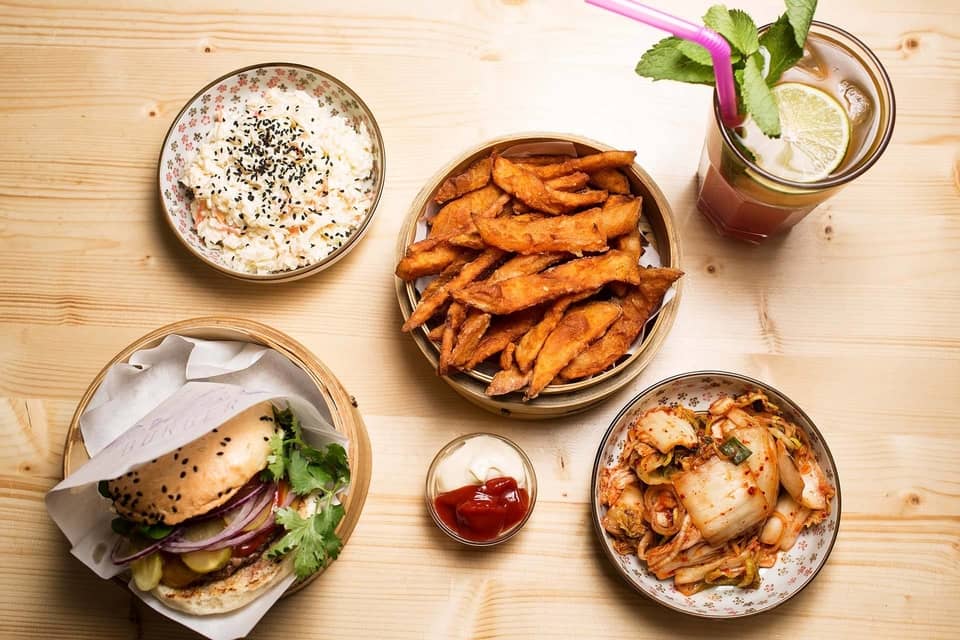 You can also choose between kimchi, edamame beans, sweet potatoes, or potato fries (each of the fries cost €3.5). Their homemade lemonades and drinks are just as good as their food and you can wash it all down with. Shiso Burger is located at 21 Quai Saint Michel, 75005 Paris. Their opening hours from Monday to Saturday are 11:30 am – 11 pm and on Sunday, 12noon – 11 pm.
>>Also Read: How Much Should You Tip in France?
Burger & Fils
Burger and Fils is a fusion of a fast-food restaurant and a high-end restaurant. You will walk down with your tray to place your order in a beautiful place with stylish and elegant decoration. You will then be able to bite and taste your burger, custom- made by yourself. Also, you might want to try the burger of the month, and through this, you get to taste their perfect fries. If you receive a menu, you will get a burger as well as a side drink.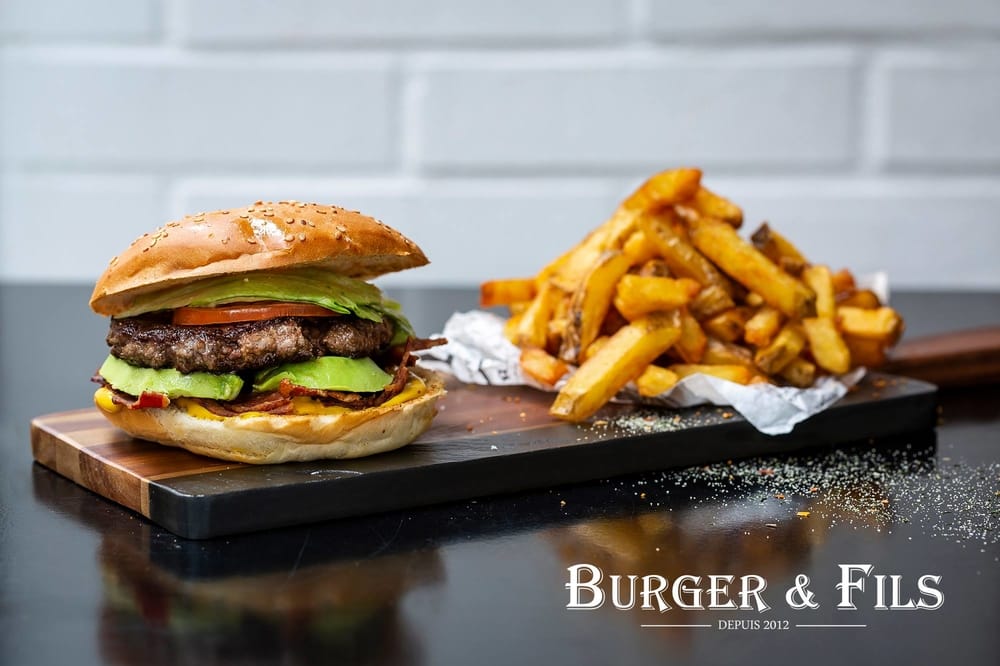 You will get to add €6.5 to the price of the burger, which will cost between €7.5 and €9.5. If you someone with a bigger appetite, you can get a double for €3.5, and as for the fries, they cost €4. Burger and Fils, located at 9 rue du commandant Rivière, 75008 Paris. Metro station: Saint- Philippe- du- Roule, Line 9. Burger and Fils is open every day of the week from 11:30 am – 3 pm/7 pm – 10 pm.
La Station Damrémont – Closed
La station Damrémont is a new burger joint but has quickly settled in and cemented their place in the list of best burger places in Paris. It comes with a really fresh and innovative buzz that will please you, especially if you are a fan of good food and drink. The front of the restaurant looks like a subway car, and the entire environment offers the touch of modern interior designs revolving around the concept of the subway.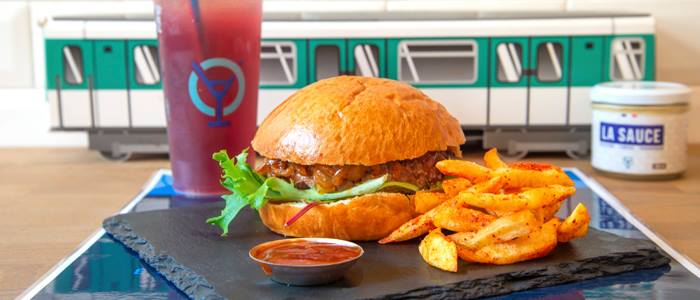 Their business card even looks like Parisian subway tickets. La station Damrémont offers classic burgers and reinvented ones with new flavors coming together to give you a wonderful experience with a streetwise kind of feeling. Their menu is made like a subway line map that invites the clients on a journey from starters to dessert, ending with a violation ticket. You will get the chance to choose between 10 burgers. Big ups to the 'burger 22'- the steak has been replaced with a spicy marinated boneless chicken leg that blends so well with sweet potato fries.
With €14 to €18, you get a menu, between €9 and €14, you get a burger, and €3 to €6 for the sides. The staff is hospitable, and the owners are very nice, which gives the restaurant a nice and calm environment. La station Damrémont is located at 103 rue Damrémont, 75018 Paris. 
Metro station: Subway stations Jules Joffrin Line 12, or Guy Moquet Line 13 Bus lines 31, 60, 95. Opening hours: Monday to Friday, from 9:30 am to 4 pm, then 6:30 pm to 11:30 pm, Thursday to Saturday, from 9:30 am to 4 pm, then 6:30 pm to 1:30 am.
Best Burger Places in Paris – Summary
So any time you are in Paris, either for work or for pleasure and you need the best burger in Paris, you can walk into any of these restaurants to get the best treats. Regardless of how much you have, there is always something delightful and savory for you. Do not miss out!
>>Also Read: The Best Patisseries in Paris


Do you have your own list of The Best Burger Restaurants in Paris? Let us know in the comments below.