Best Student Bars In Paris
Not every big city in Europe has bars meant for students outside of school areas. But in Paris, there are those, further affirming the city's inclination to every group. Bars and dining can be expensive, especially the Michelin-starred and trendy champagne bars along the Champs-Elysees. But the good thing is, there is the affordable side of the city when it comes to nightlife at some of the best student bars in Paris.
The best student bars are characterized by their affordability and the young attendance they record. And if you are a tourist in Paris, stepping into any of such bars will be a brilliant move. 
Here Are Some Of The Best Student Bars in Paris:
Paname Brewing Co.
Seated on the waters if the Quai de la Loire in the city's northeast, this place takes home the cake as the best brewery in the capital, offering tasty craft beer at cheap rates. At Paname Brewing Company, the sunny terrace is a raft, moving on the canal's waters. It is an ideal place to visit in summertime and have drinks with friends while watching the sunset.
In the colder months, there is a glass-walled dining room where you can stay. The room has splendid views over the canal, where you can also see students come out to have a drink. It is located at 41 Quai de la Loire, 75019 Paris.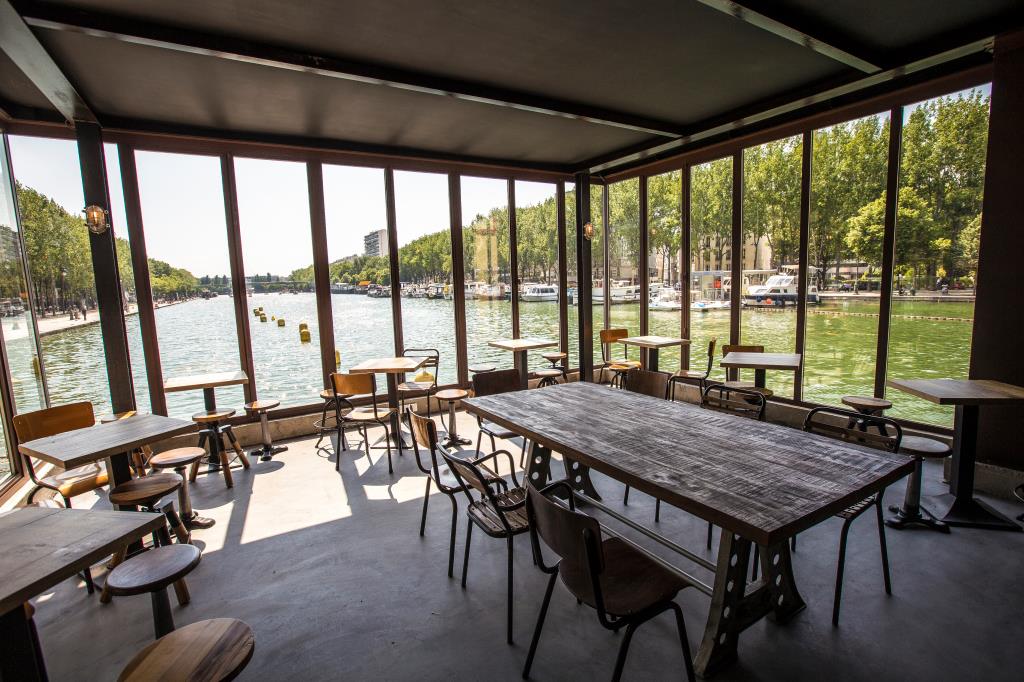 Lavomatic 
Lavomatic can be missed if you have not been there before. It is hidden behind a washing machine in the area, but when you open its door, it is like a portal to a jiving world. The special thing about Lavomatic is that the usual hushed, speakeasy ambiance that hidden bars do have is absent here. This place is fun, loud, and friendly, typical of a student setup. It is located at 30, Rue Rene Boulanger, 75010.
Rosa Bonheur 
Located in the Parc des Buttes Chaumont on a hilltop, this bar is undoubtedly one of the city's most interesting spots. At Rosa Bonheur, locals come here in their droves to drink and dance on the terrace, which is circled by greenery. The chic building can be traced to the 1800s when it was an open-air dance hall, and the atmosphere can be a tad rowdy. You can have some drinks with students or take on the grassy slope facing the bar to enjoy the lively atmosphere and views of Paris. Rosa Bonheur is located at Parc des Buttes Chaumont, 2 Avenue des Cascades, 75019 Paris.
Ground Control 
Ground Control has a train theme in its Halle Charolais setting. If you are the type that likes open-air fun, then head here. You can also find food trucks, bar areas, workshops, DJ sets, and a thrilling crowd of locals. It is located at 81 Rue du Charolais, 75012 Paris.
Le Comptoir Général 
Le Comptoir Général has a hideaway theme, an eatery, and a bar in Canal St Martin that nods to African ghetto. You will be able to tell easily if it is a tropical greenhouse or an abandoned ballroom or something else.
However, this place is a gorgeous space that charms locals day and night. There are memorabilia of African culture that adorns the walls, and the corners have vintage wares for sale. Le Comptoir Général changes into a busy party setting with a disco-ball lit dance floor on weekend evenings. Otherwise, it is a light-filled setting with classic couches in comfortable corners, charming visitors to settle in for a drink. It is located at 80 Quai de Jemmapes, 75010 Paris.
Le Basile 
Right in the center of Saint-Germain, this bar is located close to Sciences Po university. It explains the heavy presence of students here who visit to observe breaks from the book. At the bar, the décor is light, cool, with an Art Deco design. Old rock icons decorate the walls and, at the same time, produce a vintage and modern touch. Le Basile is known to be among the best bars in the city for a relaxed dinner with drinks or lunch. It is located at 34 Rue de Grenelle, 75006, Paris.
Canal Saint-Martin
While not technically a bar, students and hipsters in Paris have a habit of dangerously suspending themselves along Canal Saint Martin's banks. At outdoor parties and bars, they bring their own drinks, and you can join them too. Buy your cheap beer or wine from the local store and some French treats, and find a place to while away the evening time.
In this area, there is usually a party atmosphere regardless of the weather. There are food options nearby too. You can get Cambodian food, pizzas, Korean picnic, and a traditional scrumptious crepe. A visit to Canal Saint-Martin might be your best timeout in Paris.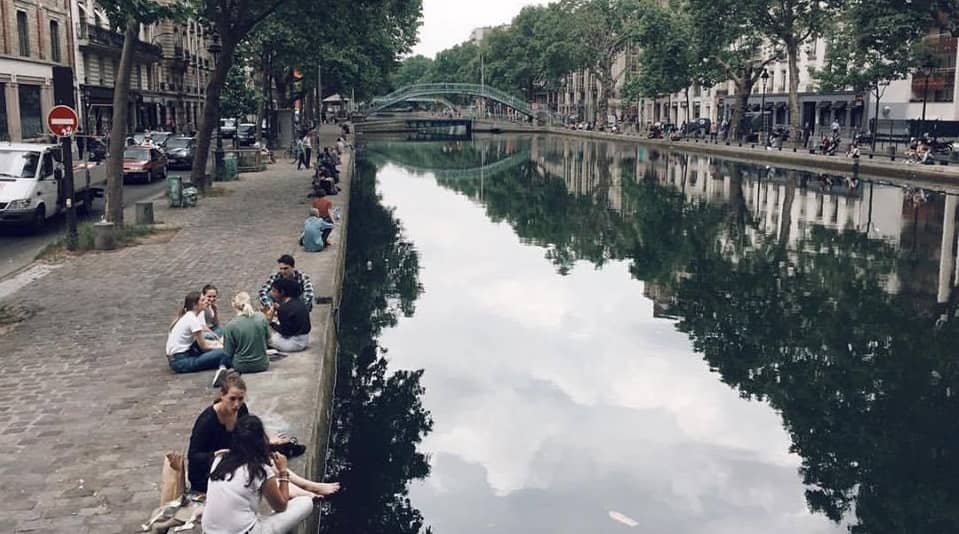 Le Perchoir 
This is an open-air rooftop bar in the capital's Oberkampf area, a place marked with student bars and nightlife. When you visit, climb the spiral staircase to the top of the building for fascinating views of the Belleville area and the nice Parisian rooftops. From there, you will be able to see the Sacre-Coeur in Montmartre. On the rooftop, you will see greenery with plants and interesting Parisians too.
Queues can be long in the summertime, but it is definitely worth the wait. There is a pretty restaurant as well, one level down in a nice dining room, but if you are strictly on a budget, you can just head to the rooftop for some drinks while you take in the amazing views of the capital. It is located in 14 Rue Crespin du Gast, Paris 75011.
Chez Georges
Chez Georges offers a nice wintertime nightlife option. It is located in the centuries-old wine cellar in the chicly Saint-Germain-des-Prés area. There is a gothic blend of older, prim, proper Parisians, and the local student population. At this wine bar, visitors can dance the night away to decent old-school rock/pop sounds while having a glass of velvet wine. Chez Georges is located at 11 Rue des Canettes, 75006 Paris.
Le Zéro Zéro
During the day, this place is a café with complimentary Wi-Fi and a bar with DJs spinning turntables at night. If you haven't been to this bar before, the most vivid description for you is to imagine every person that would normally fit into a normal nightclub. Then imagine these partiers crammed into a small bar with graffiti adorning the entire wall.
It is sweaty and fun on the small dance floor where students vibe to the music and sip cheap cocktails and beers. It is located at 89 Rue Amelot 75011 Paris.
Le Piano Vache
Le Piano Vache is a bar housed in a massive, three-room venue space. This is a rather different setting from the mostly touristy bars situated in the 5th district of Paris. Visit the bar to meet local students, especially during the happy hour between 6 and 9 pm. Le Piano is a perfect place to hear free live music in the city, focusing on gypsy jazz and rock. It is located at 8 Rue La Place, 75005 Paris.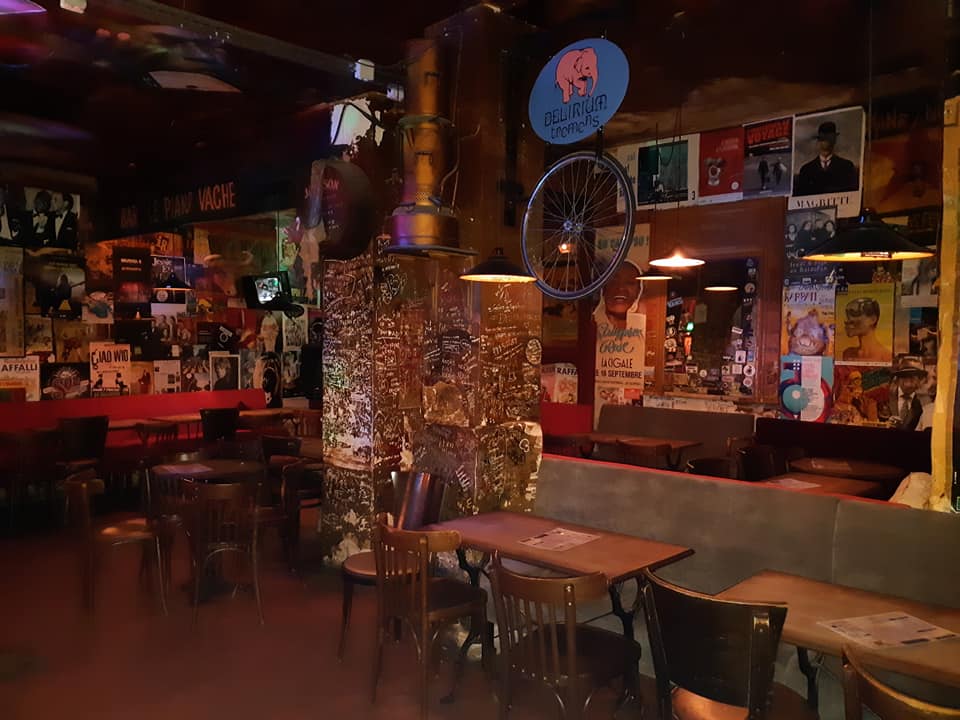 Garage 
Garage is both a nightclub and bar with a massive giant disco ball. The place is known to invite big guns in the DJ niche with an incredible sound system to go with the flow. The Sunday night roller disco parties in the summer is a must-visit. There you can hire skate and rollerblades to the night's themed sounds.
Best Student Bars Paris – Summary
Student-friendly bars are a thing in Paris. They are often affordable and with vibrant atmospheres that will keep every partier engrossed. Some are located in student locations like Chez Georges in Rue des Canettes, others just have that affinity for the young and bold.
Also Read: Where to Get Affordable Drinks in Paris