Best Restaurants in Paris for Vegetarians & Vegans
Paris has always been a central city for culinary excellence. This reputation that Paris enjoys includes both meat lovers and Vegans & Vegetarians. Some have viewed the latter set as part of a global liberal movement and have treated them with scorn.
However, like most movements, countercultures have a way of permeating the superstructure of public norms. And while you are not likely to be viewed as a freak if you walk into a regular restaurant to order vegetarian or vegan food, things have overly changed positively. 
Now, the vegan and vegetarian communities are thriving. There are many Vegetarian & Vegan restaurants you will find in Paris where you can get delicious, cheap veggie options.
Related:
>>How Much Should You Tip in France?
>>Guide To Eating Out In Paris
Here Are Some Of The Best Vegetarian & Vegan Restaurants in Paris
Le Potager de Charlotte
This beamish restaurant is surrounded by the Grands Boulevards area to the south, and Pigalle/Montmartre to the north is a vegan paradise that serves the unique. Demystifying the idea that vegan cooking is dour and vapid at best, La Potage de Charlotte's savory and creative dishes rightly dismiss it.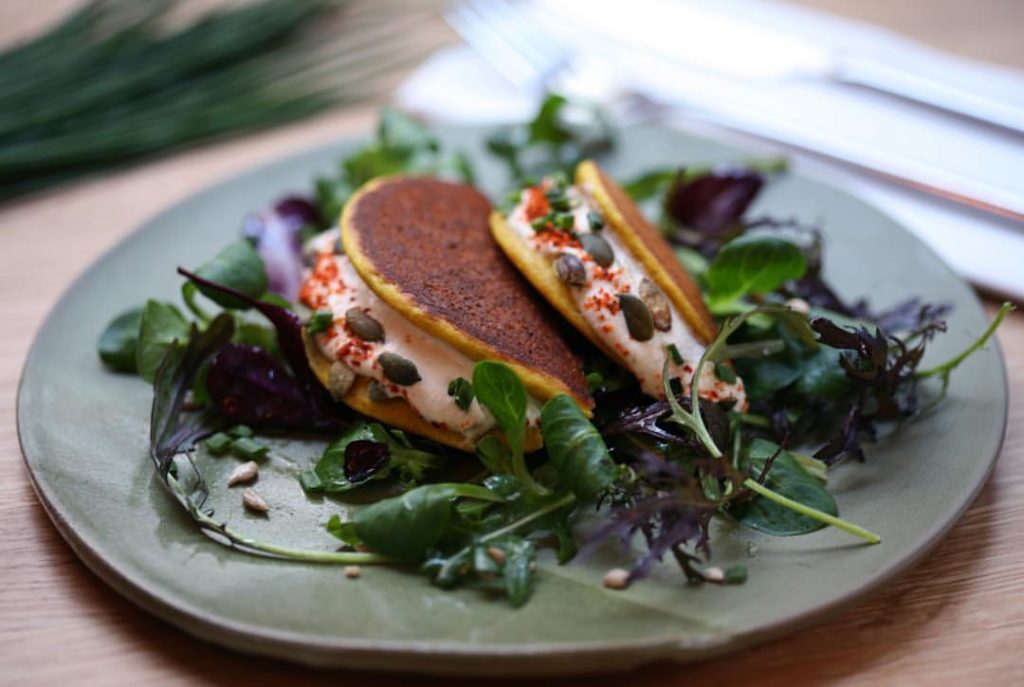 On a visit, try out the appetizing chickpea and rice galettes that are garnished with cashew cream, spices and herbs, well-seasoned gazpachos, varied super salads, and an array of vegan desserts like coconut cream with mousse au chocolate.
For brunch, try out smoothies fresh juices, great pancakes, an avocado, coconut cream yogurt, and a drink. Do not miss out on this rare goodness if you are a vegetarian. 
L'As du Fallafel
Paris has a long list of superb veggie eateries, including terrific falafel stands and restaurants. Among them is the L'As du Fallafel, whose crispy falafel balls, cabbage, crunchy carrots, tahini spread, and greasy eggplant is the best sandwich around.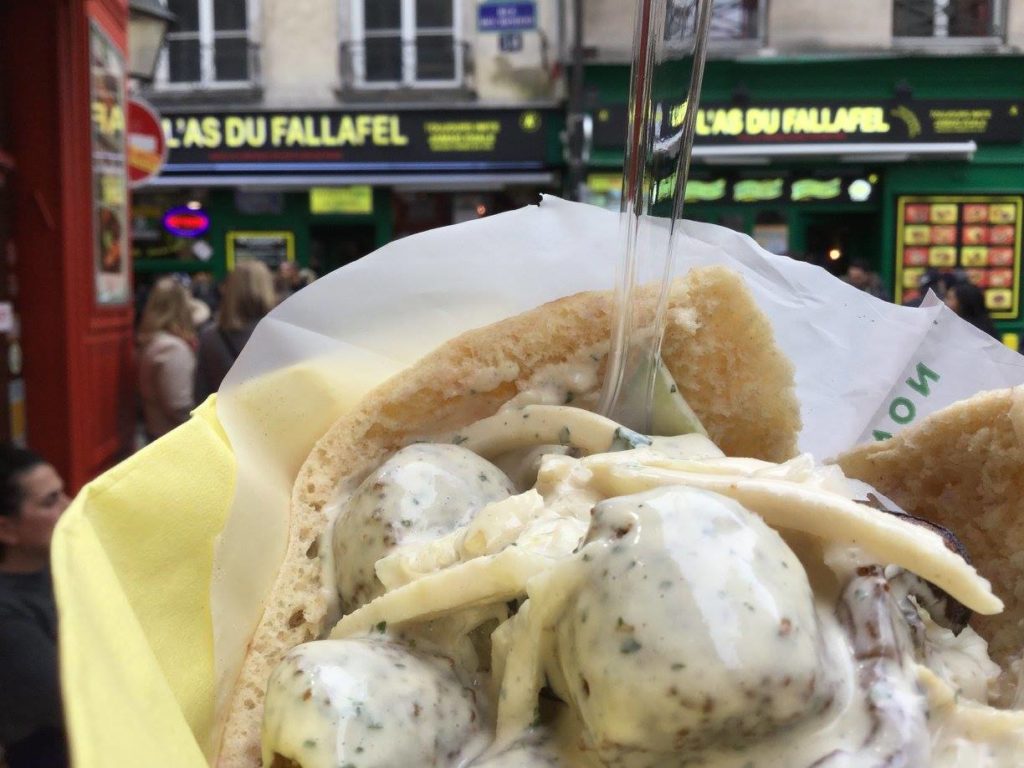 If you are a tourist or people-seeing while seated in a square, the particular sandwich from L'As du Fallafel is the perfect meal for you. In the case that the queue is too long at the restaurants, there are other incredible suppliers of falafel. Indulge in this delicious treat at a reasonable price, and you'll be licking your fingers in no time.
>>Related: Best Ethnic Food in Paris. Eating on the Cheap in Paris
L'Arpège
L'Arpège redefines beauty with flavors of vegetables to the delight of veggies. Located at 84 Rue de Varenne, 75007the vegetarian tasting options will definitely set you back by a mile. Unfortunately, not many would be able to afford the exquisite menus at L'Arpège.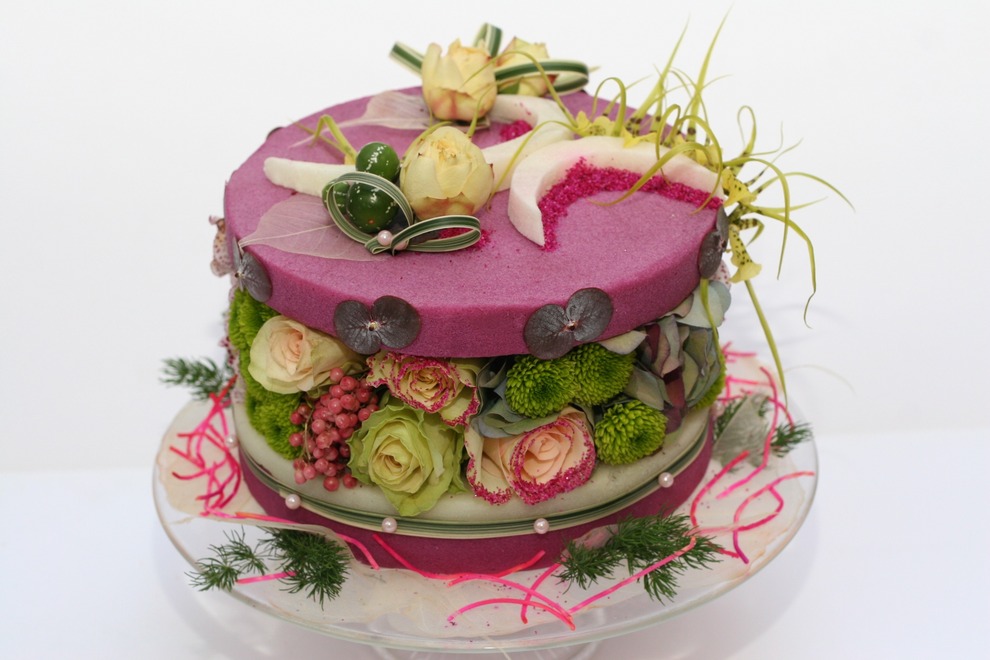 The lunch tasting menu is less accessible but still makes up a chunk of travelers' expense. However, the committed effort directed to the process of food production is laudable as it demonstrates the class of the restaurant. Some of the dishes displayed on the tasting menus are vegetable sushi with lime leaves and Orlèans mustard; onions au gratin with fresh parmesan, and vegetarian brioche burger. 
Le Potager du Marais
Le Potager du Maris is located in Marias and is one of the popular vegan restaurants around that offer slick additions to the traditional French cooking, like bourguignon, French onion soup, and crème brulèe.
Close to the Center Georges Pompidou, you can relax at the restaurant after a trip to the tourist spot. Tidy and buzzing, Le Potager du Marais has a soft, cozy atmosphere as you will see no starchy white tablecloths. At the restaurant, all dishes are made with organic ingredients, and quite a number are gluten-free.
Supernature
As touching good and healthy food, a method that blends innovation and creativity is habitually a success formula. At Supernature, guests would be treated to both qualities in excess measures. Established by the bubbling Clementine and Christophe, this vegan Nirvana offers an impressive brunch like organic orange juice, muesli, and organic goji berries, egg and cream cheese, guacamole, ham, and salad.
However, it is the dessert menu that is more delightful. Made with milk and seeds, the coconut-milk option is the awe-inspiring one; however, the crème de la crème is the granola, goji berry, and chestnut honey with chocolate brownie.
Related: Best French Pastries You Must Try
42 Degrès
This is a strikingly unconventional but cool vegan restaurant, whose name suggests how its food is prepared. As described in the menu, all the food at 42 Degrès cooked at temperatures that do not exceed 4C. There is a frolicked atmosphere to the menu as well, especially when it pertains to the dishes' names. In the place of serving non-vegan foie gras, fortunate guests can have crackers and bread. 
Hank Burger 
Hank Burger is a restaurant for vegans that specialize in fast food. The full meaning of the place is 'Have a Nice Karma', cool, right?! An organic, vegan alternative 'steak' that has mushrooms, tofu, and rice are the options that replace traditional steak burgers. It is sprinkled with melting vegetable-based cheese, or with spicy aubergine, pickles, and onions, and served with vegetables.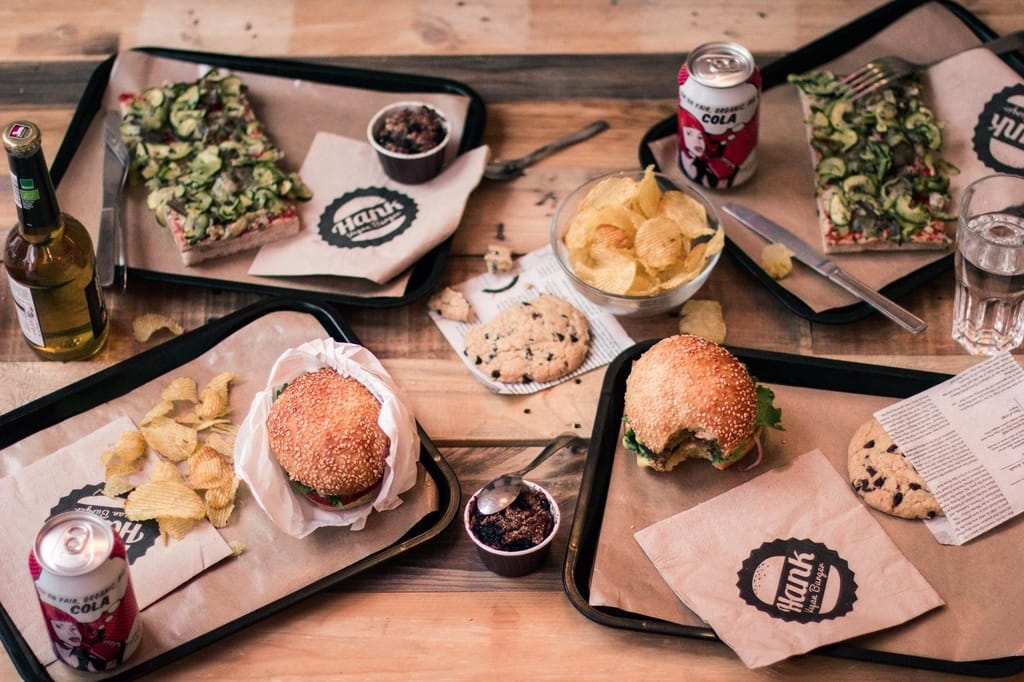 Try out the buns of these burgers as they are well made and handcrafted. Whether you can coming from the city or just going, Hank Burger sets you right in the mood.
Related: Best Burger Places in Paris
Hank Pizza
As you have guessed, Hank Pizza is the sister restaurant of Hank Burgers. The highlight of this splendid place is the fresh and lushly applied toppings. Do not forget to grab the popular crispy potatoes sprinkled in 'veganise' sauce and topped with vegan 'cheese'. From the menu to the house-made desserts, this restaurant is entirely vegan-friendly.
Au P'tit Curieux  
 Situated in the 10th arrondissement, the Au P'tit Curieux has a massive array of scrumptious dishes made for vegetarians. Indulge in the impeccably cooked organic egg with celery, topped with turmeric and croutons, or a toothsome tomato gazpacho with a watermelon flavor. As you will observe, the desserts are as good, with a garnishment of cheeses presented with a red berry-pistachio cake, fig jam, and hazelnut brown nougat. 
Best Vegetarian & Vegan Restaurants in Paris – Summary
Without a doubt, Paris is a very vegan-friendly city. And if you want to explore the best European vegetarian and vegan dishes, it will be brilliant to start from Paris; as there are brilliant innovations and ideas menus, you might not find anywhere else. 
Which ones do you think are The Best Vegetarian And Vegan Restaurants in Paris? Leave your comment down below.
Related:
>>Paris Restaurant Guide
>>Best Sushi Places in Paris
>>What To Eat In France
>>Top 20 Restaurants In Paris
>>Best Affordable Restaurants in Paris
>>Best Street Food in Paris
>>Where to Eat the Best Crepes in Paris
>>Best Chinese Restaurants in Paris
>>Where to Eat on a Budget in Paris